by SEE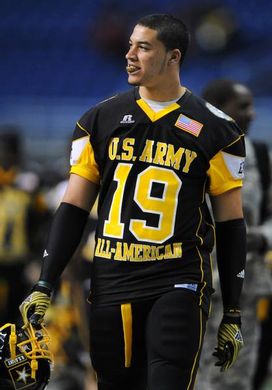 (Notre Dame Football News | The Rock Report) – With signing day less than a week away, it appears that Notre Dame's defensive recruiting is all but done and will rank among the best in decades.  The strength of this class is in the front seven and specifically where the Irish have traditionally struggled, the ends.   The headliners of the defense and the entire class are players Notre Dame just never seems to get, elite players at defensive end and outside linebacker.  Of note and hopefully a harbinger of the future recruiting prowess of the staff, the Irish were able to beat out the top teams in the country for defensive linemen from Florida and Georgia which happens about as often as blizzards in Florida.
When head coach Brian Kelly talked about last year's class, he danced around the quality the issue and used words that were meant to sound positive, but as one might to describe the date that didn't measure up to par,
"I feel great about every one of the young men that have committed and signed to the University of Notre Dame. They come from 12 states…"
Okay.
"I think we've addressed some short term needs with this class, and some long term needs. So the class will be representative of all of those areas."
Listening to Kelly's coach-speak, many were worried that Willingham's ghost might have slipped behind the microphone,
"It's a good day. It's a good day for Notre Dame football. We've got 23 signees. They're going to be able to come in and represent us in the manner that we want them to do that."
Huzzah.
It wasn't just what Kelly didn't say, he was direct about what needed to change,
"I think you'll see a growth in the recruiting process for us next year."
Before rushing into the recruiting fray, Kelly and recruiting coordinator Chuck Martin (who has emerged as a star on this staff) set up a clear process and protocol for recruiting to be able to sift through the mountains of recruiting video and identify players that other coaches might miss such as Dog linebacker recruit Ben Councell.  Notre Dame put in place an automated system, assigned an area to each coach and then a protocol that called for each coach to evaluate and electronically submit players they liked from their area to the position groups and staff for further evaluation.
When you're recruiting nationally at Notre Dame, it is critical to put a tight process in place up front to allow time to build the necessary relationships. As Kelly noted, when recruiting elite players, it's about relationships.
"You need time to recruit. You need success if you want to be able to continue to recruit the very best. Clearly, we did not have either one on our side this time. We will. So the proof of our work as a staff and ultimately how I'll be judged is going to be down the road with this class, but more importantly next year's class as well."
It may have sounded like an excuse at the time, but as he did with moving study hall, installing the training table, the S&C staff, etc. Kelly had correctly identified what needed to happen for long term success and put in a place a process that would enable that long-term success.  Also, unlike the Weis regime, each assistant was asked to carry the weight in building relationships, every one had a hand in a key recruit.
From a position perspective, Kelly identified a clear focus for 2011 and relationships played big role in keeping the most coveted linemen in the fold,
"I think the area as we continue to move forward, we have to continue to build our defensive line pool, especially at the end position. That is going to be absolutely crucial for us moving forward next year and looking at 2011. Our scholarship allotment is really going to have to look towards the defensive end position. We feel like we're set inside. We've got to get bigger and stronger on the edge of our defense, more athletic on the edge of our defense."
On that note, Kelly (if this class holds) will have scored one of the biggest defensive recruiting coups since Bryan Young's class, which was before the current recruits were even born.  He made his focus clear,
"I can manufacture offense, but I must recruit defense."
The strength of the class is at defensive end where the Irish will lose Ethan Johnson and possibly Kapron Lewis-Moore in 2012.  It was absolutely critical to fill this void and Notre Dame landed elite players Stephon Tuitt and Aaron Lynch, as well as Brad Carrico, Tony Springman and Chase Hounshell.   Then, at the outside linebacker Cat (more of a end/linebacker) and Dog (more of a safety/linebacker) positions, the Irish hit a trifecta of stud players in Elite players Ishaq (e-Shock) Williams, former 3-star player Ben Councell (who's stock rocketed up) and the underrated Anthony Rabasa.
All told, Notre Dame landed top five players at each outside position as well as numbers.  At inside linebacker (Notre Dame consciously passed at nose tackle this year) the staff identified and landed Jarrett Grace who was later offered by Alabama and Ohio State. Of note, the staff's strategy to target length; recruits with long enough arms to keep blockers from getting into them.  Scouts noted that fact about Carrico at practice for the Under Armour game.
Just as, if not more, critical was Notre Dame's need at defensive back where the Irish likely lose their entire starting backfield in 2012.  Eiler Hardy headlines a group that isn't full big names, but is full of what many believe to be underrated talent and numbers. Eiler Hardy has been a standout in all-star games and is a highly ranked, though not elite, safety.  Josh Atkinson is a 10.6 sprinter who showed strong cover skills his senior year. Bennett Okotcha was a Wisconsin commit that Oklahoma made a big push for and who had a very impressive senior year. Jalen Brown out of Texas had offers from Nebraska and Wisconsin. Matthias Farley, a wide receiver out of North Carolina, is a great athlete, but is in need of good coaching.  All of them have one thing in common, height and length. This staff is not interested in smurf corners.
The Star players in this class are Tuitt, Lynch and Williams.  Here's an early look at their highlights:
Aaron Lynch

Ishaq Williams

Stephon Tuitt

Brad Carrico
Tony Springman
Anthony Rabassa
Chase Hounshell
Jarrett Grace
Eilar Hardy
Josh Atkinson
Bennett Okotcha