by John Vannie
When Notre Dame walked off the field in Norman, Oklahoma after having dismantled the Sooners, most Irish followers quickly figured out that this dream season would come down to the November 24 showdown in Los Angeles against the USC Trojans. Someone forgot to share the script with Pittsburgh, who nearly derailed this improbable resurrection until Notre Dame woke up in the fourth quarter and survived after three grueling overtime sessions. Once free of the pesky Panthers, the Irish shuffled past Boston College and then put away Wake Forest even before the Deacons got off the bus from their hotel. With those speed bumps behind them now, the Trojans loom as the only barrier to a berth in the BCS Championship game on January 7 in Miami.
The history between these programs is filled with high stakes games where championships have been won and lost. Undefeated Notre Dame teams have returned home from the Coliseum after devastating losses in 1964, 1970 and 1980, while the 1966 and 1988 squads won convincingly to secure their place among college football's best. The Trojans are a disappointing 7-4 this year, but appear to be laying the perfect trap for the 11-0 Irish. Senior quarterback Matt Barkley is injured and will not play for USC, but freshman understudy Max Wittek, a 6'4" 245 pound rocket launcher, is poised to write the first chapter in his own legend.
As always, the Trojans are blessed with outstanding talent. Flanker Marqise Lee is arguably the best in the country at his position, and Robert Woods is not far behind. As if that is not enough, freshman Nelson Agholor is on the verge of becoming an elite receiver as well. Running back Silas Redd was pirated from Penn State's sinking ship to join Curtis McNeal for an effective one-two punch, and the offensive line has four veteran starters from the group that handled Notre Dame with alarming ease last October. Defensively, USC is well-stocked with talented athletes and are among the nation's leaders in sacks and tackles for loss.
Despite the difficulty of the challenge that faces them, the Irish are expected to show up for the opening kickoff, which is scheduled for 8:00 PM Eastern time and will be televised nationally on ABC. This Notre Dame team has an uncommon level of character, leadership and resolve, and Coach Brian Kelly has fashioned what has become a capable and balanced offense by developing a raw quarterback into a dual threat playmaker. Everett Golson is now firmly in command of a diverse attack that effectively complements the school's best defense in two decades.
NOTRE DAME'S OFFENSE vs. USC'S DEFENSE
Golson had his best game as a passer last week with 346 yards in the first half, as Kelly made a point to keep him in the pocket so as not to risk an injury. While Golson has already established himself as a dangerous runner on the option keeper, he expanded the threat against Wake Forest by pitching the ball to Cierre Wood who took it 68 yards for a score. USC's defense has had some difficulty defending teams that play at a fast pace, and elusive quarterbacks such as Arizona's Matt Scott and Oregon's Marcus Mariota combined to burn the Trojans for 101 points on consecutive weekends.
USC rotates several linemen among its front four, but freshman tackle Leonard Williams has emerged as a playmaking force. He is joined by ends Wes Horton and Morgan Breslin, the team's leading sacker who is being compared to ex-Trojan Clay Mathews. The group penetrates well and pursues laterally as well as any team, but has been vulnerable to straight ahead power especially late in games. The starting trio of sophomore linebackers is relatively small but fast. Hayes Pullard and Dion Bailey stand up well against the pass or the run, while Lamar Dawson is more of a traditional middle linebacker. Pullard in particular likes to run blitz from the weak side, and is often successful. Statistically, the Trojans have given up 150 rush yards per game, which is quite ordinary. That number was admittedly inflated by Oregon, who gained what seemed like three miles against them.
Senior safeties T.J. McDonald and Jawanza Starling lead the secondary, which has been inconsistent all season. The corners are Nickell Robey, a 5'8" overachiever with excellent coverage skills, and Josh Shaw. On the whole, USC has been guilty of poor tackling of late and the front seven lacks the presence of seniors such as Notre Dame's Kapron Lewis-Moore and Manti Te'o that provide valuable leadership. Although they make several dynamic plays with their considerable talent, they do not always play well as a unit and frequently suffer costly breakdowns. Fans can expect to see both sides of this coin on Saturday.
The Irish need to stick with the elements that have made them successful to date. This includes power running, crisp passes, isolating Tyler Eifert or Theo Riddick against single coverage and giving Golson opportunities to pick up first downs with his legs and demoralize the defense. Pass protection will be a key component in this week's plan. The offensive line has done a very credible job to date, but the Trojans have the best pass rushers Notre Dame has faced this season. Despite this threat and the two veteran safeties that typically guard against the long pass, the Irish must still be willing to take their shots downfield.
USC'S OFFENSE vs. NOTRE DAME'S DEFENSE
While the loss of a quarterback like Barkley would be catastrophic for most teams, USC will not substantially alter its plan against the Irish. Whatever experience Wittek lacks is offset by his brimming confidence. "We're going to play our offense, whatever Coach Kiffin feels comfortable giving me," Wittek said during an interview this week. "It he wants to air it out, let's air it out. If he wants to pound them on the ground, let's do that. Like I said, I'm going to go out there, play within myself, within the system, and we're going to win this ballgame."
Wittek certainly has the weaponry at his disposal to fuel such high expectations. His receivers are simply the best in the country, and they are joined by a pair of quality tight ends in Xavier Grimble and Randall Telfer. Redd and McNeal round out a balanced offense that has racked up an impressive 467 yards per game. Lee has emerged from this talented pack as the most dangerous weapon, and his ability to run past would-be tacklers after the catch to turn an 18 yard gain into a 60 yard score is a tribute to his blazing speed and surprising strength.
The offensive line is anchored by senior center Khaled Holmes, who has recovered from an early season injury. The problem position has been left tackle, where freshman Max Tuerk and sophomore Aundrey Walker have struggled to replace the departed Matt Kalil. The team has allowed 15 sacks this season, but Barkley was hit on numerous occasions during the year until UCLA ultimately knocked him out. With Barkley at the helm, USC converted only 37% of its opportunities on third down, which is low considering his credentials as a passer. It remains to be seen whether Wittek will have more success.
Turnovers have hurt the Trojans as much as any other factor in their failure to live up to preseason expectations. The takeaways and giveaways are even at 29, which might explain why USC is no longer making this game what might have amounted to a national semifinal. By contrast, Notre Dame has committed only 14 turnovers this season. Coach Lane Kiffen may elect to keep the overall game plan somewhat more conservative than usual given Wittek's first start and his team's generosity with the football. It is doubtful that the Irish will blitz more than usual, however, as they definitely do not want to leave themselves open to big plays against this offense.
SPECIAL TEAMS
Both kickers have encountered recent problems. USC's Andre Heidari, who had minor knee surgery earlier in the year, missed an extra point and a field goal last week and also had another field goal attempt blocked. Notre Dame's Kyle Brindza has been inconsistent during the past month after a strong September. Trojan punter Kyle Negrete is very good while Ben Turk has averaged less than 37 yards per boot in his last two games for the Irish.
Lee is downright scary as kickoff returner. He has a 29 yard average and has recorded one touchdown with a 100-yarder. Woods and Robey do a credible job bringing back punts, but the Irish should really focus on having Brindza blast his kickoffs through the end zone or simply try to keep them away from Lee. Notre Dame's own return game remains anemic on kickoffs and non-existent on punts, and it would be a major surprise to see any change this week against USC's capable coverage teams.
SUMMARY
This game features two very compelling matchups and contrasting styles. First, there is the powerful and explosive Trojan offense against the seemingly impregnable Irish defense. Second, Notre Dame's offense and USC's defense have been dominant as well as inept at various points in the season. While it is unlikely that the Irish can contain Lee and Woods throughout the evening, Wittek won't necessarily be counting to four Mississippi in the pocket as he waits for them to get open. Conversely, Golson and his mates must play error-free football so as not to spark the battle-weary Trojans and to avoid playing from behind into the second half.
The team that best handles the emotional aspect of this contest will likely emerge with a victory. Notre Dame has played as a relative underdog with a chip on its shoulder all season, but now they are ranked number one and are most definitely the hunted rather than the hunter. Can this team handle the burden of its sudden prosperity and the associated expectations? USC will most certainly start the game at a fever pitch on its own Senior Day, but will they be able to sustain interest if the Irish are poised and relentless?
Here are a few questions that will shed light on the outcome:
Can Golson and the Irish keep their emotions in check and get off to a solid start?
Will Notre Dame's secondary minimize USC's yards after catch with proper angles and crisp tackling?
Can USC stop the run while keeping its safeties back in a Tampa-2 defense?
Will Wittek have time to display the poise and accuracy the Trojans will need?
Can USC's offensive line repeat last year's domination of the Irish front seven?
Will this be the game that special teams play finally costs Notre Dame a victory?
Which struggling kicker will come through for his team?
Will the referees dare to call holding on the Trojans?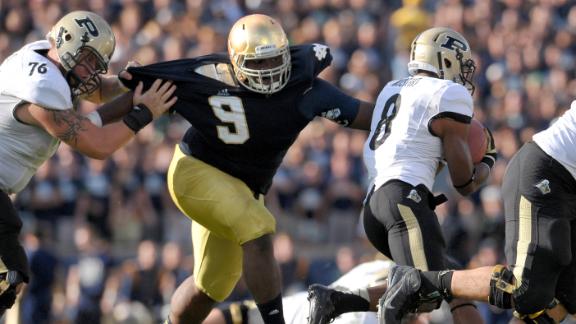 PREDICTION
Games between these schools rarely follow a predictable script. The best laid plans can change following a long kickoff return or a catastrophic turnover, and the latter helped bring down Notre Dame just last year. Both teams have outstanding athletes who are capable of making winning plays, although feats of greatness and absolute fluke plays could very well cancel each other out. The winner will more likely be determined by superior poise, strength, coaching and character.  In this scenario, the Irish have the edge.
NOTRE DAME 27 USC 20