by John Vannie
Notre Dame will travel to the West Coast to battle Stanford on Saturday in pursuit of its tenth victory of the season and first in Palo Alto since 2007. The 8-3 Cardinal have won six of the previous eight contests between these schools. Stanford Coach David Shaw has won five consecutive home games against teams ranked in the top ten, but the eighth-ranked Irish hope to put an end to that streak and reclaim the upper hand in this series. ABC will provide national television coverage beginning at 8:00 PM Eastern time.
The teams have traveled different roads to reach this destination. Notre Dame raced to an 7-1 record with strong showings in September and October, only to struggle in its last three outings. Dominating performances by its powerful running game and strong, opportunistic defense have regressed to levels more closely resembling previous November fades in the Kelly era. Meanwhile, Stanford has recovered from an alarming 1-2 start to win seven of its last eight. The Cardinal are undefeated at home this season.
Stanford's resurgence can be linked to a change at quarterback, where Shaw replaced senior Keller Chryst with sophomore Kevin Costello against UCLA and ultimately settled on him as the starter. This brought balance to an offense that featured star tailback Bryce Love but little else. Costello is the more accurate passer and has developed into a confident leader. This helped the Cardinal withstand an ankle injury to Love that has severely hampered his production in the last few games.
Love's season track mirrors that of Notre Dame's Josh Adams, whose recent but undisclosed health issues have also limited his carries and rush yards per game. Quarterback Brandon Wimbush has been inconsistent as a passer while attempting to pick up the slack, and the Irish offense has struggled as a result.
While Notre Dame's defense has appeared to be tired and increasingly vulnerable of late, Stanford has improved on this side of the ball. The Cardinal have surrendered only 17 points per game over the last six weeks. The Irish sailed through the first two months of the season by allowing only 16 points per game, but that number has risen to 29 in November.
NOTRE DAME'S OFFENSE vs. STANFORD'S DEFENSE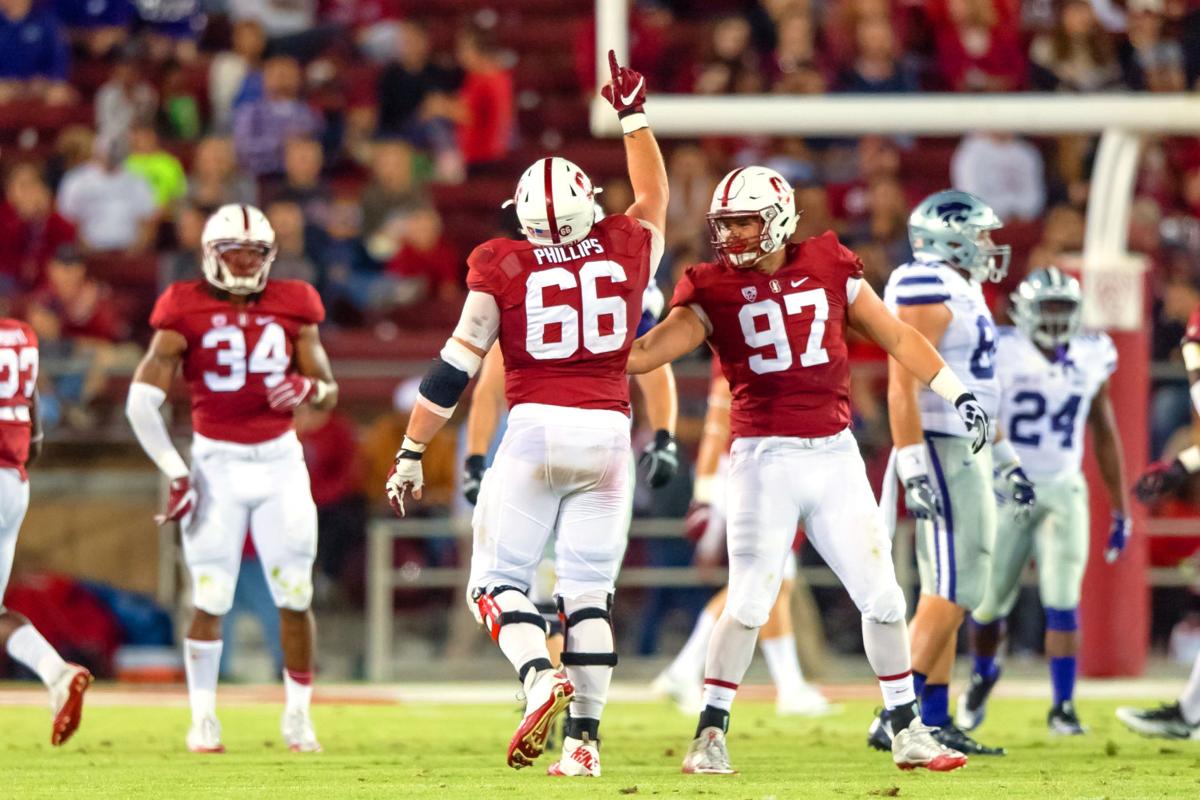 The Irish will attack a Stanford 3-4 defense that lacks size up front but is comprised of six senior starters, including all four linebackers. Nose tackle Harrison Phillips is the anchor, which is underscored by the fact that he leads the team in both tackles and sacks. Inside linebacker Bobby Okereke is a solid player who is equally adept as a blitzer in passing situations and as a run stopper. The overall unit is only average against the run, however, and Notre Dame should have an advantage if they choose to emphasize the ground game.
The Cardinal secondary has endured the loss of cornerbacks Terrence Alexander and Alijah Holder due to injury, yet has managed to hold it together over the second half of the season. Safety Justin Reid is the best player in the unit, while cornerback Alameen Murphy has raised his game since being elevated to a starting role. Opposite Murphy is Quenton Meeks, one of the best corners in the PAC-12. Reid has five interceptions and is versatile enough to play corner if the need arises. The other safety, Frank Buncom, has developed into a solid player over the course of the season.
This defense is neither statistically impressive nor stocked with star players, but Stanford's recent success lies in its ability to tighten up in scoring territory with key stops or timely turnovers. The team holds a 21-10 positive turnover margin, which is no small factor in its ability to win close games.
The Irish need to run the ball early and often against this unit, as Stanford will not be able to hold up to a more rigorous physical assault than it has seen all season. The question is whether the brain trust will press the ground attack and stick with it. The decisions by Brian Kelly and Chip Long to accentuate the passing game at the outset of recent contests will not be a winning strategy in this one. Adams, Dexter Williams and the rest of the Irish backs can have a good night, particularly if center Sam Mustipher can hold his own against Phillips.
If Wimbush is asked to throw the ball, the Cardinal will focus on stopping Kevin Stepherson while Notre Dame will attack Murphy's side of the field. Both Equanimeous St. Brown and Chase Claypool are banged up, and may be limited. The Irish have underutilized tight end Durham Smythe, who has excelled when given the opportunity. Alize Mack, on the other hand, has been unreliable as a receiver.
STANFORD'S OFFENSE vs. NOTRE DAME'S DEFENSE
The health and stamina of the Irish front seven is the chief concern heading into this contest. Love is capable of running downhill despite a gimpy right ankle and needs only a crease to break into the secondary. Notre Dame's Daelin Hayes, Jerry Tillery, Jay Hayes, Nyles Morgan and Drue Tranquill have not played at the same high level they did earlier this year, and one has to wonder how much fuel remains in their respective tanks.
Love runs behind a typically strong Stanford offensive line, and is often led by fullback David Marx. Guard David Bright and center Jesse Burkett are the leaders up front, and their battle with the Irish interior defensive linemen will matter most on first down runs where the Cardinal expect to gain 5-7 yards. Notre Dame's ends match up well with Stanford tackles Austin Hall and Devery Hamilton, who is replacing injured starter Walter Little on the left side. This advantage may be in evidence on passing downs, although it should be noted that the Cardinal emphasize short, quick passes and have allowed only 12 sacks this season.
When Love needs a breather, backup Cameron Scarlett has been adequate but certainly less effective than the Heisman candidate. This has given rise to sophomore Trevor Speights, a fan favorite who brings speed and a hard-running style whenever he is inserted into the lineup. Costello is also an effective runner who has a knack for keeping drives alive with his legs.
Stanford does not have elite speed at wide receiver, but is effective in executing a ball-control passing game. Costello's improved accuracy over Chryst certainly helped the offense put up more points and commit fewer turnovers. His primary third down target is J.J. Arcega-Whiteside, who uses his 6'3" 225-pound frame to screen out defenders and run through tackles. Trent Irwin, a capable possession receiver, is also in the mix. He and Arcega-Whiteside lead the team with 37 catches apiece. The Cardinal tight ends are fully utilized in the passing game as well. Senior Dalton Schultz and sophomore Kaden Smith are solid contributors, although Schultz may be less than 100% healthy on Saturday.
SPECIAL TEAMS
Notre Dame's return and coverage units continue to be cringe-worthy. Chris Finke fumbled a punt last week that led to a Navy touchdown, and C.J. Sanders rarely sees any daylight when he brings back a kickoff. Conversely, the Irish give up more yards per return than they gain, which often results in unfavorable field position.
Kicking specialist Justin Yoon remains perfect on extra point attempts and field goals inside 40 yards. Punter Tyler Newsome has been slightly above average, but every now and then will hit a shank or boot a returnable line drive.
The Cardinal are not quite as explosive in the return game without Christian McCaffrey, but their positive differential in average return yards gained versus return yards allowed is among the best in the country. Scarlett does a credible job on kick returns while 5'8" Jay Tyler averages eight yards on punts. In short, Stanford's special teams are motivated and well-coached.
Kicker Jet Toner took over the job this season after being recruited out of Hawaii. (The rumor that he was discovered in the Computer Peripherals section of Best Buy is flat out wrong.) The 6'4" Toner has made an impressive 19 of 23 field goals and has excellent range. Punter Jake Bailey sports a 44-yard average, while the stingy Cardinal have allowed a grand total of 37 yards in returns all season on Bailey's 41 punts.
SUMMARY
Stanford's strong running attack, efficient short passing game and overall offensive personnel bear a resemblance to North Carolina State. Of course, the Wolfpack's star tailback Nyheim Hines went down in the first series against Notre Dame and did not return, but Love remains a dangerous weapon for the Cardinal despite his injury. The Irish defenders need to stay strong in their gaps and play the same type of tight, aggressive coverage against the plus-sized Stanford receivers that they did a month ago in that victory.
When Notre Dame has the ball, it's important to establish the run first. Wimbush can get into the act with designed runs as well, and they should be effective unless Stanford elects to spy on him with Okereke. Doing so, however, would open other doors for the Irish. Double team blocking on Phillips will help wear down the Cardinal's leading disrupter and lead to defensive breakdowns in the second half. Stanford's secondary is opportunistic and aggressive, so a plan to challenge them from the outset could easily backfire.
Here are a few questions that will shed light on the outcome:
Will the Irish have the patience to maximize their strength in the running game?
Can Notre Dame stop the short passes by Costello on third down?
Will Love and the other Stanford backs be able to gain 5+ yards on first down?
Can the Irish avoid turnovers in the passing game?
Which quarterback will have adequate time to throw?
Can Adams and Williams return to early season form?
Which defense will do a better job in the red zone?
Is it a futile exercise for me to ask another question related to special teams?
PREDICTION
Notre Dame has better overall talent, although recent outings cast doubt as to whether this team can muster the inspired effort needed to win a 60-minute fight. Stanford's coaches are simply better at playing to their strengths, identifying opponent tendencies and attacking weaknesses. The Irish will land a few big punches but the Cardinal will not panic and abandon their game plan. Instead, patience, determination and coaching acumen will carry the hosts to victory once again in this series.
STANFORD 27 NOTRE DAME 24