by SEE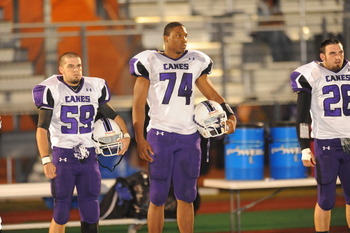 (Notre Dame Football News) – Five-star defensive end Stephon Tuitt's sudden switch to Georgia Tech didn't last long, Irish coaches Brian Kelly, Bob Diaco, Chuck Martin & Mike Elston brought Tuitt back into the fold as part of one of the most impressive (if it holds) defensive front seven classes in recent memory.  In elevating him to a fifth star Rivals said he has an NFL body, a bull rush, can stop the run and has the speed to chase plays down from behind.  Williams, Tuitt and Lynch are the 16th, 22nd and 28th ranked players on Rivals.  For perspective that's  more top 30 ranked defensive players than Notre Dame landed in the previous nine years combined.
Stephon Tuitt | DE
ESPN Grade 81 | Scout ***** | Rivals ***** Top 100
Hometown:  Monroe, GA |  Monroe High School
Height 6'5″ | Weight 255
Video of Tuitt as a Defensive End

He just physically manhandled the guy across from him shoving the defender straight back into the pocket. Tuitt showed some great technique with his hands but more than anything he used his size and strength to bury offensive linemen and collapse the pocket around the opposing quarterback. Physically, he looks more like a third-year college player than a current high school prospect. This massive athlete can really run as he is very light on his feet. He is also a very versatile prospect that could project as defensive tackle or offensive tackle at the next level. Tuitt has excellent overall body structure and very little bad body weight.
Tuitt is a big athlete with great range and speed off the edge. He is raw in technique and needs to add strength to play better against the run, but he has a very high ceiling. His size, athleticism, and versatility make him a top recruit in 2011. He makes a lot of plays now off raw ability, but once he is coached up, watch out.
Tuitt and current commit Aaron Lynch (Cape Coral, Fla./Island Coast) are a perfect compliment to each other.  They can play opposite each other, and their skill sets compliment the other.  Tuitt is a dominant run player who can rush the quarterback.  Lynch is a dominant pass rusher who can play the run.  I am of the opinion that both players are Top 5 national prospects at the DE position.  Lynch is my No. 2 ranked DE in the country, with Tuitt falling in as my No. 4 DE in the country.
"He looks like a big power forward," Lemming recalled from his meeting with Stephon and Tamara, Tuitt's mother. "Notre Dame having him and (defensive end) Aaron Lynch (of Cape Coral, Fla.) in this class is huge for them. "Stephon is a Notre Dame type of kid."
Rivals on Tuitt's 5th Star (6:39 mark)
| | | | |
| --- | --- | --- | --- |
| 2012 | Rank | Name | Ht/Wt |
| | ELIT | Kiel, Gunner | 6'4" - 220 |
| | ELIT | Neal, Davonte | 5'9" - 175 |
| | HIGH | Russell, KeiVarae | 6'0" - 170 |
| | HIGH | Baratti, Nick | 6'2" - 190 |
| | HIGH | Stanley, Ronnie | 6'7" - 285 |
| | HIGH | Day, Sheldon | 6'2" - 285 |
| | HIGH | Mahone, Will | 5'10" - 205 |
| | HIGH | Ferguson, Justin | 6'2" - 200 |
| | HIGH | Harrell, Mark | 6'5" - 270 |
| | MID | Daly, Scott | 6'3" - 230 |
| | MID | Okwara, Romeo | 6'4" - 225 |
| | MID | Prosise, CJ | 6'2" - 205 |
| | LOW | Turner, John | 6'2" - 200 |
| 2011 | Rank | Name | Ht/Wt |
| Bio | ELIT | Atkinson, George | 6'2"-195 |
| Bio | ELIT | Golson, Everett | 6'0" - 185 |
| Bio | ELIT | Koyack, Ben | 6'5"-225 |
| Bio | ELIT | Lynch, Aaron | 6'5" - 250 |
| Bio | ELIT | Tuitt, Stephon | 6'5"-260 |
| Bio | ELIT | Williams, Ishaq | 6'6" - 240 |
| Bio | HIGH | Hardy, Eiler | 6'1"-175 |
| Bio | HIGH | Hegarty, Matt | 6'5"-265 |
| Bio | HIGH | Grace, Jarrett | 6'2"-230 |
| Bio | HIGH | Councell, Ben | 6'4"-225 |
| Bio | HIGH | Brindza, Kyle | 6'1"-190 |
| Bio | HIGH | Daniels, Davaris | 6'2" - 180 |
| Bio | HIGH | Hounshell, Chase | 6'6" - 260 |
| Bio | HIGH | Niklas, Troy | 6'6" - 245 |
| Bio | MID | Rabasa, Anthony | 6'3"-230 |
| Bio | MID | Springmann, Tony | 6'5"-270 |
| Bio | MID | Atkinson, Josh | 6'0"-180 |
| Bio | MID | McDaniel, Cam | 5'11" - 195 |
| Bio | MID | Martin, NIck | 6'5" - 260 |
| Bio | MID | Hanratty, Conor | 6'3"-290 |
| Bio | MID | Carrico, Brad | 6'4"-250 |
| Bio | MID | Brown, Jalen | 5'11"-175 |
| Bio | MID | Farley, Matthias | 6'1"-180 |