Notre Dame has several players that are eligible to be drafted by an NFL team this weekend, led by linebacker Jeremiah Owusu-Koramoah and quarterback Ian Book. The process of fulfilling their dreams to play professional football begins on Thursday and runs through Saturday, May 1. You'll be able to watch coverage of the draft in the window at the end of this article. Let's review the most prominent among them.
Jeremiah Owusu-Koramoah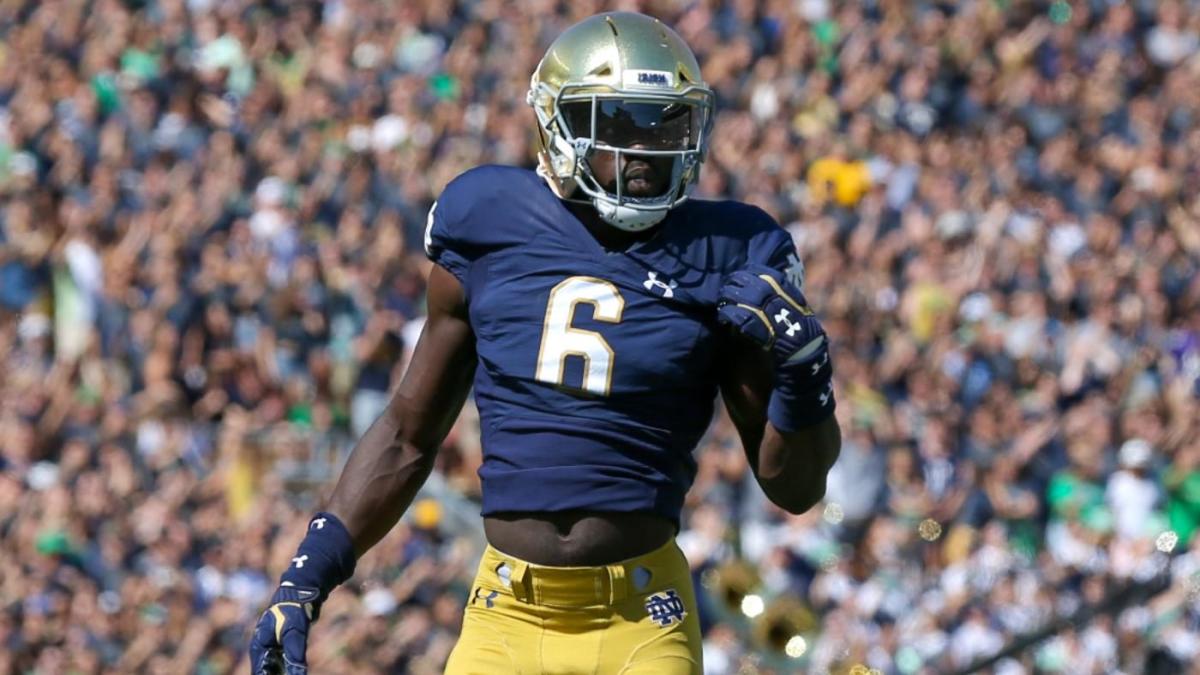 The Irish defensive playmaker is regarded as a first round talent. His speed and agility are assets coveted by teams that value versatile linebackers who can cover inside receivers and tight ends as well as defend the run. Teams drafting in the middle of the round such as Oakland and Washington have shown interest, but others will be ready to grab him later in the round if he is still available.
Ian Book
A three-year starter at quarterback, Book is firmly among the second tier of NFL prospects that follow the five or six players that will be drafted early in the first round. Many scouts doubted his arm strength and relatively short stature, but his performances at the Senior Bowl and on his Notre Dame pro day last month appeared to raise his stock.
Liam Eichenberg
A fixture at left tackle on the Irish offense, Eichenberg is considered to be a top 50-60 player. This should get him selected in the second round on Friday.
Aaron Banks
The massive left guard is likely to be drafted in the third or fourth round, according to the usual collection of draft gurus.
Nick McCloud
The cornerback transfer from North Carolina State parlayed his one season with the Irish into success by raising his profile for NFL scouts. McCloud helped his cause by running a sub-4.5 second 40-yard dash at the Notre Dame pro day.
Daelin Hayes
A leader of the defense at end, Hayes returned for a fifth season to raise his draft stock. He was finally healthy in 2020 after dealing with shoulder injuries throughout his career. Hayes' performance against Clemson last November in overtime will long be remembered by the Irish faithful.
Ade Ogundeji
In a league that greatly values pass rushers, Ogundeji, has flashed enough ability to be selected in this draft. He and Hayes are more likely to hear their names called on Saturday.
Robert Hainsey
Despite not having ideal NFL size, Hainsey has demonstrated excellent consistency and technique over the past four seasons as Notre Dame's offensive right tackle. He will probably be drafted by a team that sees him as a guard or center, but Hainsey has the intellect and versatility to make it work.
Tommy Kraemer
The Irish right guard played through a number of injuries throughout his career at Notre Dame, but has the talent to succeed at the professional level if he can remain healthy.
Javon McKinley
While lacking elite speed at wide receiver, McKinley has excellent hands and is a strong blocker both at the line of scrimmage and downfield. If not drafted this weekend, he will almost certainly get a shot as an undrafted free agent.
Ben Skowronek
At 6'3″ and 225 pounds, Skowronek flashed above average speed and body control for his size during his lone season at Notre Dame in 2021. He made several tough catches in traffic and played well in big games. Skowronek could make an NFL roster if given the opportunity late in the draft or as a free agent. A foot injury rendered him unable to participate in the team's pro day, which is indeed unfortunate.
Brock Wright
The Irish tight end was used mainly as a blocker in college, but he has good hands and a strong football acumen that should secure an invitation to an NFL camp.
Tommy Tremble
Although he gained significant notoriety as a lead blocker in the Irish running game, Tremble has NFL level speed and agility for a three-down tight end. A few dropped passes in college may push him down the draft board, but Tremble could be a valuable pickup for the right team later in the draft.
With thirteen draft-eligible players, Notre Dame Football is certain to merit plenty of positive discussion during the three days of draft broadcast. This recognition does quite a bit to advance the program in the eyes of recruits, and the professional success of recently drafted Irish players like Quenton Nelson, Chase Claypool, Cole Kmet, and Jerry Tillery adds to that heritage.
The NFL draft network's live coverage of the 2021 NFL Draft features 20 hours of live streaming coverage. You can view this coverage in the window below: