The most significant change to the Notre Dame defense from 2020 is not five new starters. Most of these players saw plenty of action last season and their names are familiar to Irish followers. The biggest difference is that Marcus Freeman has taken over the Coordinator position. His predecessor, Clark Lea, did a fine job in his three seasons in that role and recently accepted his first head coaching position at his alma mater, Vanderbilt.
Freeman is sure to put his own stamp on this year's unit by adding a few wrinkles and making other adjustments that are dictated as much by his inherited personnel as anything else. For example, the loss of star rover Jeremiah Owosu-Koramoah to the NFL will necessitate strategic and assignment modifications. This year's second level will almost assuredly be constructed and aligned differently than last season. Linebacker is Freeman's particular area of expertise, but there are no ready-made superstars in the ranks of the returning players.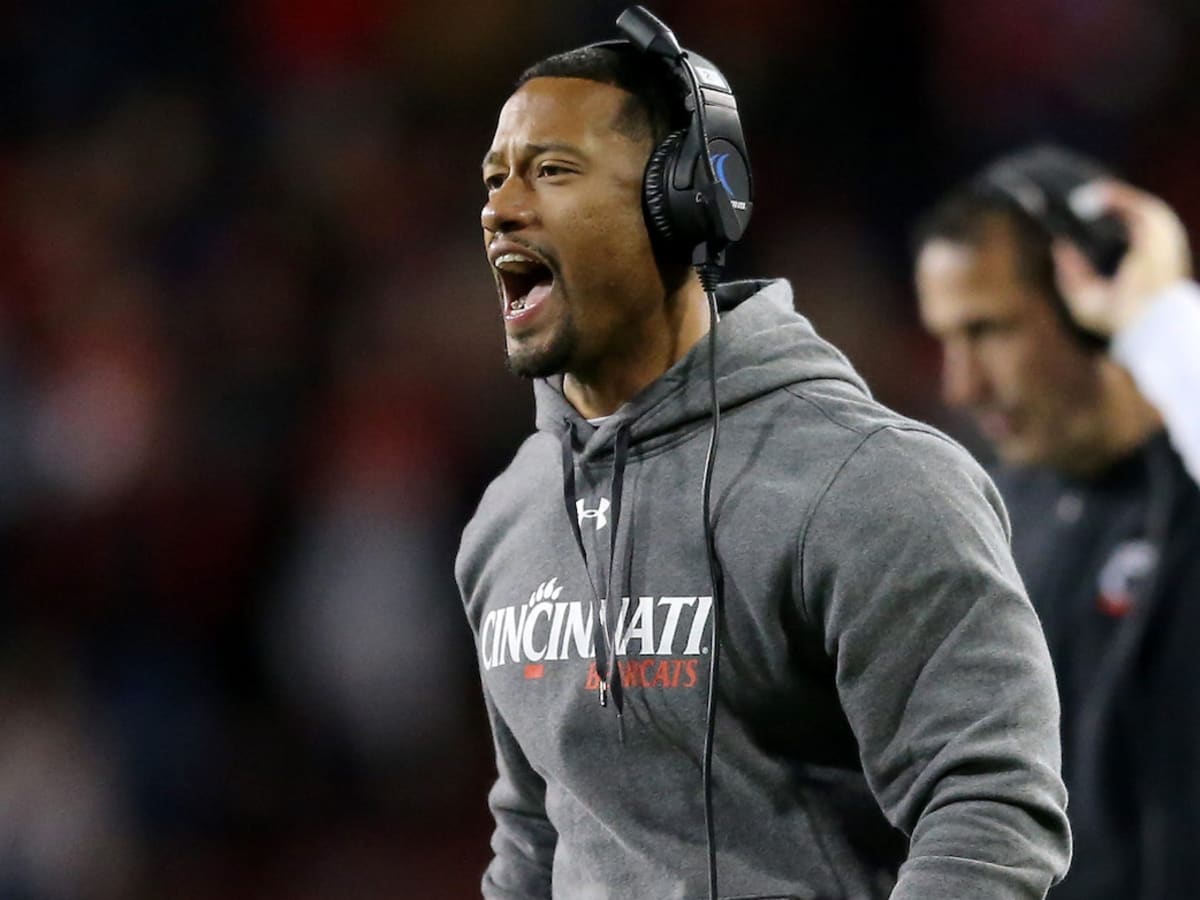 The most stable component of this defense is the line, despite the loss of two starters at end. Conversely, the secondary appears to be the most problematic in terms of open question marks heading into the spring. Fortunately for Freeman, this group contains free safety Kyle Hamilton, who will serve as his defensive quarterback and Swiss Army Knife.
Player development is clearly the key to success this year. Potential solutions can be found on the roster for every position opening. The Irish have excellent coaches in place on this side of the ball to bring them along. Freeman's leadership style should make it rewarding rather than punitive for the players to put in the hard work necessary. Still, there will be challenges that can't be glossed over if the defense is going to hold up against elite competition.
Let's look at the position groups and the battles for starting jobs.
Defensive Tackle
This area is the core of any defense, and Notre Dame has the strongest and deepest group of players in recent (and not-so-recent) memory. Veteran starters Kurt Hinish and Myron Tagovailoa-Amosa return for their fifth year in the program along with their primary back-ups, senior Jayson Ademilola and juniors Jacob Lacey and Howard Cross. While none of these players is a first round NFL talent, they are highly productive because they do not have to play every snap. Freeman can run a three-level rotation without a discernible drop-off in talent. That is indeed a luxury.
The future beyond this bunch is shaping up to be even better. Exceptional sophomore Rylie Mills proved to be too good to redshirt last season. Sophomore nose tackle Ainan Keanaaina is the biggest player on this side of the ball while incoming freshman Gabriel Rubio may be as ready to contribute as Mills was a year ago.
John's take: We can all remember seasons when the Irish were so thin up front that an injury or simple wear and tear at this position left the defense vulnerable in November. How things have changed. There is so much talent here now that someone is likely to be switched to defensive end to shore up an area of need.
Defensive End
Notre Dame expected to lose Ade Ogundeji and Daelin Hayes to the NFL, but the departure of Ovie Oghoufo to play for the Texas Longhorns as a graduate transfer was a bit of a stunner. This leaves Justin Ademilola as the only returning player among the 2020 top four ends. It's not as bad as it sounds, though. Isaiah Foskey enters his junior year and everyone is predicting a breakout season. There were countless times in 2020 where Foskey was a split second late to record a sack, but the right amount of work this spring and summer may enable him to get home a few more times this fall.
Assuming we have our starters in Foskey and Ademilola, the next level is far from clear. Junior NaNa Osafo-Mensah was a highly rated recruit, but he's yet to show he is ready to take the next step. Sophomore Alex Ehrensberger came in last year as a developmental player, and it would require a significant leap for him to be a rotation mainstay in 2021. He may have the required work ethic, though, so it remains a possibility.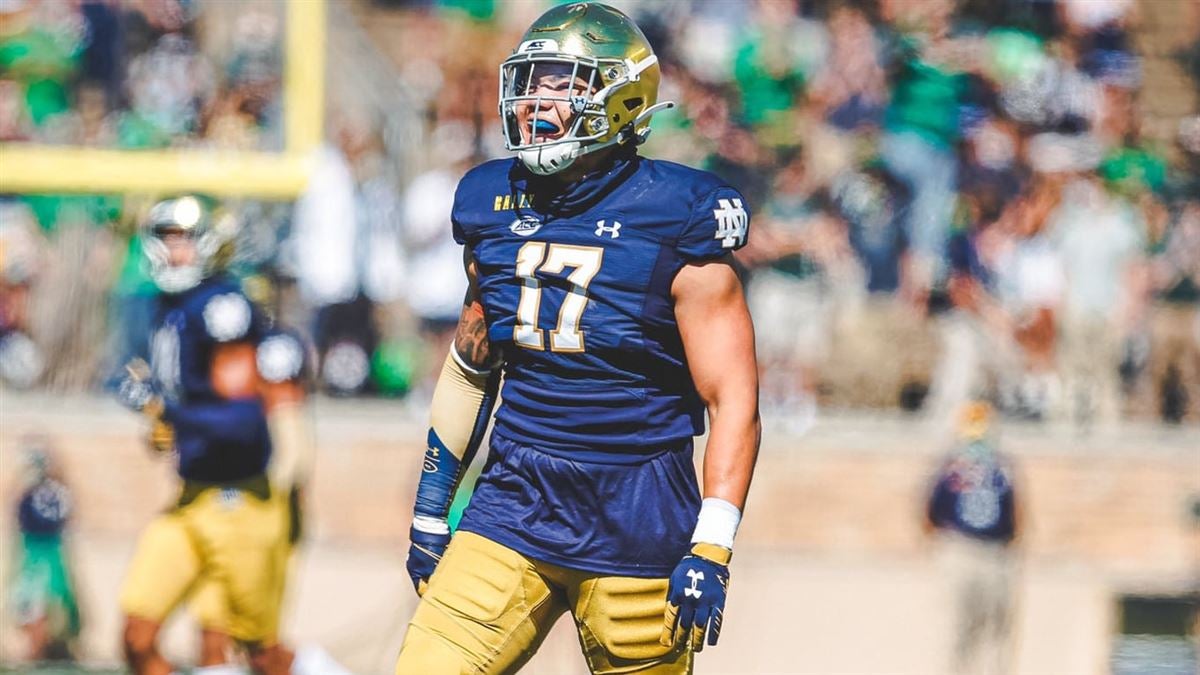 More likely, fellow sophomore Jordan Botelho will be the name Irish fans will hear most often in terms of an emerging star. Botelho earned his reputation as a physical player on special teams last season, and has an undeniable nasty streak that Freeman can channel into positive production.
We're still talking about potential for Osafo-Mensah, Ehrensberger and Botelho, however, so the search for a capable second unit is far from over. Incoming freshmen Jason Onye, Devin Aupiu and Will Schweitzer are considered developmental projects who need time in the weight room before they can play at this level.
While spring practice may provide a few answers, don't be surprised to see at least one member of the overstocked tackle rotation slide over to solidify the situation at end. Mills may be the most versatile player in that group and therefore the most likely candidate to make the switch.
John's take: It seems obvious to move Mills to end if Freeman wants to run a four-man front. The drop-off from the first string to the next level is much greater than the staff should be comfortable with, and Mills is a safer bet to succeed in 2021 than anyone else in the candidate pool. Tagovailoa-Amosa has been mentioned in some quarters for such a switch, but Mills' length, frame and status as a true sophomore versus a fifth-year player makes him a better choice.
Freeman could opt for a 3-3-5 alignment with Foskey standing up as the third backer while the rover is considered more of a safety. That would depend on how he evaluates his personnel and decides to deploy them. I'm not sure which ends other than Foskey could play in space on a continuing basis, but there are a number of looks the Irish could throw at an opponent depending on down and distance.
Linebacker
The ideal linebacker possesses great instincts, sideline to sideline speed, and brings a high level of violence to the ball carrier. None of the current Irish players check all of these boxes, at least for now. Middle backer Drew White has elements of all three in his game, but he isn't quite fast enough nor does he hit with sufficient force to be feared. Backup or co-starter Bo Bauer hits harder, but his feet and instincts against the run are not as good as White's.
Both may be gone next season, so it's important that an underclassman emerges as the heir apparent. Osita Ekwonu or J.D. Bertrand are the names to consider right now, subject to Freeman's discretion with the entire depth chart.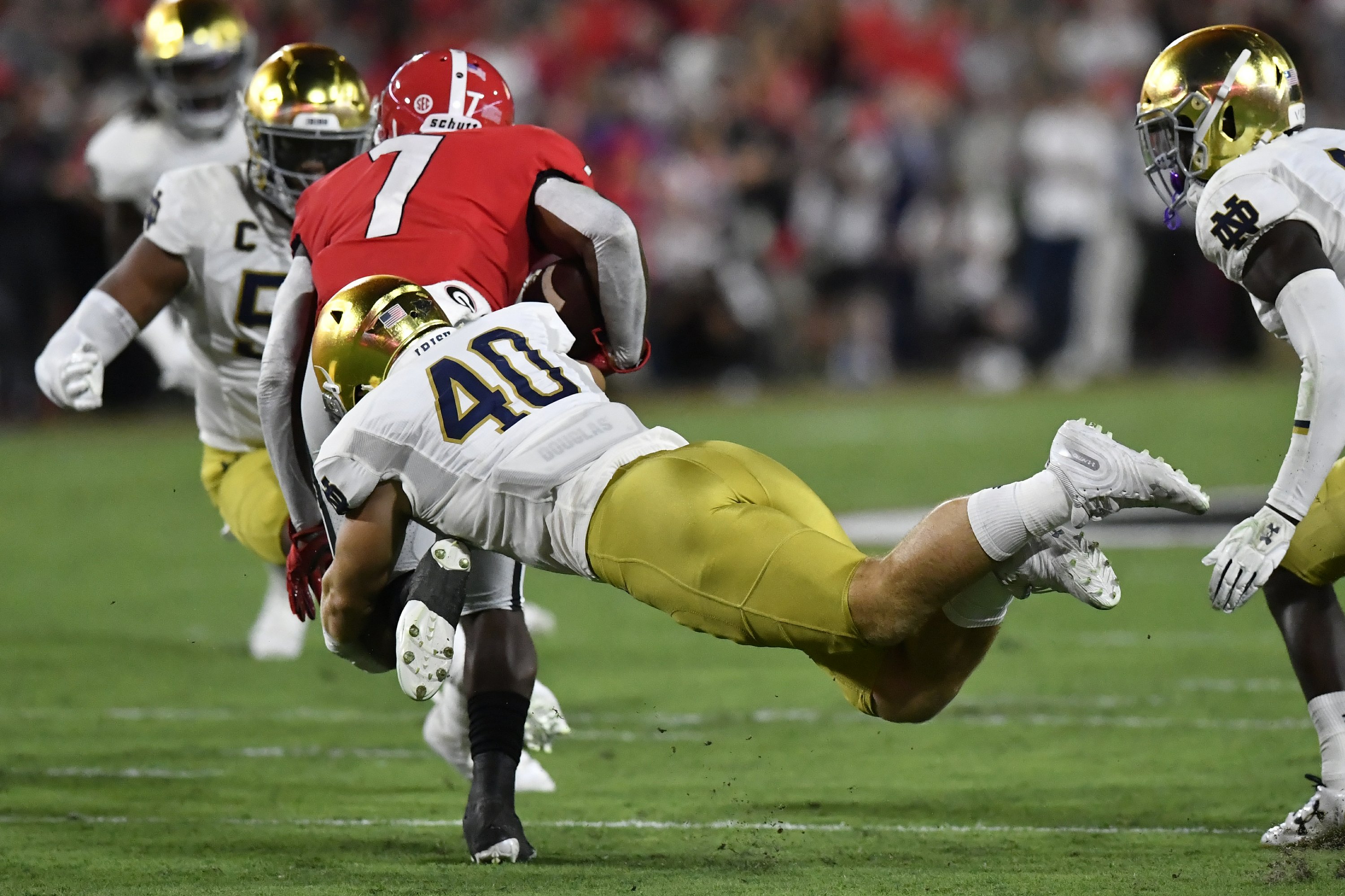 The strong side linebacker position was never settled in 2020. Shayne Simon, Marist Liufau and Jack Kiser split time with mixed results. All moved well enough, but only Kiser displayed much in the way of instincts. None of them recorded many memorable hits, though. Someone has to emerge from the pack this spring to claim the position. Whom will it be?
Replacing Owusu-Koramoah is an even more difficult task. The rover (or weak side linebacker) spot may become a three-way competition between fifth-year player Isaiah Pryor, returning senior Paul Moala, and highly touted freshman Prince Kollie. That won't be the case right away, however, as Kollie is not among the early enrollees and Moala will held out of contact as he continues to recover from a torn Achilles tendon.
That theoretically leaves the job to Pryor as far as spring practice is concerned. More likely, Freeman will have to move someone else in to create depth in practice or redefine the position to open it up to others on the roster.
John's take: The experienced combination of White and Bauer in the middle is adequate, and I will bet that Freeman will conjure a solution from the trio of options on the strong side. Unfortunately, these are positions where the difference between the Irish and teams like Alabama, Ohio State and Clemson are most glaring. It will take at least a couple of years to approach that level.
At rover, it's a shame Moala got hurt last fall because he made positive plays whenever he was on the field. I'm not sold on Pryor as a full-time starter, and it's hard to believe he can come close to assuming the responsibilities that Owusu-Koramoah handled with relative ease.
Notre Dame did not sign a linebacker in the 2020 recruiting cycle, so there are no rising sophomores to talk about. That's coaching malpractice.
Cornerback
Unlike linebacker, the candidates to fill the cornerback slots have little or no experience. That is scary. The lone incumbent starter is Clarence Lewis, who won the job as a freshman late last season when TaRiq Bracy faltered and lost confidence. Bracy is still on the roster, and the spring sessions should tell us if he can return to form or be passed by a few more young players.
The rest of the hopefuls consists of little-known underclassmen. Cam Hart, a converted wide receiver, will get his shot. Sophomores Ramon Henderson and Caleb Offord are next in line. Henderson's length and speed are intriguing, but too little is known about him just yet. Two incoming freshmen, Ryan Barnes and Philip Riley, are more highly rated recruits than any of the other corners on the roster. They are joined by JoJo Johnson and Chance Tucker. Note that Barnes and Riley have enrolled early and will participate this spring. Don't be surprised if one or both of them move up the depth chart.
Position coach Mike Mickens deserves credit for upgrading the recruiting in this area in his first full season in South Bend. His challenge is to get a couple of these youngsters ready to play in a few short months.
John's take: Lewis and Bracy are the only experienced players at the position. Neither could be considered a shut down corner at any level. There is no way around the fact that Mickens and Freeman are going to have to roll the dice with raw players to put together a two-deep this season. This will limit the coverage schemes they can employ, making it difficult to defend the likes of USC and North Carolina, among others. This is the main weakness of the defense because there are so few ways to disguise or mitigate it.
Safety
Kyle Hamilton will be limited this spring as he recovers from an ankle injury sustained late last season, but he can be counted upon to remain his All-American self once fall practice starts. A look at the depth chart makes one realize how important Hamilton is to the defense, because there are very few options to replace him if he misses time this year.
D. J. Brown is the only other safety with game experience at this position. He was not particularly effective last season, so new position coach Chris O'Leary will have to get him ready for longer stretches in live fire situations. Beyond that, recruiting failures in the past couple of years have left the cupboard understocked.
Alongside Hamilton, strong safety Shawn Crawford served enough time to qualify for a pension, but he has moved on. Houston Griffith is his most probable successor, and it's time for the senior to settle in and become the player everyone expected when he first arrived on campus.
Two little-known juniors, K.J. Wallace and Litchfield Ajavon, will be given a long look this spring to see if they can help fill out the two-deep. Wallace may be slightly ahead on the development curve right now, but there is a long way to go. Freshmen Justin Walters and Khari Gee will also join the competition. Both are highly regarded prospects but it's a stretch to assume one of them will leap up the depth chart so quickly.
John's take: Anyone not named Hamilton is a risk on the back end right now, especially against the pass. Griffith absolutely must be solid. He and Hamilton will then have to be iron men in terms of minutes played. The coaching staff has precious few options, and the thought of moving someone over from cornerback is improbable due to a lack of proven players in that camp. It will take great coaching to get two guys ready to back up the starters and ensure the drop-off in play isn't catastrophic. Walters enrolled early to join the fray this spring, and he may turn out to be that diamond in the rough.
Final thoughts
This defense will be solid against the run, but there are legitimate concerns regarding the passing game. Up front, Foskey and Justin Ademilola will have to bring pressure from the end spots. When their backups are identified, they'll need to be effective as well. The linebacking group at the next level are better against the run but are sometimes liabilities in man coverage. Combine this with the question marks at cornerback and strong safety, and Freeman might have more than a few sleepless nights this year.
Things won't remain bleak across the board, though. Some of these holes will get filled and some of these talented athletes will rise to the occasion. Freeman is a great hire and the right man to get the most from his charges. The fun in watching spring practice is being able to witness that growth and development. Don't be surprised, however, if the Irish, dip into the transfer portal for some help in the secondary as they did with Nick McCloud last year.
Tell John what you think in the Comments section below.