The Bowling Green Falcons become the next team in a line of financially motivated opponents from the Mid-America Conference to visit Notre Dame Stadium on Saturday. The hosts will contribute $1.1 million to the coffers of the Bowling Green Athletic Department for the privilege of securing an easy victory as they prepare for more substantive tests later this month against USC and Michigan. The 1-3 Falcons are riding a three-game losing streak by a combined score of 149-27. This trio of opponents included only one Power Five conference member. Remarkably, NBC will televise this game to the entire nation starting at 3:30 PM Eastern time.
Last year's MAC victim, Ball State, served only to embarrass the Fighting Irish by daring to make a game of it until Drue Tranquill recovered an onside kick with 1:30 remaining. Bowling Green does not appear to pose a similar threat, and the struggling Notre Dame offense is hoping for another New Mexico-like breakout performance. The Falcons have 35 true freshmen and ten redshirt freshmen on the roster.
Scot Loeffler, a career offensive assistant at notable stops such as Boston College and Michigan, is in his first season as head coach. Loeffler employs Brian VanGorder as his defensive coordinator. VanGorder coached the Irish defense under Brian Kelly in 2014, 2015, and four games into the 2016 season.
While Bowling Green is reporting no significant injuries, Notre Dame has not been as fortunate. Defensive end Daelin Hayes has been lost for the season due to a shoulder injury. The Irish will carry on this week without several starters – wide receiver Lawrence Keys, cornerback Shaun Crawford, and tailback Jafar Armstrong. Star wideout Chase Claypool rolled his ankle against Virginia and limped for the rest of that game, but is expected to play on Saturday. The injury is not the dreaded "high ankle sprain" that can linger for weeks.
NOTRE DAME'S OFFENSE vs. BOWLING GREEN'S DEFENSE
Although the Falcon defense is far from formidable, the Irish offense will be battling its own inability to avoid mistakes, finish blocks, and execute plays that gain significant yardage. Ian Book is expected to start at quarterback, however I would like to see what backup Phil Jurkovec can do with the first team offense for more than a token series or two. If Book continues to struggle on Saturday, it may serve only to delay Jurkovec's playing time that much longer unless Notre Dame's defense can put points on the board early.
VanGorder runs a 4-3 alignment with several blitz package variations and complexities. End David Konowalski, a sixth-year player and captain, is the best defender in this unit. Linebackers Brandon Perce and Kholbe Coleman lead a second level that is undersized by Power 5 standards. Both are under six feet and 220 pounds. The Falcons have surrendered 220 rushing yards per game thus far. The Irish will counter with running backs Tony Jones, Jr., who is coming off his best career day, and C'Bo Flemister, was took advantage of an opportunity last week to impress the both the fans and the Irish coaches.
Bowling Green has improved from last season in terms of generating sacks, which is attributable to VanGorder's willingness to gamble with blitzes. The Irish can expect the Falcons to take plenty of chances in this contest. They can take advantage if their young, smallish cornerbacks are left in single coverage. Freshman JaJuan Hudson and sophomore Caleb Biggers are struggling to learn on the job after the team lost its top three 2018 starters to graduation. Opponents have completed 75% of their passes thus far this season.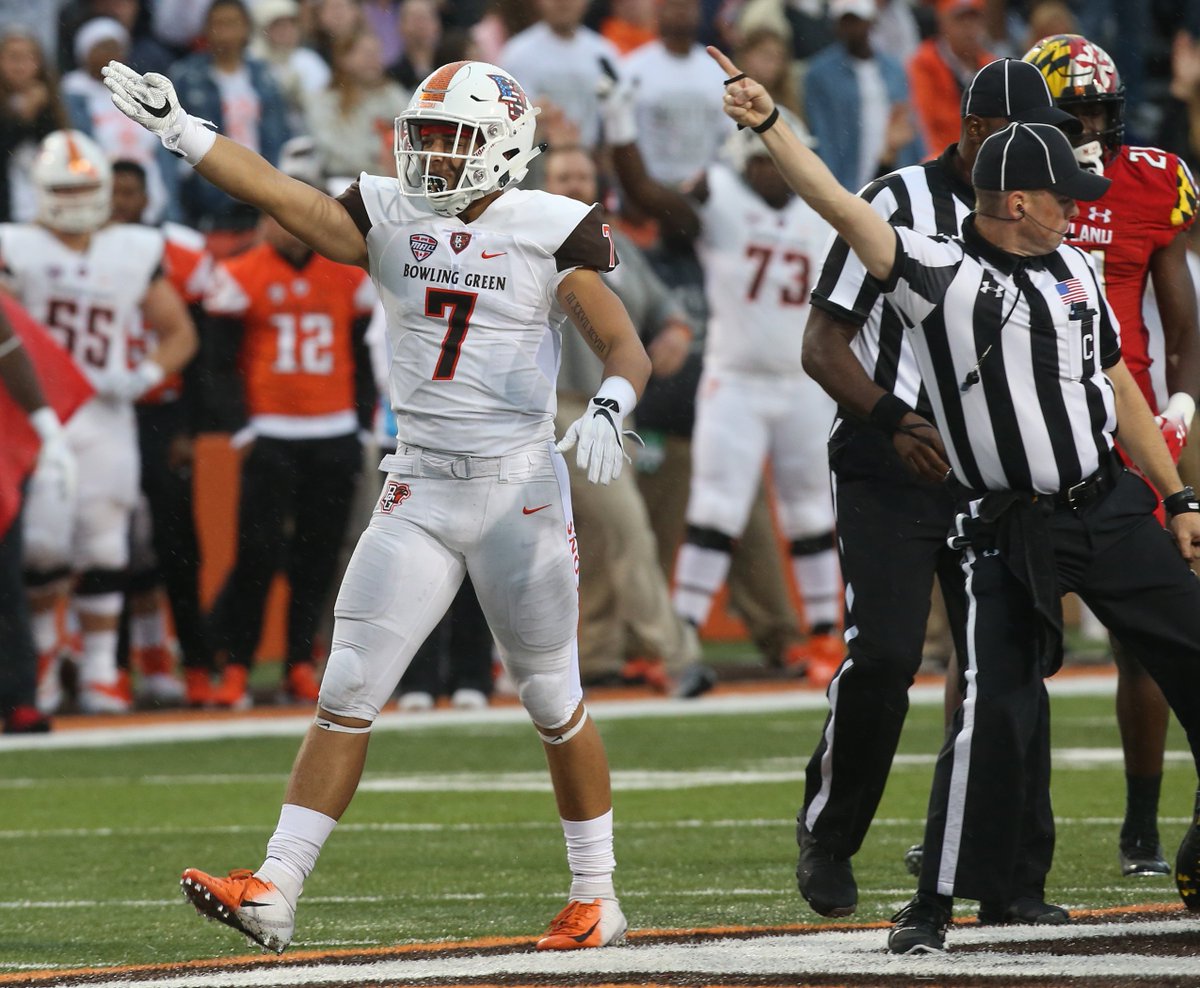 Two senior safeties support Hudson and Biggers in the Bowling Green secondary. Both free safety Jamari Bozeman and strong safety Jerry McBride are experienced starters with good size and speed. Much of the burden will fall upon them to contain Notre Dame's playmakers this week.
BOWLING GREEN'S OFFENSE vs. NOTRE DAME'S DEFENSE
The Falcons have averaged only 263 yards of offense in their past three games. Quarterback Darius Wade completed only 54% of his passes during that stretch with no touchdowns. Wade's primary target has been tight end Quintin Morris, who leads the team in receptions with 16. Loeffler typically deploys two tight ends in his lineup, and most of the passes have been directed that way or to the running backs. Wide receiver Julian Ortega-Jones is the best athlete among the options on the outside.
The running game is divided almost equally among a trio of small (Bryson Denley), medium (Andrew Clair), and large (Davon Jones ) tailbacks. Wade will run when necessary but is not a significant threat under normal circumstances.
Senior center Jack Kramer and left tackle Caleb Bright have the most experience among the offensive linemen. This group has performed well in pass protection with only four sacks allowed, but the Irish represent a much greater challenge than they have seen. Wade prefers to get rid of the ball quickly to close targets, so Notre Dame's linebackers must be ready to cover the tight ends and backs in space.
The Falcons lack breakaway speed other than Denley and will find it difficult to sustain scoring marches against the talented Irish defense unless the hosts commit turnovers or special teams gaffes. Bowling Green ranks a dismal 129th out of 130 teams in third down conversions, although Notre Dame is not much better at 106th.
SPECIAL TEAMS
Kicker Nate Needham has made only one of three field goal attempts this season, and his kickoffs rarely reach the goal line. Punter Matt Naranjo averages 40 yards per boot. Denley does a credible job as the kick returner, but punt returns by Jake Rogers have not produced much yardage.
The Irish have a chance to make some noise in the return game this week if they choose to make this a point of emphasis in practice, but it doesn't seem likely given Kelly's preference for risk avoidance in this area. Kicker Jonathan Doerer could use an opportunity to make a field goal or two after missing a 47-yard attempt against Virginia. Punter Jay Bramblett's efforts have been relatively consistent but not spectacular this season. Punt returner Chris Finke could also benefit from a successful outing after a bad muff last week.
SUMMARY
The Falcons are a young team with a new coaching staff. Although a few of these coaches are quite familiar with Notre Dame and Brian Kelly, and would love to embarrass the Irish, they simply don't have the athletes to make a game of it. The larger question is whether the Irish offense will perform at a high level instead of shooting itself in the foot with penalties and poor execution. The team is about to enter the stage of the campaign where its postseason fortunes will be determined, and there is no more room for erratic performances.
Here are a few questions that will help determine the outcome:
Can VanGorder's defense cause any discomfort for the Irish attack?
How well will the Irish linebackers and secondary defend Wade's short passing game?
Can Notre Dame turn in a mistake-free performance?
Will the Irish defense score more points than the offense?
Can Jurkovec give Kelly a viable option to consider at the QB position?
Will the Notre Dame special teams show signs of life?
How well will the NBC camera crew hide the empty seats?
PREDICTION
The Falcons will give a million dollars of effort in this contest, but the result will never be in doubt. The tasks for Notre Dame are to execute the offense at a much higher level than we've seen to date and keep everyone healthy for bigger challenges later in the month. Unfortunately, any offensive fireworks by the Irish won't help them against USC and Michigan any more than the romp over New Mexico carried over to the following week at Georgia. It would be a bonus to get a long look at Jurkovec before the benches are cleared, but I'm not holding my breath.
NOTRE DAME 55 BOWLING GREEN 7
Tell John what you think in the comments below