Notre Dame (8-2) will play its final home game of the season on Saturday afternoon as the Fighting Irish take on the Boston College Eagles (5-5) on Senior Day. NBC will televise the game nationally beginning at 2:30 PM Eastern time. Mike Tirico and Doug Flutie are the announcers for the broadcast. Also, the NBC Sports Network (NBCSN) will provide a simulcast using the NBC feed. This option features the Irish radio team of Paul Burmeister and Ryan Harris in the booth.
Head coach Steve Addazio, who spent three years as an assistant at Notre Dame under Bob Davie, is now in his seventh season at the helm for Boston College. He holds a 43-43 record, and had recorded winning seasons in five out of six previous campaigns. The teams last played in September 2017 on the BC campus, where the Irish pounded the Eagles by 49-20.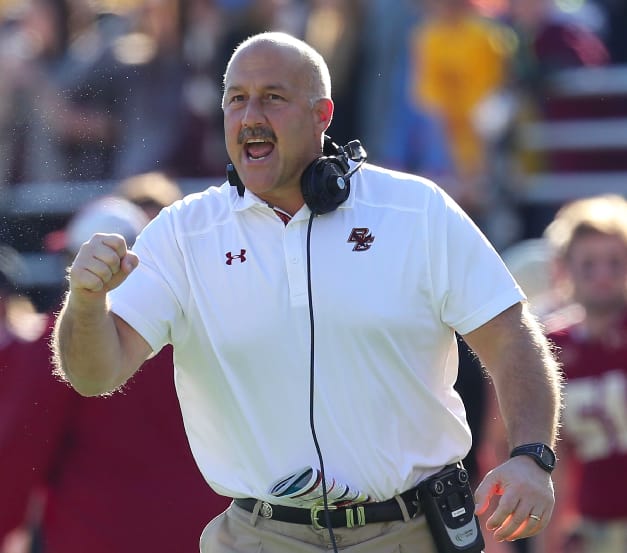 Having coached on both sides of this rivalry, Addazio understands that the games were much more intense in the 1990's than in recent years. He is attempting to motivate his squad this week by tapping into those feelings. "In today's world, the history of these things isn't like the same as it used to be, you know what I mean?", Addazio said this week. "So you've got to bring it back to life. We've been bringing it back to life and talking about it," he added. "I'm going to do some other things as the week goes on to make sure they understand the intensity of this game."
Meanwhile, Notre Dame has been on a roll the past two weeks behind strong performances by Ian Book and the emergence of young players on offense. The defense has been more aggressive, which has created increased turnovers and negative plays. The team has not been visibly slowed despite injuries along the offensive line and defensive front seven.
The Eagles have experienced fewer injuries to starters, but they lost quarterback Anthony Brown earlier to a season ending knee injury. This forced sophomore Dennis Grosel to make his first career start four weeks ago. Free safety Mike Palmer and tailback David Bailey were injured in the Eagles' last game against Florida State, but last week's open date provided sufficient time to recover. Both are expected to play, along with linebacker Isaiah McDuffie, who missed the first two months of the season after suffering a leg injury in spring practice.
NOTRE DAME'S OFFENSE vs. BOSTON COLLEGE'S DEFENSE
Boston College has surrendered an alarming 32 points per game this season. Teams have averaged over 300 yards passing and nearly 200 on the ground against them, and Notre Dame is poised to add to their misery. The Eagles employ a 4-3 defensive alignment anchored by T.J. Rayam and Tanner Karafa at the tackle positions. Veteran weak side linebacker Max Richardson is the best athlete in the group and the team's leading tackler by a wide margin. Freshman Joe Sparacio was thrust into the middle linebacker position when McDuffie went down, and he will continue to start while McDuffie provides situational relief.
This defense has recorded just 11 sacks this season, with Richardson accounting for three and a half. Rush end Brandon Barlow is the only other player with more than one. The poor pass rush has put pressure on young cornerbacks Jason Maitre and Brendan Sebastian, and the Eagles have paid the price. Safeties Palmer and Medhi El Attrach are more experienced, but don't match up favorably with Notre Dame's receivers and tight ends.
We've seen more recently what Book can do given sufficient time in the pocket, so the Irish should score plenty of points unless they stop themselves with self-inflicted wounds. The ground game should also become more productive after a mediocre outing versus Navy. The Midshipmen loaded up against the run last week and tried to blitz Book into mistakes, but the senior made them pay a heavy price with his best career performance. Boston College will have to respect Book's throwing ability which should open things up a bit for the ground game to do its share.
BOSTON COLLEGE'S OFFENSE vs. NOTRE DAME'S DEFENSE
Despite its leaky defense, Boston College is a .500 team because they score a lot of points behind a prolific rushing attack. The tailback tandem of 250-pound A.J. Dillon and the 240-pound Bailey account for more than 220 yards per game. The pair runs behind a capable offensive line led by center Alec Lindstrom, right guard John Phillips and right tackle Ben Petrula. All are three-year starters. Wideout Zay Flowers is also used frequently on jet sweeps.
The Eagles primarily line up in a double tight end formation to further enable their running game. Korab Idrizi, Hunter Long and Jake Burt are plus sized blockers who rotate in these two slots. Long is the best receiver in the group and usually comes in on passing downs.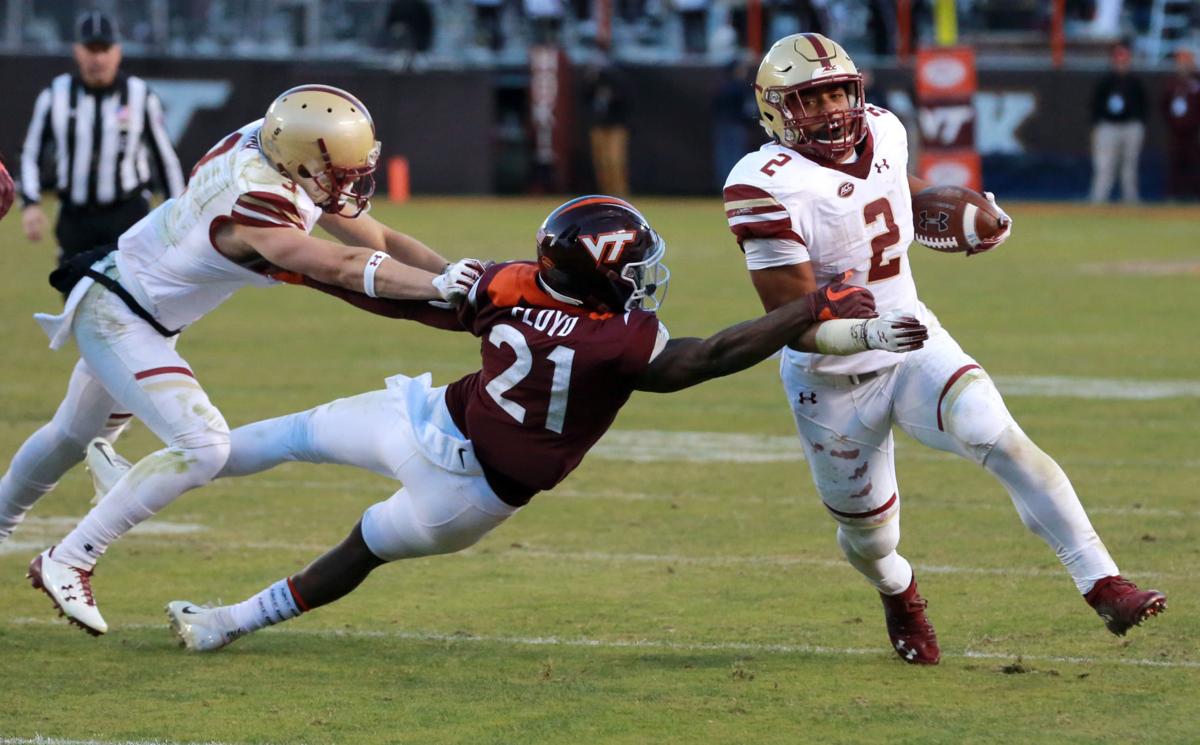 Grosel is only a 50% passer to date despite having the luxury of a credible running threat. Most of his throws are short tosses aimed at the tight ends. The starting wide receivers are Kobay White and Ben Glines, with Flowers replacing a tight end in three-receiver sets. White and Flowers have some speed but the Irish have lined up against better competition this season.
Key matchups for Notre Dame are its rotation of defensive linemen against the BC offensive front, and the Irish linebackers against the plus-sized Eagles' tight ends and backs. Even though the Boston College offense is methodical rather than explosive, it's unrealistic to believe that the hosts can keep them from scoring. Therefore, the Irish offense will have to play with a high level of efficiency as they have shown so far this month.
SPECIAL TEAMS
Veteran Eagle kicker Aaron Broumerhi has struggled this season on field goals from medium to long range. Everything over 30 yards out has been a 50/50 proposition at best. Punter Grant Carlson averages over 42 yards and does not usually allow much room for returns. Reserve wideout Travis Levy is the kickoff return man. More than most other teams, the Eagles prefer to attempt a kickoff return rather than settle for a fair catch. This strategy has not yielded a statistical advantage to date. Levy also returns punts with modest success.
The Irish return men have showed signs of life recently, where a couple of returns have come close to going the distance. Chris Finke (punts) and Lawrence Keys (kickoffs) have caused a few moments of excitement in recent games, but always seem to be one good block away from glory. Kicker Jonathan Doerer continues to be solid while punter Jay Bramblett has had a few freshman moments in an otherwise fair first season. Both the Notre Dame and Boston College cover teams have been very good this season, allowing no significant returns.
SUMMARY
It's not difficult to imagine the offensive game plan Addazio will develop for this contest. After watching the film of Notre Dame's loss to Michigan, the Eagles will believe they can bludgeon the Irish into submission with twin battering rams Dillon and Bailey. Conversely, Notre Dame must man up and force Grosel into low percentage third down situations.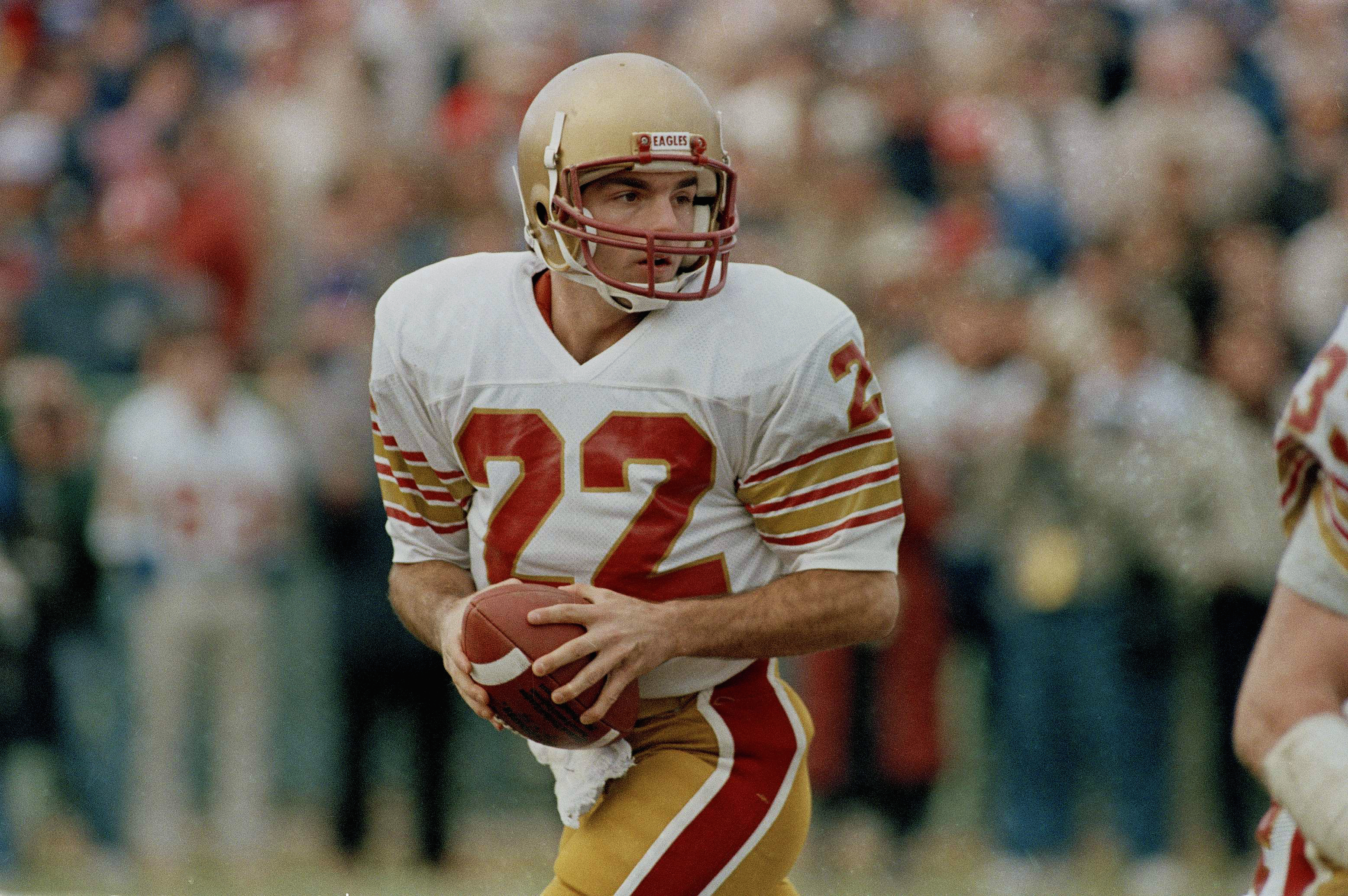 BC's conservative approach usually keeps them competitive in games because they rarely turn the ball over, give up sacks or commit costly penalties. They will need a similar high level of efficiency to have a chance on Saturday, since the Irish offense appears to be too versatile and athletic for the Eagle defense to handle.
Both teams can put points on the board, but Notre Dame can score more quickly and easily.
Here's a few questions that will shed light on the outcome:
Will Boston College be able to run for their season average of 282 yards per game?
Can the Irish offense achieve balance and keep the Eagles guessing?
Which defense will best be able to get a stop on third down?
Can Notre Dame win the turnover battle against the stingy Eagles?
Which special teams will have a positive impact on the outcome?
Can the Irish match the emotional intensity that Addazio expects BC to bring?
Will cable subscribers who don't get NBCSN have to use the mute button on Flutie?
PREDICTION
Once again, Boston College will come into Notre Dame Stadium with a chip on their shoulder and nothing to lose. To neutralize this raw emotion, the Irish need to be aggressive from the start and achieve a semblance of control by halftime. The Eagles' offensive scheme is not difficult to defend if the hosts can match their physicality, while Grosel is not capable of leading BC to victory by himself. Besides, Notre Dame is riding a 17-game home winning streak and wants to give its outgoing seniors another clean slate to remember. I expect to see plenty of points scored in this contest, but the Irish are the better team and should not feel threatened in the fourth quarter.
NOTRE DAME 45 BOSTON COLLEGE 24
Tell John what you think in the comments below