Notre Dame will play the University of New Mexico for the first time on Saturday in the 2019 season home opener. The Fighting Irish won in Louisville on Labor Day despite a lackluster performance, most notably by quarterback Ian Book. Injuries to key players have raised concerns at running back, where starter Jafar Armstrong and reserve Jahmir Smith are not expected to play this week. The injury to Armstrong is more serious and reportedly will keep him on the sidelines until mid-October.
The Lobos have issues of their own, not the least of which is a health scare suffered by head coach Bob Davie during their opening win against Sam Houston State. Davie, who was the front man at Notre Dame from 1997-2001, is out of danger but will not make the trip to South Bend. He met with the press earlier this week after his release from the hospital and thanked his team's medical staff. "I'm not being too dramatic by saying they saved my life," he said. Offensive assistant Saga Tuitele has been named as interim head coach for this contest. NBC will televise the game starting at 2:30 PM Eastern time.
Lingering questions regarding Book resurfaced at Louisville, where he continued to show signs of panic under pressure in the pocket and failed to demonstrate the ability to deliver the ball more than 20 yards downfield. These are areas that he worked on during the off-season and must improve upon if the Irish offense is going to reach its potential. Also, the wide receivers other than Chase Claypool were non-factors in the game, although back-up tight end Tommy Tremble was a pleasant surprise.
Regardless, New Mexico comes in as a heavy underdog and faces significant problems of its own. Quarterback Brandt Hughes started last week but went down with a shoulder injury and will not play against the Irish. Also, veteran nose tackle Aaron Blackwell suffered a season ending knee injury, which rips the heart out of the Lobos defense. Tuitele must choose from three alternates (Sheriron Jones, Tevaka Tuioti, Trae Hall) at quarterback.
"We're splitting reps with all of them," Tuitele said on Tuesday. "We'll probably know on Friday. Today was a pretty clean practice. It's a situation where we have four really good players. (Offensive coordinator Joe Dailey) and myself, we won't make that decision until later in the week." The most likely starter is Jones, who completed six of eleven passes in relief last week and ran for two touchdowns.
NOTRE DAME'S OFFENSE vs. NEW MEXICO'S DEFENSE
What remains of the Irish ground game will feature Tony Jones, Jr. with C'Bo Flemister and freshman Kyren Williams in reserve. Former quarterback Avery Davis, who was converted to running back early in his career and later moved to defense (cornerback), returned this week to shore up the depth chart at tailback. The speedy Davis reportedly has been getting reps in practice this week as a ball carrier and slot receiver.
Meanwhile, the Irish offensive line has work to do in terms of tightening up its pass protection and generating a positive surge on short yardage running plays. New Mexico's 3-4 alignment will feel the loss of Blackwell, but will hope to pressure Book with end Ade Soremekun and rush linebackers Dylan Horton and Jacobi Hearn. Senior middle linebacker Alex Hart is the primary run stopper at the second level.
The Lobos secondary got a workout last week as Sam Houston State threw 60 passes and completed 35 for 443 yards. Nickel back Johnny Hernandez enters as the fifth defensive back on passing downs and actually led the team in tackles in the opener. With the exception of 6'2" free safety Kameron Miller, the Lobo starters are listed at 5'10" or smaller. This should afford a distinct advantage for Claypool, Tremble and possibly others.
Coach Brian Kelly will likely try to build an early lead and build his quarterback's confidence by throwing the ball early and often. Jones will run the ball enough to keep New Mexico honest, but he'll get a rest at once the issue has been decided. Kelly can then experiment with Williams and Davis at tailback during the second half.
NEW MEXICO'S OFFENSE vs. NOTRE DAME'S DEFENSE
The Lobos have been primarily a running team under Davie and this year is no different. They have employed an option attack with quick, small running backs. Ahmari Davis is the leader of this pack, none of whom approach 200 pounds. The offensive line is experienced, particularly on the left side where tackle Javon Mosely and guard Chris Estrella line up. The team scored all four of its opening game touchdowns on the ground, including a 43-yard burst by Davis.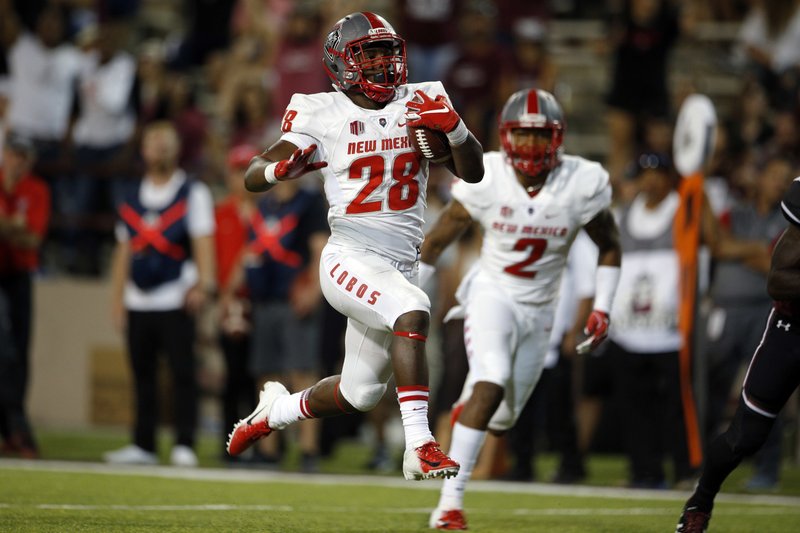 New Mexico prefers to stay out of third and long situations. The first game stats showed a miserable third down conversion rate of 7% (1 of 15). The Lobos are more successful through the air when they can use play-action passes on early downs where opponents have been conditioned to stop the run. Six different receivers recorded catches for greater than 20 yards against Sam Houston State.
If Notre Dame can dictate uncomfortable down and distances by stuffing the option runs, they will win on third down and quite possibly generate a few sacks or turnovers. The Irish linebackers will have to do a better job of tackling and maintaining gap discipline than at Louisville, and they must also more successfully contain the quarterback as a running threat. If they struggle in this regard, New Mexico has a handful of veteran receivers led by Jordan Kress with the capacity to hurt them with a big play.
SPECIAL TEAMS
The Lobos' Andrew Shelly nailed all four of his field goal attempts this season, the longest of which was 44 yards. Punter Tyson Dyer had an impressive 47-yard average in the opener with a net of 46 yards per attempt. New Mexico's return and coverage teams acquitted themselves well in the opener. De'John Rogers handles the punts with Donte Martin and Q' Drennan bringing back kickoffs.
Notre Dame's new kicker and punter were solid in their opening debut, although Jonathan Doerer was not called upon to attempt a field goal. The return and coverage teams were underwhelming, which is not surprising since Kelly has managed to take the "special" out of special teams during his tenure.
SUMMARY
The Lobos don't have the capacity to pressure Book and the Notre Dame offense, so the Irish should score plenty of points in this contest. What Kelly must accomplish besides restoring Book's confidence is to establish more diverse weaponry in his offense. If Tony Jones and Chase Claypool remain the only reliable running and receiving options in an attack that sorely needs game breaking speed, the Irish won't threaten strong teams such as Georgia. While the hosts can grind down New Mexico's defense in methodical fashion, this week represents a golden opportunity to experiment and give future opponents much more to worry about.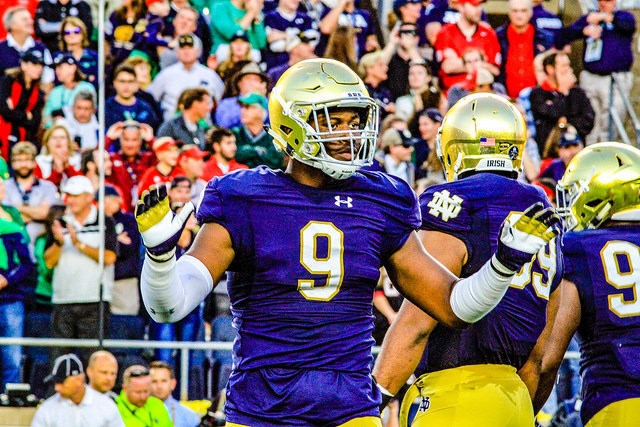 Defensively, the Irish should also dominate. The Lobos have the capacity to embarrass them at times, but the strong back end of Notre Dame's defense should be able to limit any damage. The best outcome for Clark Lea's Irish defense is a more clear cut rotation at linebacker where a couple of lightly tested players such as Drew White, Jeremiah Owusu-Koramoah and Jack Lamb emerge as reliable playmakers.
Here are a few questions that will help determine the outcome:
Will the Irish defense take control early after failing to do so at Louisville?
Can Book maintain his cool in the pocket while searching for an open receiver?
Will Davis or Williams provide any excitement at the running back position?
Can New Mexico connect on any long play-action passes?
Which Notre Dame linebackers will show the most improvement?
Will any of the young Irish receivers establish themselves as legitimate threats?
Can the Irish pass rush keep the Lobos' third down conversion rate in check?
How disappointed will Irish fans be that Davie is not on the sidelines?
PREDICTION
As we've discussed above, there are plenty of reasons to tune in despite the obvious overall mismatch. The Irish have a lot to prove after raising several questions in their opener, and the fact that it's a rare day game should keep most fans awake. Although a comfortable win won't make the road to Georgia any less difficult, this team needs to establish itself for the nine plus games that will come after that.
NOTRE DAME 49 NEW MEXICO 13