Notre Dame will host the biggest game of the college football season to date on Saturday evening when the top ranked Clemson Tigers roll into town. Both teams are undefeated, and the Fighting Irish are ranked fourth in the country. This will be the first visit by a number one team to Notre Dame Stadium since the infamous Bush Push game against USC in 2005. This game will be nationally televised by NBC beginning at 7:30 PM Eastern time.
Coach Dabo Swinney has a record of 137-31 in his thirteenth season at Clemson. He has brought teams to the national championship game in four of the last five seasons, winning twice. These programs last met in the 2018 playoffs, where the Tigers prevailed by 30-3. Swinney is currently enjoying a 36-1 run, including three playoff victories.
Most Irish fans are painfully aware that Notre Dame has not defeated a team that finished in the top ten since 2013. Coach Brian Kelly's 3-8 record in these increasingly rare high-profile contests is dismal. The Irish football schedule has lacked such marquee matchups in the past few years, but games with Clemson and other powers such as Alabama and Ohio State are planned later in the decade.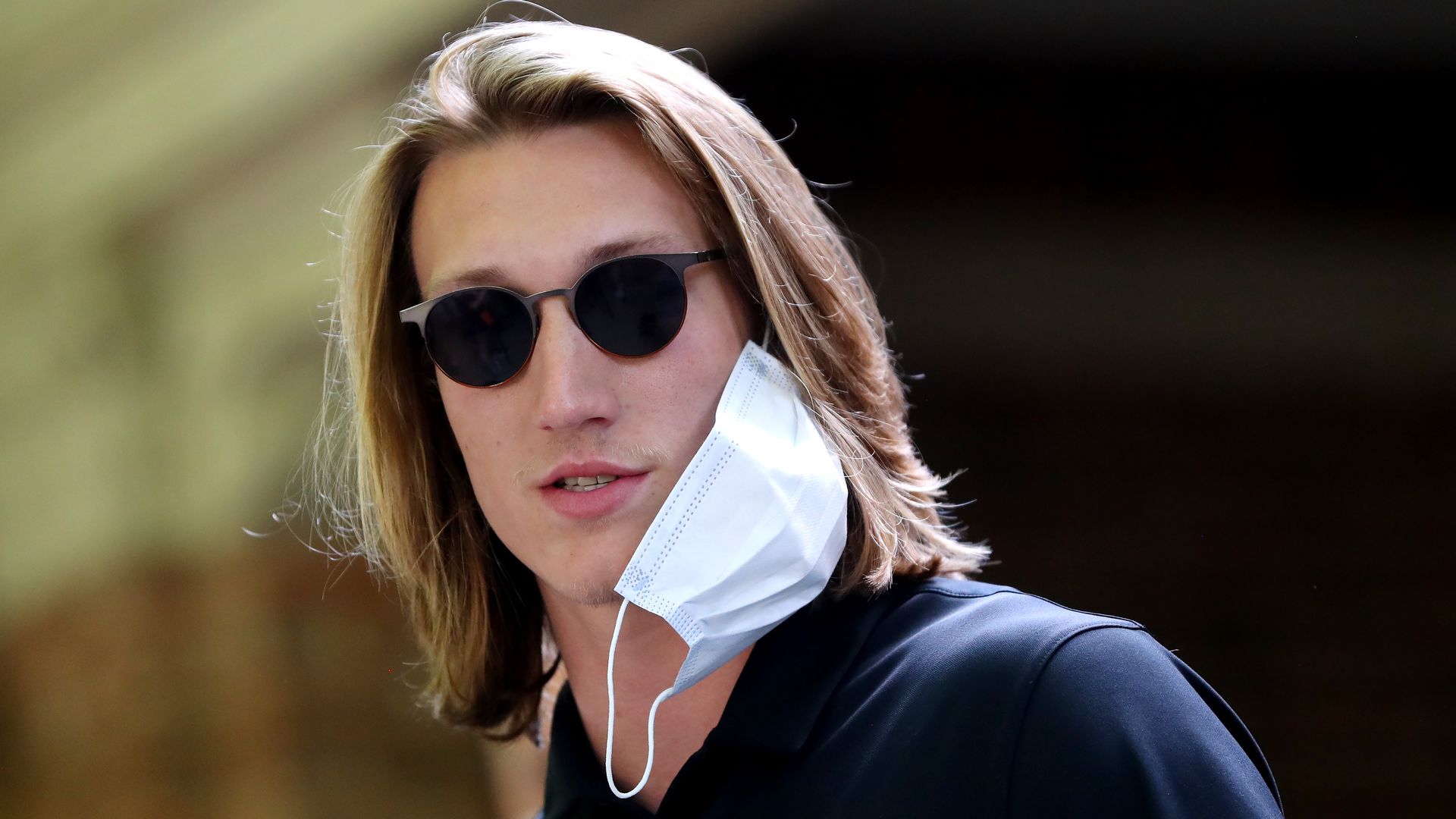 With that said, the Tigers may be vulnerable this week. They enter the game with a long list of maladies involving significant players, including All-American quarterback Trevor Lawrence (COVID). Swinney will turn to highly regarded freshman D.J. Uiagalelei, who engineered last week's narrow win over Boston College. A pair of wide receivers, Frank Ladson and Joseph Ngata, are battling various ailments but hope to play on Saturday. Justyn Ross, the team's best wideout, was lost for the season this spring due to a severe neck injury.
The defensive side of the ball has even more issues. Fifth-year senior middle linebacker James Skalski will miss the game with a groin injury. The line is depleted as end Justin Foster is not ready to return from a preseason injury, tackle Tyler Davis missed the Boston College game and will not make the trip to South Bend. End Xavier Thomas must sit out the first half after a targeting penalty last week. Other walking wounded are linebacker Mike Jones and cornerback Fred Davis. We just learned that Jones will be out as well.
The Irish will play without wide receivers Braden Lenzy and Kevin Austin. Despite a few routine bumps and bruises, the rest of the squad should be available for action. The exception is linebacker Marist Liufau, who must also sit during the first half due to a previous targeting call.
NOTRE DAME'S OFFENSE vs. CLEMSON'S DEFENSE
Defensive Coordinator Brent Venables is justifiably regarded as one of the best in college football. He'll have plenty of talent to work with despite the missing pieces at all three levels of his unit. True freshman tackle Bryan Bresee, who leads the team in quarterback pressures, has been a stalwart in the interior of the line. Fellow frosh end Myles Murphy leads the team in sacks.
Venebles' son Jake will take over for Skalski at middle linebacker with little drop in production. The Tigers will have to find a replacement for Jones to join Venables and weak side backer Baylon Spector, a talented senior. Spector is the team leader in tackles and the only member of the front seven to start every game this season.
Clemson has given up just 100 yards per game on the ground. Even against a depleted opponent, Boston College managed just 67 yards. The Irish must approach 150 if they are going to win. Obviously, Notre Dame's offensive line is the best Clemson will have seen this year. Conversely, the Irish understand the Tiger front, even in its present configuration, is better than the Pittsburgh unit that recently gave them trouble. Clemson averages four sacks each week, so Notre Dame's pass protection will be equally important.
The Tiger secondary has been largely intact all season. Derion Kendrick is the best cover corner while Sheridan Jones has also played well. Senior safety Nolan Turner is the leader of the group and has three interceptions. Strong safety Lannden Zanders and nickel back Davis round out the first unit.
Clemson is talented enough to risk single coverage on Notre Dame's receivers while loading up against the run. This may expose them to passes to the tight ends, so Michael Mayer and Tommy Tremble could be targeted frequently. Georgia employed a similar strategy last year against the Irish and were burned by Cole Kmet until the Dawgs finally adjusted.
CLEMSON'S OFFENSE vs. NOTRE DAME'S DEFENSE
Uiagalelei is an imposing physical specimen at 6'4" and 250 pounds. Although recent injuries may limit the frequency of his running plays, his passing statistics do not exhibit a decline when compared to Lawrence. Both have a 70% completion rate, and Uiagalelei has demonstrated a rare blend of outstanding arm strength and accuracy.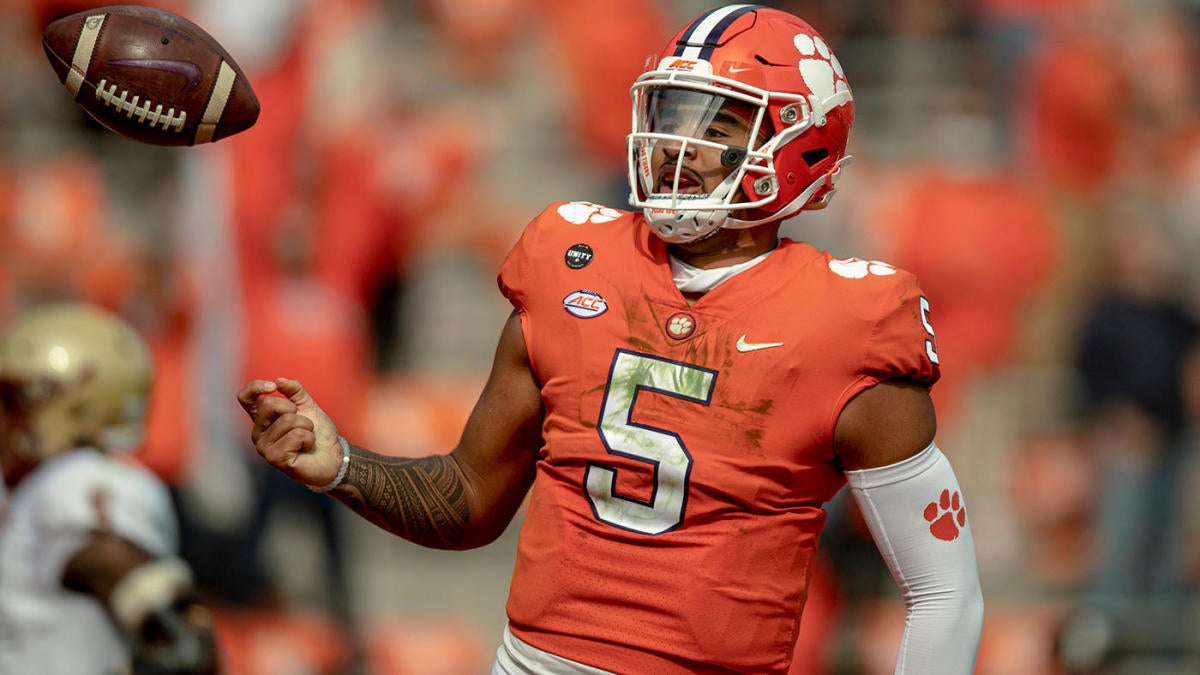 Amari Rodgers lines up in the slot and is the most productive receiver. On the outside, Ladson and Cornell Powell will start, but the most dangerous target on the active roster is Ngata. If healthy, Ngata can capably replace Ross as an elite receiver. If both can play together next season, the pair would be the envy of many NFL teams. The Irish will be hard pressed to contain this group unless they are able to generate consistent pressure on the freshman quarterback.
The Tigers do not have to rely solely on the aerial game as long as tailback Travis Etienne is in the huddle. The senior is a complete back with electric speed and elusiveness. His stats to date are limited by Clemson's many blowout wins, but he is the heart of the offense and the second leading pass receiver on the team. Rover Jeremiah Owusu-Koramoah is the best defender the Irish can deploy in order to contain Etienne. This battle between two elite athletes will be an exciting matchup to watch.
Clemson's offensive line makes it possible for these skill position players to excel. The left side is powerful with tackle Jackson Carman, guard Matt Bockhorst and senior center Cade Stewart. Two sophomores man the right side, but they have held up well to date. Tight ends Braden Calloway and Davis Allen are quality players who are an integral component of the passing game.
With Lawrence at the helm, there is no better or more balanced offense in the country. The bad news for Notre Dame fans is there does not appear to be much dropoff to Uiagalelei. If there is a weakness to be found, it's that there isn't a healthy, proven tailback or quarterback at this moment to replace Etienne or Uiagalelei, respectively, in case either goes down.
SPECIAL TEAMS
Both teams kick the ball well and cover punts and kickoffs with speed and discipline. Jonathan Doerer of the Irish and Clemson's Potter are reliable place kickers with good range. Doerer may be slightly more accurate, and will have the benefit of kicking in familiar surroundings. Punter Will Spiers is better on average than Notre Dame's Jay Bramblett.
Rodgers is a threat to score as a punt returner, while kickoff return man Lyn-J Dixon is well above average. Don't be surprised if Swinney uses Etienne in either role. Chris Tyree has returned kicks effectively for Notre Dame, but the punt return team has done little more than catch the ball. The Irish will do well in this facet of the game if they can hold serve with the Tigers and not commit any costly gaffes.
SUMMARY
It will be difficult for Notre Dame to win without a productive running game. Ian Book will undoubtedly see some pressure in the pocket, but he can't be under constant siege if he is going to complete passes in key moments. He is sometimes criticized for having happy feet in the pocket, but I believe the problem is not a lack of courage. It's simply that he is unable see the whole field when distracted by taller and larger bodies entering his comfort zone. Once he drops his head and stops looking downfield, he is rarely able to regain his posture and reacquire open targets.
Defensively, the Irish must win enough battles up front to pressure Uiagalelei and keep Etienne from breaking long runs. The linebackers must be fundamentally sound in coverage and tackle well. Notre Dame's back seven will be challenged athletically to cover Clemson's endless supply of skilled targets. The ability to disguise coverages and blitzes will factor into that equation. The defensive unit must play together well in order to overcome a few athletic disadvantages in one-on-one situations.
Here are a few questions that will shed light on the outcome:
Can the Notre Dame ground attack exploit Clemson's injury problems?
Which quarterback will make mistakes in the heat of the moment?
Can the Irish secondary cover the dangerous Tiger receivers?
Will Notre Dame's linebackers be able to contain Etienne?
Can either defense pressure the passer while preventing long scrambles?
Which special teams will gain the upper hand?
Can the Irish put together a successful attack plan in the red zone?
Which defense will be able to get off the field on third down?
PREDICTION
With Lawrence out and the Irish facing Clemson's decimated defense, there has never been a better opportunity for Kelly to secure a win over an elite opponent. The Tigers remain motivated, talented and explosive, but the question is whether they can overcome a staggering spate of injuries. The remaining players are no stranger to winning, however, and the biggest advantage for the visitors in this game is coaching. In the Kelly era, it has been the Irish who have walked away from high profile losses talking about how the other team surprised them with strategies for which they had not prepared. Rarely has the reverse been true, where Notre Dame has put a quality opponent on its heels and compelled them to adjust. If Kelly repeats his oft-stated pregame mantra that the players have been fully prepared and will succeed as long as they execute, you can be certain the Irish are in deep trouble. Venables will try to force Notre Dame to rely on Book's arm to score points. The Irish should counter by sticking with the run and wearing them down. The game will be close throughout, but the speed and diversity of the Clemson attack will be the difference.
CLEMSON 27 NOTRE DAME 20
Tell John what you think in the Comments section below