Notre Dame (3-2) will play on its home field for the first time in a month on Saturday night while hosting the Stanford Cardinal (1-4). The Fighting Irish have won three straight after a rough start and are beginning to develop an identity based on power running and a physical defense. The Cardinal are coming off a heartbreaking 28-27 home loss to Oregon State and are badly in need of a victory. This game will be nationally televised by NBC starting at 7:30 pm Eastern time.
Coach David Shaw is in his 12th season at The Farm. He is 94-49 overall and 5-5 in ten games against Notre Dame. Shaw has enjoyed job security at Stanford but a recent spate of losses dating back to last season has generated a few ominous rumblings. The Cardinal have lost their last ten conference games dating back to October 2021.
Last week's debacle featured a blown 14-point lead and a game-winning 76-yard drive engineered by the Beavers' backup quarterback with 13 seconds remaining. A win against the Irish would help quiet those whispers for the moment.
Marcus Freeman's squad is on the upswing but is still in search of a complete performance. Inexplicable defensive breakdowns and red zone failures by the offense persisted even in three victories this season. The one constant has been the play of All-American tight end Michael Mayer. It's impossible to gauge where this team would be without him.
The Irish may be without cornerback Tariq Bracy, who has been their best defensive back this season. He suffered a hamstring injury against BYU. Freeman remains optimistic that he can play on Saturday night. "Practiced yesterday and again, I think he'll be ready to go", he said. "I hope he'll be able to go, but how much and how long is still to be determined." When Bracy is on the sideline, Jaden Mickey and Ryan Barnes will take his spot.
Defensive tackle Howard Cross missed the BYU game with an ankle sprain, and his absence was noticeable. Freeman expects him to be ready this week as well. The biggest loss of the week occurred in practice on Tuesday. Starting middle linebacker Bo Bauer suffered a knee injury and is lost for the season. Prince Kollie and Junior Tuihalamaka will help fill the void. Kollie had his best game last week and appears ready to seize the opportunity.
Stanford will be without two starting offensive linemen. Star left tackle Walter Rouse and right guard Levi Rogers are out with injuries. Another projected starter, guard Branson Bragg, was forced to retire during preseason camp for medical reason. On the good news side, the Cardinal welcome back right tackle Chris Hinton and star cornerback Kyu Blu Kelly to the lineup. Each missed multiple starts this year.
NOTRE DAME'S OFFENSE vs. STANFORD'S DEFENSE
A look at Stanford's statistics this season paints a rather bleak picture in terms of their ability to shut down Notre Dame's rapidly improving ground game. The Cardinal have given up over 200 rushing yards per game at an average of 5.6 yards per carry. Meanwhile, the Irish have run the ball for more than 500 yards total over the last two outings. This success has also enabled quarterback Drew Pyne to hit on 74% of his passes during that stretch. The numbers suggest this same formula should work again this week. The question is whether it will continue into the end zone or stall in the red zone.
Stanford will try to counter the Irish power game with a relatively undersized front four that includes two freshman starters. End David Bailey and tackle Jaxson Moi are talented players but have been forced into service before being fully developed for the college game. They are joined by senior end Steven Herron and nose tackle Tobin Phillips. Both Herron and Bailey weigh in at under 240 pounds and will likely be swallowed up by the massive Irish offensive tackles.
The most impactful player on this defense is linebacker Ricky Miezan. He leads a veteran trio that includes Levani Damuni and Jacob Mangum-Farrar. Miezan is a disruptor who makes plays behind the line of scrimmage and harasses the quarterback. Notre Dame's backs and tight ends must make sure he is accounted for when he comes after Pyne or shoots through a gap to stuff the run.
The Cardinal secondary will get a boost with the return of Kelly to the lineup. It might not matter, however, if Pyne has as much time to throw as he did last week. The best defender in the secondary other than Kelly is safety Kendall Williamson. He will give up five inches in height and sixty pounds to Michael Mayer, so Notre Dame's best player seems destined to have another good night.
STANFORD'S OFFENSE vs. NOTRE DAME'S DEFENSE
Quarterback Tanner McKee is a talented passer who can burn a defense if he has time to throw. He has a completion rate of 64% and has passed for a net 250 yards per game despite the Cardinal offensive line woes and 16 sacks. McKee is a classic pocket passer at 6'6" and 230 pounds. His mobility is limited though and the Irish should have some success in chasing him down.
Three seniors lead a strong group of wide receivers. Michael Wilson, Elijah Higgins and Brycen Tremayne are tall and will test the Irish secondary. McKee distributes the ball to them and tight end Ben Yurosek on a fairly equal basis so a defense can't focus on one main threat. Wilson is clearly the fastest and most significant deep threat. The others are mainly possession type receivers.
The Cardinal running game took a hit when leading rusher Emmitt Smith, Jr. went down with a season-ending injury. He played in two games, averaging over 100 yards per outing and seven yards per carry. Casey Filkins is now the lead back but the dropoff in talent and production from Smith is clear.
McKee will test the Irish linebackers and secondary with persistent run-pass option plays. Stanford has been successful in keeping opposing linebackers off balance with sleight of hand by McKee and pinpoint passes off the run fake. Smith was a more dangerous ball carrier in that scenario but his absence and the injuries up front give Notre Dame's defensive linemen a chance to disrupt those plays before they develop. It will be a more difficult task for the Irish if Cross is hobbled but they have a clear advantage in the trenches and need to dominate.
SPECIAL TEAMS
The Irish specialists continue to impress. Jon Sot has been a true weapon as a punter and Blake Grupe is quietly but efficiently doing the job at kicker. Zac Yoakum has further impressed by consistently booming his kickoffs into the end zone to preclude a return. Punt coverage took a step backward last week by failing to contain the corner and giving up a 42-yard return.
Senior Ryan Sanborn has been a solid punter for the Cardinal with a 42-yard average. Kicker Josh Karty has made all four of his field goal attempts including a 53-yarder. Filkins is the primary punt returner and Bryce Farrell handles kickoffs.
The Irish have come close to a punt block in every game this season. As a freshman in 2019, Foskey burst onto the scene with a block of a Sanborn punt to spark Notre Dame to a victory against the Cardinal. Irish fans would love to see a curtain call this week.
SUMMARY
McKee and his receivers are too good to be completely shut down by Notre Dame. The visitors will score a few points but they are also vulnerable to sacks and turnovers. The Cardinal have committed 12 turnovers to date while the defense has forced only two. This places them near the bottom of Division 1 teams. Of course, the Irish must make those plays and take the ball away. This would be a good week for Northern California native Isaiah Foskey to have the type of performance that has been expected of him but not delivered all season.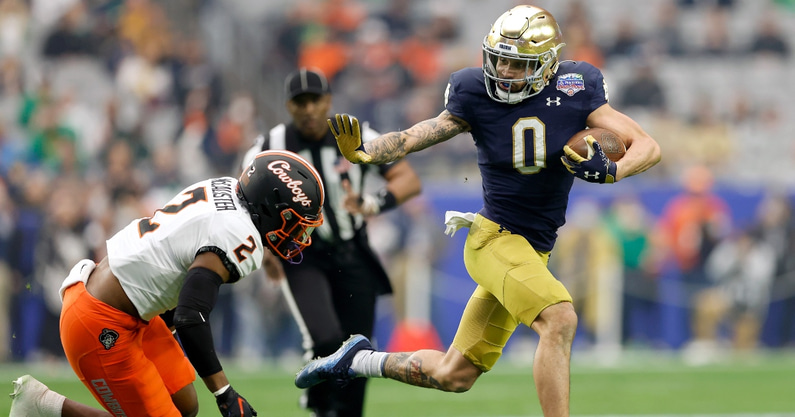 When Notre Dame has the ball, they must finish drives with seven points. The offense appears to be unstoppable at times with well-conceived sequences and incompetent at others with head-scratching play calls and whiffed blocks. Stanford's defense should serve as a confidence builder for Pyne and company. The emergence of Jayden Thomas will help Mayer but Braden Lenzy also needs to get more involved before this offense can run on all cylinders. I haven't given up on Tobias Merriweather but first the starters need to play like starters.
Here are a few questions that will shed light on the outcome:
Can Stanford's patchwork offensive line stand up to the Irish defensive front?
Will Notre Dame's linebackers be able to defend Stanford's RPOs?
Can the Irish score touchdowns inside the red zone?
Will Isaiah Foskey make any highlight level plays for the Irish?
Can Notre Dame rush for over 200 yards while holding the Cardinal under 100?
Will the Irish receivers other than Mayer make significant contributions?
Can Notre Dame's secondary cover the tall and experienced Cardinal receivers?
Are USC and Clemson living on borrowed time?
PREDICTION
The Irish are capable of passing the 40 point mark in this game if they don't stop themselves in scoring territory. Pyne is playing with confidence and the interior offensive linemen have picked up their game after a shaky start to the season. A couple of blocks by the tight ends and wide receivers could spring Chris Tyree, Audric Estime and Logan Diggs for large chunks of real estate.
Notre Dame's defense has a key injury at each of its three levels (Cross, Bauer, Bracy). Stanford and McKee are good enough to take advantage, at least to the point where the game does not deteriorate into a blowout against them. I remain worried about the poor play of Irish linebackers to date. The highly touted Marist Liufau has not made a noteworthy contribution this season and J.D. Bertrand's best plays are the two that got him tossed from games. Jack Kiser has been steady but that is a low bar to clear. It's time for Kollie and Tuihalamaka to get their shot. The Irish are not a playoff team this season and linebacker is an area that Freeman needs to start building for the next one.
NOTRE DAME 38 STANFORD 20