Notre Dame will close its 2019 season at the Camping World Bowl in Orlando, Florida on Saturday when the Fighting Irish battle the Iowa State Cyclones. This is the first meeting between these schools, and it is regarded in Ames, Iowa as the opportunity of a lifetime for a relatively obscure program to gain national respect. For Notre Dame, the game is clearly a step down from an invitation to play later in the day at one of the national playoff semifinals. Kickoff is slated for 12:00 PM, Eastern time. The ABC network will provide national television coverage.
Coach Matt Campbell is wrapping up his fourth season at the helm for Iowa State. He has posted three consecutive winning seasons after a 3-9 start. This year's 7-5 team merits respect from Irish fans despite the disparity in win-loss records. The Cyclones suffered one-point losses against Iowa and playoff bound Oklahoma, and lost by two at Baylor. They trailed by 42-21 entering the final period against the Sooners before a furious rally fell agonizingly short. After closing to within 42-41 with seconds remaining, Campbell elected to go for the win but the two-point conversion pass was unsuccessful.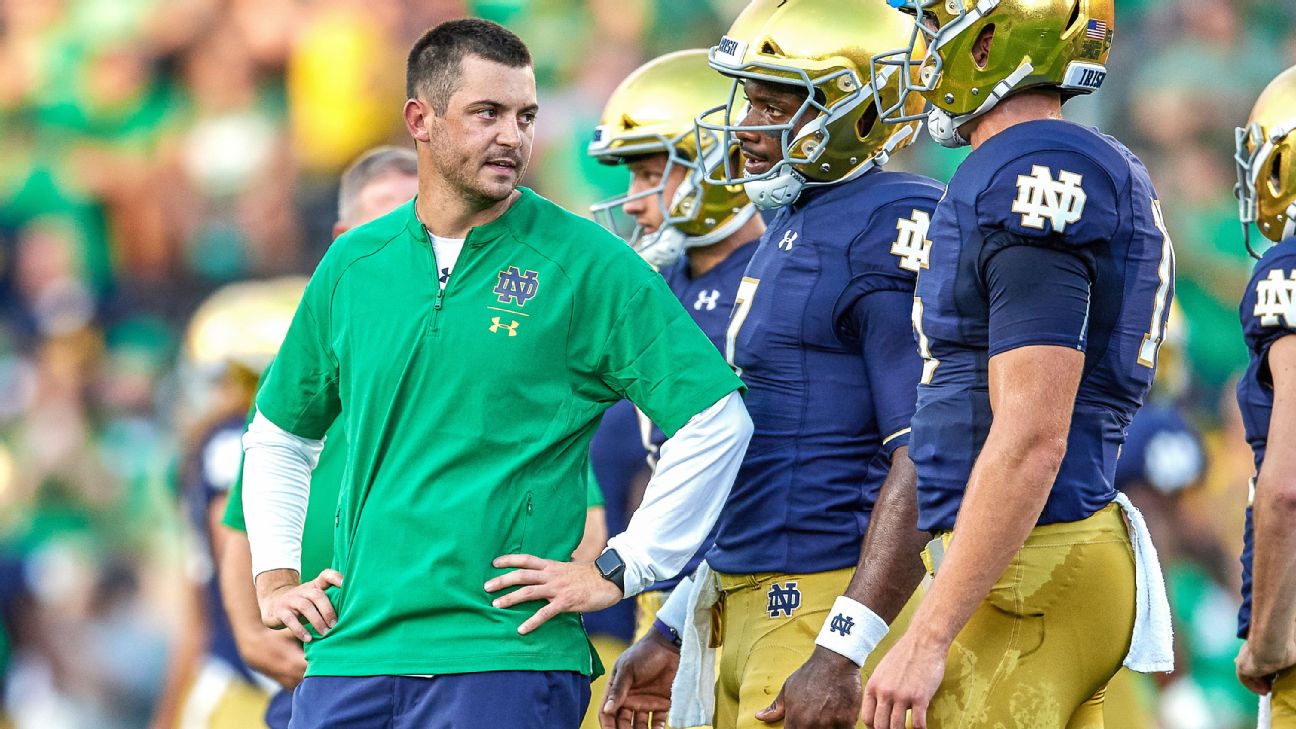 The Irish offense will be attempting to regroup after Coordinator Chip Long was dismissed by Head Coach Brian Kelly on December 11. His duties will be assumed by a committee consisting of Offensive Line Coach Jeff Quinn, Running Backs Coach Lance Taylor, and Quarterbacks Coach Tom Rees. There was much speculation as to who will call the plays during this game, but Rees is regarded as a future coordinator at this level and will get the first shot.
Iowa State reports no significant injuries, while Notre Dame remains without starting offensive linemen Robert Hainsey and Tommy Kraemer. No Irish player has announced an intention to sit out the contest.
NOTRE DAME'S OFFENSE vs. IOWA STATE'S DEFENSE
There has been a significant amount of discussion about the Irish ground game in the wake of Long's dismissal. The inability to run the ball successfully in key situations created a rift among the offensive staff this season. Long apparently became frustrated and is moving on, but the problem still requires a solution. Production was dismal in the losses to Georgia and Michigan, where Notre Dame ran for 46 and 47 yards, respectively. Quarterback Ian Book accounted for 31 of these 93 total yards.
Kelly initially put a positive spin on the problem earlier this month by insisting everything was fine, but he acknowledged the need for improvement when the team returned to practice for the bowl game. "I'm sure there's enough information out there that we ran the ball at times effectively and at other times we weren't effective. And so we want to be, moving forward, much more effective. So that requires complete collaboration and everybody on the same page. That's what I'm looking to accomplish here over these next few days", he said.
The Cyclones have employed an innovative 3-3-5 defensive alignment this season. This is due to two factors: the pass-heavy spread offenses they face in the Big-12 conference, and the need to maximize the strengths of their relatively undersized personnel. The Irish will likely see a lot more of the 4-3-4 alignment, however, especially if they emphasize the ground game. In passing situations, Iowa State will vary its look and send blitzing linebackers from all angles.
Nose tackle Ray Lima is ISU's best down lineman, while weak side linebacker Marcel Spears is the top tackler. It's unusual for a middle linebacker to lead his team in sacks, but Vance O'Rien has that distinction for the Cyclones. Mike Rose, the strong side linebacker, has started every game for Iowa State since he arrived on campus. A Freshman All-American last year, Rose is a very promising player whose grandfather played at Notre Dame.
The secondary is the weakest link of the defense. Free safety Lawrence White and cornerback Anthony Johnson are its best players, but the other two positions have been problematic for Campbell this season. The fifth player on the back end, Greg Eisworth, took the place of a fourth down linemen on most of the snaps this season.
IOWA STATE'S OFFENSE vs. NOTRE DAME'S DEFENSE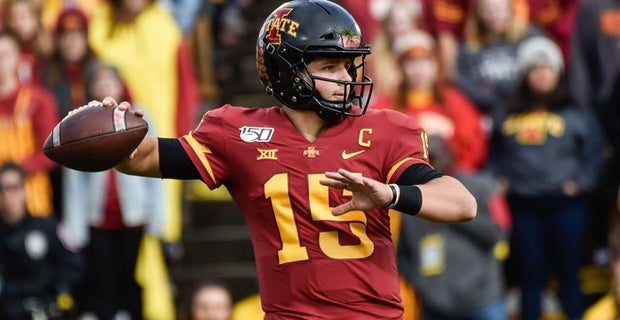 Sophomore quarterback Brock Purdy leads a prolific passing attack that is ranked eighth in the country. The buzz in Ames is that Purdy has an opportunity to begin his 2020 Heisman campaign against Notre Dame. His receivers are diverse and productive. Deshaunte Jones and Tarique Milton provide quickness, La'Michael Pettway is a big target, and tight end Charlie Kolar is an All-Big-12 standout. Purdy has completed 66% of his passes and is also a capable runner when the need arises, although he's not as fast or elusive as Book in that regard.
Freshman Breece Hall took over in the second half of the season as the lead running back, averaging five yards per carry. He displaced three upperclassmen, including primary backup Johnnie Lang. The Cyclones operate behind an offensive line led by four-year starter Julian Good-Jones at left tackle and seniors Bryce Meeker and Josh Knipfel on the right side. Freshman Trevor Downing joins the group at left guard. Iowa State has surrendered only fourteen sacks this season, and they have rushed for 140 yards per game to provide an effective balance to their offense.
The Irish front seven has a talent and depth advantage over the Cyclone front, and they'll need to win a majority of their individual battles to keep Purdy from getting too comfortable. Matchups to watch in the secondary are cornerback Troy Pride against Deshaunte Jones and safety Kyle Hamilton on Kolar.
SPECIAL TEAMS
Kicker Connor Assalley hit 75% of his field goal attempts this season, but was only one of three from 40 yards or more. He did hit a 36-yard game-winner against Texas. Punter Joe Rivera averages 40 yards per attempt and doesn't usually leave room for a long return. Iowa State has returned only eight punts this season, but Milton is a capable threat if given space. Kene Nwangwu brings back kickoffs for a respectable average of 26 yards.
Irish kicker Jonathan Doerer and punter Jay Bramblett continue to be reliable performers for the Irish. Doerer has a stronger leg than his Cyclone counterpart, which puts Notre Dame in scoring territory five to ten yards earlier. Punt returner Chris Finke was very productive during the second half of the season, as he provided Notre Dame with good field position on a number of occasions. Highly successful kickoff returns remain a bridge too far for the Irish in the Kelly era.
SUMMARY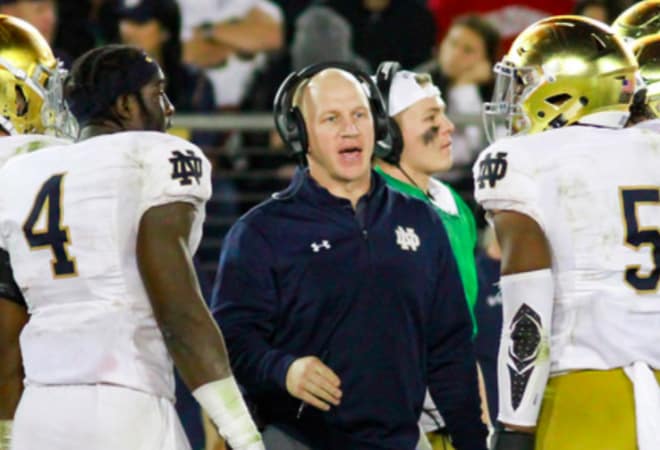 Iowa State will pull out all the stops with new wrinkles on offense and a gambling defense that will attempt to keep the Irish off balance. The question is how long these tactics will stand up against Notre Dame's superior size and talent. The Irish can take control of the contest with a re-tooled power running attack and by dominating the line of scrimmage on defense. This assumes they understand the Cyclones arrived in Orlando with nothing to lose and can match their high intensity level.
The number of playmakers on both sides suggests there will be plenty of points on the board at the end of the day. Notre Dame's Defensive Coordinator Clark Lea has proven to be capable of making successful adjustments during the course of a game and shutting down opponents. Lea's genius may be necessary on Saturday, as the Cyclones are too skilled and well-coached to be put away in the first half.
Here are a few questions that will shed light on the outcome:
Can Notre Dame's committee of offensive coaches cobble together an effective running game?
Which secondary will be able to slow down the opponent's dangerous receiving corps?
Can the Irish bring enough pressure on Purdy to impact his performance?
Will Book pick up where he left off in November by throwing the ball downfield?
Which special teams will make a positive contribution?
Will the Irish be able to match Iowa State's enthusiasm for this contest?
Can Notre Dame win the turnover battle?
Aren't we glad we're not playing Clemson again?
PREDICTION
The motivation factor in non-playoff bowl games is notoriously difficult to predict. You can be sure that Campbell will have his team sky-high at kickoff, and the memory of their stunning fourth quarter comeback against Oklahoma will keep them engaged throughout the afternoon. The knowledge that the Irish mailed in an awful performance in a rivalry game in Ann Arbor gives me pause to think it can happen again in a comparatively meaningless exhibition in Orlando. That nightmare aside, I'll choose to believe that Kelly has at least temporarily removed the tension within the locker room by firing Long, and the team will focus on this contest with renewed enthusiasm. Even so, the Cyclones will enjoy a few moments of glory before reality sets in and the Irish take control.
NOTRE DAME 38 IOWA STATE 27
Tell John what you think in the comments below