There were spooky things happening on Saturday in wintry South Bend. Notre Dame had committed three turnovers in the red zone and squandered another scoring opportunity midway through the fourth period with a costly penalty, and it looked as though the Irish were going down to a second consecutive defeat. The defense got the ball back one last time for the struggling offense with 3:22 remaining, however, and Ian Book capped a last ditch 87-yard drive with a seven-yard scoring run to pull out a 21-20 win over Virginia Tech.
First half turnovers kept the hosts from taking control of the game early. Book threw an interception at the Virginia Tech nine yard line on the team's second possession, ending a long march. The Irish finally got on the board on their next series when Book hit a wide open Cole Kmet on a short pass for a 7-0 lead. The Hokies, who were obviously motivated from the outset, answered when third string quarterback Quincy Patterson hit Damon Hazelton for a touchdown later in the first quarter.
The Irish came right back in the second stanza when Book threw a short scoring pass to Tommy Tremble. The touchdown play was preceded by a well-executed screen pass (finally!) to Jafar Armstrong that covered 26 yards.
Both offenses struggled for a while until Virginia Tech put the ball on the ground near midfield. Jeremiah Owusu-Koramoah recovered for Notre Dame at the Tech 42 yard line, but could not scoop the ball up cleanly with nothing but turf in front of him. Leading 14-7, the Irish still had plenty of time to take a more commanding advantage before halftime.
With fewer than 30 seconds remaining and the ball at the Hokie two yard line, Armstrong was hit hard for no gain. The ball popped into the air, and Virginia Tech safety Divine Deablo snagged it on his way to a 98-yard sprint for the tying score with nine seconds left on the clock.
The second half brought more misery for the Irish. The Hokies took the kickoff and tacked on a field goal to take the lead at 17-14. Moments later, Deablo made a leaping interception of an underthrown pass by Book at the Tech two yard line. Notre Dame's offense has fallen flat several times after intermission this season, and today was no different.
On the final play of the third period, Tre Turner made a circus catch of a Patterson pass for a 52-yard gain to set up another Brian Johnson field goal. The Hokies now led by 20-14 with 13:25 remaining in the game. To make matters worse, Lawrence Keys caught the ensuing kickoff at the Irish one yard line and stepped into the end zone to down the ball. By rule, the ball was placed at the one and Notre Dame was forced to start from there.
As boos began to emerge from the crowd, two critical if not fortunate major penalties gave life to an Irish comeback drive. Mercifully, a roughing the passer call nullified a third interception by Book. Given a reprieve, the senior quarterback mixed in passes to Chase Claypool and Braden Lenzy to bring Notre Dame inside the Tech ten. After a defensive holding call moved the ball to the four, Armstrong was flagged for an illegal block below the waist, and the drive stalled. Jonathan Doerer came on to attempt a 35-yard field goal, but it was wide right with seven minutes left.
Virginia Tech took over and managed a couple of time-consuming first downs against the tiring Notre Dame defense, but a high-effort sack by Khalid Kareem forced a punt. Once again, Book was forced to start from deep in his own territory with just 3:22 on the clock. The team needed a touchdown and was 87 yards away from its objective.
The final drive almost ended in its infancy, but Book found Armstrong with a short fourth down pass to keep things moving forward. He added a few runs with tosses to Claypool and Avery Davis to move across midfield, before three straight incompletions stalled things at the Tech 33.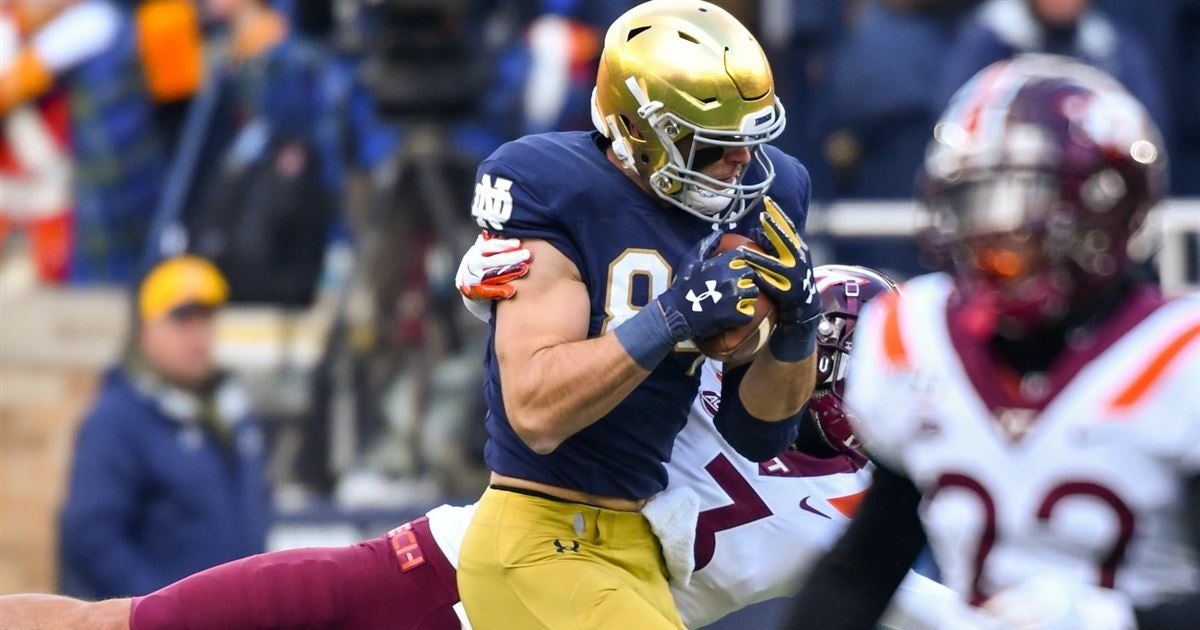 Facing a fourth and ten, Book threw perhaps his best pass of the season, hitting Claypool in stride on a deep slant at the Hokie seven-yard line. Two plays later, with 29 seconds on the clock and no Irish timeouts remaining, Book called his own number and navigated around right end for the winning score. In the final seconds, Kyle Hamilton picked off a desperate Patterson heave to end it.
The dramatic victory overshadowed another uneven performance by the Irish, who were sluggish on offense, half asleep on special teams and good but not especially dominant on defense. The win also proved to be costly as right tackle Robert Hainsey went down in the first quarter with a fractured ankle. Linebacker Jack Lamb went down later on a special teams play. I have not heard a report yet on his condition.
Let's review the answers to our pregame questions:
Can Notre Dame dominate the line of scrimmage? No. The Irish running game was non-existent. Book accounted for 50 of the team's 106 yards rushing, and he was asked to throw 53 passes against a decided underdog. The defensive line was slightly better, but were fortunate that Patterson's passing accuracy was poor.
Will the Irish defense continue to arm-tackle or will they play more crisply? Tackling and effort were improved. The group bent in the second half but refused to break.
Which team's running game will help relieve pressure on its quarterback? Neither. Both quarterbacks carried the rushing load but did not get much help. Tony Jones sat out the game for Notre Dame due to nagging injuries.
Can the Irish limit successful scrambles by Hooker? Patterson had to fill in as Hooker was unable to start, but the Irish did a good job in limiting his excursions out of the pocket. He finished with 77 yards on 19 carries with just one escape for 20 yards.
Will Kelly give Jurkovec any meaningful snaps? No, he only snapped at him once – for falling asleep during the third quarter. Most of the fans did as well, however, until they woke up and began to chant for Urban Meyer.
Will Bud Foster be able to devise a plan that confounds the Irish offense? Of course. It has become child's play to make Chip Long look like an amateur. Foster might have completed the task if he had not lost both starting cornerbacks in the second half.
Can Smith and Armstrong contribute more substantially to the rushing attack? I'm going to have to stop calling it a rushing "attack". It's more like a sorority pillow fight.
Which team will commit crucial turnovers? Notre Dame's three giveaways and a drive-killing penalty in the red zone turned a comfortable win against a mediocre team into a cardiac event.
A trip south to play Duke is on tap for next week. Normally, this would not cause Irish fans to break into a sweat, but the Devils beat Virginia Tech by 45-10 this season and are well-coached. The Irish suddenly appear to be vulnerable, and the loss of the right side of the offensive line is never a good thing.
Tell John what you think in the comments below