Notre Dame travels to ACC country on Saturday to take on the University of North Carolina. The high-scoring Tar Heels were idle last week after beating three smaller, non-conference schools in alarmingly unimpressive fashion. Meanwhile, the (1-2) Fighting Irish are seeking to build on last week's home victory over California. This game will be nationally televised by ABC starting at 3:30 PM Eastern time.
North Carolina is coached by Mack Brown. He came out of retirement in 2019 for a second tour at the school after a distinguished career that included the 2005 national championship with Texas. In his three plus seasons, Brown has lifted the Tar Heel program out of the doldrums marked by poor leadership and academic fraud penalties. His record over this period is 24-17.
The Irish defense found its footing last week as its front four gained dominance over Cal. The Tar Heels have a much more potent offense featuring quarterback Drake Maye and a deep, talented group of receivers led by Josh Downs. Maye directs a balanced attack with tailbacks Omarion Hampton and D.J. Jones among those making solid contributions. Maye is also an accomplished runner who operates the RPO with a high degree of efficiency.
Quarterback Drew Pyne makes his second start for Notre Dame after taking over for the injured Tyler Buchner. Pyne rebounded from a miserable start last week to lead three scoring drives in the second half that proved decisive. The passing game remains limited with the diminutive Pyne at the helm so the Irish must rely on a solid ground game to create scoring opportunities.
Notre Dame defensive linemen Isaiah Foskey and Jayson Ademilola are banged up but will play on Saturday. Both had impactful games last week as did Jacob Lacey and Howard Cross. Linebacker J.D. Bertrand will miss the first half due to a targeting penalty late in the win over Cal.  
Key players for Cal have been injured but are expected to return this week. Downs, fellow receiver Antoine Green and running back Caleb Hood will be evaluated prior to game time but are expected to be available. In Downs' absence, sophomore receiver Kobe Paysour has stepped in admirably with 14 receptions for 172 yards and two touchdowns over two games. Defensive lineman Myles Murphy and offensive tackle Spencer Rolland are also coming off injuries. Both practiced this week and should start.
NOTRE DAME'S OFFENSE vs. NORTH CAROLINA'S DEFENSE
North Carolina's Defensive Coordinator is Gene Chizik. Chizik has won National Championships as a head coach at Auburn and as the defensive coordinator at Texas under Brown. He directs a 4-2-5 alignment in which veteran ends Noah Taylor and Chris Collins share duties as the swing man who can rush the passer or drop into coverage. Linebackers Cedric Gray and Power Echols make most of the tackles. Gray is the unit's best athlete who is equally effective against the run and in pass coverage. Echols is backed up by a former Irish recruit, freshman Sebastian Cheeks.
The Irish can and should establish the run against this group. The Tar Heels have surrendered nearly 200 rushing yards per game to teams from lesser conferences despite being ahead on the scoreboard much of the time. Both Chris Tyree and Audric Estime had strong performances last week. The Irish finally moved away from the slow-developing, east-west running plays and went with a more direct approach in their blocking scheme. Play-action passes also worked well in this mode.
Coach Marcus Freeman is still waiting for his team to demonstrate a vertical passing capability. "To be able to win the upcoming games that we play, you're going to have to be able to complete some balls down the field," he said earlier this week. So far, this element remains a work in progress. Tight end Michael Mayer and the tailbacks have caught balls downfield this season but the wide receivers have enjoyed very little success to date.
Carolina's porous defense may present the solution Freeman and Tom Rees have been seeking. The Tar Heels have been torched for 38 points per game and opposing quarterbacks have hit 70% of their passes. Cornerbacks Tony Grimes and Storm Duck are decent players but they have not had much help from the pass rush. Six total sacks and three quarterback hits are not impressive against the level of competition the Tar Heels have played.
NORTH CAROLINA'S OFFENSE vs. NOTRE DAME'S DEFENSE
Maye took over for NFL-bound Sam Howell this season and has not disappointed. He is taller at 6'5" and leaner than Howell but is an equally effective runner. Maye has connected on 74% of his passes and averages just under 13 yards per completion as compared to 8.5 yards for Pyne. The return of Downs to the lineup is bad news for Notre Dame. This combination clicked on nine passes and two scores in the season opener before Downs suffered a leg injury.
The Carolina aerial threat begins with Downs but doesn't end there. Six other receivers have caught touchdown passes, including tight end Kamari Morales. The wideouts in the two-deep are a collection of freshmen and sophomores who have developed quickly. Paysour is a prime example of someone who was ready to plug in and produce the minute his chance presented itself.
Tailback is well-stocked with Jones, Hampton, Hood and George Pettaway. Hampton is the leading rusher but all have contributed. Interestingly, Maye is the second leading rusher on the team to date. The offensive line is stocked with three grad students and two senior starters. They have cleared the way for 237 rushing yards per game. Notre Dame's challenge is to slow down this train and allow its pass rushers to tee off on third down. If the Tar Heel front has a weakness, it is pass blocking.
The Irish defense will have its hands full and could find themselves on roller skates early. The linebackers have been ineffective and the worries there are exacerbated by the absence of Bertrand. Maye is far more accurate than Cal's Jack Plummer, and quarterbacks with strong running ability have given Notre Dame fits in recent years. Also, keep your eye on the matchup between Notre Dame's slot cornerback Tariq Bracy and Downs.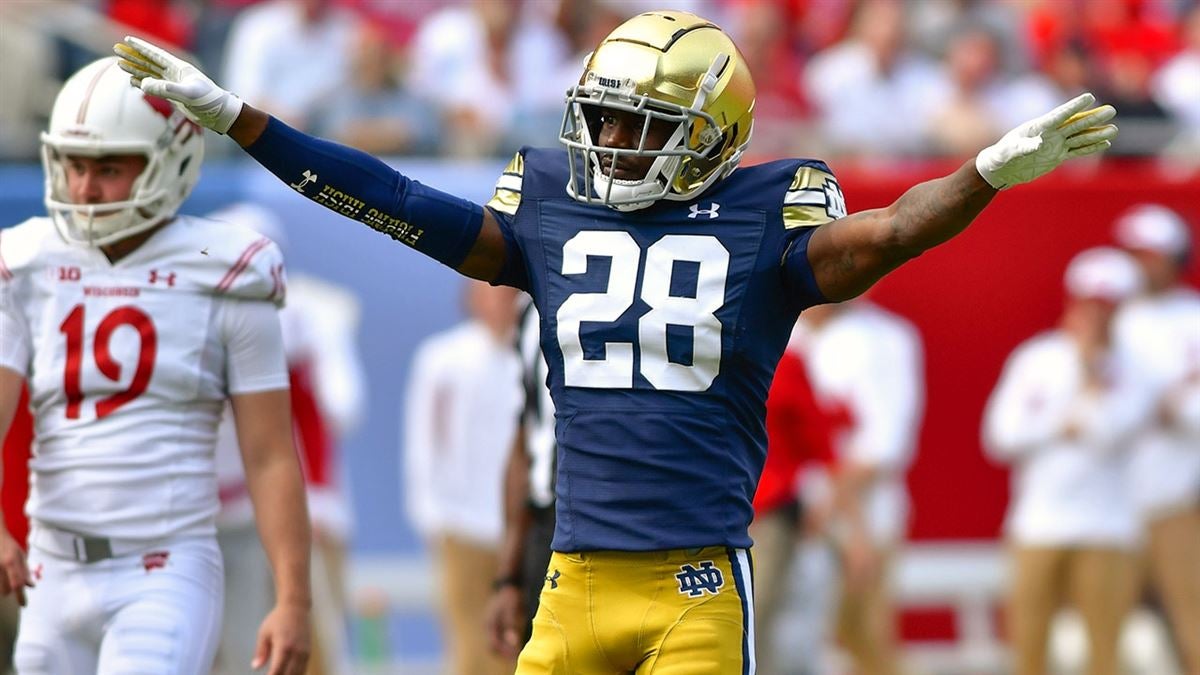 SPECIAL TEAMS
Kicker Blake Grupe's 47-yard field goal last week was an uplifting moment for the team. The kick would have been good from several more yards. Punter Jon Sot continues to impress as well. It won't be a good sign, however, if Sot's number is called frequently in this contest.
The Irish cover teams have an easy time of it because Sot's punts are so effective and the kickoffs have routinely traveled into the end zone. The return teams showed signs of life last week and more production would help matters in what figures to be another close game.
The Tar Heels counter with a strong punter of their own. Ben Kiernan, a native of Dublin, Ireland, has averaged over 51 yards this season. Kicker Noah Burnette is two for two on field goals, both from over 40 yards. Punt returns are handled by safety Cam'Ron Kelly with Downs coming back from injury. Kelly has averaged 15 yards per return in four chances. Hampton is the primary kickoff return man.
SUMMARY
Notre Dame must avoid a slow start in this road contest. If they can repeat last week's formula of defending the run and applying pressure to the passer on third down, they will be in good shape even if the game is close heading into the fourth quarter. The Carolina defense does not have nearly as much quality depth as the Irish and has faltered in the second half. Appalachian State scored 40 points on them in the fourth quarter alone. Obviously, Chizik inherited a poor situation that will take a while to fix.
The concern is whether Notre Dame can bring enough offensive firepower to take advantage of the Tar Heel weaknesses. We know the inverse is true – Carolina has a balanced and potent attack that will put points on the board. If the Irish allow them to get to 30 their chances of victory plummet. Pressure will be on Notre Dame's linebackers to read, react and tackle much better than they have shown to date.
Here are a few questions that will help determine the outcome:
Will Maye use his running ability to frustrate the Irish defenders?
Which team will win the war in the trenches?
Can the Irish wideouts make meaningful contributions?
Will Foskey and the Notre Dame pass rush cool off Maye and his 74% completion rate?
Can the Irish offense continue last week's success on the ground?
Will the young Tar Heel receivers get the better of the Irish secondary?
Can Pyne have success throwing the ball downfield?
Will Notre Dame's defense finally force a turnover that counts?
PREDICTION
The Irish need to take advantage of the soft Carolina defense and put up more points than they have managed in any game this season. Ball control is essential as are possessions that produce points. This may be asking more of Pyne than his abilities will allow. Another slow start will be disastrous for a team not built to come from behind. That said, North Carolina is stepping up in class after three track meets againt opponents with far less talent than the Irish. I expect Maye to impress but Notre Dame will make things much tougher for the Heels and come up with enough defensive stops to sneak away with a victory.
NOTRE DAME 31 NORTH CAROLINA 27