Eighth ranked Notre Dame (5-1) opens the second half of the season on Saturday night with a road trip to Ann Arbor, Michigan, to play the 19th ranked Wolverines. The 5-2 hosts are fresh from a tough road loss to Penn State, while the Fighting Irish had a bye last week after defeating USC on October 12.
Both teams are desperate for victory, but for different reasons. Notre Dame is trying to keep hope alive for a post season playoff berth and would be in great position for the stretch run if they can win this weekend. Meanwhile, Michigan is trying to salvage its season while bolstering the sagging resume of Coach Jim Harbaugh, who is just 1-10 against top ten teams during his tenure. The schools are also rivals off the field in terms of recruiting players, and to say these programs and fans simply don't like each other would be a gross understatement.
The Irish prevailed in the September 2018 meeting in South Bend, and this year's rematch is the last time these programs will meet for the foreseeable future. Notre Dame has scheduled upcoming series with Wisconsin, Ohio State, Purdue, Michigan State, Texas A&M and Alabama, among others, over the next decade.
Injuries will not be a significant factor entering into this contest. Notre Dame is healthy except for cornerback Shaun Crawford, whose return from a dislocated elbow remains questionable. Crawford's participation will be a game time decision, but he is not expected to start and will see only limited action if he is cleared to play. The Wolverines remain without linebacker Josh Ross, who has been out most of the season with a foot injury. Backup quarterback Dylan McCaffrey remains questionable with concussion-like symptoms.
NOTRE DAME'S OFFENSE vs. MICHIGAN'S DEFENSE
The linebackers have been the strength of the Wolverine 3-4 defense this season. Khaleke Hudson and Jordan Glasgow lead an athletic group that pursues laterally quite well and are aggressively deployed on blitzes by Coordinator Don Brown. In fact, the vast majority of Michigan's sacks have been recorded by linebackers this year as opposed to the down linemen. End Kwity Paye is the team's best pass rusher up front. He is joined by nose tackle Carlo Kemp and end Aidan Hutchinson.
Notre Dame can attack this front seven by running directly at them, where they have shown some vulnerability. In the passing game, the Irish offensive line must be able to communicate well in order to pick up the wide variety of blitzes that Brown will throw at them. Michigan relies on negative plays to get off the field, but quarterback Ian Book can burn them with screens and other passes to vacated areas if he maintains his poise and has time to execute those plays.
The challenge for the Notre Dame offense is to be able to handle the crowd noise, something they did not do well in a similar environment at Georgia last month. Coach Brian Kelly told reporters earlier this week that he addressed this issue during the bye week. "We're not going to make that same mistake twice," he said. "Our guys are really tuned into understanding that the atmosphere will be loud and that you cannot be distracted if you are interested in executing at a high level. If you're distracted, then you're not in the right place emotionally, and our guys are pretty locked in on that."
While the Wolverine front is solid, the secondary has struggled in man coverage against the pass. Safeties Josh Metellus and Brad Hawkins are strong run defenders but liabilities when isolated in one-on-one matchups. Cornerbacks Ambry Thomas and Lavert Hill are good players, but the Irish can have some success there and against Thomas in particular.
Michigan's defensive game plan will be to pressure Book into short, easy to defend throws to Chase Claypool and Cole Kmet. The key to the game for Notre Dame is to protect Book and force the Wolverines to cover its faster players such as Jafar Armstrong, Braden Lenzy and Lawrence Keys in the open field. The Irish won't win if they are not aggressive and Book checks down to the short pass all night.
MICHIGAN'S OFFENSE vs. NOTRE DAME'S DEFENSE
The Wolverines have a wealth of offensive talent but have not been able to put together a consistent attack under first year Coordinator Josh Gattis. There is renewed optimism in Ann Arbor this week, however, as the team believes it found its rhythm in the second half against Penn State.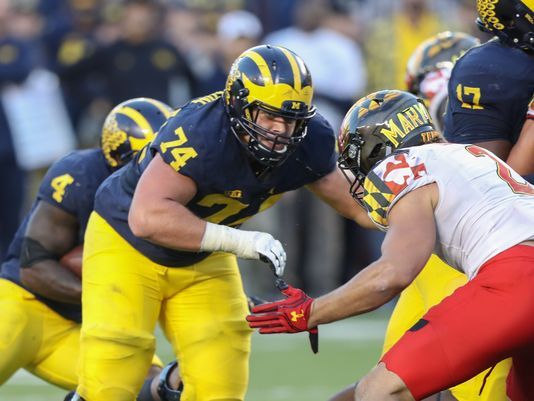 Guards Ben Bredeson and Michael Onwenu lead a veteran in front of senior quarterback Shea Patterson, who has struggled with accuracy (57% completion rate) and consistency all season. Patterson has four gifted receivers in Ronnie Bell, Nico Collins, Donovan Peoples-Jones and Tarik Black. Bell is very dangerous in space and Peoples-Jones often pulls down contested balls for long gains. Tight end Nick Eubanks is a reliable target in the passing game but less valuable as a run blocker.
The Irish secondary will be challenged to defend this group unless the pass rush can get to Patterson as it did last year. While Michigan uses linebacker blitzes to create havoc, Notre Dame's deep army of defensive linemen has generated most of its sacks and pressures. This has allowed the linebackers drop into zone coverage. In order to leave town with a victory, the Irish front four must be able to disrupt Patterson's vision and timing.
Like Notre Dame, Michigan's running game is fueled by a strong line and running backs that are physical but not explosive. Freshman Zach Charbonnet has emerged as the starter and is backed up by Hassan Haskins. Patterson is also a threat to run either by design or when the pocket breaks down.
SPECIAL TEAMS
The Irish have performed well in special teams this season, and this area got even better two weeks ago with Jonathan Doerer's three long and decisive field goals against USC. Coverage teams have been excellent with Claypool leading the charge, while the return teams play a more defensive game. Kelly prefers to guard against penalties and turnovers during returns rather than take a more aggressive approach.
Punter Will Hart boasts an impressive 46-yard average, although half of his punts are returned for plus yardage. Kicker Jake Moody won the job last season when Quinn Nordin struggled, but neither has converted better than 50% of their field goal attempts. In the return game, Bell and Peoples-Jones are a threat to break free when bringing back punts. Freshman Giles Jackson handles kickoffs with average results thus far. The Wolverine coverage teams have not yielded any big plays to date.
In a game of this magnitude between evenly matched teams, any play in the kicking game that significantly tilts field position can have a major impact on the outcome. Recall that a Michigan kickoff return for a touchdown last season turned a comfortable Irish lead into a nail biter.
SUMMARY
These teams are quite similar, and a close game is expected. Both have strong offensive lines. Neither quarterback performs well when pressured in the pocket, but both can extend plays with their running ability. The winning team will do a better job of protecting the passer and opening enough holes in the running game to keep the defense honest.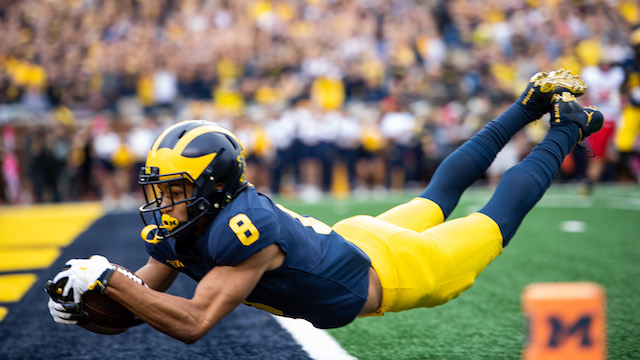 Defensively, Michigan will blitz liberally in order to create negative plays and force Book and the Irish to lose their poise. This strategy, if successful, will fuel the hostile environment the Wolverines hope to maintain throughout. From Notre Dame's perspective, the defense must rotate fresh troops to put maximum effort into the pass rush.
It's also important for the Irish to tackle much better than they did against USC. Two-yard runs cannot become seven-yard gains because defenders are staying high to grab for the ball instead of using proper technique. Receivers such as Bell cannot be allowed to gain twenty yards after a catch because of a missed tackle on a flat pass or crossing route. Irish safety Alohi Gilman also needs to have a strong game. He has been burned a few times this season by trying for the spectacular play instead of making a sure tackle.
Here are a few questions that will have a bearing on the outcome:
Will the Irish speedsters (Armstrong, Lenzy, Keys) become difference makers?
Which quarterback will be pressured into sacks or turnovers?
Can the Notre Dame defense improve on the poor tackling it showed against USC?
Which team's running game will be most effective?
Can the Irish cover the tall Michigan receivers?
Which special teams will make plays that alter momentum or field position?
Will the Irish finally execute a successful screen pass against the Wolverine blitz?
Which team will be most effective in the red zone?
PREDICTION
The Irish have not demonstrated the ability to burn opposing defenses when they choose to live by the blitz, but this would be a good week to start. An early lead is critical to keep the crowd noise to a minimum, and Kelly must be willing to attack early with speed and tempo rather than stand back and throw short, tentative jabs. Michigan has been the more mistake-prone team this season, with 14 turnovers against only four by the Irish. As was the case against USC, however, Notre Dame cannot count on receiving many gifts in a rivalry game from the Wolverines (or the Big-10 referees, for that matter). Still, the deep Irish defensive line can again be the deciding factor when the teams otherwise wear down in the fourth quarter.
NOTRE DAME 23 MICHIGAN 20
Tell John what you think in the comments below