Notre Dame (3-3) hosts the University of Nevada at Las Vegas (UNLV) on Saturday for the first ever meeting between these schools. The Fighting Irish have struggled at home this season and will try to put last week's embarrassing loss to Stanford in the rear-view mirror. Earlier this month, the Rebels (4-3) were pummeled 42-7 by Air Force and 40-7 by San Jose State. Saturday's game will be available for live streaming on the Peacock Prime service starting at 2:30 pm Eastern time.
Coach Head Coach Marcus Arroyo, the former Offensive Coordinator at Oregon, is in his third season at the helm in Las Vegas. He is beginning to show progress this year after a 2-16 start. Arroyo is able to recruit prospects to play home games in Allegiant Stadium, where the Irish defeated BYU to weeks ago. His team is still a year or two away from seriously contending in the Mountain West Conference.
Cal Berkeley is the lone common opponent in 2022 between these teams. UNLV lost to the Bears 20-14 on the road while Notre Dame beat them 24-17 at home.
The Irish are dealing with a few injuries to the defense. Defensive tackle Howard Cross (ankle) saw action last week but clearly was not 100%. Cornerback Jaden Mickey (abductor) did not play against Stanford and tackle Jayson Ademilola (rib contusion) was injured during that contest. All will be limited on Saturday if they play at all.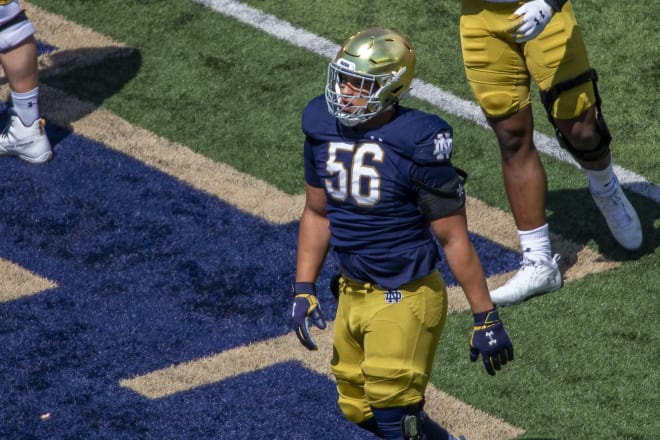 The most recent and biggest blow, however, has impacted the offense. Freshman tight end Eli Raridon tore his ACL in practice this week in a non-contact injury. Raridon had torn the same ACL during his senior year in high school but had recovered to start the season for Notre Dame. His absence will be felt in the Irish running game, where his solid blocking was a key part of its success. He joins Bo Bauer, Kevin Bauman and Avery Davis who suffered a similar fate.
When is Notre Dame going to abandon its disastrous artificial turf experiment (thanks for nothing, Jack Swarbrick and Brian Kelly) and go back to natural grass?
UNLV may be without four key starters on offense. QB Doug Brumfield (concussion) missed last week's game and is still in the protocol. Tailback Aidan Robbins (knee) limped off the field against Air Force and did not return. The Rebels are maintaining hope that both can play but it remains far from certain. Wide receivers Kyle Williams (foot) and Jeff Weimer (shoulder) have missed the last two games and are also questionable. Of the two, Williams is more likely to play.
NOTRE DAME'S OFFENSE vs. UNLV'S DEFENSE
The Rebels run a 4-2-5 or 3-3-5 defensive set consisting of three down linemen, a weak side end who can drop into coverage, two linebackers, three corners including a nickel back, and a pair of safeties. The front six are all seniors, four of whom transferred in from other programs. End Adam Plant and Elijah Shelton have been productive up front and have proven pass rush skills.
The Rebel's best defender is middle linebacker Austin Ajiake, who leads the team and the conference in total tackles with 80. This includes a career-high 20 stops against run-heavy Air Force. Ajiake also has two of UNLV's 11 interceptions. By contrast, Notre Dame has just one.
The secondary boasts several playmakers against the pass. Cornerbacks Nohl Williams and Cameron Oliver along with nickel back Jerrae Williams have combined for seven interceptions. Oliver has returned two for touchdowns. The matchup with the Irish wide receivers will be telling. It's well past time for this facet of the Irish offense makes a larger contribution.
That said, the Rebels are more vulnerable to the run. They will most likely copy the plan employed by Stanford as long as it keeps them in the game. That means loading up against the run and asking the defensive backs to hold up in single coverage on the Irish receivers. Notre Dame finally figured this out last week in the third quarter and started to move the ball until an Audric Estime fumble derailed a comeback effort. The Irish will see a lot more of this strategy from opponents until they prove they can defeat it.
UNLV'S OFFENSE vs. NOTRE DAME'S DEFENSE
If Brumfield is unable to play, Cameron Friel will get the call again. The offense stagnated last week under Friel and a depleted wide receiver corps and Robbins on the sideline. This misfortune exposed a large drop-off in ability between the first and second string. Turnovers have fueled two consecutive lopsided losses where the Rebels managed their lone score of the game after trailing by 33 and 28 points, respectively.
A full complement of healthy starters led by Brumfield will give UNLV a chance to make a game of it. Robbins is a bruising 6'3" 230-pounder while backup Courtney Reese is 5'8" and 165 pounds. Ricky White is the leading receiver and deep threat. If he is joined by a healthy Kyle Williams along with the 6'4" Nick Williams (no relation to Kyle), the Irish secondary must respect all of them instead of focusing solely on White.
The left side of the offensive line is manned by senior transfers Daviyon McDaniel at tackle and Preston Nichols at guard. The other three spots are home grown players including 320-pound right tackle Tiger Shanks. Tight end Shelton Zeon III is used primarily as a run blocker. As with Stanford, Notre Dame's defensive line should win the battle against this group but the injuries to Cross and Jayson Ademilola along with Jacob Lacey's decision to transfer has weakened them.
Coach Freeman provided an assessment of UNLV's attack this week during his press conference. "Offensively, I don't know if Aidan Robbins will play, but he's a guy that I remember when I was at Cincinnati. We recruited him to be a linebacker at Cincinnati and he ended up going to Louisville and transferred. I think he is a powerful running back. Both of the quarterbacks do a good job of taking care of the ball, making good decisions, extending plays. Ricky White is a guy that I know from my time at Cincinnati and we recruited him when I was there. They have talent all over the place."
SPECIAL TEAMS
The Irish specialists continue to deliver above-average results. Jon Sot's punts have traveled over 45 yards per attempt. Blake Grupe has connected on five of six field goals and all of his extra points. Kickoff specialist Zac Yoakam has hammered the ball into the end zone more often than not. The return game has not shown as much life as I had hoped from new Special Teams Coach Brian Mason. The Irish may not get a better opportunity than they will have this week.
Place kicker Daniel Gutierrez has made all six of his field goal attempts this season including a 50-yarder. UNLV's kickoffs rarely reach the end zone, so there may be an opportunity for a Chris Tyree return if the coaches are so inclined. Punter Marshall Nichols averages a pedestrian 41 yards per attempt. Nohl Williams is the primary return man for both punts and kickoffs. His results to date have been rather unremarkable. Notre Dame's specialists and return men should be able to carve out a field position advantage in this area.
SUMMARY
Notre Dame cannot afford to take anyone lightly at this point, regardless of who is injured or on the field for the opponent. The Irish continue to start slowly every week despite making it a point of emphasis. The Rebels are also sluggish at the outset and have been outscored by 73-24 in their seven games. If one team can shake those doldrums the outcome may be decided early instead of late. Defensively, the Irish must get off the field on third down. Too many failures in this area doomed them against Stanford since time of possession and field position were always problematic.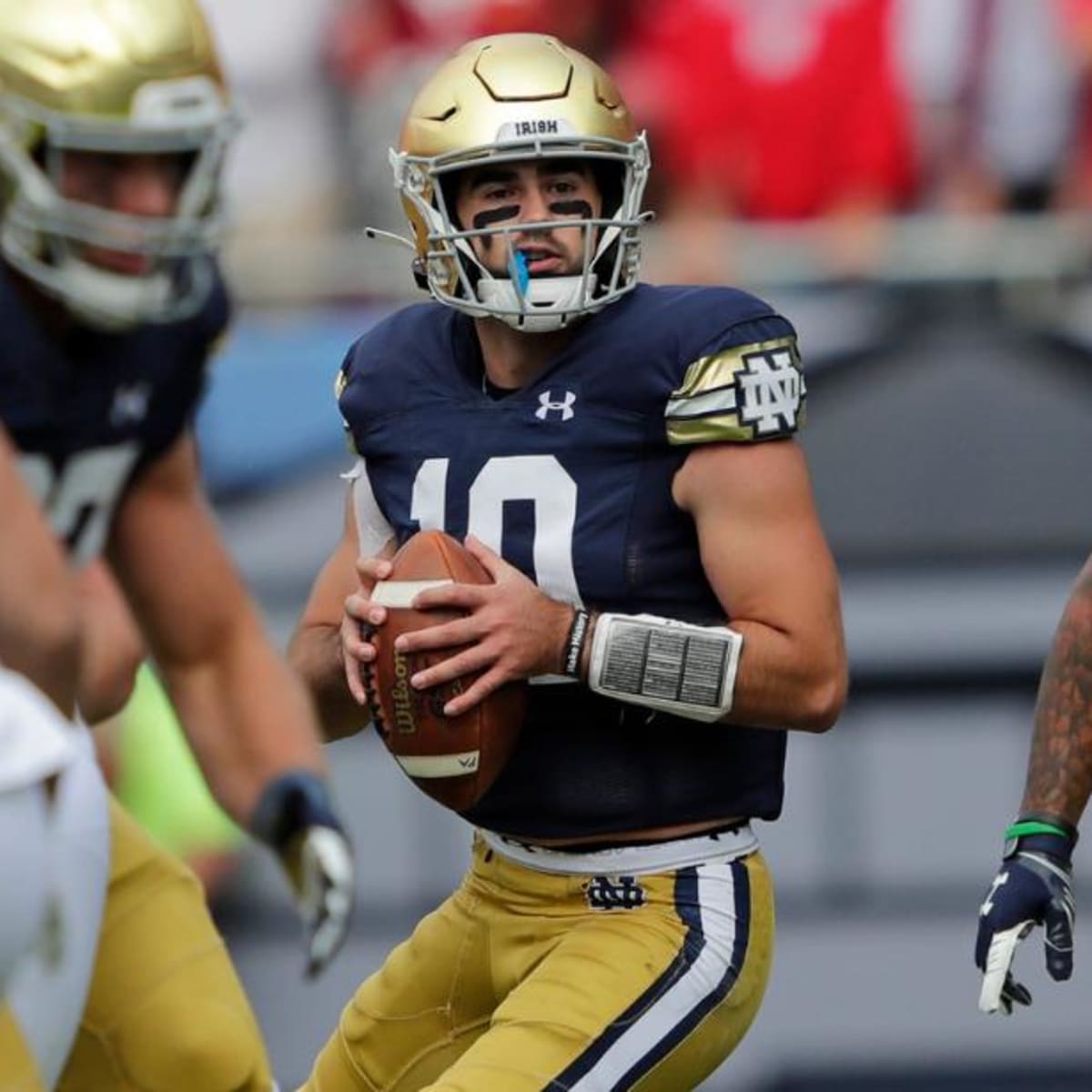 UNLV will overplay to stop the run until Notre Dame makes them pay a price. Pyne must play better and throw with greater accuracy and decisiveness. Eleven interceptions among five different defenders is no fluke. The Irish must find a reliable target in the passing game to take pressure off Michael Mayer. Will it be Tobias Merriweather? Will the light finally go on for Lorenzo Styles or Braden Lenzy? We'll see.
Here are a few questions that will shed light on the outcome:
Can the Irish finally win a turnover battle this season?
Will Notre Dame grant more playing time to its freshmen and sophomores?
Can the Irish defense get off the field on third down?
Will Robbins or Estime be the dominant big tailback?
Can Pyne locate open receivers and get the ball to them?
Which coaches will make the most successful in-game adjustments?
Can UNLV's secondary add to its impressive total of interceptions?
How many Peacock subscribers will cancel on Sunday?
PREDICTION
The prospect of losing to this UNLV team is unthinkable, even after the Irish shocked the home fans twice this season. When healthy, Brumfield and Robbins are as good as Pyne and Estime and the Rebel wide receivers are respectable as well. The compelling difference is in overall depth and along the line of scrimmage, at least on paper. Those advantages didn't help the hosts against the Cardinal, however, as the victors rode the arm of Tanner McKee and played the game as if it were their last. Can the Rebels copy that formula and pull off another stunning upset? In one parallel universe I could see it happening, but probably not in the one we live in right now. Still, I'm not ready to predict a blowout no matter whom the Irish are playing.
NOTRE DAME 24 UNLV 17