Ian Book capped a clutch drive by scoring on a quarterback draw from eight yards out with 3:33 remaining in the game to give Notre Dame a ten point lead, and Brock Wright secured USC's onside kick with a minute left to secure a hard-fought 30-27 victory over the Trojans. The hosts led by 20-3 early in the third quarter before USC quarterback Kedon Slovis caught fire and brought his team back.
The contest became a nail-biter with 10:27 remaining when Slovis connected with Tyler Vaughns on a five-yard scoring strike to narrow the gap to 23-20. With Notre Dame facing a season-defining challenge to relieve the pressure, the Irish turned to the running game. Book crashed over the goal line on the 13th play of a 75-yard drive, just two snaps after he scrambled for 17 yards on a third and ten play.
Tony Jones, Jr. ran for 176 of Notre Dame's 308 rushing yards, while Book was 17 of 32 for 165 yards and a touchdown. Kicker Jonathan Doerer had his best career game with three clutch field goals, including a booming 52-yarder into the wind. Slovis hit 24 of 35 passes for USC with two scores. Freshman tailback Markese Stepp was impressive for Troy, gaining 82 tough yards on ten carries. The win brings the Irish to 5-1 on the year as the team enters its midterm break.
The game started slowly for Notre Dame's offense. Its first three drives went nowhere as the Trojans grabbed a 3-0 lead, and they were pinned back on their own three yard line early in the second period when things began to turn around. A much-needed first down catch by Chase Claypool got them out of a hole, and Jones ripped off a 43-yard run to set up a touchdown pass from Book to Cole Kmet to take the lead.
The Irish would add two more scores before intermission. Braden Lenzy took off on a reverse near midfield and ran past the USC defense for a 51-yard score for a 14-3 lead with 4:38 remaining in the half. Following a defensive stop on the next series, Doerer hit a 45-yard field goal in the final minute to build a 17-3 halftime lead.
Notre Dame's Michael Young took the second half kickoff and almost scored, but he knocked the ball out of his own hands in his excitement. Fortunately for the Irish, he recovered his own fumble. Book took the offense into USC territory but the drive stalled. Doerer came on to crush a 52-yard three pointer to extend the lead to 20-3.
Slovis and the Trojans were not about to roll over, though. USC went field goal, touchdown and touchdown on its next three possessions, while the Irish managed only another field goal on a drive that was aided by a marginal roughing the passer penalty.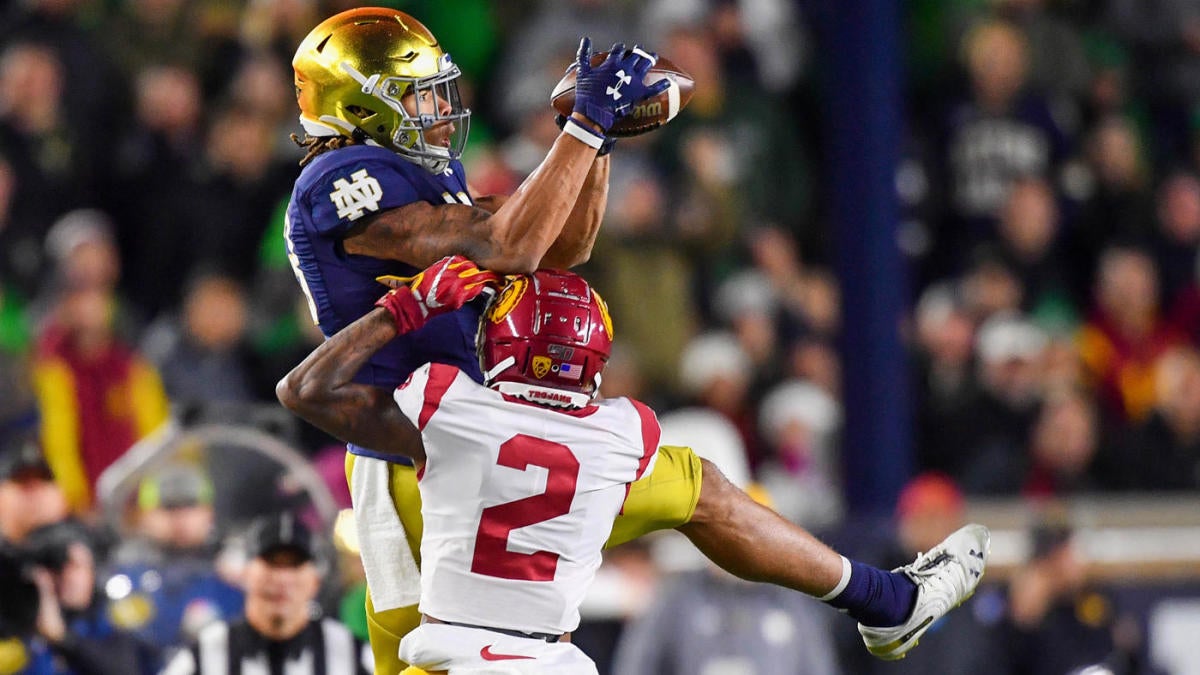 Leading by just 23-20 now, the final scoring drive by Notre Dame to regain control was the difference in this sixty-minute war. It showed great character by the offense, especially since the usually reliable but obviously gassed defense was struggling. Book's long scramble allowed the hosts to overcome a first and 25 situation in USC territory when everyone knew that another field goal would not be enough to win it.
Let's review the answers to our pregame questions.
Will the Irish defensive front be able to dominate the Trojan offensive line? Notre Dame had a couple of sacks, but Slovis hung in there and the Trojan backs broke off several nice runs. The battle was essentially a draw.
Which team will commit the fewest turnovers and costly penalties? Neither team had a turnover, although a failed fourth down play by Notre Dame set up a USC score and gave them plenty of momentum. Both teams had costly penalties. The Irish overcame a 15-yarder as noted above, and that made a huge difference in the outcome.
Can Notre Dame run the ball and limit the number of USC possessions? Yes, although USC scored a bit too easily in the second half and brought the game down to the wire.
Which quarterback will be most accurate on third down throws? Slovis was clutch in the second half, but Book won it with his legs.
Can the swift Trojan receivers turn short receptions into big plays? The Irish rushed three men most of the night and kept everything in front of them, so USC was forced to keep it short. They adjusted well after a poor first half, but the Irish successfully played keep-away in the final period.
Which special teams will make plays that alter momentum or field position? USC kept the Irish pinned back in the early going, but things evened out after that. Jonathan Doerer's breakout performance was the difference and should earn him the game ball. (Edit: He did get the game ball).
Will the Irish defense be able to prevent another fast start by the Trojans? Yes. The plan worked well in the first half and allowed Notre Dame to build an early lead.
This game was hardly the walkover that many chest-thumping Irish fans were talking about earlier this week. Freshmen Slovis and Stepp gained a lot of respect for their performances, and Notre Dame was guilty of some very shoddy tackling. It will not be much fun to play against this group next season in Los Angeles when they are a year older, but let's not worry about that for now.
The Irish get a bye next week before traveling to play Michigan to open the second half of the season. The team appeared to emerge from this contest without any new injuries, but I'm sure everyone can use the rest.
Tell John what you think in the comments below