Notre Dame (3-0) returns home on Saturday to face Central Michigan (1-1) of the Mid-American Conference. The Fighting Irish have won their first three games of the season by an average score of 48-10. This week's contest appears to be more of the same but the emphasis for the hosts will be on their own standard of play. This includes blocking, tackling and avoiding mistakes such as turnovers and penalties. The Chippewas are coming off a thrilling last second home victory over New Hampshire. This week's game will be broadcast exclusively on the Peacock Streaming Service starting at 2:30 pm Eastern time.
Jim McElwain is in his fifth season with Central Michigan. He has a 25-22 record, including a bowl win over Washington State in 2021. McElwain's impressive resume includes head coaching stints at Colorado State and Florida. He also served as Alabama's Offensive Coordinator from 2008-11. The Tide won two national titles during this period. McElwain's prior experience as an assistant coach has been entirely on the offensive side of the ball.
When asked about the challenge for a MAC team traveling to Notre Dame, McElwain responded, "What really hits you is here you're breaking down New Hampshire the week before, and as a guy who's spent a lot of years in I-AA football, and then all of a sudden you're watching Notre Dame in their stadium, one of the great stadiums throughout the country, unbelievable, great film, it's a little surreal." Regarding the message to his players, McElwain told them, "Enjoy the moment. Don't get scared when you see those shiny helmets."
Central Michigan returned 14 players who started multiple games in 2022, including five on offense and nine on defense. The Chippewas are predominantly a running team, as evidenced by more than twice as many rushing attempts as passes in their first two outings. This mindset starts with quarterback Bert Emanuel, who leads the team in rushing despite being sacked six times. He ripped off a 66-yard scoring run last week on the game's first possession. Defensively, CMU is proficient at stopping the run but has been vulnerable through the air.
The Irish will continue to play this weekend without defensive lineman Gabe Rubio and wideout Matt Salerno. Linebacker JT Betrand's status is doubtful after entering concussion protocol following last week's victory over North Carolina State. Even if Rubio and Bertrand could play, it does not make sense to push them into action in what should be a comfortable win. On the plus side, tailback Devyn Ford should return to duty on Saturday after missing the better part of two games.
NOTRE DAME'S OFFENSE vs. CENTRAL MICHIGAN'S DEFENSE
The Chippewas play a straight 4-3 defense that is historically strong against the run. They have yielded only 86 yards per game on the ground despite playing Michigan State from the Big 10 and FCS offensive powerhouse New Hampshire. Tackle Robi Stuart and end Jacques Bristol are the key players up front. Both are seniors.
Middle linebacker Kyle Moretti is the best of the trio at the next level. The group is fundamentally sound but they do not match up particularly well with the Irish backs and tight ends in open space and in the passing game. As an example, Holden Staes had a breakout game last week and presents a matchup nightmare for anyone in the Chippewa back seven.
Cornerback Donte West is the best defender in the secondary, followed by safety Trey Jones. West is the team's leading tackler with one more than Moretti through two games. Central Michigan's pass rush has not had much success to date, so opponents have enjoyed considerable success to the tune of 386 yards per game through the air. Sam Hartman will be able to spread the ball around as he has done against a similar level of competition.
He Chippewas may choose to blitz more than usual because Notre Dame's interior linemen showed vulnerability in this area last week. Line coach Joe Rudolph is running short of time to clean up those breakdowns before the Irish face the meat of the schedule.
When asked what caused the issues in protection that led to four sacks of Hartman last week, Coach Freeman offered the following: "I think it's a lot of different things. I think Sam was sacked four times, but it's not all just pass protection. It's the routes. We've got to make sure that our details are correct in the routes and that we're on the same page. We've got an option route, a guy runs an out or runs in. And everybody's detailed out. The technique of pass protection. Sam getting the ball out of his hands, or sometimes you know what, you go against good defense."
CENTRAL MICHIGAN'S OFFENSE vs. NOTRE DAME'S DEFENSE
Emanuel and backup Jase Bauer are similar in size at 6'3" 220. Each is an accomplished runner. Conversely, neither has demonstrated an ability to beat opponents through the air. Both saw limited action last season behind starter Daniel Richardson, who transferred to Florida Atlantic last December to play in his home state. Bauer began last season as the next man in for Richardson but Emanuel came on later to win the job. His 293 yards rushing in an upset win over Buffalo last November put him over the top. Emanuel's ceiling appears to be higher based on the ability to deliver big plays but both quarterbacks will see action on Saturday.
Myles Bailey is the lead tailback with BJ Harris and Marion Lukes in reserve. The offensive line is essentially a group of maulers who struggle in pass protection. Senior guard Deiyantei Powell-Woods is the best of the bunch. Notre Dame's defensive line must win on first and second down to press their advantage in passing situations. The Chippewas will rely primarily on Emanuel to move the chains with his power running skills. If that strategy doesn't work it will be a long afternoon for them.
CMU's anemic passing game is evidenced by a 26% conversion rate on third down (8 for 31). That's not good. Chris Parker and Tyson Davis are the main outside receiving threats. Parker is 6'3" with five receptions in two games, including a 56-yarder. Davis is 5'10" and has caught three balls. Tight end Mitchel Collier is also a factor in the passing game.
The Irish must respect Emanuel's size and talent in order to take control of the game. With Bertrand out, Rover Jack Kiser will move into the middle for at least part of the time. The rest of the slack including backfilling for Kiser will fall to Jaylen Sneed and freshmen Jaiden Ausberry and Drayk Bowen. Marist Liufau will remain in his customary weak side linebacker spot. Their collective ability to contain Emanuel will be revealing.
SPECIAL TEAMS
Notre Dame's specialists emerged from the shadows last week and turned in solid performances. Punter Bryce McFerson had six opportunities and averaged over 50 yards. Spenser Schrader kicked his first field goal and set a school record in the process with a 54-yader. A subsequent attempt from 56 yards hit the upright but had the distance to easily clear 60. The Irish return and cover teams have not contributed any dynamic plays to date.
Last year, Central Michigan tied Notre Dame atop the nation with seven blocked kicks. The specialists and return men have also performed well. Kicker Tristan Mattson came through with a game winning 47-yard field goal last week against New Hampshire. Lukes also returned a kickoff for a touchdown in that game. Punter Jake Walrath averages just under 43 yards per attempt.
SUMMARY
Defensively, Notre Dame has the advantage over CMU's offensive line and should employ a similar strategy to contain Emanuel as they did against Brennan Armstrong last week. In short, make him throw the ball. The Irish defensive backs can afford to be aggressive in coverage as the Chippewa receivers are relatively young and inexperienced.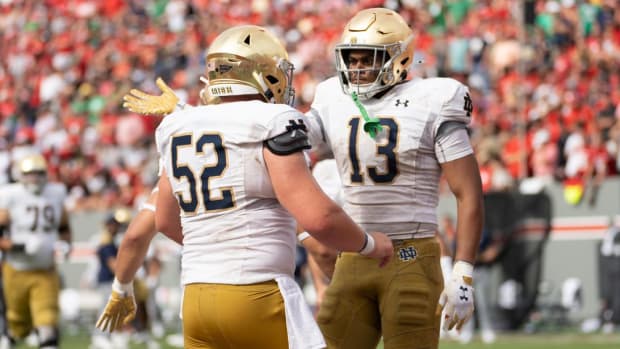 The Irish will also test Central Michigan's normally stout run defense with Audric Estime and the speed duo of Jadarian Price and Jeremiah Love. These backs along with Staes and the wide receiver rotation are far too many weapons than Central Michigan can hope to cover. The main concern for this offense is to ensure that Hartman's uniform does not need to be sent to the laundry on Sunday morning.
Here are a few questions that we hope will be answered this week:
Will the Irish get off to a fast start or stumble out of the gate?
Can Notre Dame gain >150 yards against the stingy CMU run defense?
Will Hartman and his receivers make the necessary reads to avoid sacks?
Can the Irish avoid the costly penalties that plagued them last week?
When will Marty Biagi's return and coverage teams exhibit some life?
Will Emanuel have more success running the ball than NC State's Armstrong?
Can Notre Dame's secondary intercept a few more passes?
Will the Irish and Peacock give fans their six dollars worth?
PREDICTION
This is Notre Dame's final tuneup before the 800-pound gorilla comes to town. The players and staff have refrained from looking ahead but their performance this week is important. Since victory against the outmanned Chippewas is almost assured, the Irish are competing against their own high standard of play. Two equally critical questions linger regarding where Notre Dame sits as a contender or pretender in the 2023 playoff race. One is the ability to protect the passer on offense. Second is the issue of whether they can put pressure on the opposing quarterback without resorting to high-risk blitzes that all too frequently come up empty. We won't get those answers this week but we'll have a much better idea in the very near future.
NOTRE DAME 45 CENTRAL MICHIGAN 7
Tell John what you think in the comments below