Notre Dame plays its second consecutive home game under the lights on Saturday as the Fighting Irish (6-1) host the North Carolina Tar Heels (4-3). Notre Dame won last year's game on the road by 31-17 with a solid defensive effort against a very explosive offense. They will travel back to North Carolina next season to continue the series, which the Irish lead by a healthy 19-2 margin. NBC will provide national television coverage beginning at 7:30 PM Eastern time.
Head Coach Mack Brown leads the Tar Heels. He came out of retirement in 2019 to rejoin the school where he achieved early success before moving to Texas. He has recruited quite well to date, although this year's team has not yet duplicated the results he enjoyed last season. Junior quarterback Sam Howell is the field general of North Carolina's attack and a leading NFL prospect at his position.
Brown, who is close friends with Irish Coach Brian Kelly, is more excited for his players in his first visit to South Bend as an opposing head coach. "I love the experience for the kids," he said. "It'll be a packed house. It'll be loud, it'll be fun, and this is an experience that they'll remember for a long time."
The Heels are coming off a bye week after defeating Miami by 45-42 on October 16 in a classic shootout. Howell passed for two touchdowns and ran for two more in that contest. One of those scoring runs covered 30 yards.
Notre Dame unveiled an up-tempo offense in last week's win over USC. The Irish also called more run-pass option plays and threw the ball more frequently out of that scheme. The threat of the pass created more running room for tailback Kyren Williams, who responded with his best statistical game of the season.
Last week's victory was costly from a defensive standpoint. Free safety Kyle Hamilton suffered a knee injury and will miss Saturday's game. It is not yet known when or if he will play again this season. The good news is that tailback and kick returner Chris Tyree is expected to play after a week's absence. Carolina's injury report lists tailback Caleb Hood and defensive lineman Varner as questionable for this game.
NOTRE DAME'S OFFENSE vs. NORTH CAROLINA'S DEFENSE
The Tar Heel defense returned almost all its starters from last year's team, but the results have not been as good as Brown had hoped. They do have talented players at each level of their 3-4-4 alignment. The defensive line is a strength with a rotation that includes Myles Murphy and Ray Vohasek at the interior spots. Strong side end Kaimon Rucker has performed well enough to share playing time with veteran Tomari Fox. On passing downs, Fox's brother Tomon becomes a fourth pass rusher from his outside linebacker position. Murphy is the best of this group and the most likely to cause problems for Notre Dame's guards. If he forces the Irish linemen to double team him, the running game will be less effective.
Inside linebackers Jeremiah Gemmel and Cedric Gray patrol the middle of the Tar Heel defense. Both are three down players who have complementary skills. Gemmel is physical and leads the front seven in tackles and in quarterback hits. Gray is faster and can cover receivers or tight ends downfield.
The back end features cornerbacks Tony Grimes and Kyler McMichael, who transferred in from Clemson. The safeties, Trey Morrison and Cam'Ron Kelly, are average. The secondary has struggled in games where the pass rush has failed to have an impact. Despite the talent up front, Carolina does not pressure the quarterback nearly as often as Notre Dame.
The Irish should be able to employ a similar game plan as last week in terms of tempo. Pass protection should not be a major issue and both Jack Coan and Tyler Buchner should find open receivers. Williams will have another 100-yard game if Notre Dame can free up a blocker to engage Gemmel and force Gray to respect the pass instead of crowding the box.
NORTH CAROLINA'S OFFENSE vs. NOTRE DAME'S DEFENSE
Howell has taken on more of the offensive load this season. Gone are Javonte Williams and Michael Carter, each of whom rushed for over a thousand yards last season. His two starting outside receivers, most notably Dyami Brown and his 1100 yards, have also moved on. Ty Chandler, a transfer from Tennessee, is now the tailback. Howell ran for only 146 yards in 2020 but already has more rushing yards than Chandler (659-588) this season when sacks are removed from the equation.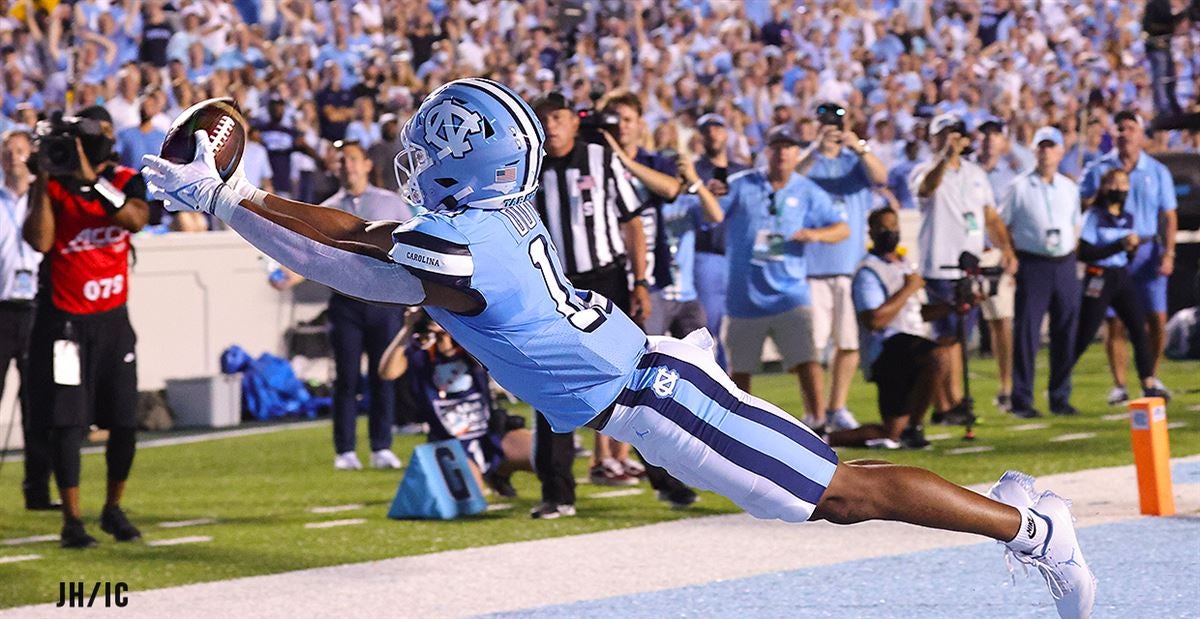 Fewer receiving targets and more physical punishment have impacted Howell's passing statistics. He is down to a 61% completion rate from last year's 68%. Slot man Josh Downs is by far the team leader in receptions with 60. The other two leading wideouts, Antoine Green and Emery Simmons, have only 11 catches each. Tight ends Kamari Morales and Garrett Walston have caught 27 balls between them, so they get a fair share of opportunities.
Despite these year-to-year changes, Carolina's offense remains dynamic. Big plays in the passing game are common as Green, Simmons and Morales average over 20 yards per catch. Also, both Chandler and Howell have runs of 60 yards or more to their credit. Notre Dame will be hard pressed to repeat last year's defensive masterpiece. The key is not only pressuring Howell in the pocket but also containing his designed runs. A true dual threat quarterback can demoralize a defense, and Howell is the best the Irish will face this year.
As was the case against USC, Notre Dame's defensive line must win the battle against the Tar Heel front. Carolina has solid offensive linemen at most positions. Center has been an issue as starter Brian Anderson is trying to play through injuries. The group has massive size but lacks quickness and flexibility that are needed to provide a clean pocket against talented rushers like Isaiah Foskey. Howell has been sacked 27 times already this season.
Brown was asked about these struggles earlier this week. "We want to continue to run the ball better. When you do, your protection is good. When you're not running it, you can't protect," he said. "And getting the ball out of Sam's hands faster, we've talked about that a lot."
SPECIAL TEAMS
North Carolina kicker Grayson Atkins is six for ten this year in field goals. He is not reliable outside of 50 yards but generally accurate inside of that. Punter Ben Kiernan sports a 45-yard average, which is a four yard improvement from his 2020 performance.
Downs returns punts at a ten yard per attempt clip. This essentially translates into a free first down. Chandler is the primary kick return man. The Heels haven't done much in this area, however, as Chandler has only three attempts to date without any notable results.
Irish punter Jay Bramblett remains consistently good while kicker Jonathan Doerer alternates between head-scratching misses and clutch game-winners. Tyree and Williams add juice to the return game when healthy but the Tar Heels allow very few returns of any kind.
SUMMARY
Both offenses are capable of scoring plenty of points. The winner will be the team that best protects the passer and refrains from drive-killing mistakes. Notre Dame is not as explosive on offense, so they must finish drives in the red zone. Defensively, missed tackles or blown coverages with no Hamilton in the lineup will hurt the Irish chances. The team that runs the ball best and controls the clock gains a decided advantage. As far as the Irish are concerned, it will be much better for them to play with a lead rather than from behind.
Brown is correct in saying that a solid running game helps in pass protection. Williams and Tyree have the edge over Chandler at tailback but Howell's running ability is the wild card for which Notre Dame must have an answer. The Irish linebackers face a dilemma in trying to take away the inside slants to Downs while also stopping Howell from moving the chains with his legs. That's a tall order.
Here are a few questions that will shed light on the outcome:
Will the Irish secondary be successful in limiting explosive plays without Hamilton?
Which team will make crucial mistakes or turnovers?
Will Notre Dame's front four be able to force Howell out of his comfort zone?
Which team will have success running the ball?
Can the Irish wide receivers get open against the Carolina corners?
Will the quarterback tandem of Coan and Buchner work well once again?
Which special teams will make a significant contribution?
Can the Spartans take out the Evil Empire?
PREDICTION
The Irish must develop a plan for Downs that works better than the one they drew up for USC's Drake London in the first half last week. Downs is a faster, more dangerous player in space and a missed tackle could mean seven points instead of an extra ten yards. The outcome will hinge on Notre Dame's ability to create havoc plays on defense and their red zone offense efficiency. Field goals are not going to be sufficient this week. This will likely be a high scoring affair that is decided by a turnover, timely sack or special teams play. Despite my concerns about Carolina's big play capability, I believe the Irish defese has a better chance of making good things happen.
NOTRE DAME 38  NORTH CAROLINA 31
Tell John what you think in the Comments section below