A certain skeptic who shall not be named looked at this matchup earlier in the week. Two more interceptions including a pick-six? Not bloody likely. Will we see another punt block resulting in a touchdown? You're dreaming. How about a ground game that produces over 250 yards? That won't happen against the impregnable Clemson front four. Will there be total domination by the Irish defensive line? You're kidding. Can I settle for good tackling by the Notre Dame secondary? You must be smoking something. Well, you get my drift.
All of these improbabilities became reality on Saturday night as the Fighting Irish overpowered the Tigers in the trenches and rode two interceptions by Benjamin Morrison to a 28-0 lead before coasting to victory. It was obviously the biggest win of the Freeman era, but something tells me there are many more to come. After a two month roller coaster ride, this Notre Dame team has adopted the personality and fire of its head coach.
The night started off on a positive note when the Irish defense forced a three and out. Despite Clemson's self-proclaimed state of High Alert on special teams, Jordan Botelho then charged through the middle to block Aidan Swanson's punt. Prince Kollie plucked it out of the air and ran it into the end zone for a quick 7-0 lead.
The game settled into a slugfest dominated by the defenses as both quarterbacks struggled. Notre Dame began to have success in the running game but multiple Drew Pyne passes were batted down by the Tigers. Blake Grupe misfired on a 42-yard field goal attempt early in the second quarter while Clemson's failures on third or fourth down kept them out of scoring range.
As time in the first half wound down, Irish runs that were producing three or four yards were now getting ten or twelve. A scramble by Pyne carried the ball into the red zone, and he hit Michael Mayer for 11 yards to the Tiger 5. Pyne faked a handoff and covered that distance on a bootleg for a 14-0 lead at intermission.
Clemson took the second half kickoff but could not move the ball. The teams traded punts twice before Tiger Coach Dabo Swinney decided that a change at quarterback might jumpstart his team. Freshman Cade Klubnik entered the game with the ball deep in his own territory. Notre Dame's defense responded to the smell of fresh meat, and pressured Klubnik into an off balance toss that Morrison picked off at the Tiger 14. The Irish needed just three plays to score as the game moved to the fourth quarter.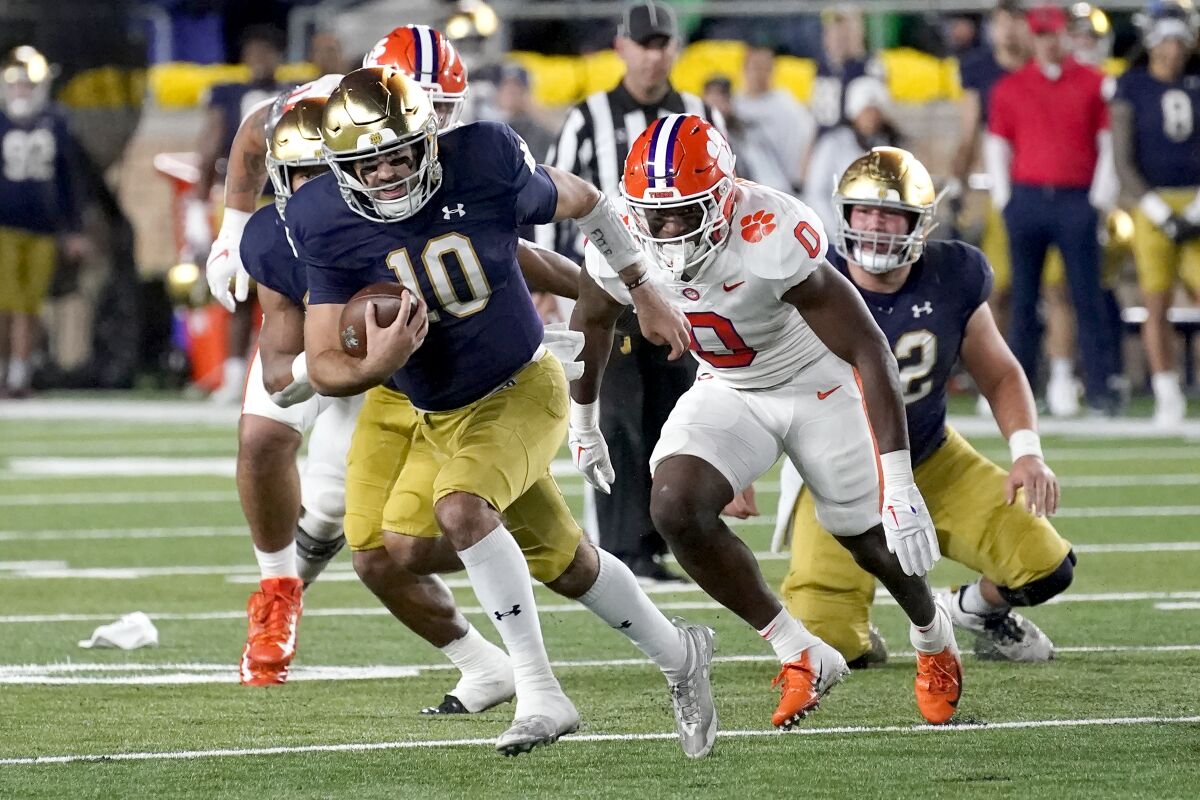 Trailing 21-0, Swinney put starter D.J. Uiagalelei back in the game. Three questionable penalties for holding or pass interference accounted for 40 yards as Clemson finally appeared ready to get on the scoreboard. With the ball on the Irish 19 and knowing that the Tigers enjoyed a 97% success rate in the red zone this season, it seemed inevitable that they would come away with points.
Pressure on Uiagalelei by Justin Ademilola resulted in a poor throw that Morrison plucked from the air on his own four yard line. The freshman streaked down the sideline amid a convoy of blue jerseys to stake the hosts to a commanding 28-0 lead with 13 minutes left.
Clemson finally scored on its next possession as Notre Dame's defense played a bit more conservatively. The Irish offense immediately went back to work with a blue collar drive that drove every last bit of will from the Tigers. Ten consecutive runs set up a textbook play-action scoring strike from Pyne to Mayer. The play covered 17 yards and gave the hosts a 35-7 lead with four minutes left.
The Tigers added another touchdown in garbage time but it did little to dampen the spirits of the Notre Dame faithful who joined the team on the field for a raucous postgame celebration. Coach Marcus Freeman mingled with the crowd and soaked up their well-earned congratulations. It's safe to say this team has turned the corner and can win despite certain deficiencies that they have learned to overcome with grit and determination.
Let's review the answers to our pregame questions:
Which offense will have success in the ground game? The word "success" doesn't do it justice as far as Notre Dame's performance is concerned. They outrushed Clemson by 263-90.
Will Notre Dame's defense be able to create turnovers? Good pressure up front and Clemson's strategy to pick on Morrison led to the coronation of a new legend in Irish lore.
Can the Irish receivers give Pyne viable options against the Tiger secondary? Not really. Jaden Thomas caught three passes for 15 yards but he was the only wide receiver to make the stat sheet.
Which offensive line will do the best job of protecting its quarterback? The Irish were clearly better. Clemson allowed four sacks and numerous pressures. Pyne held the ball too long on occasion and was sacked once, but the Tigers could not force a turnover.
Can the Irish offense win on first down? As discussed above, Notre Dame began ripping off big chunks of real estate even when the Tigers knew what was coming.
Will the Notre Dame special teams continue to provide a spark? I'll keep asking this question until Brian Mason retires.
Which coaching staff will adjust most effectively during the game? The Irish had a better plan to start and effectively checked every move that Swinney made. His ill-fated quarterback swap was an act of desperation.
Will Nick Saban run up the score on Brian Kelly? Losing to Kelly may accelerate Nick's retirement plans. How embarrassing. At least Saban doesn't use a fake Southern accent.
Justin Ademilola suffered an injury to his upper body late in the game. He appeared to be the only casualty of the night but hopefully he is not seriously hurt. In any event, he should take a week off against Navy and recuperate. He and his brother Jayson played well as did Howard Cross and Isaiah Foskey on the defensive line. Offensively, Pyne gave it his best and it was good enough tonight. Logan Diggs and Audric Estime each had over 100 yards rushing behind great blocking, and Chris Tyree was effective as a receiver out of the backfield. Finally, Mayer was his usual dominant self despite the extra attention he draws every week.
The Irish stand at 6-3 and should rise to 8-3 before a final showdown in Los Angeles. This season is more about growth and confidence than the record, however, and fans can finally feel more comfortable regarding the future of the program. We can expect Notre Dame to crack the Top 25 this week. Hopefully Freeman and the Irish will only go up from there.