Notre Dame hits the road for the first time this season as the Fighting Irish travel to the Steel City to take on the Pittsburgh Panthers. Pitt has dropped its last three games, including two by a single point, after a 3-0 start. Coach Pat Narduzzi is in his sixth year at the helm. His overall record stands at 36-29. Notre Dame remains undefeated at 4-0 after a surprisingly narrow victory over Louisville last week, and hopes to get its offense back in high gear. The game will be televised nationally on the ABC network beginning at 3:30 PM Eastern time.
The Panthers' defense will be more than a speed bump for the Irish. They lead the nation by allowing a mere 61 yards per game on the ground and just 1.9 yards per carry. A deep and talented front four leads a unit that has recorded 29 sacks and 67 tackles for loss in six games. The sack number leads all Power-5 teams this season. Comparatively, Notre Dame has only nine sacks and 34 tackles for loss in its four games. Pitt's opponents have a combined record of 13-14, while Notre Dame's previous foes stand at 5-16.
On the injury front, the Irish hope to have defensive tackle Myron Tagovailoa-Amosa, end Isaiah Foskey and linebacker Jack Kiser available for significant action. Wide receiver Braden Lenzy is considered to be questionable for Saturday after it was disclosed he is nursing a "soft tissue" injury – whatever that means.
The Panthers have suffered a slew of injuries this year. Several players have already been lost for the season, including linebacker Wendell Davis, cornerback Damarri Mathis, and defensive lineman Nate Temple. Pitt is also depleted at tight end, where Lucas Krull and Grant Carrigan are sidelined.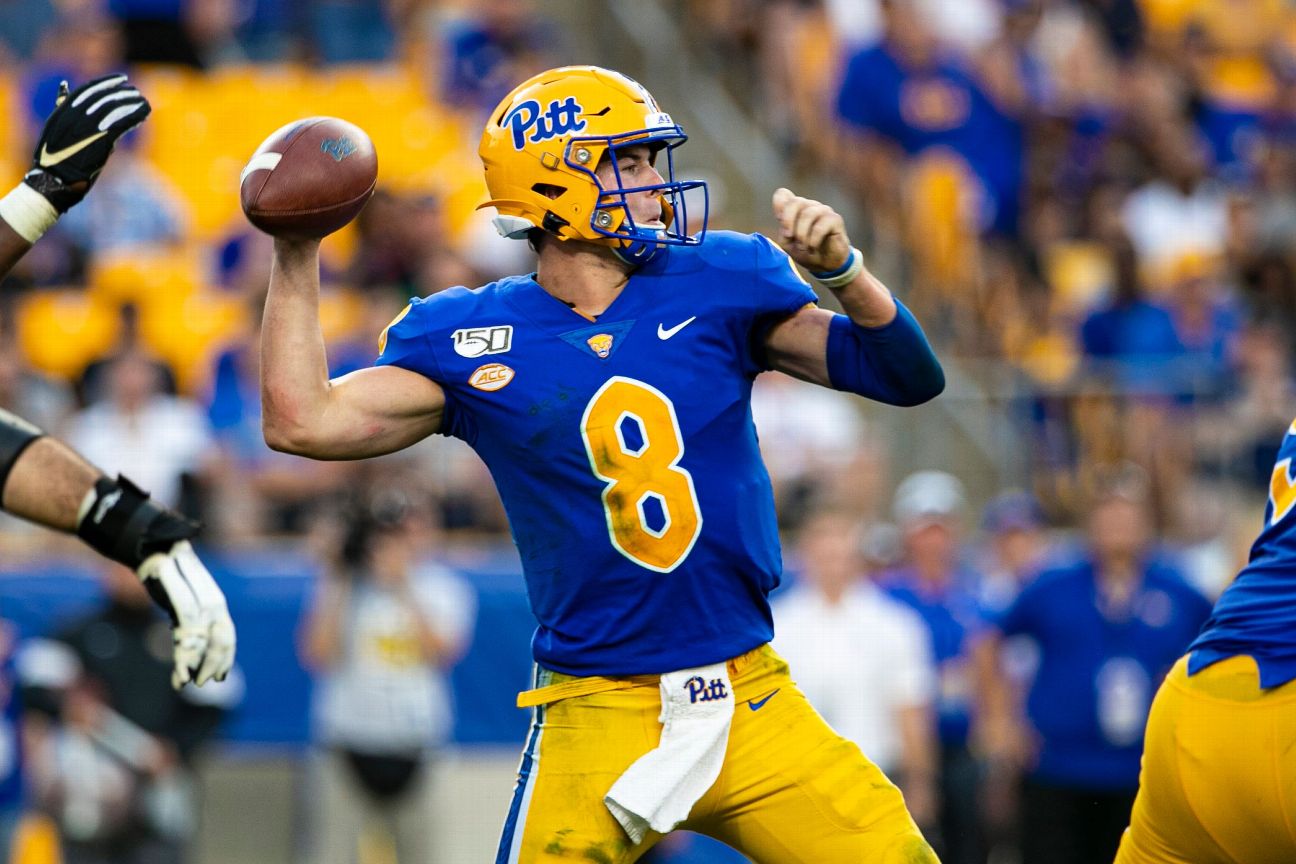 Narduzzi is hoping for that two key players will be available in this contest. Quarterback Kenny Pickett has not been ruled out after missing last week's game at Miami with an ankle injury. If he cannot play, Narduzzi must decide between Joey Yellen, who played against the Hurricanes, and Davis Beville. Senior defensive lineman Keshon Camp may be available after sitting out the last three contests. He is an impact player when healthy, so his presence would energize the hosts.
NOTRE DAME'S OFFENSE vs. PITTSBURGH'S DEFENSE
The Irish started last week's game by focusing its attack on Louisville's porous pass defense. The strategy largely failed, but Coach Brian Kelly and Offensive Coordinator Tom Rees may be forced to try it again. The Panthers are stout against the run and punish teams that encounter third and long situations, so Rees will have to mix things up. The matchup represents a huge challenge for Notre Dame's offensive line and wide receivers. Quarterback Ian Book will also have to endure the glare of the spotlight after a poor showing last week.
Starting wideouts Javon McKinley and Brent Skowronek did not provide Book with many easy completions last week. Neither is particularly fast or twitchy, and fans have grumbled that Lenzy and Kevin Austin need to be on the field. Lenzy remains an exciting prospect, but he has become more like the flashy foreign sports car that spends most of its days in the repair shop rather than on the road. Austin should be fully healed from a broken foot, but he has played very little competitive football in the past two years.
Book still has plenty of viable weapons in tight ends Tommy Tremble and Michael Mayer, along with slot receivers Avery Davis and Lawrence Keys. This group matches up well with Pittsburgh's back seven, which has struggled in man coverage. The best defenders in this group are safeties Paris Ford and Damar Hamlin. They share the team lead in tackles with outside linebacker SirVocea Dennis.
The pass rush will come from senior ends Rashad Weaver and Patrick Jones, each of whom has 8.5 sacks. The Irish will have to block that pair and throw the ball well enough to keep Ford and Hamlin from crowding the line of scrimmage to stop the run. Notre Dame is talented enough in terms of its rushing attack to give Kyren Williams and Chris Tyree plenty of carries, but Book needs to have a good outing if the Irish expect to win.
PITTSBURGH'S OFFENSE vs. NOTRE DAME'S DEFENSE
Pitt will have a respectable aerial game if Pickett is back at the helm. He is a 60% passer who does not throw many interceptions and is also a threat to run the ball as needed. Pickett has thrown for an average of 277 yards per game and spreads the wealth around to several capable receivers. Freshman Jordan Addison, who operates out of the slot position, leads the team with 38 catches. The wideouts are Taysir Mack, D.J. Turner, Jared Wayne and Shocky Jacques-Louis. Each has between 10-20 receptions to date. Tailback Vincent Davis is also a frequent target.
The Panther ground attack is a different story. Narduzzi deploys a rotation of up to four different ball carriers. Davis is the starter, but the group has generated a meager 2.9 yard average and barely more than 100 yards per outing. The offensive line is comprised of a highly regarded group of returning veterans with starting experience. It is therefore a mystery why the Panther ground game is so statistically poor. After a pitiful 22-yard performance against Miami last week, Narduzzi attempted to address the shortcomings of his running game.
"We didn't block them very good up front. Didn't give our tailbacks a whole lot of time. Sibley early had some lanes to run through, lanes that my old butt could probably run through. Did a nice job carrying up through there. But the holes closed fast as the game went on. We didn't do a great job blocking."


Narduzzi did not express much optimism when asked about running the ball against the Irish. "Again, not going to be an easy task against one of the top defenses in the country. They're big, physical. We're more of an attack team. They're more of a read, react up front with their D-line. They're going to make it hard to rush the ball as well. We're going to have to be really good up front."
SPECIAL TEAMS
Both teams tried unsuccessfully to gamble on special teams last weekend. Notre Dame's fake field attempt before halftime backfired and kept easy points off the board. Narduzzi called for a fake punt from his own territory in the first half of last week's loss. The play was stopped in its tracks, and Miami subsequently doubled its 7-0 advantage on the way to a 31-19 victory.
Alex Kessman kicked four field goals for Pittsburgh in that game. He has been more consistent after a shaky first two games. His longest successful attempt covered 58 yards. Punter Kirk Cristodoulou has also impressed with a 45-yard average and minimal return yardage. The Panthers use both Turner and Addison to bring back kicks and return punts.
As has been the case throughout the Kelly era, Notre Dame's return teams do not generate much excitement. The Irish have talent to deploy to these teams but do not dedicate sufficient practice time to make them more productive. This is especially true during this season due to COVID related impacts. Specialists Jonathan Doerer (kicker) and Jay Bramblett (punter) have been above average, though.
SUMMARY
Much depends on whether Pickett can play, and how mobile he can be with an ankle injury. If Yellen or Beville start, the odds tilt more heavily toward the Irish.
The Panthers have the defensive personnel to employ what has now become the "book" on stopping Notre Dame's offense. Clog the running lanes, force the Irish to pass, pressure Book with a four-man rush, and press cover their slow receivers such as McKinley and Skowronek. Pitt will bet that Book will continue to give up on the play if his primary receiver isn't open and he starts to feel heat in the pocket. If they choose to go one step further, the Panthers can deploy a spy to make sure he doesn't scramble for long gains.
To defeat that strategy, the Irish offensive line must protect the passer and take the bubble wrap off Lenzy and Austin. This utilization of its speed weapons will open up the middle of the field. Mayer, Tremble and the slot receivers will be able to make catches on crossing routes with open turf in front of them. Defensively, Notre Dame needs to regenerate the potent pass rush that was evident earlier in the season but largely absent this month. It would be helpful if Tuavailoa-Amosa, Foskey and Kiser were to get an abundance of snaps in this contest. The Irish are also ranked second in the country in third down defense, allowing a 21% success rate.
Here are a few questions that will shed light on the outcome:
Will either team be able to run the ball consistently?
Which quarterback will enjoy the best pass protection?
Which team will have a higher conversion rate on third down?
Will Lenzy and Austin be successfully targeted by Book?
Which defensive unit will create the best scoring chances for its offense?
Which kicker will have the most positive impact on the outcome?
Can Tom Rees keep the aggressive Panther defense off balance?
After playing at home all year, will Notre Dame remember to bring its white jerseys to this contest?
PREDICTION
This shapes up as a defensive battle, although we expected a scoring fest last week that never materialized. The clash between the Irish offensive line and Pittsburgh's front four will go a long way toward determining the winner. Beyond that, two other factors are paramount. First, the quarterback that stays upright and plays with poise will have a better chance to put points on the board. Secondly, the team that is best in the red zone will prevail. The comparative talent leads me to believe the Irish have more ways to find the end zone than the Panthers, and that will be the ultimate difference. Assuming Pickett starts and plays most of the way….
Game Day Update: I'm hearing that Pickett is not likely to play, so…
NOTRE DAME 24 PITTSBURGH 13