Notre Dame opens its 2021 football season by taking on the Florida State Seminoles in Tallahassee on Sunday night. This year's Fighting Irish lineup features several new faces, particularly on offense. The attack will be led by quarterback Jack Coan, a graduate transfer from Wisconsin. Coan arrived on campus in January and proceeded to win the starting job over sophomore Drew Pyne and freshman Tyler Buchner. Head Coach Brian Kelly enters his twelfth season at Notre Dame, with a record of 81-39. An additional 21 wins in 2012 and 2013 were subsequently vacated due to NCAA violations. Sunday's game will be televised by ABC beginning at 7:30 PM Eastern time.
Offensive Coordinator Tom Rees has redesigned the passing attack for Coan, a strong-armed pocket passer who rarely scrambles. The return to health of two injured outside receivers, Kevin Austin and Braden Lenzy, adds speed and legitimate deep threat to the offense. The veteran Avery Davis operates out of the slot position, while last year's freshman sensation Michael Mayer is poised for another strong season at tight end. Kyren Williams and Chris Tyree form a dangerous one-two punch at running back, and Rees promised they will also be more involved in the passing game.
The big changes are along the offensive line, where center Jarred Patterson is the only returning full-time starter. He is joined by right tackle Josh Lugg and left guard Zeke Correll, both of whom started a few games last season when injuries sidelined the regulars. Rounding out the group is 6'6" 335-pound Blake Fisher, a top incoming freshman recruit who earned the left tackle spot, and guard Cain Madden, a graduate transfer from Marshall who was voted second team All-American last year by the Associated Press and other media outlets.
Defensively, Notre Dame hired highly regarded Coordinator Marcus Freeman from Cincinnati when Clark Lea took the head coaching job at Vanderbilt. Freeman's scheme will emphasize creating turnovers and havoc plays. His energy as a coach and recruiter was immediately evident upon his arrival and has spread quickly through the locker room. Freeman has a full arsenal of weaponry to throw at opposing offenses, including All-American free safety Kyle Hamilton. He is joined by ends Myron Tagovailoa-Amosa and Isaiah Foskey, and nose tackle Kurt Hinish, who will play in his 51st game for the Irish. If he remains healthy, Hinish will soon break the school record of 53 games played that was set last year by Daelin Hayes.
Meanwhile, Mike Norvell enters his second season in Tallahassee after a COVID-abbreviated 3-6 campaign in 2020. The Noles remain firmly in a rebuilding mode, and Norvell has a six-year contract. He is a quality head coach with a youthful, talented roster, although a couple of graduate transfers will be counted upon this season to fill significant gaps left by his predecessor. Norvell is excited to open this season at home in a stadium filled with passionate fans. The pregame activities will undoubtedly feature a tribute to Bobby Bowden, the recently deceased Hall of Fame coach who brought the Florida State program into the national spotlight with 304 wins during his 34 years at the helm.
Norvell hopes to take advantage of the emotions that will build to a crescendo at kickoff to motivate his squad. "It's gonna be a tremendous atmosphere, it's going to be a tremendous showcase for our program," Norvell said Tuesday. "It's an opportunity to give a first impression of what this 2021 Florida State football team's identity truly is."
The Seminoles are unsettled at quarterback, where graduate transfer McKenzie Milton has been battling sophomore incumbent Jordan Travis for the starting job. Chubba Purda, a talented sophomore, will join the competition when he recovers from a broken collarbone. Travis played last season at Notre Dame and acquitted himself well in a 42-26 loss. Milton is the better passer while Travis is a very productive and dangerous runner. I expect Travis to start as Milton hasn't seen game action since November 2018 due to a horrific knee injury suffered at UCF. He has missed multiple practice sessions this fall but will reportedly be available to play if called upon. Travis' mobility will be needed to escape what is sure to be a relentless Notre Dame pass rush against the Noles' suspect offensive line.
Other injuries for Florida State include middle linebacker Emmett Rice, who will miss the opener, and cornerback Jarrian Jones, who will be a game time decision. Notre Dame will play without starting linebacker Marist Liufau, who was having a great fall camp before breaking his ankle in practice last week. He is lost for the season.
NOTRE DAME'S OFFENSE vs. FLORIDA STATE'S DEFENSE
With Austin lining up outside, Mayer thundering downfield and Williams leading the way at running back, Rees and Coan have a wealth of options at their disposal. The key to unlocking this vast potential of skilled players is the offensive line. Patterson is the leader and anchor at center while and Lugg is solid when healthy. Fisher has given every indication that he is ready for the spotlight to perform well as a freshman left tackle. That leaves the guards, Madden and Correll. Madden is a mauler in the running game but has struggled in pass protection since arriving on campus. The variety of blitzes and stunts deployed in scrimmages by Freeman and the athletes on the Irish defensive line posed a greater challenge than Madden saw in his career at Marshall. Correll was moved to guard this fall to make room for Patterson's return from a foot injury that kept him out of spring practice. Correll is a scrappy player but his relatively small stature for the position is a concern.
The Noles hope to slow down Notre Dame with a rebuilt defensive line. Ends Jermaine Johnson and Keir Thomas are transfers from SEC schools who provide a vastly improved pass rush. Tackle Dennis Briggs and rotating nose tackles Fabien Lovett and Robert Cooper are capable returning veterans. Overall depth in this area is still an issue for Norvell, so it remains to be seen if the Irish can wear down this group as the warm evening progresses.
Despite losing Rice at middle linebacker, 255-pound DJ Lundy appears ready to step in after redshirting his freshman year, Junior Kalen DeLoach has the size and speed to match up at the outside position, while Rover Amari Gainer returns as the team's leading tackler and best player from the 2020 defense. This young group has above-average speed and raw ability but may not be as consistent and assignment perfect as they need to be against the Irish. In fact, ends Johnson and Thomas are the only senior starters on defense for the Seminoles. The vast majority of the two-deep is comprised of redshirt freshmen and sophomores.
The Noles will be okay at field cornerback whether Jones can start or if Travis Jay gets the nod. On the boundary side, Jarvis Brownlee has emerged after a redshirt freshman year to claim the starting role. At nickel back, Jammie Robinson will try to contain Notre Dame's Davis out of the slot. Free safety Akeem Dent, a converted cornerback, is another quality player. He will be joined at the back end by Brendan Gant.
Notre Dame's greatest challenge will be establishing a productive running game against this unit, especially in the first half when the Noles are fresh and feeding off the emotion of the crowd. If Coan faces too many third and long situations and the pass blocking is springing leaks, it could be a while before the Irish settle down and move the ball with any consistency. The battle in the trenches will be interesting to watch and will tell us quite a bit about the prospects for Kelly's squad this season. Look for the Noles to run stunts and test the discipline and agility of the Irish front in pass protection.
The other area of concern for Notre Dame and Rees is red zone efficiency. The team was among the worst in the country last season in this category, particularly in the passing game. Mayer is an obvious target, but the team needs other options in scoring territory and a quarterback who can place the ball in tight spots. Coan may provide the answer, but his limited ability to scramble could work against the Irish when it's necessary to improvise.
FLORIDA STATE'S OFFENSE vs. NOTRE DAME'S DEFENSE
Travis accounted for 300 yards last year against the Irish, including 96 on the ground. His supporting cast includes a pair of fine running backs in Jashaun Corbin, a 220 pounder, and speedster Lawrance Toafili. They typically start together in a two-back set. DJ Williams transferred in from Auburn and will be a factor at some point in the season.
The receiving corps has potential but no obvious go-to target. Ontaria Wilson and transfer Andrew Parchman line up on the outside, but the best of the group may be 5'9" slot man Keyshawn Helton. Also, Malik McClain is a freshman who might get an opportunity. While Florida State fans have concerns regarding this group, the young Irish cornerbacks who will cover them have their own set of questions. Clarence Lewis earned a starting job as a freshman midway through last season, while Cam Hart and Ramon Henderson will see their first meaningful action. Veteran Tariq Bracy will handle the nickel duties and probably match up with Helton. Tight end Camren McDonald has been a productive player for the Noles and cannot be overlooked in key third down and red zone situations.
While the forgoing matchups are important, the battle between Freeman's deep, aggressive defensive front and the newly formed Seminole offensive line represents the largest gap between these two squads. The Irish are three deep and talented up front, which will come in handy as the sweltering heat takes its toll on the starters from both teams. Devontay Love-Taylor transferred in last season and performed well before being sidelined with a knee injury. He's back for an extra year due to the COVID exemption rule. He and Notre Dame transfer Dylan Gibbons will anchor the Noles up front from the guard spots. Robert Scott, who started last season and earned Freshman All-American honors, is the left tackle. The right side is manned by Darius Washington, who also saw action last year as a true freshman. Another youngster, center Maurice Smith, completes the group.
The Irish counter with Foskey and Tagovailoa at ends with Hinish and Jayson Ademilola inside. The second unit is equally formidable, with the likes of Rylie Mills, Justin Ademilola, Howard Cross and Jordan Botelho. Note that Hinish will enjoy a decided advantage over the undersized Smith in the middle. This depth gives Freeman options to apply pressure from multiple directions on any down. In doing so, his schemes require the cornerbacks to succeed in single man coverage. The burden will fall on Travis to escape the rush and deliver the ball downfield to an open man. If he is able to gash an overly aggressive Irish defense a few times, Florida State is capable of pulling off the upset.
SPECIAL TEAMS
Notre Dame's depth serves it well on the coverage teams, which have been outstanding. The return game has been dormant for several seasons, but young athletes like Tyree and Lorenzo Styles could change that if given more support. Tyree will handle kickoffs but steady senior Matt Salerno is penciled in as the primary punt returner. Both specialists are back from last season. Punter Jay Bramblett is a junior while place kicker Jonathan Doerer returns for a final season that he hopes will demonstrate improved consistency from an up and down 2020 campaign.
Irish Special Teams Coach Brian Polian cites rule changes at the college level when asked why the punt return is a rare occurrence. "With the shield punt, the college rules are different from the NFL rules," Polian said. "Anybody can leave at the snap of the ball. Now you're getting these big wide formations; you're getting the three fat guys in the back, forming the shield, which is what we do. That concept, that style of punt, marks it (a return) harder. You've got too many people around the returner when the ball is coming down," he added. "In my opinion, you get one, maybe two really legitimate opportunities to return a punt in a game. What we preach to the team is you never know which one it's going to be."
Polian and the Irish have shifted their emphasis to blocking or rushing punts, and that has paid dividends. "With Salerno last year, because he catches the ball, we amped up our pressure and blocked two punts," Polian said. "There's a bunch of times we get close and we force a 38-yard punt. Well, that's a good thing. If we keep people up and we make (opponents) uncomfortable, if we force a poor kick, that's as good as an eight- to 10-yard return."
While Seminole punter Alex Mastromanno is one of the best in the country, kicking continues to be a concern at Florida State. Field goals have been problematic as the job bounces between Parker Grothaus and Ryan Fitzpatrick for the second consecutive season. This week's depth chart lists Fitzgerald as the place kicker with Grothaus tasked with kickoff duty.
The Noles have tried multiple players in the return game this past month. Jay has emerged as the primary punt returner and will join Cory Wren to bring back kickoffs. Helton might also be called upon to return punts since he has prior experience. Results on returns were unremarkable last season, as the team's lack of depth means that starters are rarely seen on special teams. The Irish hold a clear advantage in this area.
SUMMARY
Notre Dame is clearly the stronger team on paper, but the Irish will have to overcome an emotional opponent playing on its home turf. Previous Brian Kelly teams have faceplanted numerous times in similar environments, so nothing can be taken for granted. The key to victory for the visitors is to control the line of scrimmage. All eyes will focus on the offensive line, and rightfully so. We've seen what Williams and Tyree can do when provided a lane to run through. Coan, by all accounts, is more adept than Ian Book at finding open receivers and delivering the ball from the pocket. If the backs are bottled up and Coan must scramble for his life, all bets are off the table.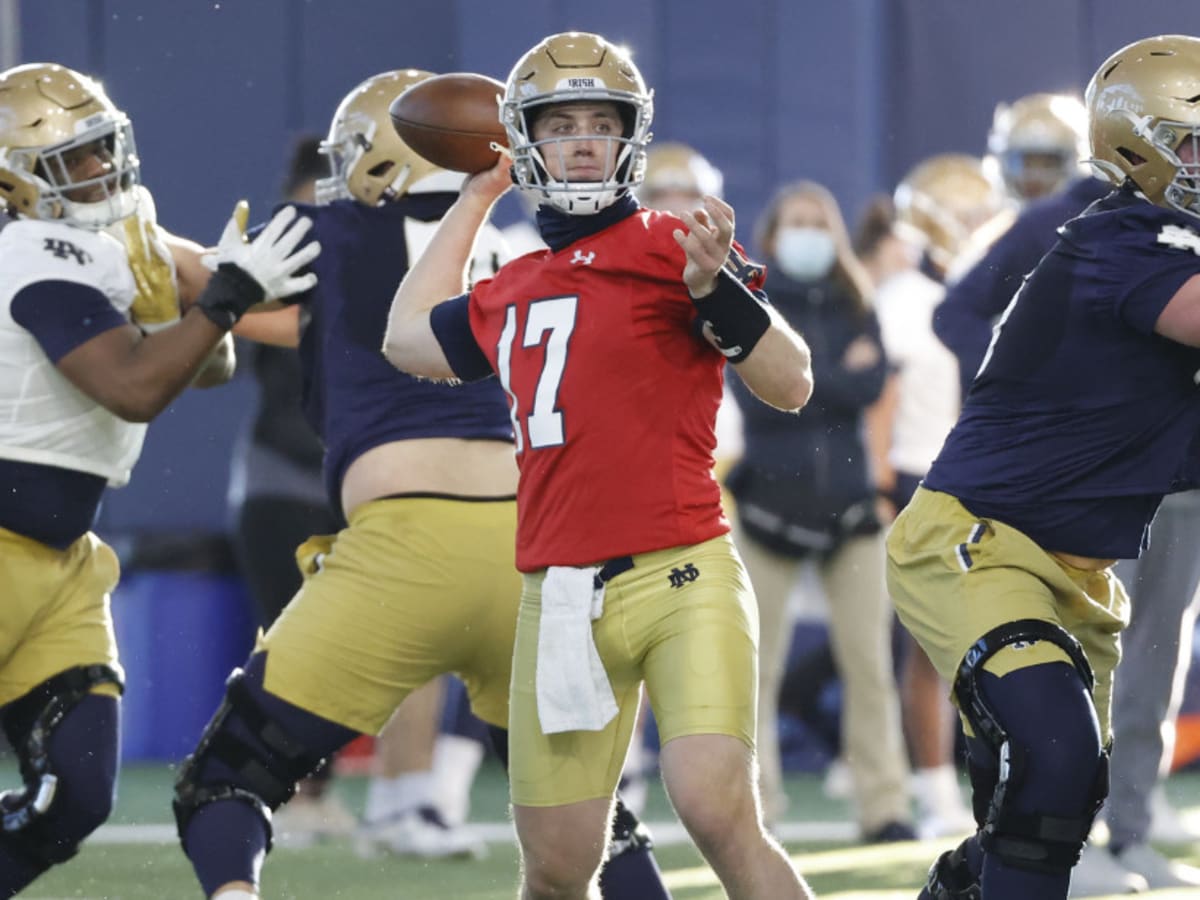 Even so, Freeman's defense should provide cover should the offense struggle in the early going. Fans will be watching Foskey to determine how much he has advanced as a pass rusher. They will also want to see how Freeman will deploy Hamilton from his free safety position. He is the most valuable chess piece on the board in this matchup. Finally, they will expect to see turnovers, which Freeman has emphasized from the day he arrived in South Bend. The Irish recorded only seven pass interceptions last year in 12 games, while Freeman's Cincinnati defense picked off 16 in ten contests.
Florida State has plenty of young talent to challenge Notre Dame. It may be a blessing that the Irish face them so early in the season. The Noles will be much better in November, especially when Milton can settle in and give the passing game a boost.
Here are a few questions that will shed light on the outcome:
Can Williams and Tyree break free for runs of 15 yards or more?
Who will win the battle between the unheralded FSU receivers and the youthful Irish corners?
Can the young Seminole offensive linemen handle Notre Dame's swarm of defenders in the trenches?
Will Lenzy and Austin make their presence felt in Rees' revitalized aerial attack?
Can the multi-talented Travis escape Notre Dame's pressure and make plays with his arm and legs?
Which defense will be able to force negative plays and turnovers?
Can the Notre Dame offensive line give Coan adequate time to throw?
Has Kelly finally learned how to prepare a team for a night game on the road?
PREDICTION
Logic dictates an Irish victory, but the Noles will have a puncher's chance if they start off well. It would be best for Notre Dame to score early and quiet the crowd. If the game remains a closely fought war at halftime, the Irish should still prevail unless they make uncharacteristic mistakes that result in cheap points for FSU. Absent that, the Seminoles are still very much a work in progress. If reports from their fall camp are reliable, they simply haven't worked together enough yet to sustain a high level of efficiency over four quarters.
NOTRE DAME 27 FLORIDA STATE 17