Still stinging from its emasculation at the hands of the Michigan Wolverines last Saturday, Notre Dame will try to bounce back at home this week against Virginia Tech (5-2). The Irish offense failed to gain traction in the rain in Ann Arbor, but the fact that their highly regarded defense was absolutely trucked by the Michigan ground game was a larger disappointment. Practice reports indicate the team was in a foul mood this week, which should translate into a much more focused performance on Saturday. The game will be televised by NBC beginning at 2:30 PM Eastern time.
The Hokies are coached by Justin Fuente, who elected to change quarterbacks after a disappointing 2-2 start. He inserted sophomore Hendon Hooker into the starting role in place of senior Ryan Willis, and the team has responded with three consecutive wins before last week's bye. Hooker is a better athlete than Willis and has breathed life into the offense. Since taking over the reins, Hooker has hit 58% of his passes with seven touchdowns and no interceptions, while rushing for 160 yards and one score.
Coach Brian Kelly is sticking with Ian Book at the helm despite his recent struggles. In fairness, Book has not been put in great position to succeed by Kelly and Offensive Coordinator Chip Long, who have taken heat this week for the ineffective game plan at Michigan. The team managed only 100 total yards for three and one-half quarters before backup Phil Jurkovec was inserted to mop up.
The Irish offense will be further diminished by the loss of guard Tommy Kraemer, who has a bruised knee. It is hoped that he can return for a bowl game. Jeff Ruhland and Josh Lugg will fill in until then. Also, starting wide receiver Michael Young has officially elected to transfer. Lawrence Keys and Braden Lenzy should get more snaps as a result. Virginia Tech may have to play without the services of left tackle T.J. Jackson and second leading receiver Tre Turner, but Hooker should be ready to go after suffering a minor knee injury two weeks ago.
NOTRE DAME'S OFFENSE vs. VIRGINIA TECH'S DEFENSE
The Irish need to revitalize the running game, which disappeared last week after a season-best outing against USC. Tony Jones, who has been carrying most of the load, is banged up right now. This means that Jahmir Smith and Jafar Armstrong must be ready to contribute more. Kraemer's absence won't help, but there are no excuses for another poor performance.
Virginia Tech has a young but deep rotation of productive defensive linemen led by end Emmanuel Belmar and tackle Jarrod Hewitt. Middle linebacker Rayshard Ashby is an impact player who averages more than ten tackles per game, while rover Reggie Floyd is the only senior in the lineup. Tech has performed well against the run this year, but the Irish represent a big step up in the level of competition.
The Hokies have held their own against aerial attacks. The story begins with the pass rush, where the team has recorded 25 sacks, including 15 in the last three games. Eleven different players have reached the quarterback, and the hits have come from all three levels of the defense. The secondary boasts strong safety Divine Deablo, who covers a lot of ground at 6'3" and 225 pounds. Cornerbacks Caleb Farley and Jermaine Waller have three interceptions apiece. Farley has good size at 6'2" and will likely be matched up against Chase Claypool.
Notre Dame can and should run on this defense rather than place the playmaking burden on the shoulders of Book. The Irish signal-caller is much more effective when the ground attack is working and teams must respect the play action fake. One key to success will be their ability to block Ashby, which will be a more difficult task without Kraemer.
VIRGINIA TECH'S OFFENSE vs. NOTRE DAME'S DEFENSE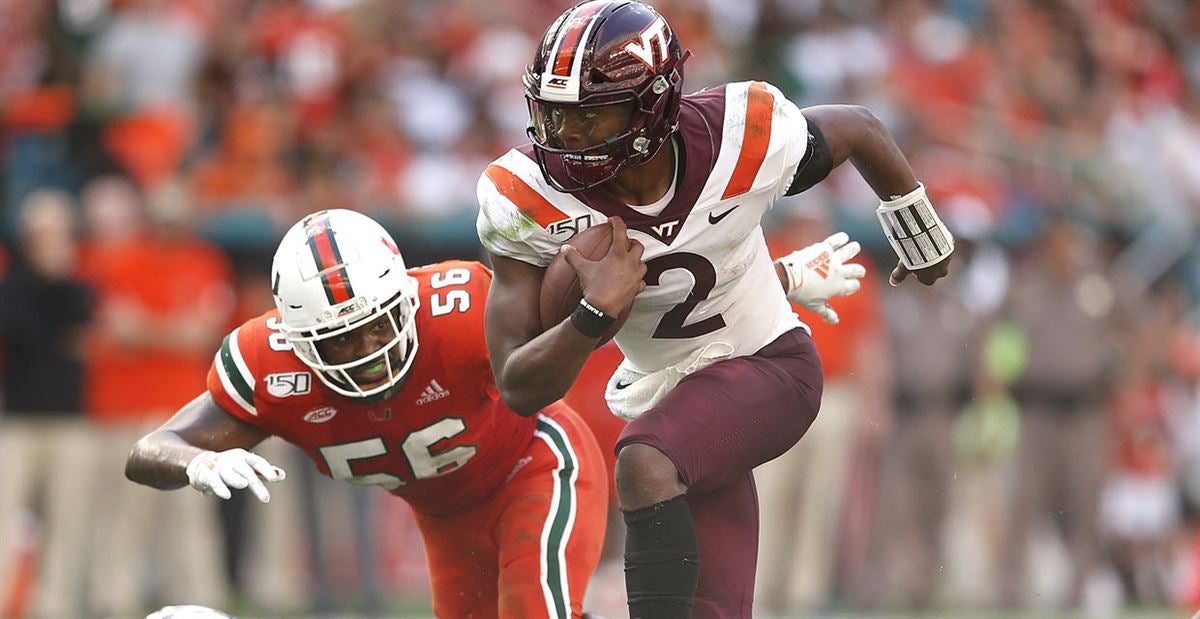 The 6'4" 228-pound Hooker represents a quality dual threat to defenses, and he has capable skilled talent around him. Tailbacks Deshawn McClease and freshman Keshawn King are solid but slightly undersized backs who can still move the chains. The offensive line is the area that will determine how well the Hokies perform. There are two sophomore starters including Christian Darrisaw at left tackle for the injured Jackson, two true freshmen, and a rotation of a sophomore and freshman at right tackle.
Wide receiver has been more problematic with people rotating in and out of the lineup. Freshman Tayvion Robinson leads the team with 24 receptions, but the recent return of Damon Hazelton from injury is a big shot in the arm for this offense. If he and a healthy Turner can join Robinson on the field, the Hokies will present a clear challenge to the Irish secondary. Tight ends Dalton Keene and James Mitchell are also capable weapons, particularly in the red zone where Tech has scored 21 touchdowns and seven field goals in 29 trips.
Fuente realizes the challenge in facing Notre Dame with his youthful roster. This week, he talked to reporters, saying, "If you look at their team across the board, they seem to be an older, developed, team". Particularly on the defensive front, where they can certainly rush the passer and have been very good against the run. It's going to be a big challenge for our young guys to keep their technique when playing against really talented, good, football players."
The Irish pass rush must make Hooker uneasy in the pocket while containing his avenues of escape. Since he has yet to throw an interception, chances are he prefers to pull the ball down and run rather than throw it in haste. If Notre Dame overcommits, Hooker might be able to find his tight ends over the middle or hurt them with his legs if his offensive line can give him enough time to sort through his options.
SPECIAL TEAMS
The Hokies' Oscar Bradburn is the next in line of the Australian punters to play against Notre Dame. Bradburn has an impressive 48-yard average and is among the best in the nation. Kicker Brian Johnson has not made a field goal of 40 yards or more this season. The coverage teams are solid – only a very few of its kickoffs or punts are brought back. Return men Terius Wheatley and King (kickoffs) and Hezekiah Grimsley (punts) have average results to date.
Notre Dame continues to leave potential yardage on the field in the return game. To date, Chris Finke has been instructed to fair catch punts or run away from them entirely, while Young provided the only excitement on a kickoff return before his departure. Joe Wilkins will take over in this spot and is backed up by Lawrence Keys. Kicker Jonathan Doerer did not get an opportunity last week, while punter Jay Bramblett suffered a costly shank in the deluge.
SUMMARY
For the second time this season, the Irish host a young but talented team from the State of Virginia after a disappointing loss. Amazingly, Virginia Tech lists only one senior among the 22 starting offensive and defensive spots. Notre Dame should be able to exploit its advantage in experience, particularly in at home where the crowd and the weather will test the Hokies' resolve.
As noted above, adverse weather conditions are predicted for this weekend. This doesn't necessarily mean that Kelly will modify his offensive game plan accordingly. In fact, history suggests he and Long won't dial down on the number of passes. Be that as it may, the Irish must make sure they are the best running team on this day. A pass-heavy approach instead of a more direct, physical attack may give Tech's veteran, respected Defensive Coordinator Bud Foster an opportunity to play mind games with Long and Book. It is also imperative that Notre Dame's defensive line plays to its potential this week. The youthful Hokie offensive line presents the perfect opportunity for an Irish rebound.
Here are a few questions that will help determine the outcome:
Can Notre Dame dominate the line of scrimmage?
Will the Irish defense continue to arm-tackle or will they play more crisply?
Which team's running game will help relieve pressure on its quarterback?
Can the Irish limit successful scrambles by Hooker?
Will Kelly give Jurkovec any meaningful snaps?
Will Bud Foster be able to devise a plan that confounds the Irish offense?
Can Smith and Armstrong contribute more substantially to the rushing attack?
Which team will commit crucial turnovers?
PREDICTION
A week ago, the conventional wisdom was that Notre Dame would easily run the table after prime time contests in October against USC and Michigan. It's still a plausible scenario, but the Irish showed considerable vulnerability last week that lengthens the odds for a ten win regular season. This game will tell us whether the team has refocused or is still in a funk. The gap in experience between the Hokie offensive line and the Irish defensive front should be enough to tip the scales in favor of the hosts, where the defense creates good scoring chances for Book and company. Despite the talent and experience gap between these teams, an Irish victory may not come easily. The emotion fueling the troops at the outset will only carry them so far before the game settles into a more fundamental demonstration of blocking, tackling, and strategy.
NOTRE DAME 31 VIRGINIA TECH 17
Tell John what you think in the comments below