An odd thing happened to Notre Dame as its football team planned a trip to Ireland to face Navy on August 29 in the 2020 season opener. With the entirety of college football on the brink of cancellation due to the COVID-19 virus, the Fighting Irish brokered a deal with the Atlantic Coast Conference (ACC) to play ten games instead of the five required by prior agreement.
An eleventh game against South Florida of the American Athletic Conference was added more recently to the September schedule, but Notre Dame kicks off its campaign this weekend by hosting the Duke Blue Devils. The opener will be televised by NBC on its main network beginning at 2:30 PM EDT.
Traditional rivals such as USC and Stanford suspended their seasons as members of the PAC-12 Conference. A much-anticipated contest against Wisconsin also fell by the wayside when the Big-10 voted to shut down as well. Notre Dame maintained a desire to play, and found the ACC receptive to its offer to play this season as a conference member. Under this one-time scenario, the Irish could play a twelfth game if it qualifies for the ACC Championship game.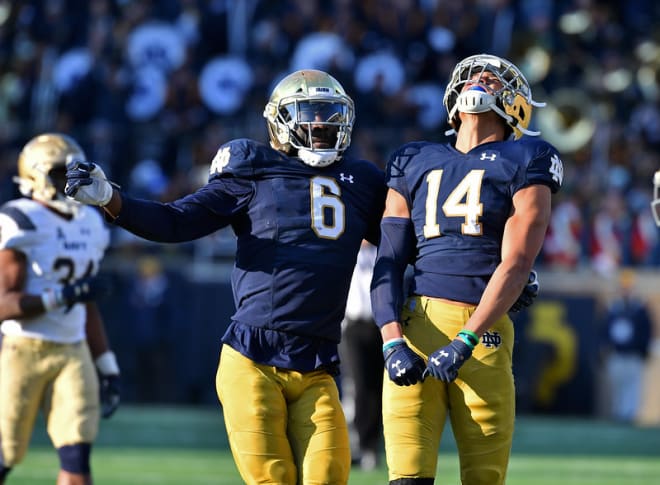 Coach Brian Kelly brings a loaded roster to the field this year. Key offensive positions such as quarterback and the entire front line return experienced veterans across the board, led by Ian Book and his wall of protectors. The defense is deep, aggressive and fast. Stars such as linebacker Jeremiah Owusu-Koramoah and safety Kyle Hamilton have earned preseason national acclaim, and the defensive line boasts a wealth of quality talent that extends three levels down the depth chart.
A few exciting freshmen will also force their way into the lineup. Kelly has identified speedy running back Chris Tyree and tight ends Michael Mayer and Kevin Bauman as being too good to keep off the field. Defensively, end Jordan Botelho, cornerback Clarence Lewis and lineman Rylie Mills are among those who are expected to play early and often.
The visiting Blue Devils (5-7 in 2019) are coached by David Cutcliffe, who will try to work his magic on quarterback Chase Brice, a graduate transfer from Clemson. Brice was named the starter this week after a close competition with junior Chris Katrenick. While Duke's offense will showcase many new faces, its defensive line is stocked with veteran playmakers.
Senior defensive end Victor Dimukeje is the leader of a very respectable and experienced front four. He has 38 starts under his belt and led the team last season with 8.5 sacks. Dimukeje is joined by Chris Rumph II, Drew Jordan and Derrick Tangelo.
NOTRE DAME'S OFFENSE vs. DUKE'S DEFENSE
Book has been named a captain and is clearly the team's leader. He has an excellent rapport with new Offensive Coordinator Tom Rees, who replaced the departed Chip Long. Key targets in the passing game include wideouts Javon McKinley, Braden Lenzy and Brent Skowronek, an impressive 6'4" grad transfer from Northwestern. This group will get a boost sometime next month when the talented Kevin Austin is ready to return from a broken toe.
The slot receivers are Avery Davis and Lawrence Keys, while a handful of capable tight ends provide several more options. This group includes senior Brock Wright, junior Tommy Tremble and the two freshman noted above.
The line returns its five original 2019 starters and primary backup after an injury plagued season. Guard Tommy Kraemer and tackle Robert Hainsey have recovered from serious knee and leg issues, while guard Aaron Banks' broken foot was never at full strength in 2019. Each is healthy now and joined by star left tackle Liam Eichenberg and center Jarrett Patterson. Josh Lugg, a versatile sixth man, can fill in seamlessly when called upon.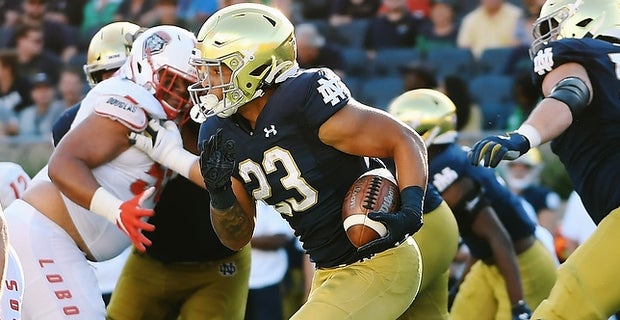 The biggest and most positive change to the Irish attack will occur at running back. Tony Jones, who carried most of the load last year, has graduated. The lead back this season is Kyren Williams, who redshirted last year in his freshman season. Williams has excellent speed and has impressed the coaches with his hard work during the offseason to claim the job. Tyree, who is even faster, will also get plenty of touches. Other familiar names such as Jahmir Smith, C'Bo Flemister and Jafar Armstrong will compete for the remainder of the carries.
Duke plays a 4-2-5 alignment with two linebackers and three safeties. Rumph occasionally drops down from his end position to play linebacker and switch the base defense to a 3-3-5. He is a strong threat to rush the passer from either spot. In that case, Dimukeje and Jordan would start at ends with the 300-pound Tangelo in the middle.
Cutcliffe has been trying various personnel combinations at linebacker since senior Brandon Hill opted out of the season due to COVID-19. It's no secret the Devils are very thin there beyond incumbent Shaka Heyward. Rocky Shelton II is the most likely starter in the middle with Heyward on the weak side.
Senior safeties Michael Carter II and Marquis Waters lead a competent secondary. Carter plays the rover position in the 4-2-5 while Waters is a prototypical strong safety. This group held opponents to a mere 52% completion rate and fewer than 200 passing yards per game last year. Irish receivers will have to work hard to get open if Book intends to exceed those numbers.
DUKE'S OFFENSE vs. NOTRE DAME'S DEFENSE
Cutcliffe has selected Brice to engineer his offense. The line is young with only one senior, guard Rakavius Chambers. The best skill position players are running back Deon Jackson, wide receiver Jalon Calhoun, and tight end Noah Gray. All three starting wide receivers are sophomores, including Calhoun, who led the team in receiving yards last year as a freshman. He might be the only true threat the Irish have to contain in this offense.
The Irish defense will try to ensure that Brice doesn't have sufficient time to connect with Calhoun or anyone else. End Daelin Hayes returns from a 2019 shoulder injury to lead the pass rush as a team captain. He will be joined by a deep group that includes fellow starter Ade Ogundeji, Isaiah Foskey, Ovie Oghoufo, Justin Ademilola and Botelho.
The middle of the line will be manned by veterans Kurt Hinish and Myron Tagovailola-Amosa. The rotation will also consist of Jacob Lacey and Jayson Ademilola, both of whom were solid contributors in 2019.
Linebacker is another position where Notre Dame has quality depth and intense competition for starting spots. Drew White remains in the middle and is backed up by Bo Bauer. The buck position will be shared by Shayne Simon and Marist Liufau. Owusu-Koramoah is a star playmaker at rover, but even he is being pushed by Paul Moala.
Perhaps the most challenging area for Coordinator Clark Lea to manage this fall has been the secondary, where new and familiar faces will blend together. Starting safeties Shaun Crawford and Hamilton are talented and will create havoc. They are supported by capable veterans in Houston Griffith, D.J. Brown and graduate transfer (Ohio State) Isaiah Pryor.
Irish cornerbacks will be the focus of Duke's attack and their performance will garner the attention of Notre Dame fans. Tariq Bracy is the only familiar name among the starters, but he has been challenged in camp by freshman Clarence Lewis. Nick McCloud, a graduate transfer from North Carolina State, will line up opposite Bracy or Lewis. Sophomore Cam Hart will back up McCloud.
Assistant Coach Mike Mickens has done an admirable job in his first season in South Bend in getting these athletes ready to compete. If the cornerback position can hold its own this season, this defense will be among the nation's best.
SPECIAL TEAMS
Notre Dame returns both its kicking and punting specialists from last season. Kicker Jonathan Doerer had a breakout campaign and his strong, accurate leg could earn him a future in the NFL. Punter Jay Bramblett is reliable although not a game-changer. The long snapper is junior Michael Vinson, who won the competition over freshman Alex Peitsch.
The biggest change in the performance of the Irish return and coverage units may be provided by exciting new faces in the return game. Tyree will be used on kickoffs, while Keys and Williams will handle punts. Kelly is in great position to put quality athletes on these teams without wearing out the starters.
Duke kick return specialist Damon Philyaw-Johnson was named to the 2020 Preseason All-ACC Team, and for good reason. The 6-1, 170-pound wide receiver tied an NCAA single-game record with two kickoff returns for touchdowns against Wake Forest last season.
The Devils will feature a new kicker and punter in 2020. Charlie Ham takes over the place kicking duties while Jackson Hubbard takes on the punting chores.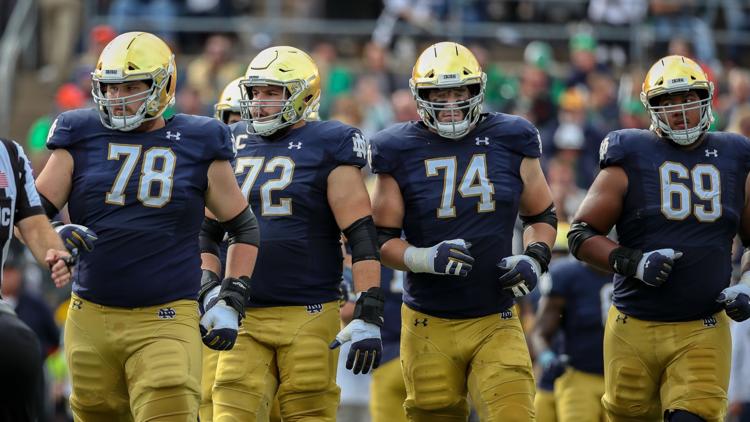 Notre Dame's offense will have more of a run-heavy look in this game as a pair of exciting backs operate beyond a powerful line. They will be tested early by the Duke front four, although the visitors lack proven depth and will be subject to fatigue as the afternoon wears on. The Irish should run early and often at this 4-2-5 unit that was designed primarily to defend the pass. As the game evolves they can hit the Devils with the lightning-fast Tyree when they get tired of chasing Williams.
Meanwhile, Book will seek to get the ball to Davis and Keys in space, keep the chains moving with Skowronek and the tight ends, and take a few shots downfield to Lenzy. This embarrassment of riches will grow even further when Austin can return to the field, which is about when the schedule becomes more difficult.
The Blue Devils may be outmanned but that knowledge can free up Cutcliffe to attack with abandon on both sides of the ball. Expect blitzes on defense and changing formations designed to confuse Notre Dame after a month of lining up against themselves in camp. Offensively, Brice is certain to test the Irish corners provided he has time.
Here are a few questions that will help determine the outcome:
Can Notre Dame's highly acclaimed offensive line take charge of this contest?
Will the Irish defense be able to apply consistent pressure on Brice?
Can the young return men spark the Notre Dame special teams?
Which freshmen will make an impact when their number is called?
Will Book display the poise and accuracy expected from a third-year starter?
Can the Irish avoid sloppy tackling and silly penalties after such a disruptive offseason?
Will Rees stick to the running game, especially if the weather turns bad as forecast?
Will Kyle Hamilton catch more passes than any Duke receiver?
PREDICTION
Notre Dame's defense will be able to throw waves of fresh athletes at the Blue Devils throughout the contest. Meanwhile, Book and company possess an enviable cache of weapons to attack the visitors, with a solid front line to pave the way. Depth is the biggest difference between these teams, and will manifest itself during the second half, if not sooner. Speed is also an area where the Irish have a distinct advantage. Given the chaotic offseason and the number of players in and out of quarantine during fall camp, the biggest questions to be answered for Notre Dame on Saturday are the quality of the tackling on defense and the number of mental mistakes on offense. All teams are on a level playing field in these areas, however, and it appears from the revamped schedule that the Irish have a few low stress weeks to work out the kinks and cobwebs.
NOTRE DAME 38 DUKE 10
Tell John what you think in the comments below