Notre Dame renews its longstanding intrastate rivalry with Purdue on Saturday and the 2-0 Fighting Irish battle the 2-0 Boilermakers in South Bend. Purdue won its opener in impressive fashion against Oregon State before crushing hapless UConn last week. Meanwhile, Notre Dame has struggled mightily to get past heavy underdogs in Florida State and Toledo. This is the first meeting between these schools since 2014. The Irish lead the series by a 56-26-2 margin. NBC will provide national television coverage beginning at 2:30 PM Eastern time.
Coach Jeff Brohm is in his fifth season for Purdue after successful stops at Louisville and Western Kentucky. Expectations for Brohm were quite high, so the trajectory of his first four seasons in West Lafayette has been disappointing. This year's team finally appears to be capable of making some noise. The Boilers have a competent offense with quarterback Jack Plummer at the helm. Plummer's poise and accuracy won him the starting nod over senior 2020 incumbent Aidan O'Connell. Running back Zander Horvath has been a reliable tailback, although he suffered a broken leg last week and will not be available. Defensively, Purdue can rush the passer with George Karlaftis and boasts a top cornerback in Cory Trice.
The Irish have spent the past few days retooling the offensive line and attempting to patch the holes in a defense that has been gashed for multiple big plays in the first two games. New faces such as Rocco Spindler, John Dirksen and Andrew Kristofec are auditioning at guard, where starters Cain Madden and Zeke Correll have struggled. The problems on defense are related more to missed assignments as opposed to a talent deficiency.
On the injury front, the Boilers lost starting linebacker Semisi Fakasiieiki in the preseason, but are otherwise healthy on defense. Horvath's absence will be felt on offense. Backup King Doerue is capable but not a breakaway threat. Garrett Miller, a pass catching tight end who complements talented running mate Payne Durham, will also miss the game due to an injury.
Notre Dame hopes that left tackle Michael Carmody can return to action after leaving last week's contest with a sprained ankle. Tosh Baker will continue to fill in if Carmody is unable to play. Defensive end Jordan Botelho is expected to be available after missing the first two games for undisclosed (non-injury or COVID) reasons.
NOTRE DAME'S OFFENSE vs. PURDUE'S DEFENSE
The Irish will continue to start Jack Coan at quarterback. That said, freshman Tyler Buchner's role is being expanded, and he will be on the field once again. Both appear to be comfortable with this arrangement.
Notre Dame must avoid third and long situations to sustain drives. The line must clear a path for Kyren Williams and Chris Tyree, and the quarterbacks need time to throw the ball. Except for Trice and possibly safety Marvin Grant, the Purdue secondary can be exploited by the Irish receivers. This would be a good week for Coan to finally hook up for a long scoring pass to Braden Lenzy, especially if Trice is preoccupied with Kevin Austin.
Defensive ends Karlaftis and DeMarcus Mitchell lead a capable line. Tackles Damarjhe Lewis and Lawrence Johnson are sound in the middle. At linebacker, Jaylan Alexander has started the last three seasons on the outside. He was moved into the middle last month when Fakasiieiki broke his ankle. He and Jalen Graham are good Big-10 players. Front seven depth is provided by two transfers from the SEC, Auburn linebacker Octavius Brothers and South Carolina end Joe Anderson.
Coach Brian Kelly is rightfully most concerned with the havoc that Karlaftis can create. "Obviously we know about George Karlaftis. He is probably, arguably the best pass rusher in college football" he said. "Great motor, can play the run, extremely active, plays with his hands really well. We have to have a plan for him. He is a guy that you just don't say, 'We're going to deal with him one on one.' We have to have a comprehensive plan for him."
On paper, Karlaftis has a huge advantage in experience over Carmody or Baker. They can expect help from a tight end or running back on passing downs and at other times as well.
PURDUE'S OFFENSE vs. NOTRE DAME'S DEFENSE
Plummer has the tools to play pitch and catch against Notre Dame if he can take a five step drop and release the ball. He is a precise short and intermediate range passer who won't have the time nor the inclination to wait for a deep route to come open. Brohm is a savvy play caller who will find ways to get the ball to wide receiver David Bell and tight end Durham with room to run. Both are stellar playmakers.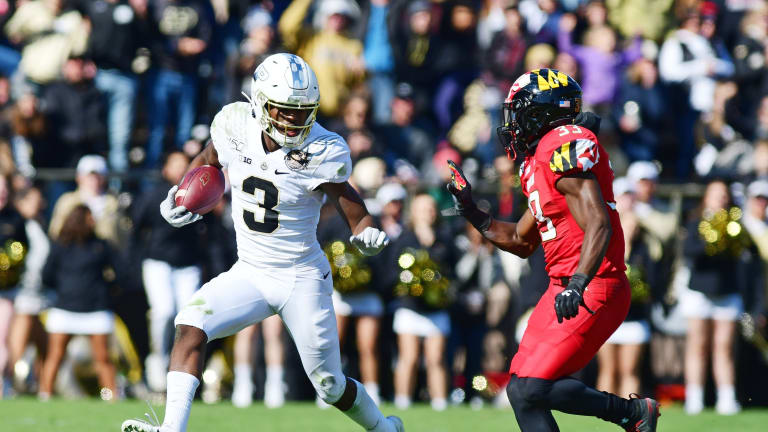 A good pass rush by itself may not be enough to slow down this type of attack. The Irish linebackers and secondary must take away some of these routes with smart, tight coverage.
Purdue's offensive line has been competent to date in pass protection. Left tackle Greg Long and right guard Tyler Witt are solid veterans, but the others are just average at best and may struggle against the Irish. Run blocking is not a demonstrated strength of this unit. Notre Dame's strategy should be to make the Boiler offense one dimensional as early as possible.
Other targets for Plummer include wide receivers TJ Sheffield, Milton Wright and Jackson Anthrop. Doerue is not often used as a receiver out of the backfield, and Plummer is not regarded as a running threat. The challenge is therefore simple for Notre Dame. Stuff the run, pressure Plummer and try to take away the quick release slant and drag routes that can turn into long gainers.
SPECIAL TEAMS
Neither team has accomplished much in the return game this season. Coverage units have been effective, although the Irish allowed a 38-yard kickoff return last week.
Jonathan Doerer has kicked well this season, missing only a 55-yard field goal against Toledo. He followed up with a successful 48-yarder later in the game. For Purdue, Mitchell Fineran has been perfect this season including a 48-yarder of his own.
Jay Bramblett is solid as the punter for the Irish. He averaged 49 yards last week with a long of 58. Freshman Jack Ansell is still a work in progress for the Boilermakers. He has averaged 37 yards to date. The team tried two others in this role last week but neither broke 40 yards.
SUMMARY
It's almost too simplistic to say the team that can run the ball effectively will win, but that is very likely in this matchup. This does not mean either team will need 200 rushing yards, but 125 might do it if they can help keep the offense on the field. Plummer will try to hit Bell with quick passes that can turn into big plays if the Irish secondary continues to miss tackles or takes poor angles. Notre Dame will do everything in its power to disrupt Plummer and force the ball out early under duress.
For the Irish to win, the quarterback shuffle must work as smoothly as it did last week. These switches can backfire if handled poorly. Unlike Toledo, where Buchner made a surprise debut, Purdue is sure to have a defensive plan in place for him. The other questions for the hosts are how much improvement Notre Dame can realize along the offensive line in a few short days, and how much progress the defensive staff has made in curing the assignment confusion among the linebackers and safeties.
Here are a few questions that will shed light on the outcome:
Will the Irish pass rush (ten sacks in two games) continue to dominate?
Can Notre Dame find an effective offensive line combination?
Who will win the marquee matchup between Austin and Trice?
Will special teams have an impact on the outcome?
Which Irish quarterback will have the most success?
Will Notre Dame's consecutive non-sellout streak continue?
How many times will Drew Brees slip and refer to Purdue as "We"?
Have you canceled your Peacock subscription yet?
PREDICTION
I can envision a long afternoon during which Plummer teams with Bell and Durham to pick apart an Irish defense that remains somewhat unsettled. Brohm calls a masterful game and puts points on the board. Meanwhile, Notre Dame's offensive line cannot enable the running game nor contain Karlaftis on the edge. This nightmare scenario could indeed happen, but the Irish are too talented to continue to perform so poorly. Purdue has certainly improved this season, but the Boilermakers are still not at a level that can fully exploit the weaknesses of this year's Irish squad. That day may come next week and repeat itself multiple times before the season ends, but the hosts should escape with another close win unless they give away points as easily as they did last week.
NOTRE DAME 31 PURDUE 27