Notre Dame (2-0) will try to shake off three weeks of rust as the Fighting Irish host Florida State (1-2) on Saturday evening. Coach Brian Kelly's squad was hit by a wave of COVID-19 in late September, but expects to have most of its starters available for this contest. Practice resumed this past weekend and the coaches claim the team performed well from a physical standpoint. The game will be televised by NBC beginning at 7:30 PM Eastern time.
Mike Norvell was named head football coach in Tallahassee last December after a successful four year run at Memphis. He inherited a troubled program with high expectations, but a 1-2 start included a 52-10 thrashing by traditional rival Miami. The Noles stopped the bleeding last week with a comeback victory over lowly Jacksonville State. Norvell has already shuffled through three quarterbacks in search of a consistent performer, and may have found an answer in Jordan Travis. The versatile sophomore rallied the team to victory in his first action of the season and will start this week.
Quarterback isn't the only position in flux at FSU. Norvell has not been afraid to experiment, as only three players on offense have started each of the first three games. That number is just five on defense. Some of the lineup changes have resulted from injuries, though. Two injured defensive starters are expected to return in safety Travis Jay and nose tackle Robert Cooper. Offensive guard Dontae Lucas will be back after sitting out the Jacksonville State game for disciplinary reasons. Finally, star safety Hamsah Nasirildeen, who hasn't played since suffering a knee injury last November, is reportedly close to full health.
Kelly announced that Notre Dame will be without the services of linebacker Jack Kiser and defensive tackle Myron Tagovailoa-Amosa on Saturday. One piece of good news is that wide receiver Kevin Austin has been cleared for action after suffering a broken foot in preseason camp. Other players who missed time last month such as wideout Brent Skowronek, linebackers Shayne Simon and Marist Liufau, and safety Kyle Hamilton are back to 100%.
Regarding his concerns about the extended break in the schedule, Kelly was more upbeat after the team completed a few practices this week. "Look, at the end of the day, when you don't play for a couple of weeks, you worry about timing, execution, things of that nature, and I'm less concerned about it as we've gone through the week, because we've gotten our legs back and we've gotten back into a football routine", he said.
NOTRE DAME'S OFFENSE vs. FLORIDA STATE'S DEFENSE
With Austin in the lineup, the Irish have the ability to stretch any defense. When paired with Lenzy at wide receiver and the likes of Avery Davis and Lawrence Keys in the slot, quarterback Ian Book has nearly unlimited options. When joined by tight ends Tommy Tremble, Michael Mayer and Brock Wright, Coordinator Tom Rees possesses an embarrassment of riches. The limits of the passing attack lie in the ability of Book to calmly locate the open receiver and deliver the ball accurately.
The running game will also benefit from the aerial threats. The first two games did not produce many breakaway runs, but the blocking should improve as the season progresses barring another COVID wave to disrupt the process. It may be unrealistic to expect Notre Dame to put it all together this week after so much time off, but that day is coming.
Florida State's defense has struggled to date, particularly in the secondary. Opponents have completed 70% of their passes and averaged 280 yards per game. None of this can be blamed on Asante Samuel Jr., an elite cornerback with each of the team's three interceptions to his credit. Samuel is joined in the backfield by three sophomores. A return by the All-ACC senior Nasirildeen would help, but it probably won't happen this week. Note that he led the team in tackles the past two seasons.
The Seminoles are stout up front, especially in the middle. Tackle Marvin Wilson is an impact player and probable 2021 NFL first-round pick. If Cooper (332 pounds) is able to start alongside him, the Irish won't face a better inside tandem all season. The best of the rest of the FSU front seven is outside linebacker Amari Gainer, who leads the team in total tackles and tackles for loss.
FLORIDA STATE'S OFFENSE vs. NOTRE DAME'S DEFENSE
Travis is a threat as a runner, passer and receiver, but he will need plenty of help from a porous line to dent Notre Dame's defense. If they give him time to throw, 6'4" wideout Tamorrion Terry is a dangerous receiver who will command a lot of attention in the Irish secondary. He is joined by Ontaria Wilson and tight end Camren McDonald, who are also quality athletes.
The Seminoles have a stable of capable running backs led by freshman Lawrance Toafili. He is joined by La'Damian Webb and Jashaun Corbin, who is the best pass receiver among this group. All three backs have shared the workload somewhat equally. The line is experienced on the right side, with tackle Devontay Love-Taylor and guard Baeveon Johnson. Younger players will start at center and on the left side. Tackle Darius Washington visibly struggled against Miami and will again have his hands full against the likes of Daelin Hayes and Isaiah Foskey.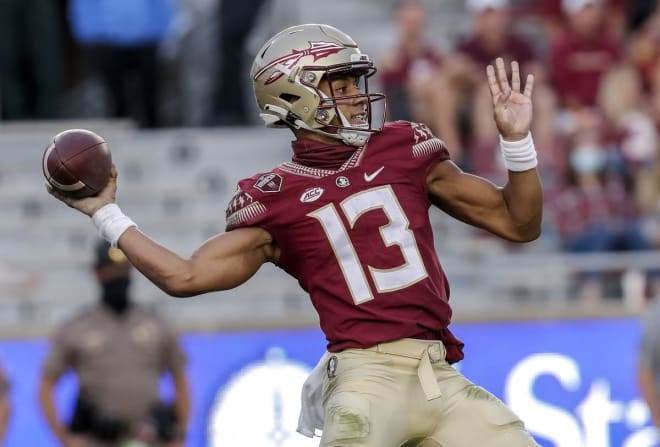 If Florida State is to score many points in this game, Travis is going to have to play exceptionally well. Although he has the requisite athletic ability, the Irish have the depth and talent to keep him under constant pressure. The Noles have been impacted by negative plays and penalties that crop up all too often to kill drives. This must certainly frustrate Norvell, but it's not something that can be turned around overnight.
Despite the problems evident in Tallahassee, the Irish will not be able to overwhelm FSU in the talent department. Depth and discipline on both sides of the ball will be the difference in this contest. The question is whether the extended layoff will cause Notre Dame to play more like they did in the pedestrian opener against Duke or as the powerhouse that buried South Florida.
SPECIAL TEAMS
Notre Dame's depth serves it well on the coverage teams, which have been outstanding. The return game has not yet materialized as hoped, but it may be only a matter of time before kick returner Chris Tyree electrifies the fan base. The specialists remain solid as punter Jay Bramblett and place kicker Jonathan Doerer have been consistent performers to date.
The Noles have similar, respectable statistics in terms of their coverage and return teams. They have also blocked multiple field goal or extra point attempts this season. Jay has been the primary return man for both kickoffs and punts, but he may need help this week from Keyshawn Helton since he is the starting free safety and is trying to come back from a foot injury.
While punter Alex Mastromanno has been impressive, place kicking has been a concern for Norvell. He replaced incumbent Parker Grothaus after the opening game with highly-touted newcomer Ryan Fitzgerald. Grothaus converted a 53-yard field goal in the opener, but is currently nursing a leg injury. Fitzgerald missed an extra point and his only field goal attempt last week. This week's depth chart lists Fitzgerald as the starter.
SUMMARY
Florida State boasts a wealth of talent at the skill positions on both sides of the ball, but the linemen have not held up their end of the bargain. They have not shown much of an outside pass rush, and Notre Dame can afford to double team Wilson inside without paying a price elsewhere. The Noles' offensive line has been fair in terms of run blocking, but has allowed an alarming 11 sacks to date. Norvell expressed frustration with his team's performance this week in practice. "I thought there were moments where it was solid," he said, "and moments where we're not meeting the standard that is necessary."
Initially, the Noles should rise to the challenge of playing the Irish on national television. If the hosts get off to a fast start, however, the game could quickly get ugly. More likely, Notre Dame will need time to shake off its rust and the contest will remain competitive for at least the first half.
Here are a few questions that will shed light on the outcome:
Can key FSU players (Cooper, Jay, Nasirildeen) return from injury and perform well?
How effectively will the Irish offense execute after so much time off?
Will Lenzy and Austin add a new dimension to the passing game?
Can the multi-talented Travis escape Notre Dame's pressure and make plays with his arm and legs?
Will Kyle Hamilton make his presence felt in his return to action?
Which team will be able to sustain an effective ground game?
Will Father Jenkins wear a mask in the press box?
PREDICTION
The Seminoles will be a better team at the end of this season, but they do not appear ready to challenge the Irish at this stage of their development. Norvell is a good coach and has some talent to work with, so anyone expecting a walkover on Saturday will be disappointed. Fans should still be excited to see all the elements of the 2020 Notre Dame offense on display for the first time. As the team begins to gel on that side of the ball, the defense will continue to dominate lesser opponents and keep the Irish undefeated.
NOTRE DAME 38 FLORIDA STATE 17