Notre Dame continues its Shamrock Series tradition with a visit to Las Vegas, Nevada where they will play host to Brigham Young University on Saturday evening. The Fighting Irish (2-2) enjoyed a bye week after their victory over North Carolina while the Cougars (4-1) defeated Utah State last Thursday. Coach Marcus Freeman hopes the extra rest will enable his team to get on a roll in October during a softer part of the schedule. BYU will provide a fair test, however, especially with quarterback Jaren Hall at the helm. The game will be nationally televised by NBC starting at 7:30 pm Eastern time.
Coach Kalani Sitake took over at his alma mater in 2016. He graduated from the school in 2000 and later became a graduate assistant before moving on. Sitake spent ten years at Utah before becoming Defensive Coordinator and Assistant Head Coach at Oregon State in 2015. Has a 52-30 record with the Cougars in his first head coaching job.
Regarding the high-profile battle with the Irish in Las Vegas, Sitake embraced the special atmosphere. "They've gone through some adversity and they seem to have gotten things back on track now" he said about Notre Dame. "So I'm looking forward to a great matchup with them. We know that they're dangerous, and we don't mind being underdogs. Gonna have some fun with the prep, get ready for this game and looking forward to the matchup this weekend."
BYU's roster is dominated by older players. Many are graduate students or have returned from missions on behalf of the Mormon faith. Others such as tailback Chris Brooks and right tackle Kingley Suamataia are transfers from other programs. This formula has historically worked well for the Cougars as they typically bring a wealth of experience to the field each year.
Freeman put his squad through a couple of spirited practices last week but also gave a few of his banged-up players a chance to heal. "They needed to recover", he said in reference to Ramon Henderson (ankle), DJ Brown (hamstring), and Michael Mayer (undisclosed). "A lot of those running backs had played a lot of plays", he added. The one area of attrition that can't be avoided is the absence of linebacker J.D. Bertrand. He will miss the first half in his second consecutive game after being flagged for yet another targeting penalty. Notre Dame's appeal to reverse that ruling was denied.
NOTRE DAME'S OFFENSE vs. BYU'S DEFENSE
The Cougars have several players listed as questionable for the game due to previous injuries. Speedy tailback Miles Davis, wide receivers Puka Nacua and Chase Roberts, tight end Masen Wake and free safety Malik Moore are on that list. The latest word is that Wake will be ready to go while Nacua and Roberts remain questionable. Davis and Moore are trending toward "doubtful". The latter pair would be sorely missed if they cannot play.
The Cougars have the personnel to show multiple fronts and coverage looks at an opposing offense. They list 15 different positions on their depth chart including five down linemen spots, four linebackers, and six defensive backs. End Tyler Batty and tackle John Nelson have been the most impactful players at the line of scrimmage. Linebackers Ben Bywater and Max Tooley lead the way in tackles and also have a pair of interceptions each. This accounts for the entire team's total of four. The Cougars like to blitz their linebackers often and from different formations. Depth is not an issue although three defensive linemen are among the walking wounded this week. None are listed as starters.
Quarterback Drew Pyne and the Notre Dame offensive line will have their hands full getting into the right play call against this defense. Pass protection will be a challenge but there could be many opportunities for big plays. First down success is also vital for the Irish. A negative play shifts the advantage heavily toward BYU while five or more positive yards gives Pyne plenty of good options.
As was the case against North Carolina the running game is Notre Dame's best weapon against a potent offense led by a dual threat quarterback. In the Cougar's only loss of the season, Oregon outrushed them by 227-61. The Irish will need similar dominance to ensure victory. Pyne will be able to mix in play-action passes and intermediate throws to Michael Mayer.
It's not clear whether Notre Dame's wide receivers can or should play a major role in this week's offensive plan. To date, veteran Braden Lenzy has not caught many balls while Lorenzo Styles has been underutilized. Others such as Jaden Thomas, Joe  Wilkins, Deion Colzie and Tobias Merriweather have barely shown up on the stat sheet. Irish fans are growing impatient with the drought. Freeman addressed it somewhat cryptically this week by suggesting the players in question need to earn the trust of the coaches and have frank conversations with them as to why they are not playing more.
The highly-recruited Merriweather is a focus of attention, but not inn a positive way. Multiple pundits have pointed out that other freshman receivers across the country are making an impact for their teams while Merriweather has barely played. This seems to be a continuing theme at Notre Dame over the last several years. With a limited depth chart ahead of him and a bye week to refine his knowledge of the playbook, a breakout of sorts for Merriweather is a reasonable expectation.
The Cougars will counter with a deep group of defensive backs led by Moore at free safety. If he is unable to play as appears all but confirmed, the unit will suffer. Cornerbacks Kaleb Hayes and Gabe Jeudy-Lally are talented players but the Irish can find places to exploit if the protection holds up and the receivers can take a step forward. Another matchup to watch will involve safety Micah Harper and Mayer. Harper has been solid but Mayer presents a unique challenge for any single defender.
BYU'S OFFENSE vs. NOTRE DAME'S DEFENSE
Quarterback Jaren Hall orchestrates an effective passing attack characterized by his mobility in the pocket and 70% accuracy. He is not typically a runner by design but can pick up a first down when the need arises. With Nacua battling injuries all season, receiver Kody Epps has been Hall's top target. Keanu Hill is the best deep threat. Roberts, a 6'4" freshman, has also emerged as a steady contributor. BYU likes to spread the ball around and involve the tight ends and backs in the aerial game.
Senior tailback Chris Brooks is a 230-pound battering ram who runs downhill to the tune of six yards per carry. The speed back is Davis, who can fly. If the Cougars can get the running game working in tandem with Hall's passing skill they will be difficult to stop. Once again, the Irish must win the battle at the line of scrimmage if they expect to slow down BYU and prevail.
Freeman, Suamataia and guard Clark Barrington anchor a solid offensive line. They have performed well against three lesser teams on the schedule but have failed to reach 100 total rushing yards in games against Baylor and Oregon. The Irish defensive line has come alive after a slow start and will be the best BYU has faced to date. The extra week off should help players like Isaiah Foskey and Jayson Ademilola who were nursing minor injuries prior to the break.
The Irish suffered a loss this week when backup nose guard Jacob Lacey decided to sit out the rest of the season and enter the transfer portal. His workload will have to be picked up by sophomore Gabe Rubio and grad transfer Chris Smith.
If the line can do its job and limit the running game, Notre Dame should be able to make Hall and company work for every yard. BYU doesn't have great team speed, especially with Davis and Nacua hobbled. The long scoring plays that plagued the Irish at North Carolina should not happen if the Irish are properly focused.
SPECIAL TEAMS
Notre Dame continues to enjoy the pleasant surprises provided by kicker Blake Grupe and punter Jon Sot. These had been areas of concern entering the season but both specialists have performed consistently well. The punt return team has shown some life with Brandon Joseph making some positive yards. He is not a quick-twitch runner with blazing speed, however, so the chances that he will break off a long touch run are low. Kick return has yet to scare anyone this season despite the presence of Chris Tyree on the back line.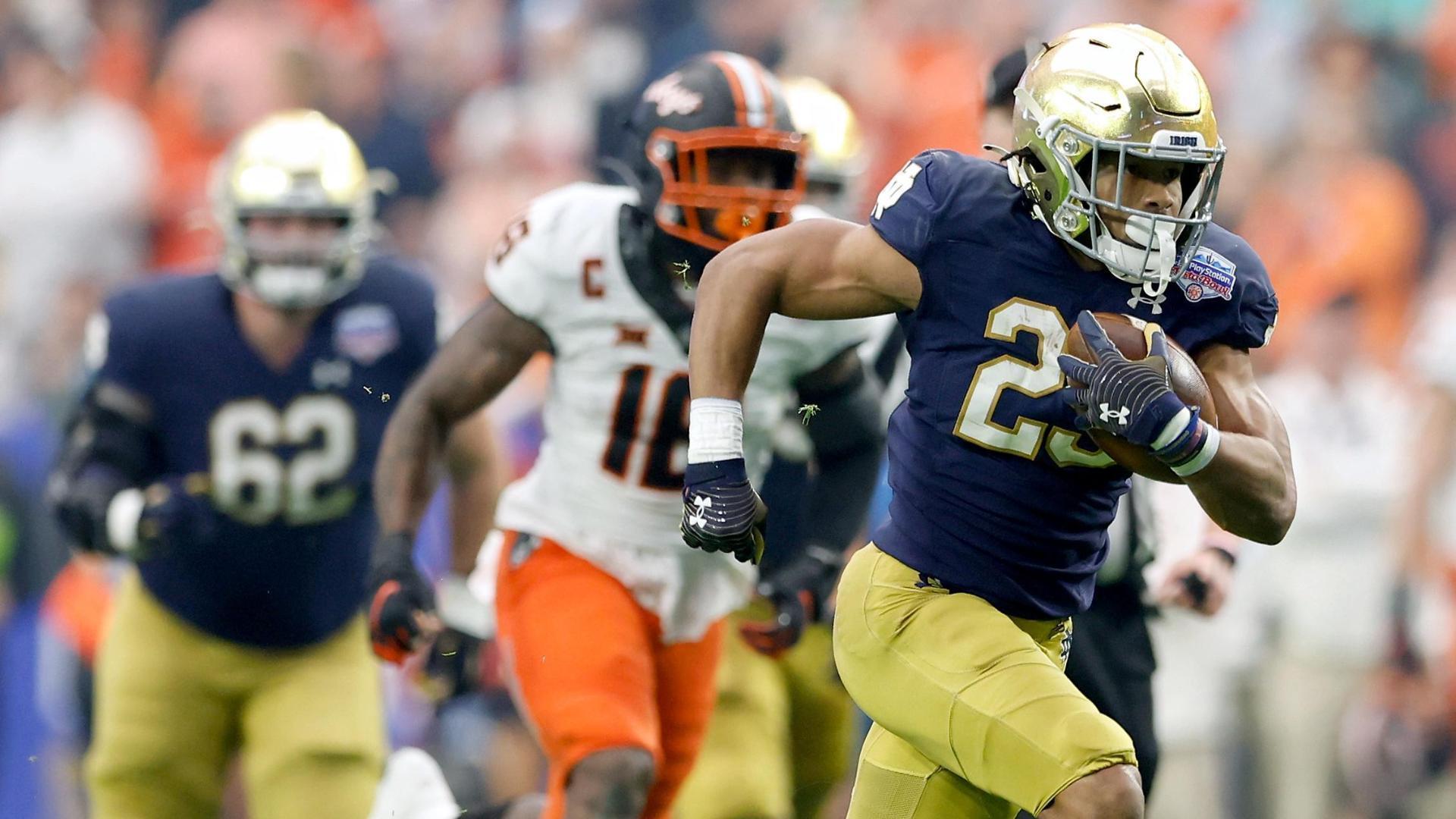 BYU's kicker Jacob Oldroyd has converted only five of ten field goal attempts to date. His longest success was from 45 yards. Punter Ryan Rehkow is an imposing figure at 6'6" and 232 pounds. He has averaged just under 43 yards per boot and has allowed very few returns.
The Cougar return men are Hobbs Nyberg and Talmage Gunther. Nyberg in particular has proven to be an above average performer. Notre Dame has come close to a punt block in the last couple of games. Any big play from special teams would certainly be welcome in order to tip the scales in a tight contest.
SUMMARY
The recipe for a win is a tough, physical effort by Notre Dame. The Cougars may overplay the run early and force Pyne to throw more than planned. It would be a mistake to stop pounding the ball at this defense, though. BYU and Hall will work their possession passing game and try to pick up good yardage on first down with Brooks. Notre Dame must play aggressively and challenge the short throws. Hall must not be allowed to get into a passing rhythm and come anywhere near his 70% success rate.
The Cougars have turned the ball over only once in five games, which is a credit to Hall and the overall experience level of the team. Their coaches and players appreciate the national exposure and opportunities this game will provide. I expect a couple of gimmick plays designed to catch Notre Dame napping. One of them could involve a double pass that ends with a throw back to Hall. He already has a pair of receptions this season, one of which resulted in a touchdown.
Here are a few questions that will shed light on the outcome:
Can Pyne and the Irish avoid negative plays and long third downs?
Which offense will produce the most productive ground game?
Can Isaiah Foskey and the Irish pass rushers take Hall out of his rhythm?
Will the uber-talented Tobias Merriweather make a contribution this week?
Can the Irish special teams deliver a game-changing play?
Will Notre Dame's pass protectors be able to handle BYU's blitzers?
Can either team force a turnover to alter the course of the game?
Will I have enough money left to make it home from Las Vegas?
PREDICTION
The game will be played in Allegiant Stadium, home of the NFL's Las Vegas Raiders. Locals refer to the building as the Death Star, although I doubt many Irish or Cougar fans will show up dressed as Storm Troopers. A two-week layoff and the distractions presented by this Shamrock Series contest causes me to worry that Notre Dame will get off to a slow start. If that happens the Irish will struggle to play from behind. Tom Rees tends to panic when trailing by calling too many pass plays. A strong start could result in an easier than expected win, though. The Irish have better overall speed and power, although Hall will keep the Cougars close for most of the night.
NOTRE DAME 34 BYU 24