Notre Dame (4-3) travels to Syracuse, NY on Saturday to play the 16th ranked Orange at the sold out JMA Wireless Dome. The Fighting Irish continue to strive for consistency after a series of uneven performances this season, whether in victory or defeat. A road win over a solid and highly regarded Syracuse squad would restore a measure of credibility to the program and head coach Marcus Freeman. The ABC network will televise the game beginning at 12:00 Noon Eastern time.
Syracuse Coach Dino Babers is in his seventh season at the school. Babers has rebounded from a 1-10 low point in 2020 to a 6-1 mark this year. They have outscored opponents by an average of 34-15. Their lone defeat came in heartbreaking fashion last week at Clemson after the Orange led for most of the game. A 21-10 advantage after three quarters turned into a 27-21 loss despite a favorable 4-1 turnover ratio.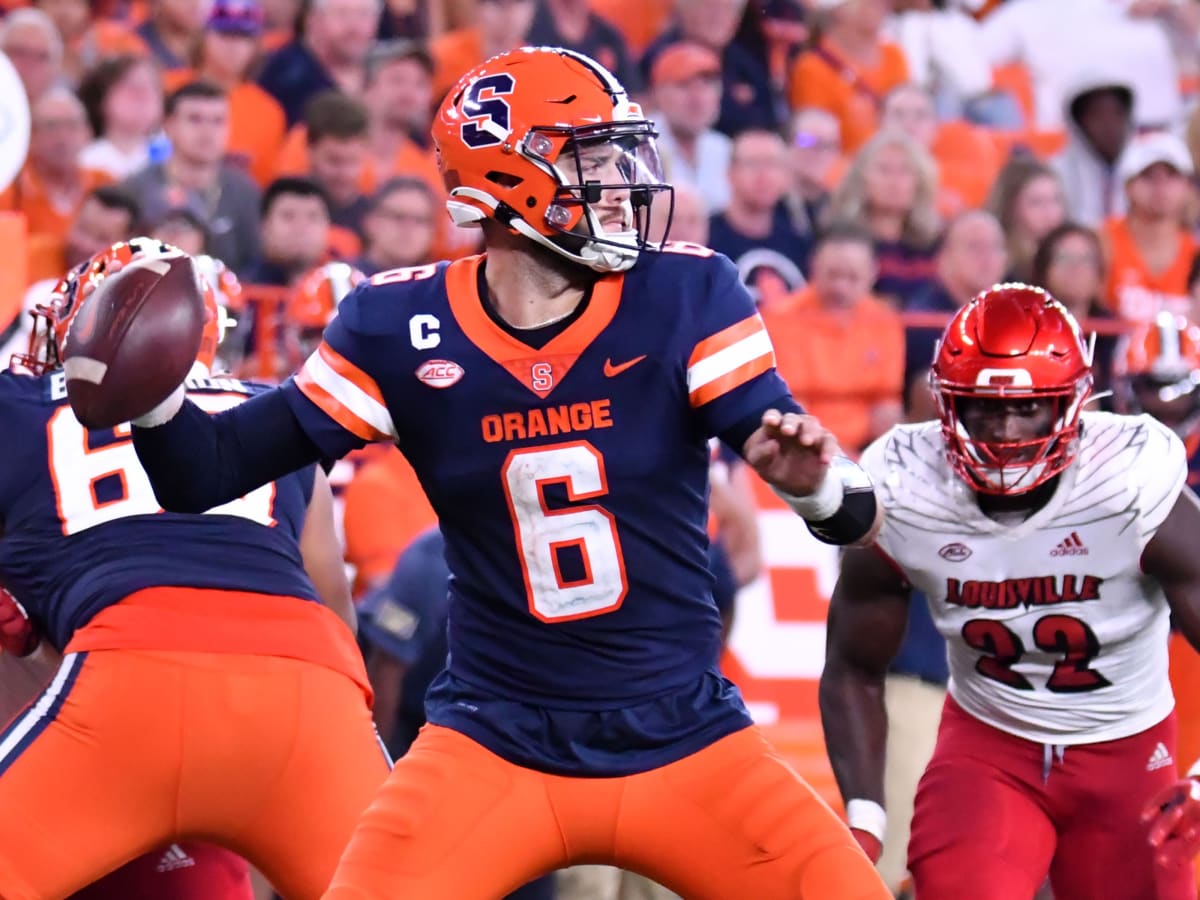 The turnaround effort by Babers was accelerated during this past offseason when he hired Offensive Coordinator Robert Anae and Quarterback Coach Jason Beck from Virginia. The pair did wonders for Brennan Armstrong last year, even putting him in the Heisman conversation before an injury interrupted his campaign. Syracuse signal caller Garrett Shrader has physical and stylistic similarities to Armstrong, and the comparative results from 2021 have been equally impressive. A 53% passer last season, Shrader is now completing 70% of his throws.
Babers insists the Orange will turn the page and focus on Notre Dame. A return to their home stadium and a boisterous crowd will certainly help. "This needs to be an animal party", Babers said on Tuesday. "Hopefully, the fans will come out and show them exactly what our 12th man can do…We're going to need them. There's no doubt that Clemson fans helped them, and we need our fans to help us."
The Irish reported no new injuries after last week's win over UNLV. Defensive tackles Howard Cross (ankle) and Jayson Ademilola (ribs) played through ailments suffered in previous games. Safety Brandon Joseph and linebacker Jack Kiser have also been "dinged up" according to Freeman but both will play this week. The same goes for freshman cornerback Jaden Mickey, who will be available after missing most of the last two games.
Syracuse has already lost five players to season-ending injury this year. Two of them were defensive linemen. The impact on depth in that area probably cost them the Clemson game because the Orange could not stop the run in the second half. In addition, cornerback Garrett Williams missed the Clemson game with a leg injury and remains questionable this week.
NOTRE DAME'S OFFENSE vs. SYRACUSE'S DEFENSE
The Orange deploy a 3-3-5 alignment on defense. Notre Dame's run-oriented attack presents a problem for the young, undersized and depleted group of healthy defensive linemen Babers can muster. Prior to the Clemson game they had allowed only 3.1 yards per rush. The Tigers wore them down and ended with 293 yards. The Irish will try to repeat their success so it will be interesting to see what adjustments Babers will make to stop them.
Despite their manpower issues, the Orange play excellent team defense. They have allowed the fewest long plays (20+ yards) of any major college football team this season. This is a remarkable achievement given the lack of depth and superstar talent on the roster. Furthermore, Syracuse does not currently have a single senior starter in its lineup.
The best Orange defender is middle linebacker Mikel Jones. He eschewed the NFL draft last January to lead this defense. Jones and Marlowe Wax account for the majority of the tackles and stops behind the line of scrimmage. Both are very active and have multiple sacks to their credit. Ends Steve Linton and Caleb Okechukwu are also productive despite a size disadvantage with opposing offensive tackles. Each has 5.5 sacks and possesses excellent closing speed. Okechukwu also has an interception to his credit. Nose tackle Kevon Darton plays bigger than his 265 pounds. His quickness can be disruptive – similar to that of Cross for the Irish.
Williams is the team's best cornerback so his absence will be felt if cannot play. Isaiah Johnson started against Clemson and would presumably get the nod against Notre Dame. Duce Chestnut is the starter at the other corner. Ja'Had Carter and Alijah Clark are quality players at safety. Carter returned a fumble 90 yards for a touchdown last week. Rover Justin Barron is an imposing force at 6'4" and 220 pounds. He is listed among the defensive backs but is more likely to play close to the line of scrimmage against the Irish to defend the run.
Assuming Notre Dame will have to fight for every yard, Tom Rees must stick to the run even if Syracuse overplays it by bringing up its rover and safeties in the early going. Play-action passes should be effective, especially on first down. Syracuse will likely gamble that its secondary can win in single coverage against the Irish wide receivers. Other teams have successfully made this bet so far. It's also critical that Notre Dame avoids falling behind on the scoreboard so the running game is a viable option in the later stages of the game.
Expect the Irish to use all three running backs as Audric Estime will get a chance to redeem himself after costly fumbles in the past two games. Quarterback Drew Pyne is being coached to find his wide receivers rather than locking on to tight end Michael Mayer until his protection breaks down. Braden Lenzy and Jaden Thomas have shown some spark lately and need to be an integral part of the attack as teams pay excess attention to Mayer.
SYRACUSE'S OFFENSE vs. NOTRE DAME'S DEFENSE
The Orange offense is well balanced thanks to the emergence of Shrader as a dual threat. Always a powerful runner at 6'4" and 228 pounds, the junior has developed as a passer under Anae and Beck. Shrader's favorite target is tight end Oronde Gadsden, who leads the team with 37 receptions and five touchdowns. A 6'5" stingbean with good speed, Gadsden is a matchup nightmare for opponents. He appears to be too tall for the Irish defensive backs and too fast for their linebackers. Senior Devaughn Cooper leads an otherwise very young wide receiver corps.
Tailback Sean Tucker is the most prolific weapon at Shrader's disposal. He averages 100 yards rushing per game and is the second leading receiver with 28 catches. Tucker is built low to the ground and is difficult to bring down. Backup LeQuint Allen is used sparingly but brings an element of speed to the field when he gets an opportunity. Allen has a 90-yard touchdown run to his credit. Shrader is the second leading rusher with 99 carries to Tucker's 129. Oddly enough, Shrader had 21 rushing attempts at Clemson while a healthy Tucker had only five.
The offensive line boasts massive size, averaging 330 pounds and featuring 375-pound guard Kalan Ellis. Left tackle Matthew Bergeron is a three-year starter and their best overall lineman. The unit blocks well for the running game as one would expect. If they have a weakness, it is in pass protection against fast twitch rushers. The Orange were victimized for five sacks in last week's loss. Bergeron's matchup with Notre Dame's Isaiah Foskey will be worth watching.
The Irish defensive front and linebackers will be challenged to slow down the running game. Tucker piles up yards after first contact while Shrader demoralizes defenses with third down scrambles or designed runs to move the chains. Marist Liufau had his best game for the Irish last week and will be a large part of the plan to contain Shrader. The rest of the group including Kiser, J.D. Bertrand and Prince Kollie must be able to get off blocks to prevent the long runs that have hurt the Irish this season.
SPECIAL TEAMS
The Irish have been on fire recently with multiple blocked punts and effective overall coverage. Returns have been moderate in length but the group has avoided penalties for illegal blocks that seem to eradicate every other productive return we witness on Saturdays and Sundays.
Kicker Blake Grupe missed one his four field goal attempts last week but remains solid overall. Punter Jon Sot should enjoy doing his job indoors this week.
Syracuse punter Max Von Marburg has a so-so 42.5 average while kicker Andre Szmyt has converted an impressive 11 of 12 field goal attempts. His range extends to 50 yards indoors. Trebor Pena returns both punts and kickoffs for the Orange. He is a threat to score every time he gets a chance to bring one back. Notre Dame would do well to make sure he doesn't.
SUMMARY
Notre Dame has more top end talent than Syracuse but are deficient in two key areas – quarterback and linebacker. This will put pressure on the Irish offensive line to run the ball well throughout the game no matter what the defense does to stop them. It also means Notre Dame's defensive front must outplay the plus-sized Orange offensive front. This is a tall order on the road. It might have been better psychologically for the visitors if Syracuse had beaten Clemson last week, but it may not matter much by kickoff this Saturday.
Defensively, the Irish are overdue to provide a spark. They are among the nation's worst teams at creating takeaways and have only one pass interception. The Orange, on the other hand, have demonstrated a knack for making these plays at the right time. If the Irish are to win, they must reverse this dynamic.
A final noteworthy statistic is Syracuse has outscored teams in the first half to the tune of 143-36. Notre Dame made it a priority to get off to a fast start last week and will have to ready to go when the clock strikes 12:00 noon on Saturday.
Here are a few questions that will shed light on the outcome:
Can the Irish linebackers corral Shrader when he decides to run?
Will Notre Dame's offense be able to repeat last week's fast start?
Can the Irish receivers beat man coverage by the Orange defensive backs?
Which offensive line will do the best job of protecting its quarterback?
Can Pyne find secondary receivers and make accurate throws?
Will the Notre Dame special teams continue to provide significant contributions?
Which tight end (Mayer or Gadsden) will dominate?
Can the Irish maintain their poise in a loud, hostile environment?
PREDICTION
The Irish can and probably should win this game, but it will take a more consistent performance than they have put forth to date. Freeman and his staff have spent eight weeks "cleaning up the mistakes" from a previous outing, yet the offensive misfires and inexplicable defensive breakdowns persist. Even if some improvements are realized, the team remains limited by Pyne's ability to see the field, make good, timely decisions, and deliver the ball with accuracy and authority.
Could the Irish put it all together this week? It's possible. Turnovers fueled a fast start by Syracuse last week before they faded in the second half. Seven possessions in the final two periods yielded only 68 total yards. This drought resulted in six punts and a game-ending interception. On the other hand, a raucous indoor home crowd this week may be enough to get the hosts over the hump. With 50,000 fans dressed in orange and many wearing their Halloween finery, it should be quite a spectacle. That aside, the game will be decided by the quarterbacks. Will Pyne or Shrader make the plays necessary to win? It's hard to escape the fact that strong running quarterbacks have posed a problem for Notre Dame all season. At the end of the day, I haven't yet seen enough consistency and week-to-week improvement from Pyne to choose the Irish.
SYRACUSE 23 NOTRE DAME 20
Tell John what you think in the Comments section below