Notre Dame gets back on the road Saturday with a trip to Carolina to play the Duke Blue Devils of the Atlantic Coast Conference. The Irish have struggled since the mid-season bye week, losing badly at Michigan before edging past heavy underdog Virginia Tech last week in the final minute for a one-point victory. Brian Kelly's teams have encountered tough sledding on the road in night games during his regime, although Duke has lost three of its past four games. Viewers must be able to access the ACC Network in order to watch the game live. Kickoff is at 7:30 EST.
Coach David Cutcliffe is in his 12th campaign at Duke, where he took over a rock-bottom program that had won just ten total games in the previous eight seasons. He has a record of 71-76 at the school, although his mark since 2012 following five difficult rebuilding years is a respectable 50-36. The Blue Devils are coming off a bye week during which they had extra time to stew over a devastating 20-17 loss to arch rival North Carolina. Cutcliffe elected to run a trick play from the Tar Heel three-yard line with seconds left instead of kicking a field goal to tie the score. An errant halfback pass was intercepted and Duke fell to 4-4 on the season.
The Irish may be the last team Duke wants to entertain while attempting to get back on the winning track after a miserable October. When asked how his team could prevail this week, he replied, "First of all, you have to find some way to generate some pass rush. You got to make the quarterback uncomfortable about holding the ball. Secondly, we've got to mix coverages. We've got to put ourselves in good positions to avoid giving up explosive plays. One of the best ways to do it is for our offense to stay on the field and make a few explosives of their own."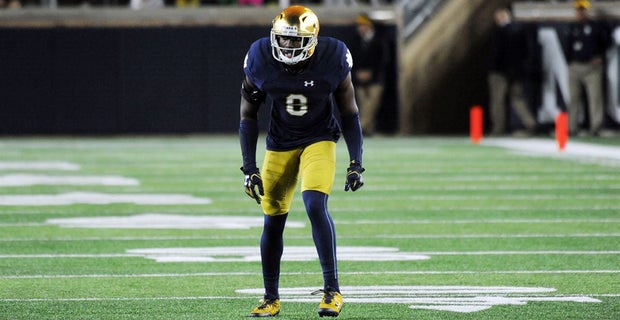 After the Michigan loss knocked Notre Dame out of the playoff conversation, Kelly decided to go all out in pursuit of a ten-win regular season. Cornerback Donte Vaughn, who was a potential redshirt candidate this year, will continue to start and use up his final year of eligibility. Quarterback Ian Book will also remain at the helm, which is bad news for sophomore backup Phil Jurkovec. The latter had hoped to gain some valuable game experience this season to be in better position to compete for the starting job in 2020.
Josh Lugg and Trevor Ruhland continue to man the right side of the offensive line now that Tommy Kraemer and Robert Hainsey are injured. Tailback Tony Jones sat out last week but is expected to be available this week on a limited basis. Linebacker Jack Lamb is the only notable defensive player who will miss this week's contest. The Devils have been fortunate this year in the injury department and their starting lineup remains intact.
NOTRE DAME'S OFFENSE vs. DUKE'S DEFENSE
Senior defensive end Victor Dimukeje is the leader of a very respectable and experienced Duke front four. He is flanked by end Tre Hornbuckle, and reserve Chris Rumph is a third down pass rush specialist. Trevor McSwain and Edgar Cerenord have the size and ability to anchor the interior rotation.
Duke plays a 4-2-5 alignment with two linebackers and three safeties. Middle linebacker Koby Quansah is the team's leading tackler. He is joined on the second line of the defense by Brandon Hill, who is also a productive player. Freshman Shaka Heyward is a future star who has worked his way into the rotation. He wowed his coaches with a 15-tackle performance against North Carolina.
The secondary is comparatively small. Senior safety Dylan Singleton is the leader of the group and is the team's second leading tackler. A pair of sophomore cornerbacks, Leonard Johnson and Josh Blackwell, will challenge the Irish outside receivers. Johnson is a solid player and will try to slow down Chase Claypool.
The return of starting tailback Jafar Armstrong to the lineup last month has yet to provide the Irish running game with a much-needed spark. Jahmir Smith and C'Bo Flemister have had few and fewer opportunities between them. Jones may help to gain some tough yards this week, but the explosive plays continue to be elusive. The important thing is one or more of these tailbacks needs to take pressure off Ian Book to make plays and carry the team over the finish line.
DUKE'S OFFENSE vs. NOTRE DAME'S DEFENSE
The Blue Devils have topped 40 points on four occasions this season, but failed to reach 20 in each of the last two games. Senior quarterback Quentin Harris is a 61% passer and a capable running threat with 13 touchdowns through the air and six more on the ground. Deon Jackson and Mataeo Durant are a solid one-two punch at tailback, with the 215-pound Jackson getting the majority of the carries.
Left guard Zach Baker is the only senior on an offensive line that features two freshman tackles, Casey Holman and Jacob Monk. They've done a credible job in pass protection, having surrendered only 12 sacks in eight games. The running game statistics are mediocre but for the contribution of Harris to the equation. He is the second leading rusher, averaging 51 yards per game to Jackson's 61.
Another freshman, wideout Jalon Calhoun, has 37 receptions to lead Duke. He is joined by Scott Bracey and Aaron Young. Tight end Noah Gray is a frequent target with 32 catches, primarily in the short zones. This is not a passing offense that stretches the field, but Cutcliffe knows how to move the chains and the running dimension provided by Harris is a well-utilized asset.
The ideal strategy for Notre Dame is to pressure Harris with a strong pass rush and tighten up the coverage to defend the short and intermediate throws. The Irish did this effectively against Virginia's Bryce Perkins, forcing him into multiple mistakes. A similar script could unfold if the visitors play with renewed energy and passion. Duke is near the bottom of Division I in passing yards per catch, so the deep threat to Notre Dame's secondary is almost nonexistent.
SPECIAL TEAMS
Duke kicker A.J. Reed is perfect on field goal attempts this season, including a 50-yarder. Punter Austin Parker has a 44-yard average. The punt return game is a bright spot when Blackwell has room to maneuver, while kickoff returns by Michael Carter have yielded just average results.
Notre Dame has taken a step backward in this phase of the game since its bye week. Jonathan Doerer missed his only field goal attempt last week, and mental lapses have cost the return teams valuable yardage and field position. Coverage units, led by the versatile Claypool, remain excellent.
SUMMARY
The Blue Devils are a decent team with no major weaknesses, and are well-coached. On the downside, they are not explosive and cannot match Notre Dame's talent level. Their offensive line is a bit below average while the defensive front is a strength. Duke's defense appeared to be wearing down prior to the bye week, but may be somewhat recovered after the extra rest. Still, the Devils could be vulnerable to a more powerful opponent like Notre Dame if the Irish attacked them on the ground with conviction. Second string linemen Lugg and Ruhland did a credible job last week in relief of Notre Dame's injured starters, and those opportunities will be theirs to lose for the balance of the regular season.
Here are a few questions that will help determine the outcome:
Can Notre Dame run the ball effectively without a fully healthy Tony Jones?
Will the Irish defense be able to apply consistent pressure on Harris?
Which special teams and kicker will influence the outcome?
Can Notre Dame score on its opening drive?
Will either offense execute big plays over 40+ yards?
Can the Irish reverse their history of poor road performances at night?
Which team will commit crucial turnovers?
Will fans who don't have the ACC Network find something better to do on Saturday night?
PREDICTION
An objective analysis would lead one to believe that Notre Dame is the better team and should win, but the Irish have not played anywhere near the level of their potential lately. One has to wonder if they can refocus on the road against a rested, inspired opponent. To win comfortably, the Irish must have a strong performance by Armstrong and receivers not named Claypool and Kmet must contribute. Otherwise, the outcome may not be certain until the game's final possession. Special teams and field goals will play an important factor, so Doerer must return to form since Duke's Reed is almost automatic. I don't like the way the Irish offense and special teams have played lately, but they should have enough to get past the Devils. The margin just may be a lot less than people originally had in mind.
NOTRE DAME 24 DUKE 20
Tell John what you think in the comments below