Notre Dame (9-2) closes its regular season schedule in traditional fashion – a road trip to the Golden State. This time the Fighting Irish continue their annual rivalry with the Stanford Cardinal (4-7) in Palo Alto. The visitors are seeking their tenth victory of the year and still harbor hopes of playing in a significant bowl game. Meanwhile, Stanford has suffered through an injury plagued campaign and will finish with its first losing record under head coach David Shaw. This game will be nationally televised by Fox starting at 4:00 pm Eastern time.
The Cardinal are in the midst of a three-game losing streak after a 4-4 start. Last week's loss to Cal was the first time the Bears defeated arch-rival Stanford in nine outings under Shaw. Despite this year's misfortunes, Shaw remains the winningest coach in program history. He also holds a 17-0 mark in non-conference home games, including four wins against Notre Dame.
Conversely, the Irish have been on a resurgence during November despite having to battle through a few injuries of their own. They have outscored their last three opponents by an average margin of 43-11. Quarterback Ian Book has been exceptional this month after an uneven start to the season. He has completed 63% of his passes for over 700 yards and 12 touchdowns, while also rushing for 236 yards. His favorite target, wide receiver Chase Claypool, has caught 19 passes for 274 yards and six touchdowns during this stretch.
Stanford has used 20 freshmen this year, 12 of whom have played in more than four games. Three of them have been called upon to replace injured veteran starters on the offensive line. In addition, quarterback K.J. Costello has missed six games this season and will not be available this week, while leading receiver and primary kickoff return man Connor Wedington is listed as doubtful after being carted off the field last week. Defensively, the Cardinal secondary will have to play without star cornerback Paulson Adebo and free safety Malik Antoine. The other starting corner, Obi Eboh, is banged up but will play.
Question marks remain for Notre Dame along the defensive front. Last week, tackles Myron Tagovailosa-Amoso and Jayson Ademilola came off the field and did not return to action. Khalid Kareem is obviously dealing with a sore shoulder and Jacob Lacey is banged up a bit. The extent of their availability remains unclear for Saturday's season finale. Kurt Hinish and Ja'Mion Franklin, along with freshmen Howard Cross and Hunter Spears, may have to play extended minutes depending on who is available at game time.
NOTRE DAME'S OFFENSE vs. STANFORD'S DEFENSE
Stanford's 3-4 defense has surrendered 28 points per game, although they performed well against Oregon (21) and Washington (13). Ends Thomas Booker and Jovan Swann are quality players, but the ranks are thin behind them. Thomas Schaeffer is the only experienced backup. At linebacker, seniors Andrew Pyrts and Curtis Robinson play inside and lead the team in tackles. The best defender for the Cardinal is Casey Toohill, who moves up to rush the quarterback in passing situations. He has been credited with eight sacks this season.
The Irish have used a committee at running back since injuries began to take a toll on Tony Jones a few weeks ago. Jahmir Smith and C'Bo Flemister have made solid contributions when given the opportunity, although Jones is the clear choice of the coaching staff for blitz pickup in the passing game. Book has been the leading rusher this month, and fans can expect a few more designed runs for him this week.
As noted, the Cardinal secondary is down two starters at minimum. Adebo had four of Stanford's eight interceptions, and will be missed. Freshman Kyu Blu Kelly will take his place. If Eboh is unable to go at the other corner spot, freshman Zahran Manley is next in line. Antoine's absence at free safety means the defense must function without a senior leader. Junior Stuart Head will get the start.
All this means that the Cardinal will have a tough time coping with the likes of Chase Claypool, Chris Finke, Cole Kmet, Lawrence Keys and Braden Lenzy. Claypool in particular is a matchup nightmare for them and should enjoy a productive evening. In fact, the rain and wind may have a larger impact on Notre Dame's passing attack than the Cardinal defense.
STANFORD'S OFFENSE vs. NOTRE DAME'S DEFENSE
Davis Mills has been impressive at quarterback since taking over for Costello. The 6'4" junior has completed 67% of his passes with nine touchdowns and five interceptions. With Wedington out, Davis' primary targets will be Michael Wilson and tight end Colby Parkinson. Speedster Simi Fehoko and Osiris St. Brown are also in the mix.
Fifth year senior Cameron Scarlett is the primary tailback. He has rushed for 800 yards this year, while backup Austin Jones has added 200. The team rushing average is a disappointing 3.6 yards per carry, however, and they have scored only seven touchdowns on the ground. By comparison, the Cardinal had a whopping 31 rushing scores in 2017 and 16 last season.
A pair of juniors, center Drew Dalman and right tackle Foster Sarell join the three freshman starters up front. Highly regarded recruit Walter Rouse is now at left tackle, replacing injured veteran Walker Little. Stanford has given up 26 sacks to date, and Notre Dame's talented pass rushers should be able to add to that total. Mills is not a great concern as a running threat.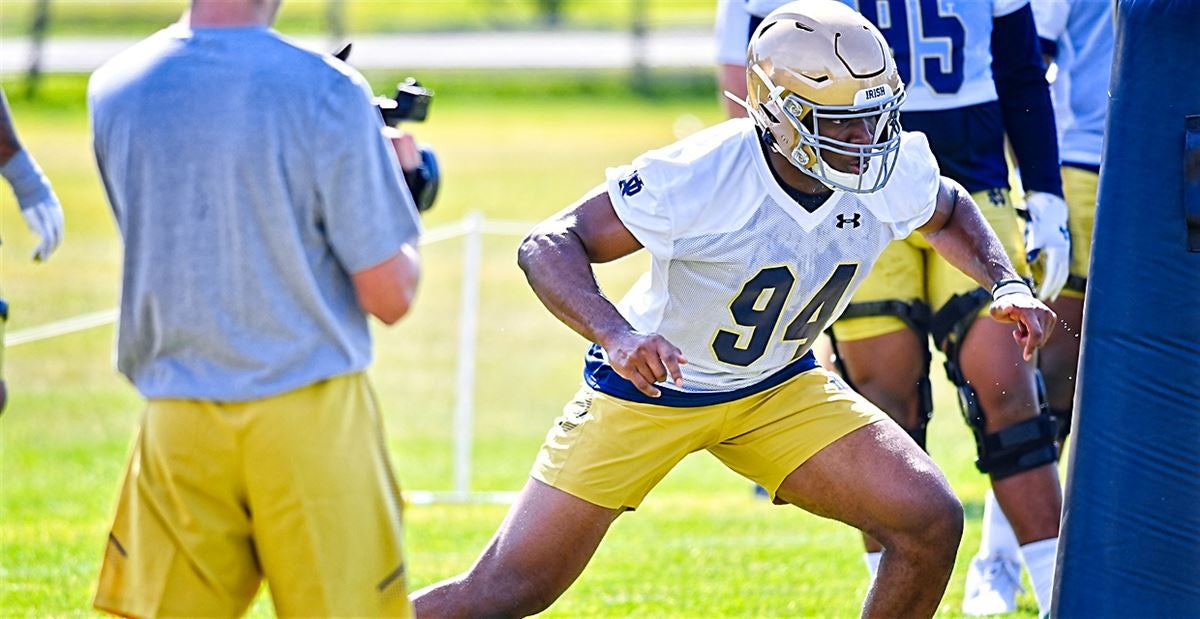 One player to watch for the Irish is freshman defensive end Isaiah Foskey (#94), who attended Concord De La Salle high school in the Bay Area and is expected to see extended action in front of friends and family. The staff has raved about his development this season and has identified him as a future star.
SPECIAL TEAMS
Veteran kicker Jet Toner is yet another Stanford player that suffered a season-ending injury this season. The good news is freshman Ryan Sanborn has come on to do a credible job in his stead. He is six of eight in field goal attempts and has good range. Sanborn is also the team's punter, where he averages 40 yards. The Cardinal cover teams are statistically average, while the return teams have been slightly better. Wilson is a capable punt returner, while Wedington was doing an excellent job on kickoffs before his injury. Wilson is likely to pull double duty this weekend.
The most notable accomplishment for Stanford in this phase of the game is they have four blocked kicks this year. The Irish need to pay attention each time they snap the ball in these situations because the Cardinal will be coming for them.
Irish kicker Jonathan Doerer has had an outstanding season in an area that was considered to be a large question mark in August. Punter Jay Bramblett has been steady although the freshman needs another offseason in the strength and conditioning program to add more height and distance.
If conditions are wet during the game, I expect there will be very few returned punts or kickoffs by Notre Dame. Finke has been on fire recently, though, and can be a difference maker on punt returns if his blockers give him room to make a move or two.
SUMMARY
Notre Dame's primary concern is the health of its players along the defensive front, but the Cardinal appears to be ill-suited to take advantage. Mills is a capable passer, but the loss of Wedington will allow the Irish to focus on Wilson and Parkinson. The Irish defense is playing at a high level despite the injuries and should be able to handle anything Stanford can muster barring turnovers by the offense or special teams gaffes.
The elements may dictate a greater emphasis on the ground game for the Irish, but Jones is not healthy enough to carry it 20 times and the season has been a washout for opening day starter Jafar Armstrong. Coach Brian Kelly is therefore likely to remain dependent on the pass to score points. The matchups are favorable here on a dry day, but heavy rain and wind could substantially level the playing field.
Here are a few questions that will shed light on the outcome:
Can Stanford's patchwork offensive line handle the depleted Irish defensive front?
Which team will generate the most productive running game?
Can Notre Dame cause Mills completion rate to drop well below his average?
Will Book be able to complete passes despite adverse weather conditions?
Which special teams be able to tilt the outcome in their favor?
Will Irish freshmen defenders Foskey and Kyle Hamilton make their presence felt?
Can Notre Dame move up in the polls with an impressive performance?
PREDICTION
Brian Kelly has never beaten Stanford in Palo Alto, but this year's matchup seems to be a good bet for a breakthrough. However, I said the same thing about Kelly's chances against Michigan in Ann Arbor last month when Notre Dame appeared to have the better team on paper. We know how that turned out. The weather forecast on Saturday calls for significant rainfall, which is eerily similar to the conditions encountered by Book in the Big House when he was eight of 25 for a mere 73 yards. Even if the elements cause the Irish offense to operate in a lower gear this week, the defense should have enough juice to put this game in the win column.
NOTRE DAME 31 STANFORD 13