Tenth-ranked Notre Dame hosts the Virginia Cavaliers on Saturday with an eye toward the beginning of a long winning streak that will carry them back into playoff contention. Last week's disappointing loss to Georgia under the weight of numerous avoidable mistakes must now be relegated to the rearview mirror. The Fighting Irish held a players-only meeting on Monday to digest that contest and refocus on the future. Virginia comes in at 4-0 and will provide a stern test that demands their complete attention. NBC will televise the game beginning at 3:30 PM Eastern time.
The Irish emerged from last week's brawl with no new significant injuries. The team hopes to get wide receiver Michael Young (collarbone) and tailback Jahmir Smith (toe) back into the lineup, while tailback Jafar Armstrong remains sidelined after abdominal surgery. Two other key players, linebacker Jeremiah Owusu-Koramoah and wideout Braden Lenzy, are in the concussion protocol but expect to be cleared before kickoff.
The Cavs are coached by former BYU head man Bronco Mendenhall, who is in his fourth season in Charlottesville. Mendenhall has steadily built a winning culture at the school, and the team is the early favorite to win the ACC Coastal Division by virtue of its victories over Pittsburgh and Florida State. Virginia's attack is led by a pair of seniors in quarterback Bryce Perkins and wide receiver Joe Reed, who together account for most of the offensive and special teams production. Mendenhall's aggressive defense features a set of outstanding linebackers who anchor a unit that leads the nation in sacks.
Notre Dame must get its running game working again to keep the Cavs honest and relieve the pressure on quarterback Ian Book, who has struggled when asked to carry the Irish offense this season. Smith's return will help that situation, and a few more snaps for Avery Davis would add a breakaway threat to a rather moribund component of the attack. Virginia has held each of its 2019 opponents to fewer than 100 yards rushing, so the task for Notre Dame will not be easy.
NOTRE DAME'S OFFENSE vs. VIRGINIA'S DEFENSE
The return of Young and hopefully Lenzy to the lineup will allow the Irish to expand the passing game. Georgia quickly learned that Book was loathe to challenge them downfield, so the Dawgs brought up their safeties and more aggressively contested the short passes and crossing routes. The lone exception was a late fourth quarter scoring drive where Book threw deeper passes to Cole Kmet and Chase Claypool that set up the team's final touchdown. This week, Notre Dame needs to demonstrate from the outset that Virginia must defend the entire field.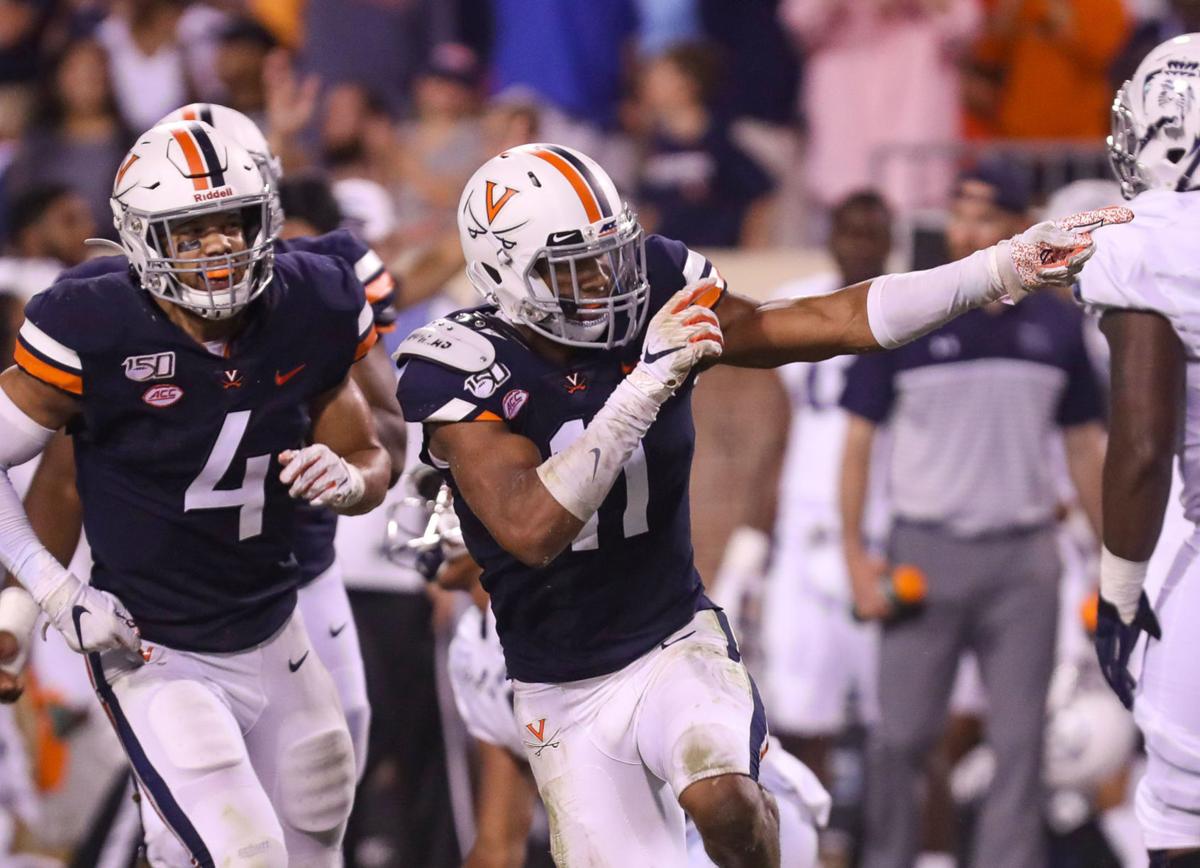 The Cavs employ a 3-4 alignment with veteran defensive ends and a freshman nose tackle in Jowon Briggs. Richard Burney and Eli Hanback are the starters at end, although Burney has been battling an undisclosed injury. The heart of this defense is its four rangy and aggressive linebackers. Jordan Mack, Charles Snowden, Zane Zandier and Noah Taylor have accounted for 13 of the team's 20 sacks. Snowden, a 6'7" junior, is the best player in this talented quartet, but Mack, a senior who directs the group from the middle, is not far behind.
Virginia's secondary features senior cornerback Bryce Hall. Both he and his counterpart Nick Grant have returned interceptions for touchdowns this season. Safety Joey Blount has played well and has a pair of sacks in Mendenhall's blitz-happy scheme. The Cavs have surrendered fewer than 200 yards per game through the air.
Notre Dame's offensive line will be tested to pick up a variety of blitzes, but they must do so in order to allow Book a chance to find an open receiver downfield. The Cavalier linebackers will swallow up any short check down passes thrown under duress. The Irish receivers must also play better. Claypool did not get much help from Chris Finke, and Javon McKinley was targeted only once on a poorly thrown end zone fade. Lawrence Keys shows great potential and should also be given more opportunities.
VIRGINIA'S OFFENSE vs. NOTRE DAME'S DEFENSE
Perkins, the 6'3" 215-pound quarterback, is Virginia's leading rusher as well as a 65% passer. Containing him will almost guarantee a victory for Notre Dame, but that task is easier said than done. The Irish rank 106th in the nation in sacks, and that needs to change if they expect maintain a top ten ranking in the polls.
Fortunately, they will have a chance to bring pressure against the vulnerable Cavalier offensive line. This group has been in a state of flux so far this season and has no seniors among the two-deep roster. Both the starting and backup centers are ailing and its uncertain as to whether either can play this week. Mendenhall acknowledged his overall concerns in this area earlier this week.
"Yeah, we still lack consistency and continuity. Every time there is a change from one spot to another, our players shifting here or there, it's not quite as precise as what you would have hoped if it was just the same five all the time……Would love to get the right five and keep the same five healthy. Seems like just when we kind of get that there is an injury or two. So we haven't yet got it dialed in", he said.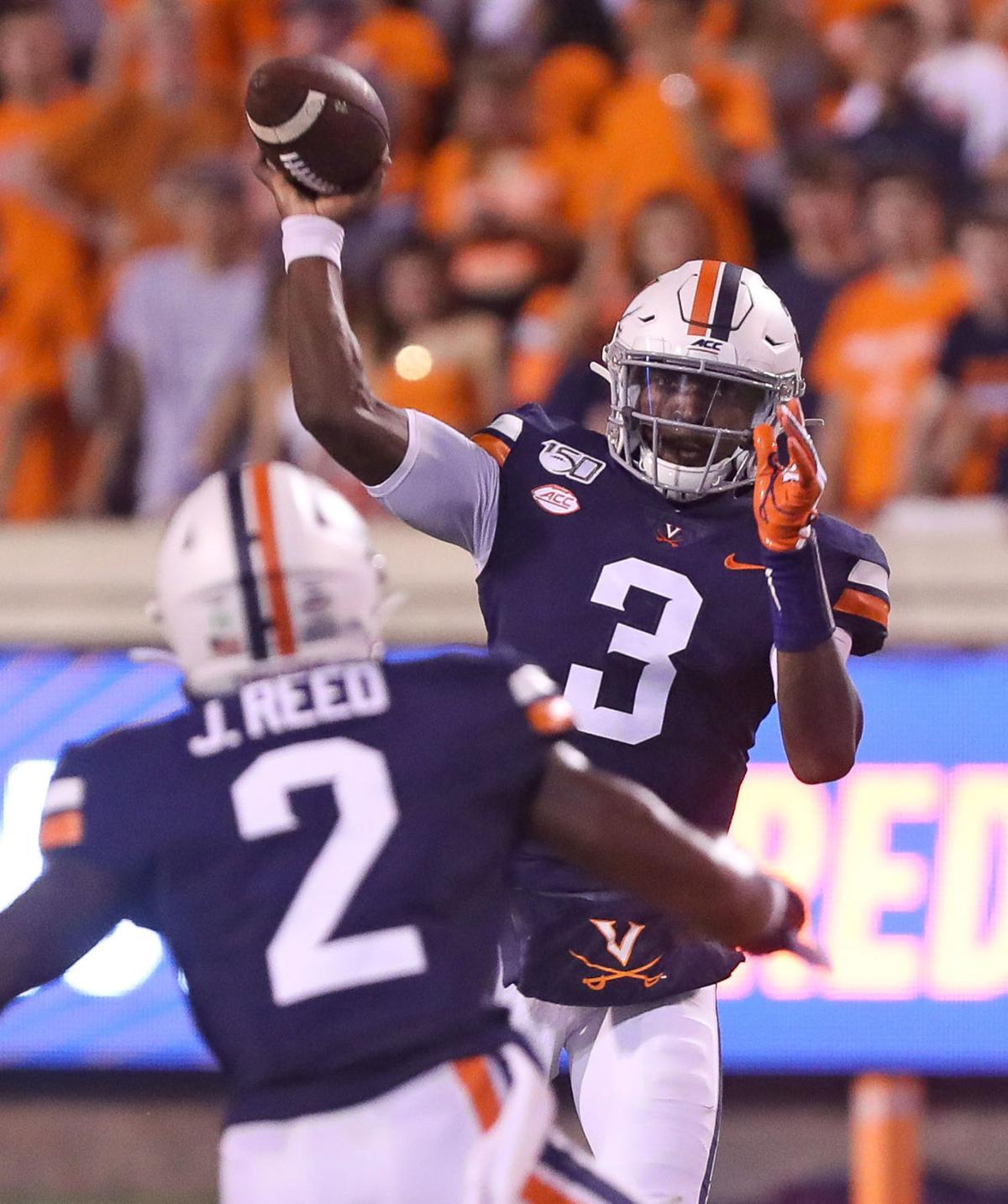 The one constant in the offense is Reed, the Cavs leading receiver and playmaker. He is joined at wideout by Terrell Jana and Hasise Dubois, who are both capable possession receivers. Terrell Chatman is the other deep threat in the rotation. Virginia's rushing attack is average at best beyond Perkins' ability to create yardage. Tailback Wayne Taulapapa is the primary ball carrier, while backup PK Kier is a much larger alternate. Neither is a breakaway threat, but freshman Mike Hollins has flashed his speed when given the chance and may be one to watch on Saturday.
SPECIAL TEAMS
Virginia kicker Brian Delaney has been somewhat inconsistent to date, hitting five of eight field goal attempts including just three of five under 40 yards. A missed extra point put the Cavs in danger of losing to Florida State before a late touchdown secured the win. Punter Nash Griffin has an unspectacular 41-yard average, but half of his boots have fallen inside the opponents' 20-yard line. Reed is the man to watch on kickoff returns. He has a 100-yard touchdown to his credit and is a threat to go the distance on every touch.
Field position will be important in this contest, which will likely be dominated by the respective defenses. Jay Bramblett has punted well for Notre Dame, while the return teams have not produced many meaningful yards. Kicker Jonathan Doerer has performed admirably in the early going, and he must be able to get the ball deep enough on kickoffs to discourage Reed from attempting a return.
SUMMARY
The Notre Dame defense has an advantage over Virginia's young offensive line, but DC Clark Lea must establish an effective plan to contain Perkins and prevent him from killing them with scrambles and designed runs that keep his unit on the field. Reed will be targeted frequently on the outside, and the Irish should counter with Troy Pride, the team's best and fastest cornerback.
Offensively, time of possession will matter, particularly in the fourth quarter when overworked defenses become tired. The keys for Notre Dame are a serviceable rushing attack and the absence of drive-killing penalties that have plagued them thus far this season. Virginia must also get its running game going and find other weapons besides Reed to challenge the Irish.
Here are a few questions that will help determine the outcome:
Will the Irish lack energy and enthusiasm after the Georgia loss?
Which defense will be able to stifle the opponent's running game?
Can either team limit successful scrambles by the quarterback?
Will Notre Dame stretch the field with downfield passes?
Which special teams will win the battle of field position?
Will Notre Dame be able to protect Book from the aggressive Cav blitzes?
Can Finke, McKinley and other Irish receivers contribute more substantially to the cause?
Which quarterback will commit the most crucial mistake?
PREDICTION
This game shapes up as a low-scoring affair, where each offense must strive to cobble together a running game, protect the quarterback, and eliminate costly mistakes. Virginia has solid coaching and matches up well against the Irish, especially if they can pressure Book into getting rid of the ball before opportunities can develop downfield. Although Notre Dame's defense should dominate, dual threat quarterbacks like Perkins have given them fits in the past. Special teams could also cost the Irish if they lack focus in that area. Overall talent favors Notre Dame, but the margin is not as wide as fans may perceive and an upset is not out of the question.
NOTRE DAME 23 VIRGINIA 20
Tell John what you think in the comments below