Notre Dame (4-1) hopes to bounce back from last week's ugly loss by hitting the road to battle Virginia Tech (3-1) in Blacksburg on Saturday night. The Fighting Irish are in a foul mood after losing at home for the first time in four years, while the Hokies are fresh off a bye week following an easy victory over Richmond. A live television broadcast of the game can be seen only on the ACC Network beginning at 7:30 pm Eastern time.
The offensive ineptitude of the Fighting Irish was on full display against Cincinnati as three quarterbacks struggled behind a woeful line. The pass receivers either failed to get open or dropped the ball when it was thrown to them. Defensively, shortcomings at linebacker and in the secondary were exposed and exploited by the Bearcats' well-conceived aerial attack.
Justin Fuente is in his sixth season at Virginia Tech. He has a 41-27 record over that span. This year's team is relatively young with many new faces sprinkled throughout the starting lineup, including quarterback Braxton Burmeister. Although expectations were muted heading into the season, Tech opened the campaign with an upset of highly regarded North Carolina in Chapel Hill. The lone defeat came on the road at the hands of West Virginia, where the Hokie offense faltered.
Notre Dame has been impacted by injuries to several players. There is some positive news this week, as nose tackle Kurt Hinish will return to action. Tight end Michael Mayer was hobbling last week due to a nagging leg issue but is reported to have improved enough in the past few days to be available on Saturday. On the negative side, wide receiver Joe Wilkins suffered a knee injury against Cincinnati and is lost for the season. Offensive tackle Blake Fisher remains out, but the rest of the linemen are healthy. This includes players who have recently missed time such as Michael Carmody and Tosh Baker.
The Hokies list defensive lineman Emmanuel Belmar and wideout Jaylen Jones as questionable for this contest.
NOTRE DAME'S OFFENSE vs. VIRGINIA TECH'S DEFENSE
The first question Notre Dame must answer is which quarterback will start the game. Kelly appears to be leaning toward Jack Coan due to his experience in hostile environments. He has also gone out of his way to shield Coan from blame for the offensive breakdowns. That said, Kelly will probably not wait until the third quarter to call upon Drew Pyne if the Irish attack can't get out of first gear. So, the second question becomes which quarterback will finish the game.
The Irish must also pick a left tackle among Carmody, Baker and freshman Joe Alt. The primary challenge is to contain the team's best pass rusher, end Amare Barno. He is flanked in a 4-2-5 alignment by end Tyjuan Garbutt. While both ends are experienced, the interior tackles are relatively young. Linebackers Dax Hollifield and Alan Tisdale man the second level. Both are solid and lead the team in tackles. They, like the rest of the defense, are better against the run than the pass. The statistic that jumped out at me and trumped most everything else is the Hokies allow a conversion rate of only 29% on third down. You can win a lot of games with that result.
Tech's secondary consists of five players. The best of the group are cornerback Jermaine Waller and nickel back Chamarri Conner. The safeties and third corner are young and will likely be tested by Notre Dame. Mayer might be able to cause problems for the Hokies if he is fully healthy, and backs Kyren Williams and Chris Tyree have an advantage in speed and quickness if Tisdale and Hollifield try to cover them out of the backfield. Wilkins' injury will mean more opportunities for talented freshmen receivers Lorenzo Styles and Deion Colzie. In a night game on the road, this may or may not be a good thing.
Although Virginia Tech's front four does not have great size by today's standards, the Irish offensive line must be able to block them without help from tight ends or running backs if Coan is to have open targets downfield. If those same weapons are forced to stay in and block, it could be a long night. Tech has been successful thus far in stopping the run. They will try to create third and long situations for Notre Dame and bring plenty of pressure.
VIRGINIA TECH'S OFFENSE vs. NOTRE DAME'S DEFENSE
Coach Fuente was asked about the areas he and his staff would focus on during the bye week. He immediately mentioned the ability to run the football. It did not meet expectations in September and placed an undue burden on the passing game.
"Running the football and executing the proper techniques to give ourselves a chance to have success in the passing game. We got to continue to find ways to get those guys the ball and be more efficient throwing the ball. That's our charge. We've got to find a way to tailor this thing so that our guys have the best chance to execute and have success", he said.
The Hokie line is more experienced on the left side with massive tackle Luke Tenuta and guard Lecitus Smith. Center Brock Hoffman is their best overall blocker while the right guard and tackle are new starters still trying to find their way.
Burmeister is a legitimate threat as a runner and Notre Dame must respect his ability to use his legs to move the chains. He won a spirited competition at the position this offseason. Since then Burmeister has delivered strong results with a 61% completion rate with five touchdowns and two interceptions.
Tailbacks Jalen Holsten and Raheem Blackshear have split the ground game workload to date. Neither has been particularly successful to date, but Blackshear has had some success as a receiver out of the backfield.
Fuente prefers to run the ball to set up the pass. Ideally, Burmeister will throw it 20-25 times per game instead of 40. That goal, however, may not be achievable against the Notre Dame defense. The primary receiving targets are Tre Tucker and Tayvion Robinson. Tucker is the most dangerous and should draw the attention of Cam Hart, the best Irish cornerback.
SPECIAL TEAMS
Both Hokie specialists are new starters this year. Kicker John Parker Romo struggled in the early going with one made field goal in three attempts. Freshman punter Peter Moore has exceeded expectations with a 44-yard average. He has allowed only eight total return yards on 19 kicks.
Tech's return game has been a plus. Robinson has returned a punt for a touchdown while Blackshear and Keshawn King have averaged 38 yards when bringing back kickoffs. The Hokie coverage units have been stellar.
Notre Dame's specialists have been very good thus far. The coverage teams must be sharp this week and avoid occasional lapses that have cost them field position in previous games. Tyree and Williams are capable of breaking long returns if given sufficient room, but that is less likely to happen this weekend.
SUMMARY
There are several similarities between these teams. Both defenses have performed better than the offense. Both have been disappointing in terms of running the ball, although the Irish backs are far more talented than their counterparts. Both sets of linebackers are strong against the run but question marks in one-on-one pass coverage. Both secondaries have weaknesses that have been exploited for long gains. Notre Dame's defensive line is the strongest of the four groups in the trenches, particularly with Hinish back. The Hokies defensive and offensive lines are next, while the Irish offensive line is the weakest. The edge in special teams goes to Tech's return and coverage units, but Jonathan Doerer is a better kicker than Romo.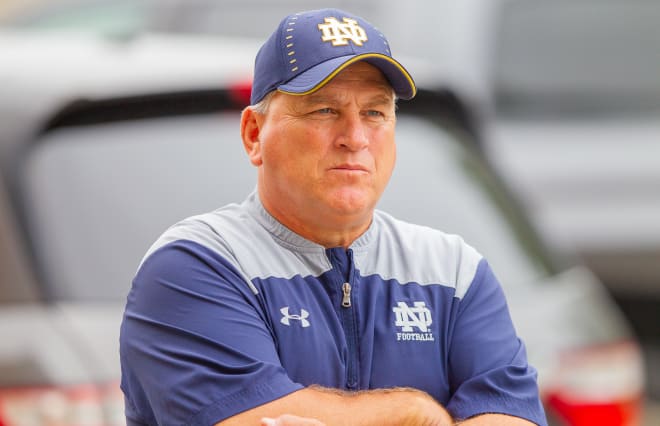 I expect the defenses to dominate most of the way. The game should be low scoring. One well-placed turnover, a special teams breakthrough or long pass play can tip the scales. The biggest variable is how much Notre Dame's offensive line has progressed since being embarrassed by Cincinnati. If the team plays that poorly once again, Virginia Tech is good enough to beat them on the scoreboard. The quality of the Irish offensive line coaching has also come into public question this week, which is a large, unwanted distraction. The mental state of the visitors is therefore the biggest pregame concern. Will they be fired up after a loss or play without confidence and tentatively?
Here are a few additional questions that will shed light on the outcome:
Which team will be most successful on third down?
Can the Irish tackles handle Barno and Garbutt without significant help?
Will the Hokies QB and receivers exploit the Irish back seven in coverage?
Which team will have the most productive running game?
Can Kevin Austin bounce back from another poor performance?
Which defensive front will best rattle the opposing quarterback?
How will the Irish handle their first hostile environment since Florida State?
Is the ACC Network a better bargain than Peacock?
PREDICTION
Virginia Tech is not on par with Cincinnati, but they do have some quality players and home field advantage. They will want to start fast with plenty of energy coming off a bye week and hope the Irish unravel. The air went out of Notre Dame's balloon last week when its promising first drive ended with a red zone interception. The challenge for Coach Kelly is to keep his team focused on a beatable opponent while piecing together a competent and cohesive offensive line. Every sack and incomplete third down pass will fuel a raucous nighttime crowd, so Notre Dame cannot afford to fall behind in this contest. The Irish could surprise by taking charge early with a more aggressive and confident demeanor, but I'm not feeling it right now.
VIRGINIA TECH 20 NOTRE DAME 17