Fifteenth-ranked Notre Dame (8-3) closes its regular season with a visit to Los Angeles to play archrival USC (10-1) on Saturday evening. The Trojans are sixth in the latest Playoff Rankings and are looking to springboard into the top four with a win over the Fighting Irish. Coach Marcus Freeman's squad is coming off its most complete performance of the season and is hoping to land a bid in a major New Year's Day bowl with an upset in the Coliseum. These teams last met in the Coliseum in 2018, as the 2020 game was canceled due to COVID. The game will be nationally televised on ABC beginning at 7:30 PM Eastern time.
Coach Lincoln Riley is in his first season at USC after five successful campaigns at Oklahoma. Riley led the Sooners to three playoff appearances during his tenure but jumped at the chance to take over an underachieving program at Troy with so many built-in advantages. His immediate success is in part attributable to over twenty players who transferred into USC this year. These include his former quarterback at Oklahoma, Caleb Williams, who is currently the leading candidate for this season's Heisman Trophy.
Riley is known for his offensive expertise. This knowledge has transferred well to the PAC-12, where defense is usually an afterthought. The Trojans have averaged a staggering 513 yards and 43 points per game. Only Tennessee has slightly better numbers among all major college programs. USC's defense hasn't matched those lofty statistics. They have surrendered 405 yards and 27 points per game, which is 96th in the current NCAA ratings. By comparison, Notre Dame is 17th.
The Irish cannot get a do-over for a pair of bad losses earlier this year. The next best thing would be a victory over the Trojans to complete the season on the highest of notes. The offense and in particular quarterback Drew Pyne has demonstrated steady improvement this month, while the defense has tightened up as well. Combined with lights out special teams, Notre Dame has regained a measure of respect that should carry over to next season. Only a blowout loss to their rival will put a damper on the prospects for the program and its energetic head coach. Speaking of Freeman, he has also made no secret of the fact that he has grown as a leader during this challenging campaign.
Notre Dame has several players on its injury list but most are expected to play. These include key defenders in Isaiah Foskey, Jayson Ademilola and Brandon Joseph. Tight end Mitchell Evans is also expected back for the offense. Those remaining questionable are cornerback Cam Hart (shoulder) and wide receiver Tobias Merriweather (concussion).
The Trojans had not lost a starter to injury for an extended period until two weeks ago when tailback Travis Dye suffered a season-ending knee injury. Austin Jones has filled in quite well in his absence with 120 yards and two touchdowns against UCLA. Jones is backed up by freshman Raleek Brown and veteran Darwin Barlow.
NOTRE DAME'S OFFENSE vs. USC'S DEFENSE
USC's defensive scheme is a 4-2-5 set including a powerful front four, two linebackers and five defensive backs. End Tuli Tuipulotu is the most productive Trojan lineman. At 6'4" 290, he has been a one-man wrecking ball with a team-best 19 tackles for loss and 11.5 sacks. Tackle Tyrone Taleni has 7.5 sacks from his interior spot. At rush end, the rotation includes seniors Nick Figueroa and Solomon Byrd along with freshman Korey Foreman, who was the nation's top rated high school recruit in the last cycle.
Both linebackers are transfers. Shane Lee, a 6'0" 245-pound fireplug, battled injuries during his years at Alabama before seeking a change of scenery this spring. He leads the Trojans in tackles. Eric Gentry, a 6'6" 200-pound string bean, came in from Arizona State where he was a freshman All-American in 2021.
Although the secondary is on the young side and no starter weighs in above 180, they are all ball hawks who have a knack for making big plays. USC leads the nation in pass interceptions with 18 on the season. If the Irish offensive line can neutralize USC's front four, they should be able to run on the smaller Trojan back end. Look for multiple tight end sets by Notre Dame to gain an even greater advantage.
USC undoubtedly wants Drew Pyne to throw the ball quite a bit. The Irish have seen most every run defense this season and have made it their mission to pound the ball regardless of how the opposition is aligned. Something has to give on Saturday. When Pyne is called upon to pass, his recognition and decision-making skills will be of critical importance. An interception or two would not be surprising, but I can also see Michael Mayer shrugging off USC defensive backs like fleas.
USC'S OFFENSE vs. NOTRE DAME'S DEFENSE
Riley has an embarrassment of skilled position riches at his disposal to complement Williams. His offensive philosophy is readily apparent – get the ball to your playmakers in space. The Trojans have done this very well this season as few teams have the athletes to match up with them. Wide receiver Jordan Addison won the Biletnikoff Award last year at Pitt. He transferred in this spring to play with Williams in this system. Addison leads the team with 51 receptions while other wideouts such as Tahj Washington, Mario Williams, Kyle Ford and Brenden Rice preclude teams from focusing solely on one player.
The element that makes this passing offense so difficult to defend is its scramble drill. Williams has an uncanny ability to escape the rush, keep his eyes downfield, and fire a strike to a receiver who is exactly where he is supposed to be. He can also tuck and run when he needs to. Certainly, Williams' highlight reel did not escape notice by Irish Head Coach Marcus Freeman.
"Man, he is a talented quarterback", Freeman said this week. "We have faced some really good quarterbacks this season, and he is one of the best I've seen. His arm strength is one thing. His decision making is another. His ability to extend plays. He's one of the few guys I've seen just continuously break tackles. Yeah, he can make people miss, but he breaks tackles. Guys have their hands on him and he continues to stay up and that can be devastating to a defense. That can make you try to do something outside of what your responsibility is on defense. I want to make a play, I'm going to try to rush around this guy, instead of staying in my lane. You have to stay in your rush lanes, but you can't play cautious. That's always the challenge."
The Trojans have always been loaded at the skill positions but have not deployed exceptional offensive lines in recent seasons. This year is different. Four of the five starters are home grown players who have developed into a solid unit. Bobby Haskins, a transfer from Virginia, joins them at left tackle. This group protects Williams very well yet are even better run blockers. Dye and Jones have 218 carries between them this season and have suffered only ten total negative yards. Each has averaged over six yards per carry.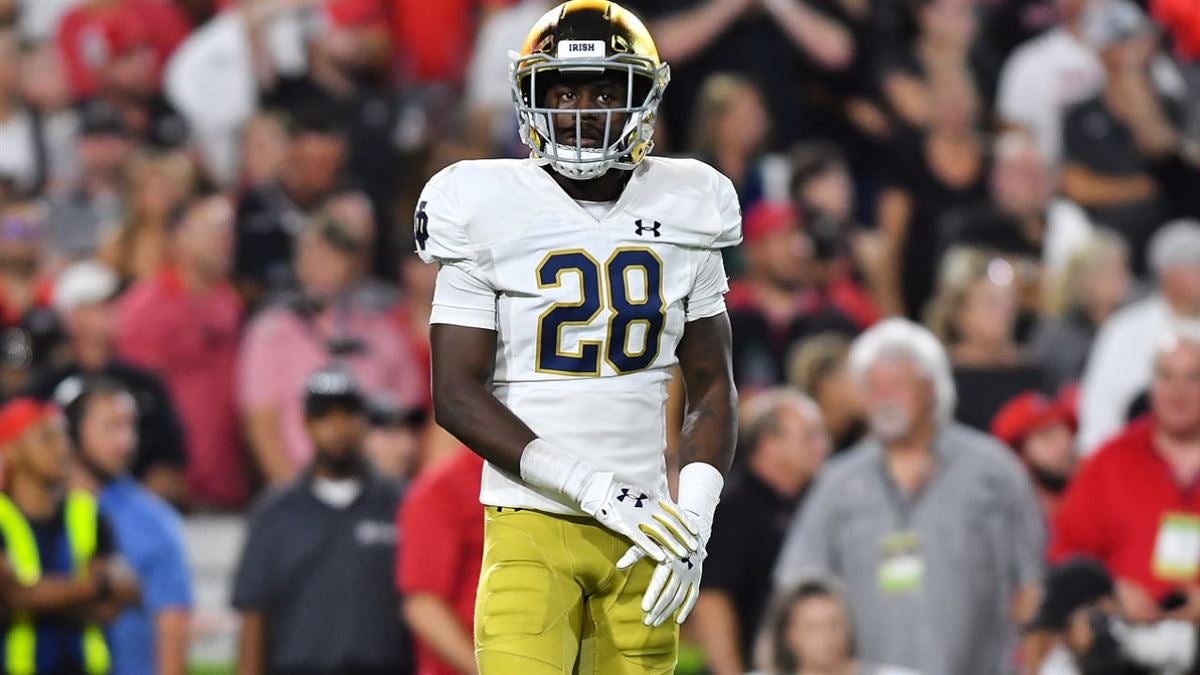 The optimal defensive plan for the Irish appears to be threefold: Collapse the pocket around Williams without allowing him to escape; keep USC's receivers in front of them; and swarm to the ball when a Trojan catches the ball in open space. A key ingredient for success will be Notre Dame's ability to control the line of scrimmage, which is by no means a given. Finally, tackling is always a concern. The Irish proved capable against Clemson but have had enough breakdowns this season to keep both hardcore fans and the coaching staff awake at night.
SPECIAL TEAMS
Notre Dame's seven punt blocks have been the subject of much discussion this season. Opposing punters appear to be rattled even when they manage to get off a clean kick. Jordan Botelho and Prince Kollie have performed well on coverage teams, while Joseph, Matt Salerno and Chris Tyree have been solid returners.
Irish Kicker Blake Grupe returned to form last week with three made field goals. He may be needed in a crucial situation this week.
USC's special teams have also been a topic of conversation this season, but the reviews have not been favorable. Kicker Denis Lynch has missed several short field goals, including two in last week's narrow win over UCLA. Fortunately, the defense bailed him out with a late game interception. Punter Aadyn Sleep-Dalton has averaged only 40 yards. Fortunately for USC, he has rarely been needed this year.
The Trojan return teams should be better with the speed and talent available to bring back punts and kickoffs, but the units have been disjointed. Coverage teams have prevented any big plays. Riley has been criticized for occasionally calling for a pooch kick instead of a long kickoff. These decisions have usually yielded poor results.
SUMMARY
Williams is a special talent who reminds me of Patrick Mahomes. His accuracy and ability to extend plays are phenomenal. Freeman talked about a disciplined pass rush but I'm not sure it is possible to achieve against him. No matter what, the Irish will have to do much better than allow the Trojans to convert third downs on their season average of 54%. When Notre Dame has the ball, they must gain ground on every possession even when they don't score.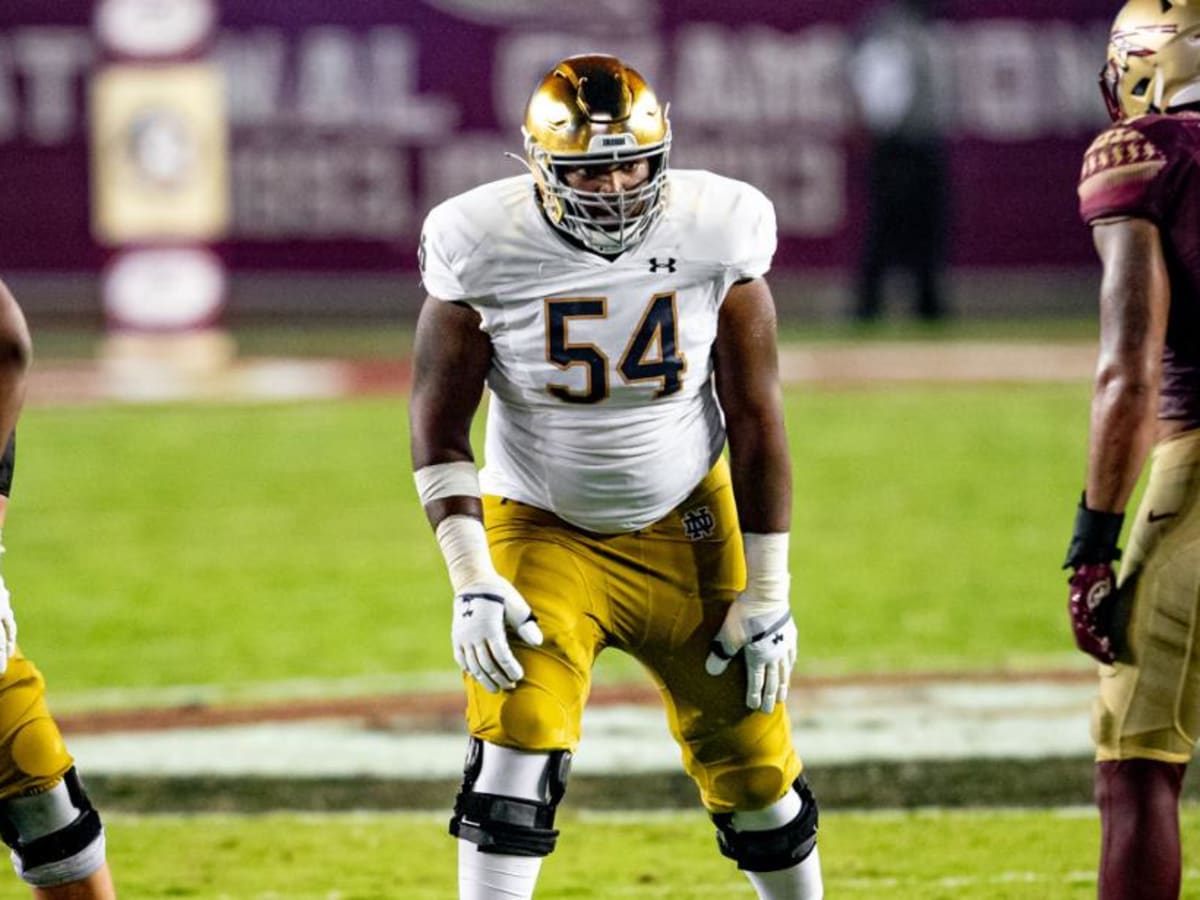 Defensively, USC has not dominated anyone lately. They have surrendered plenty of points but their saving grace is coming up with turnovers at the right time. The Trojans have forced 25 of them and given up only four. If they gain an advantage over Notre Dame in this category the visitors will not be able to keep pace with Williams and the USC point machine.
Here are a few questions that will shed light on the outcome:
Will Notre Dame's pass rush be able to keep containment on Williams?
Which team will be able to run the ball most effectively?
Can Pyne avoid a game-changing interception by the opportunistic Trojans?
Will the Irish offensive line win its battle against the tough Trojan front four?
Can Mayer dominate the smallish USC defensive backs?
Which team will have the fewest penalties and turnovers?
Can the Irish come up with another special teams surprise?
Will all holding and pass interference calls go against Notre Dame?
PREDICTION
The greatest disparity between the two teams is at quarterback. That gap alone was nearly enough to convince me to stop looking any further and just pick USC to win by a comfortable margin. There are a few other variables that are nagging at me, however, including the fact that the Trojans have not played anyone of note outside of the soft PAC-12 Conference. On the other hand, USC fans have justifiably been snickering ever since the Irish lost to Stanford.
Regardless, Notre Dame's style will cause problems for them and Pyne won't have to match Williams in the passing department. Irish Defensive Coordinator Al Golden helped Cincinnati devise an effective plan to slow down Mahomes in last year's AFC Championship. Perhaps he can apply similar strategies to keep Williams from lighting up his troops. If the visitors can avoid a poor start and keep things close, the outcome may be decided late by a turnover or perhaps a pivotal special teams play. In that context, I believe the Irish can maintain their poise and prevail.
NOTRE DAME 35 USC 31
Tell John what you think in the Comments section below.