Led by quarterback Ian Book, wideout Chase Claypool and defensive end Khalid Kareem, Notre Dame started fast and dominated an overmatched Navy team by 52-20 on Saturday. Book connected with Claypool for four touchdowns and added a fifth to Braden Lenzy with a beautiful 75-yard rocket. Tony Jones ran for a score and Paul Moala added a defensive touchdown when he literally stole a pitch in midair by the Midshipmen.
The Fighting Irish raced to a 38-3 halftime advantage by scoring on every possession and stopping Navy's rushing attack in its tracks. The first of two forced fumbles by Kareem stopped the Middies' first drive after Notre Dame had taken a quick 7-0 lead, and his second big play fueled a critical sequence in which the Irish scored 28 points on just eight offensive snaps. Yet another fumble late in the second period set up Jones' touchdown.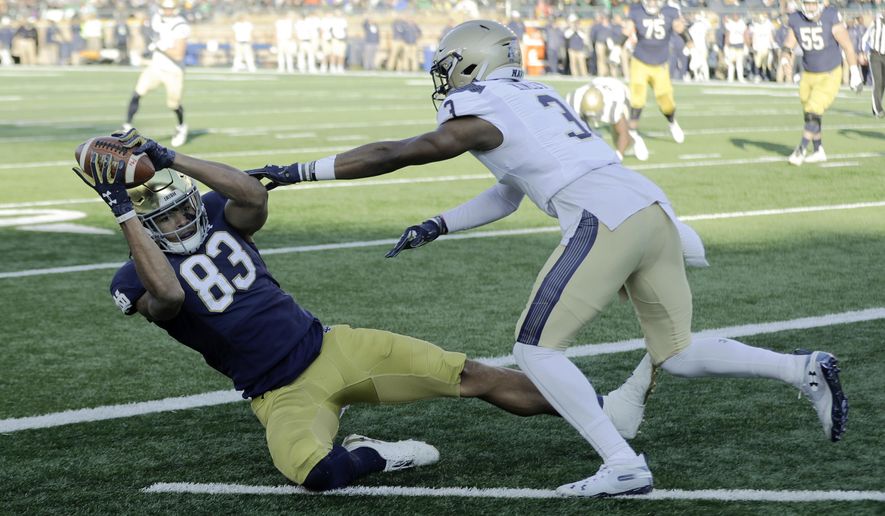 Navy could not mount a drive to open the third quarter, and Book quickly picked up where he left off. After scrambling to find Lawrence Keys for 27 yards and then hitting Chris Finke for 28, Book found Claypool for his fourth and final touchdown catch. The 20-yarder stretched the lead to 45-3 with ten minutes still remaining in the period. Coach Brian Kelly elected to clear his bench and Navy Coach Ken Niumatalolo followed suit.
Backup quarterback Perry Olsen ran for one touchdown and threw for another against the Irish reserves to make the final score somewhat more respectable. Those plays sandwiched the final points for Notre Dame by Moala, who snagged a pitch by Olsen in the Navy backfield and waltzed in for a 27-yard score on the second play of the fourth quarter to make it 52-10.
Book finished with 284 passing yards on 14 completions in 20 attempts. He had a clean pocket on most occasions and stepped into his passes. One of his best throws of the game, however, occurred when he was forced to scramble to his left but was able to deliver a bullet to Keys near the sideline on a third and long play. The deep post to Lenzy was other worldly, though. Book stood in the pocket and fired a perfect strike that hit the sophomore speedster in stride. The pass traveled over 50 yards in the air.
The complete domination by Notre Dame follows a strong game against Duke, and should give the team confidence that it has turned the corner after an embarrassing outing against Michigan and a shaky one point home victory over Virginia Tech. The 8-2 Irish will host Boston College on Senior Day next week before finishing ghe regular season at Stanford.
Let's review the answers to our pregame questions:
Can the Irish defense hold containment on the edges to stop the pitch play? The first team defense did a fine job of containment before Navy finally made a few plays on the edge in the fourth quarter.
Will Tony Jones and Notre Dame's patchwork offensive line ignite the running game? Navy called several run blitzes and tried to single cover the Irish receivers, so most of Notre Dame's big plays were through the air. The Irish ran for only 105 yards, but it hardly mattered. Jones was outstanding in blitz pickup, which allowed Book sufficient time to find open targets.
Can the Irish get off to a fast start and play the game with the lead? Ummm, yeah.
Will Navy surprise the Irish with successful trick plays? Not at all. Navy tried to play it straight, and it didn't work out well for them.
Can Notre Dame's special teams have a positive impact? Chris Finke excited the crowd with a meandering 62-yard punt return for a touchdown, but it was called back for an illegal block that would not have mattered on the play. Jonathan Doerer drilled his only field goal attempt, a 32-yard effort.
Will the Irish defenders keep Navy well below its 358-yard rushing average? The Midshipmen finished with 281 yards on the ground, but nearly half of them came against the Irish reserves, walk-ons, team managers and cheerleaders.
Which team will best take care of the ball and avoid costly penalties? Notre Dame was turnover free and had only 15 yards in penalties, while Navy's four turnovers resulted in 28 Irish points.
This was a complete team victory for Notre Dame. Although Claypool was the clear offensive MVP, it was refreshing to see solid contributions from Keys, Lenzy and Finke. Book has also elevated his performance considerably since engineering the game winning drive against Virginia Tech. Although the level of competition is not daunting, the Irish can write a better ending to the story of this season by continuing to play this well three more times.
Tell John what you think in the comments section below