Notre Dame (10-1) closes its regular season schedule on Saturday night with traditional rival Stanford (3-8). The teams did not meet in South Bend last year due to the PAC-12 COVID policy. The Fighting Irish beat the Cardinal in 2019 for the first time in Palo Alto during the Brian Kelly era and are aiming to continue that success. Stanford has struggled mightily in the past several weeks under the weight of significant injuries and general fatigue. This game will be nationally televised by Fox starting at 8:00 pm Eastern time.
The Cardinal are in the midst of a six-game losing streak after a 3-2 start that included wins over USC and Oregon. The recent slide has been fueled by injuries but also indicates a lack of quality depth on the roster. They still have a core of veteran stars, including offensive tackle Walter Rouse and defensive end Thomas Booker.
These leaders will try to channel the positive energy they displayed in their 31-24 defeat of Oregon earlier this season. "We haven't been able to play the way I know we can play, to the level that we've preached even before the season", Rouse said earlier this week. "We're really focusing on doing what Stanford football is meant to be. This is the last game of the season, against Notre Dame. You have a trophy (the Legends Trophy) on the line. This is our season for us."
Notre Dame enters the contest in relatively good health. The earlier losses of linebacker Marist Liufau, tackle Blake Fisher, slot receiver Avery Davis and safety Kyle Hamilton have been addressed by backups who have acquitted themselves well. Rover Jack Kiser, who tweaked his ankle last week a few plays after scoring on a pass interception, is available but will probably be held out.
Stanford's receiving corps has been decimated this season. The unit's best player, Brycen Tremayne, was lost for the season in October. The Cardinal will also be missing wideouts John Humphreys and Silas Starr on Saturday. In addition, tailback and punt returner Casey Filkins won't be available, nor will outside linebacker Stephen Herron and backup tight end Lukas Ungar.
NOTRE DAME'S OFFENSE vs. STANFORD'S DEFENSE
Stanford's 3-4 defense has surrendered 31 points per game. The Cardinal have allowed five touchdowns from scrimmage of more than 50 yards in the past three games. They have an abundance of upperclassmen so it's difficult to understand why they haven't been more productive. Part of the answer may be general wear and tear after a long season. Another component may be an overall lack of speed and lateral quickness.
Senior end Thomas Booker leads a veteran group of down linemen that is stocked with fifth year players. Among them is Dalyn Wade-Perry, a 6'4" 340-pound nose tackle. Surprisingly, the Cardinal have only 13 sacks this year. Outside linebacker Gabe Reid will move up to rush the passer on third down. He has eight quarterback hits to lead the team.
Inside man Levani Damuni leads the team in tackles despite sharing time with Jacob Mangum-Farrar. Damuni is the only junior on the Cardinal front seven. The rest are seniors or graduate students. Jordan Fox, a sixth-year player, and Ricky Miezan complete the linebacker unit.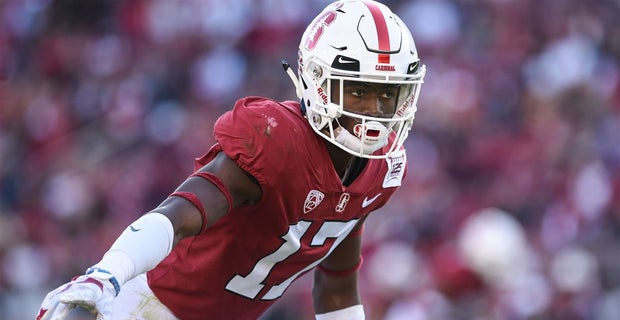 The veteran Cardinal secondary is quite competitive from a statistical standpoint. Kyu Blu Kelly, the lone junior on the back end, is the team's best cover corner. He has ten pass breakups to his credit. Stanford has allowed only 13 passing touchdowns but has recorded only five interceptions. The run defense has been among the worst in the nation at 242 yards per game. That ranks 127th out of 130 teams.
Notre Dame will certainly attack on the ground with its quartet of talented running backs. That should not dissuade them from running play action passes to their outside speed receivers or deep down the middle to Michael Mayer. Stanford has not been competitive in its three November outings. They have lost by a combined score of 128-32.
STANFORD'S OFFENSE vs. NOTRE DAME'S DEFENSE
Quarterback Tanner McKee won the starting job this fall and is a 64% passer. The team lacks explosive players so most of McKee's passes are short and intermediate in length. Elijah Higgins is the best remaining healthy receiver for the Cardinal. He and tight end Ben Yurosek lead the team in receptions. Another potential threat is wideout Mike Wilson, who missed several games in the middle of the season but is back in the lineup. Stanford typically uses a lot of single back, two tight end formations. This configuration is even more prevalent since the number of healthy wide receivers has diminished.
McKee missed two games earlier this month before returning to start against Cal last week. The struggling offense did not respond but Coach David Shaw remains very high on his 6'6" sophomore signal-caller. "What you see is a guy that's got everything," Shaw said. "Sometimes you have to go through some tough things before you get to the mountain top. I firmly believe, just like the first time I saw him throw the ball, it's not going to too long before he's one of the best in America, if not the best. He's got the leadership, personality. skill set, work ethic. He's got a chance to be really special."
Nathaniel Peat and Austin Jones share the duties at tailback. The pair has rushed for a combined 800 yards this year. Peat is the more explosive player and sports a 5.3 average per carry to Jones' 3.6. The overall running game has been disappointing, though. The Cardinal have earned a miniscule 90 yards per game.
Rouse is the left tackle and is a future NFL player. He leads a respectable offensive line that has impressive size. This group has remained intact most of the season, with one exception. Starting right guard Branson Bragg was lost to an injury earlier in September. Although they have surrendered 29 sacks, part of the problem may be wide receivers that struggle to get open. Also, McKee is relatively immobile in the pocket. The net result is a poor success rate on third down (34%) and the anemic ground attack
SPECIAL TEAMS
Kicker Josh Karty has hit 10 of 14 field goals this season with a long of 51 yards. Punter Ryan Sanborn's 43-yards per attempt is above average. The Cardinal punt return team was productive when Filkins was healthy. Backup wideout Bryce Farrell will take over in that spot while Peat handles the kickoff return duties. Opponents have returned only four kickoffs against Stanford this season with little to show for it.
Punter Jay Bramblett and kicker Jonathan Doerer and are winding down their careers at Notre Dame on a positive note. Chris Tyree has another great kickoff return last week and is fully recovered from issues with turf toe. Kyren Williams' fearless approach has added juice to the punt return game. The Irish could produce a big play if the Cardinal let down their guard on Saturday.
SUMMARY
Notre Dame's primary concern is overconfidence after a series of easy wins against mediocre teams. The Cardinal appear to be no more than another speed bump on the road to an 11-1 campaign. The hosts have been outgained by 446-309 and do not have any elite offensive weapons. Marcus Freeman has the Irish defense playing at a high level after passing through an early season learning curve. They will show no mercy in this finale. Their motivation is to keep a three-game no-touchdown streak alive and to impress the Playoff Committee with another dominant showing.
The Irish offense had a breakout game last week. They will want to build on that success and use their speed advantage to dial up a few long-distance scoring plays. Shaw and the Cardinal have enough pride to put up a decent fight in the early going. This team is worn down, however, so the battle won't last long if things don't go their way early.
Here are a few questions that will shed light on the outcome:
Can Stanford's plus-sized offensive line handle the Irish defensive front?
Will Notre Dame take advantage of Stanford's porous rush defense?
Can the Irish finally score a touchdown on their opening drive?
Will Notre Dame's defense put more points on the board?
To what extent will hometown favorite Isaiah Foskey make his presence felt?
Which Irish freshman will have a breakout performance this week?
Can Notre Dame enhance its playoff chances with an impressive outing?
Will someone please pull the plug on Michigan?
PREDICTION
Due to a weak November schedule, we really don't know how much Notre Dame has improved since the first half of the season. Beating Stanford won't provide many answers but the Irish can ill-afford a lackluster performance if they harbor any playoff ambitions. Brian Kelly has maintained that he's not a fan of generating style points. That's commendable, but he needs to make a statement on Saturday since he and his team will become helpless spectators the following weekend. The Cardinal typically coach and play well when hosting Notre Dame, but this year's team doesn't have the staying power against an opponent with its postseason dreams on the line.
NOTRE DAME 38 STANFORD 6
Tell John what you think in the Comments section below