As was the case recently with the offense, I've looked at our roster on defense in the context of where ND stands on the path toward building a legitimate championship contender. I've also made certain assumptions regarding players that may or may not return next season.
Let's start with the defensive line.

DE – Isaiah Foskey is moving on, so the rush end (Vyper) position looks like this next season: Justin Ademilola (I'm betting he will return), senior Jordan Botelho, plus sophomores Aiden Gobaira and Josh Burnham. There are no incoming Vyper recruits in 2023.

The strong side end spot has its three top players back for 2023. Rylie Mills, NaNa Osafo-Mensah and Alex Ehrensberger. The group is solid but not exceptional. Four incoming freshmen will get a look at this spot but some of them will ultimately be moved inside.

Discussion – Lack of size is a problem at Vyper. Outside of Ademilola, the other three are better suited to be outside linebackers in a 3-4 set than ends with their hand on the ground in a 4-3. Gobaira and Burnham can add weight but won't be ready for a significant number of snaps per game in 2023. Botelho has always been a 12-15 snap guy and is productive in that role. If Ademilola does not return, this position becomes a big question mark. Regardless, neither Ademilola nor Botelho is an NFL prototype pass rusher.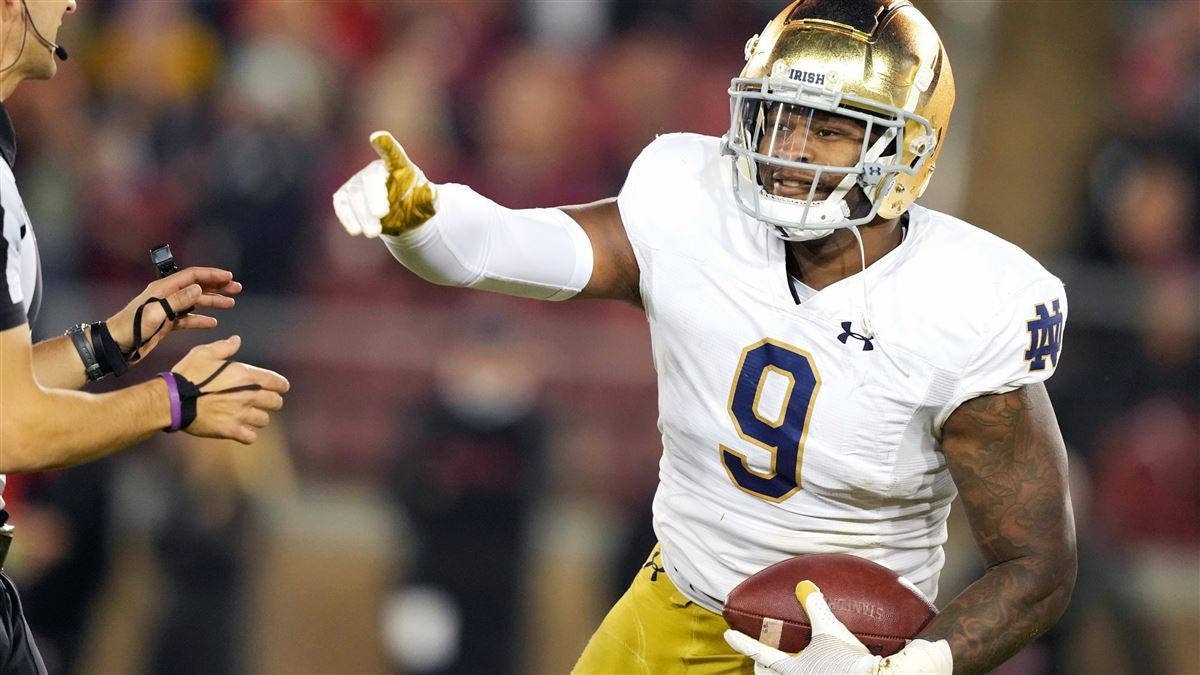 The strong side end is set for a while and is the easiest to fill along the line. There are no sure-fire NFL players among the upperclassmen, though. It's too soon to know much about the incoming frosh but there are some very good prospects in that group. Hopefully they can provide an upgrade in 2024.

Outlook – The coaches should look for help at Vyper in the transfer portal. An accomplished pass rusher is a rare, cherished commodity but the need is glaring. Foskey was productive although a bit stiff, but recruiting misses leave few options to replace him with similar quality beyond 2023.

The Irish appear to be at a plateau when it comes to talent level at these positions. They have many useful players but no difference makers. The staff must continue to aim for impact players in recruiting. Expecting to find them in the transfer portal is a long shot.

NT – At nose tackle, both Jayson Ademilola and Chris Smith will not be back. Aidan Keanaaina returns from injury and appears to be the best option to start there. Behind him there are a few options that are better suited to play the three technique tackle spot. Among them are Gabe Rubio, Jason Onye and Donovan Hinish. Howard Cross, the starter at 3-tech, has played on the nose but he is too small to be effective.

DT – Cross will start here but will need others to share the load. When he's fresh, Cross is a quality player despite his lack of size. He noticeably wore down as the 2022 season progressed and his production dropped off in November. Rubio has been the next man in. Tyson Ford will be a sophomore in 2023 and could be ready to join the rotation. Onye is another option and Mills has also worked inside.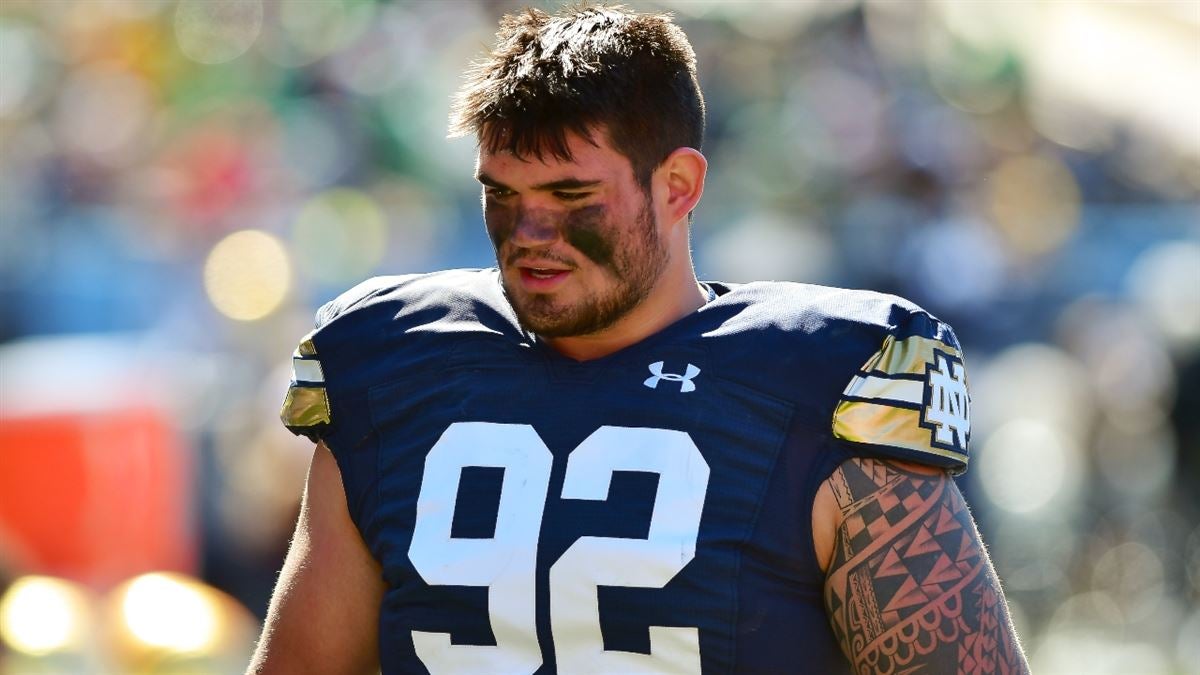 Outlook – Assuming Keanaaina starts at the nose, the biggest problem for the staff is finding a capable backup. None of the options are ideal but Rubio may be the best bet to move in behind him. That leaves Cross at the other tackle spot with a set of unproven backups. The best bet among Ford, Hinish and Onye is Ford. Mills could also play there if Osafo-Mensah and Ehrensberger can hold down the strong side end position. Beyond that, the incoming freshmen should not be counted upon to help this soon.

It's clear the 2023 defense has a lack of ideal size up front. The overall talent level is only slightly above average – certainly not top ten, difference making studs. It will be hard for the staff to plug one hole without weakening another position. Even if they find a wide body in the portal, it's more likely to be a rotation guy rather than an impact player.

In short, the team is years away from having a dominant defensive line. Recruiting was okay in the 2023 cycle but not exceptional. A higher level is needed going forward.
LB – The good news is starters JD Bertrand and Marist Liufau will return in 2023. The bad news is….you can see where I'm going with this. Rover Jack Kiser may be back as well but that is not yet certain. A number of promising younger players return to compete for playing time. Among them are Prince Kollie, Will Schweitzer, Jaylen Sneed, Nolan Ziegler and Junior Tuihalamaka. Incoming freshmen are Jaiden Ausberry, Drayk Bowen and Preston Zinter.

Discussion – Bertrand and Liufau were fine against teams that lacked speed and had a stationary quarterback. Otherwise, they were not impactful and sometimes even a liability. The question is whether the competition will truly be open this spring and if the coaches are willing to play the best athletes regardless of age. Sneed will be hard to keep off the field, either on the weak side or at rover. Ziegler and Tuihalamaka were more highly rated as recruits than Liufau and Bertrand. They may have more upside. How long will they have to wait?
When the 2022 team fell to 0-2 in September, the season could have gone one of two ways: Either declare it a rebuilding year, play the kids and accept their mistakes as an investment in a better future; or stay exclusively with the older guys and try to squeeze out more wins to keep the alumni happy and new recruits interested. ND chose the latter. Time will tell if this was a good decision but I would have played the kids more.

One other oddity is that Bertrand and Liufau are current seniors while Kollie and Schweitzer are sophomores. The others named above are freshmen. There are no linebackers in the junior class due to recruiting failures. One junior, Jordan Botelho, was given a look at linebacker but has settled in at Vyper. He is one of a very few players on the roster with above-average pass rushing skills.

Outlook – As is the case with other current starters that may return in 2023 (Pyne, Lenzy, Correll) another year of Bertrand and Liufau as starters in 2023 may produce the same 8-4 result that most folks are loathe to tolerate. If this pair is truly the best ND has, then so be it. I don't believe this will be the case provided the younger players are coached competently in the spring and early fall and given sufficient snaps in live action to prove their mettle. Finally, Drayk Bowen will enroll in January and participate in spring practice. Keep your eye in him.

As for Kiser at rover, I'm ambivalent. If Kiser returns but Sneed is a better fit at rover than at Will, Sneed should start. He could be an even better version of Jeremiah Owusu-Koramoah. Defensive Backs

CB – As for the starters, slot corner Tariq Bracy won't be back in 2023. Boundary corner Ben Morrison will be a sophomore. Field corner Cam Hart was not expected to return next year, but a season ending shoulder injury clouded his NFL draft prospects. He just announced that he will come back for another college season.
The rest of the mix includes Clarence Lewis, who will be a senior with considerable experience; Jaden Mickey, a sophomore who played in several games in 2022. Juniors Chance Tucker, Philip Riley, and Ryan Barnes also return, as does sophomore Jayden Bellamy. Lewis has played both field and boundary corner but he backed up Morrison at boundary in 2022.

Discussion – Morrison emerged as a star in 2022 and has a bright future. Competition for Bracy's spot and possibly Hart's will be interesting because of the number of players vying to start or play a major role. For the three current juniors, spring practice may be their last shot to make a favorable impression. Two freshmen passed them on the depth chart this past season and two more highly regarded recruits, Christian Gray and Micah Bell, will be added to the mix. Gray is an early enrollee and will compete this spring.

We'll also get our first hard look at Bellamy and find out if Mickey has progressed from a somewhat painful (especially by comparison to his classmate Morrison) debut season.

Outlook – Corner is obviously a position where the best players get on the field regardless of seniority. I see the boundary and field starters as Morrison and Hart. The slot corner would become a wide-open competition. Mickey is the only candidate with slot experience but Lewis, Bellamy, Gray and Bell could alter that scenario with a strong showing. That would mean Riley, Tucker and Barnes might give consideration to the transfer portal if they obtain their degrees (or not, I suppose) and still want to play somewhere.

SAFETY – Houston Griffith cannot return in 2023, but the eligible group includes Ramon Henderson, DJ Brown, Xavier Watts, Justin Walters, and Brandon Joseph. The incoming freshmen are Adon Shuler and Ben Minich. Peyton Bowen, a five-star recruit, remains a possibility. We'll see whether he signs with Notre Dame or Oklahoma on December 21.
Discussion – This group was largely disappointing in 2022 except for Watts, whose playing time steadily increased during the course of the season. He is also the best tackler among them. Brown and Joseph have the most experience if they decide to return. Neither is an exciting choice based on inconsistent 2022 performances. If the Irish are going to improve upon 8-4 in 2023, safety is one area that needs an upgrade. Henderson is still learning the position but he has the speed and physical tools to become a productive player. Time will tell if he develops the instincts needed to be an impactful player.

The matter could be settled quickly if Bowen joins the team. He has the tools to start from Day 1, probably with Watts. That would be an ideal pairing and there would be plenty of options to provide backup.

Outlook – This should really be TBD until Bowen makes his intentions known because he would have an immediate impact. Several players have experience but are poor tacklers (Joseph, Brown) while others are more physical but still developing a feel for the position (Watts, Walters). Henderson needs to improve in both areas but it's not out of the question. As for Shuler and Minich, they are good prospects who may need a year in the weight room before they are ready.
Tell John what you think in the Comments section below