I've looked at our roster in the context of where ND stands on the path toward building a legitimate championship contender. I've also made certain assumptions regarding players that may or may not return next season.

OFFENSE

LT – The team is set with Joe Alt but they must develop his successor for 2024 since he may enter the NFL draft after next season.

Discussion – The pipeline includes Tosh Baker, Michael Carmody and Caleb Johnson, along with freshmen Aamil Wagner and Ty Chan. Baker is more of a right tackle and Carmody projects as an interior player if he is going to become a starter. Johnson and Wagner are undersized and it's not clear if they can add enough weight to handle the position. Little is known about Chan right now. Incoming recruit Charles Jagusah may have more potential than the rest of the group. He will be a sophomore in 2024.

Outlook – The best bets (in no particular order of likelihood) appear to be Baker, who will be a fifth year player in 2024; Wagner, assuming he adds weight; and Jagusah, who will start somewhere but might end up on the right side.

LG – Jarrett Patterson is moving on and will leave big shoes to fill in 2023.
Discussion – Andrew Kristofec is the first name that comes to mind because he has played the position. He represents a notable dropoff in ability from Patterson though. Carmody could compete for the job but he would also be a big step down from Patterson. The team's hopes appear to rest on current freshman Billy Schrauth, who is a highly regarded prospect. Incoming 2023 freshmen such Sam Pendleton and Sullivan Absher probably won't be ready that quickly.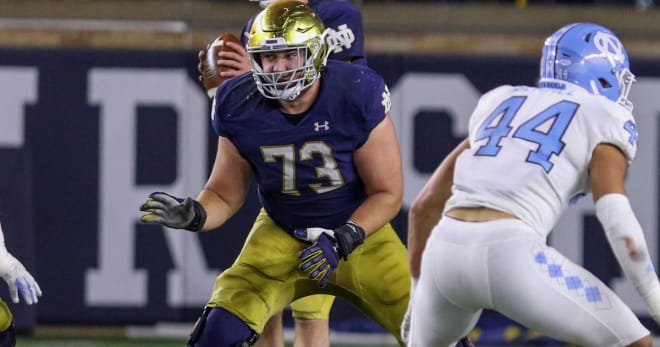 Outlook – It's Schrauth or bust if this spot is to be nearly as good as the 2022 version.

C – Zeke Correll will probably be back in 2023. He lacks ideal size and power, which has made him a liability against good teams.

Discussion – Current sophomore Pat Coogan is being groomed to take over the position. We may get a glimpse of how that is progressing this spring. Freshman Ashton Craig is a possibility for the pipeline, as is 2023 freshman Joe Otting. Other candidates may emerge as younger players move over from the guard spots to center.

Outlook – The Irish need an upgrade here but Correll may be the default choice in 2023. If Coogan is not ready to supplant him, that doesn't bode well for Coogan or the prospects of a better future. If Coogan is ready, will the coaches sit the veteran Correll in favor of the best player?

RG – Josh Lugg won't be back in 2023.

Discussion – One of the biggest mysteries for fans is the failure of the highly recruited Rocco Spindler to seize a starting position. He will be a junior in 2023 and will either make his move or risk being permanently passed by younger players. Schrauth will play one of the guard spots and the same group of Kristofec, Carmody, Absher, and Pendleton will compete for the other with Spindler.

Outlook – The upperclassmen are not very exciting candidates right now and it's unrealistic to expect an incoming freshman to be ready. Lugg was not a great player but there may be a dropoff in 2023 regardless.

RT – The team is set with Blake Fisher but they must develop his successor for 2024 since he may enter the NFL draft after next season.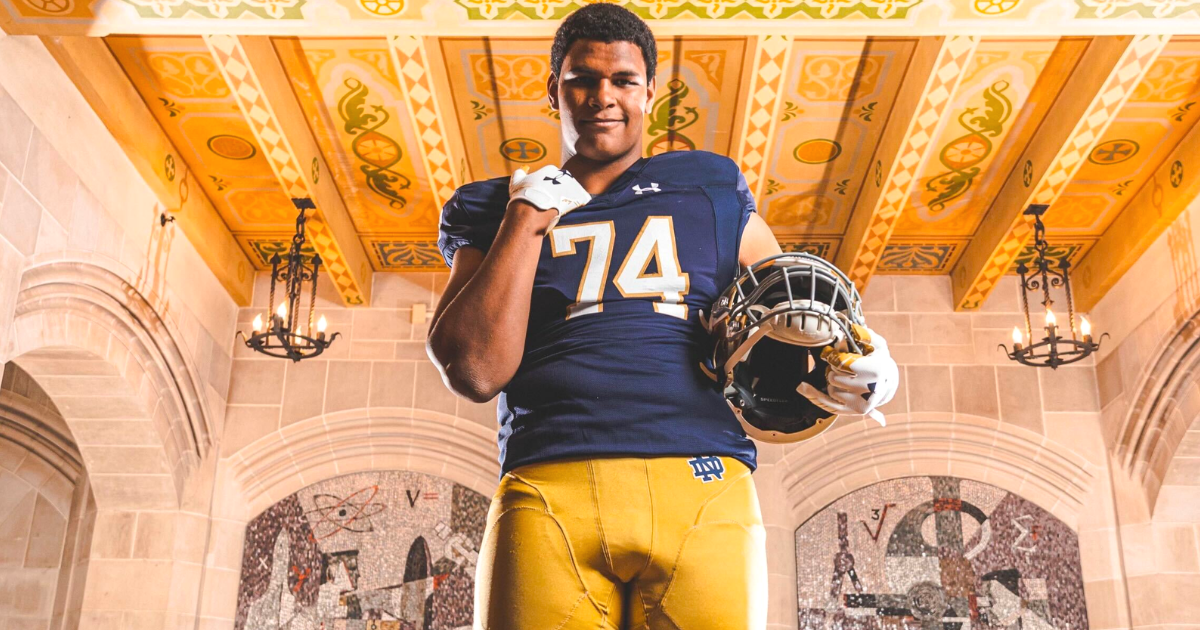 Discussion – Baker or Jagusah are the front runners for 2024. Beyond that, more data is needed on younger players to determine how the depth chart at tackle will fill out. Notre Dame has recruited several offensive linemen in the last two cycles. Most of them will get a look at tackle but many will be moved inside.

Outlook – The good news is there are enough candidates to work with and an extra year to solve the problem. Both tackle spots are secure for another year, barring injury.

OL Summary – The Irish are blessed at tackle in the present and the future is reasonably bright due to adequate recruiting. The interior positions are only marginally better than a hot mess in 2023. Schrauth by all accounts has the talent to be a plug and play replacement for Patterson, although he won't be at that level immediately. Center and the other guard spot are huge question marks right now. There will be considerable pressure on the coaching staff to quickly develop players on the current roster. Many of them simply need to get bigger and better.
We've talked about the offensive line. Now let's discuss the tight ends and wide receivers for 2023 and beyond.

TE – Michael Mayer will be playing on Sundays. The size of the hole in ND's roster is enormous.

Discussion – ND has recruited the position well enough that there will be good candidates and competition in 2023 and beyond. That said, tight end will become a complementary resource in the passing game rather than the first option. It will also be tight end by committee rather than a single superstar player.

Kevin Bauman is likely to give it one more shot in 2023 after a hard-luck career on the injury front. He will be part of the mix if he can stay healthy. Mitchell Evans will be a junior and seems ready for a larger role. Classmate Cane Berrong has had injury issues and is an unknown commodity at this point. Both Eli Raridon and Holden Staes showed promise as freshmen this year. Raridon will miss spring practice due to an ACL tear. That's a shame because he has more upside than anyone on the 2023 roster.

Outlook – Mayer is a generational player but the position is still in a good place as compared to most teams. The injuries to Bauman and Raridon serve to temper any current optimism that Mayer won't be too terribly missed. If these players are ready by September there is good reason to feel positive about 2023.

WR – Braden Lenzy, Lorenzo Styles and Jayden Thomas could all return in 2023, as can Deion Colzie, Matt Salerno and Tobias Merriweather.

Discussion – The ranks are thin due to recruiting misses. Three 2023 incoming freshmen will help, especially if at least one of them can play a lot right away. Jaden Greathouse, Rico Flores and Braylon James are highly recruited prospects.

Of the current starters, only Thomas showed considerable growth this season. Styles actually regressed from his strong freshman season and Lenzy is simply not very good. Colzie or Merriweather should start over him next season. Will the coaches elevate a young player over a veteran? We've asked that question before. We'll see.
The biggest problem in this group is lack of elite speed. Merriweather is the only guy who approaches this level. Styles does not have the quickness and twitch that you want from a slot receiver. Perhaps the team should move Chris Tyree into that spot. He'd be more of a threat there than as the third or fourth best tailback.

Outlook – Lenzy and Salerno are good Notre Dame men but they are not going to help the Irish beat a top ten team. The coaches must bring along the younger, more talented players quickly and be ready to play them over older, less productive options. Future recruiting must focus on speed. One possibility for the slot is 2023 freshman Dylan Edwards, who runs as if he was shot out of a cannon. We don't yet know if he will begin at tailback or receiver but he needs to have a clear path to get on the field early.
QB – It's difficult if not impossible to have a championship contender without an excellent quarterback. The Irish have a serviceable but limited option in Drew Pyne. They also have Tyler Buchner, who beat out Pyne for the starting job prior to this past season. Incoming freshman Kenny Minchey appears to be more physically gifted than either Pyne or Buchner, at least on film. He will enroll early and try to make an impression this spring.

Discussion – We still don't know much about Buchner after two seasons due to his injury history. His running ability is a plus but he has not demonstrated good accuracy when throwing the ball. Given this and his injury history, I'd expect that he will have a small window of opportunity this spring to alter the perception of him as a potential 2023 starter.
Pyne was not recruited to be anything more than a capable backup, and that is where he should stay if the team has higher aspirations next season. He will not become 6'3″, gain significant arm strength or take over a game with superior athleticism.

The coaching staff realizes this and will actively pursue options in the transfer portal over the next several weeks. They will seek a capable starter who can play for at least one year but ideally longer.

Outlook – The team will remain in a rebuilding mode in 2023 if Pyne remains the starter. Unless Buchner shows significant improvement in the spring, the staff would be better off investing the year in the development of Minchey. An established player from the transfer portal is the best solution to change that dynamic.

Side Note – Much criticism has been directed at Tom Rees, and not without good reason. We should separate his job performance into a few categories: overall offensive philosophy, recruiting (including talent evaluation), quarterback development, and game day play calling. Although I have issues with Rees in most of these areas, I must commend him for helping Pyne become a decent player after Buchner went down in Game 2.

Pyne was cringe-worthy in September. His performance in the first half of the Cal game led me to believe Notre Dame was looking at a 3-9 season. Rees worked with Pyne until he was no longer a complete liability. He found what Pyne did well and adjusted the offense accordingly. That doesn't mean I support his offensive philosophy or play calling decisions, but you have to give Rees credit for helping to salvage something out of the season.

RB – The trio of Logan Diggs, Audric Estime and Chris Tyree returns in 2023. It's unclear if Jadarian Price (Achilles) will be able to participate in spring practice. Three freshman backs will join the team in 2023 – Jayden Limar, Dylan Edwards and Jeremiah Love. Limar and Edwards will enroll in January.
Discussion – Price had a great spring in 2022 and was poised to be a major contributor before he went down. One can only hope that he can come all the way back from his injury. Estime and Diggs are solid backs. Tyree is a better receiver than a pure runner. He has a tendency to run east-west and does not have a great feel for when to cut up through the crease. The blocking has also been less effective on wide runs as opposed to north-south plays. And don't get me started on the lack of counter plays and misdirection in the running game.
Running back is a position where freshmen can contribute immediately. The team needs to find a role for Edwards and find out if Limar or Love can provide a spark. All three are faster than Diggs or Estime. Tyree may be the odd man out but, as I mentioned earlier, could find a home for his speed and talent as a slot receiver.

Outlook – The position is well-stocked for 2023 and beyond. Estime provides the power, and there are good options to get more speed on the field. This can happen in one or two back sets and in the slot.
Defense will be evaluated shortly
Tell John what you think in the Comments section below