Notre Dame (7-3) celebrates Senior Day on Saturday afternoon as the Boston College Eagles (3-7) visit South Bend. The Fighting Irish have won seven of their last eight contests including a closer than desired encounter against Navy last week. The Eagles are coming off their best win of the season, a thrilling last-minute 21-20 victory at 17th ranked North Carolina State. This week's battle will be broadcast nationally by NBC starting at 2:30 Eastern time.
A number of Notre Dame players are or could be wearing the blue and gold for the last time. Among them are Isaiah Foskey, Jayson Ademilola, Jarrett Patterson, Michael Mayer, Josh Lugg, Chris Smith, Jon Sot, Justin Ademilola, DJ Brown, Tariq Bracy, Brandon Joseph, Houston Griffith, and Braden Lenzy. Injured linebacker Bo Bauer will also bid farewell to the home crowd.
BC Head Coach Jeff Hafley is in his 3rd season at Chestnut Hill. He is 15-18 overall and in the midst of a challenging campaign marred by a rash of injuries. Hafley is a defensive specialist with an impressive track record at the college and NFL levels.
The Irish had enjoyed a resurgence of late before a gritty Navy team nearly embarrassed them last week. Coach Marcus Freeman was not pleased with the manner in which his team finished that game after firing out to a 22-point halftime lead but managed to send a positive message to his team. "The beautiful part of this is we've grown to be a team that can win in those close games," he said. "A couple weeks ago, we weren't able to find a way to win."
The Eagles lost their starting quarterback two weeks ago when Phil Jurkovec suffered a knee injury. Jurkovec also remains in concussion protocol and is dealing with a rib and back ailment as well. In spite of these challenges, Hafley stated on Wednesday there is still a chance he could start against the Irish. Jurkovec, who transferred from Notre Dame two years ago, obviously wants to play on Saturday but is still listed as questionable.
Hafley also confirmed that the team has been hit by the flu this week. Up to a dozen players may be affected, including multiple offensive linemen. Irish fans will be able to see former tight end George Takacs, a popular player who graduated from Notre Dame last year and transferred to BC for his final college season. Hafley noted that Takacs has been battling injuries all season. He suffered a high ankle sprain early in the year and re-aggravated it shortly thereafter. Only now is Takacs getting close to full strength.
Notre Dame played without linebacker J.D. Bertrand and safety Brandon Joseph against Navy. Bertrand is expected back this week but Joseph, who also is nursing a high ankle sprain, will sit out once again. Freshman wide receiver Tobias Merriweather appeared on the injury report on Monday and is listed as questionable. The nature of his injury is unknown outside of the locker room.
NOTRE DAME'S OFFENSE vs. BOSTON COLLEGE'S DEFENSE
The Eagles are a bit undersized on defense and may be wearing down as the season moves into its final weeks. They have been vulnerable to the run lately after playing well in September and October. More recently, NC State and Duke each gained over 200 yards rushing against them. Hafley undoubtedly saw the Irish run over Clemson's basic 4-3 front and then struggle against Navy's full blitzes last week. Don't be surprised if he employs a similar plan by stacking the line of scrimmage to force Notre Dame to throw.
If that happens, Drew Pyne will have to get the ball out more quickly to viable targets. Offensive Coordinator Tom Rees has had a week to consider what went wrong against Navy and how to defeat a steady diet of aggressive blitzes. Slow developing, downfield pass plays worked early in the game before the Midshipmen turned up the heat even further and sacked Pyne five times.
BC's defense has played as well as can be expected this season despite the effects of an erratic offense and subpar special teams. They run a 4-3 basic set with ends Donovan Ezeiruaku and Marcus Valdez leading the way. Ezeiruaku in particular is a disruptive force who continually makes plays in the opponent's backfield. Outside linebacker Kam Arnold, rover Vinnie DiPalma and middle backer Bryce Steele form the second layer. DiPalma and Arnold are very good players who lead the team in tackles. This group lacks ideal size but are well-coached by Hafley.
While Michael Mayer will likely operate against DiPalma, the rest of Notre Dame's receivers will battle a veteran secondary. Safeties Jaiden Woodbey and Jason Maitre, along with cornerback Elijah Jones, are fifth year players. The exception is the other corner spot where Hafley has tried a number of freshmen and sophomores in search of a permanent solution.
Notre Dame's size advantage should entice Rees to run right at this group to see how they react. If the Eagles overplay the ground game and bet that Pyne can't beat them, the Irish must be ready to make them pay a heavy price. Future opponents will copy that strategy with assorted variations until it has been convincingly defeated.  
BOSTON COLLEGE'S OFFENSE vs. NOTRE DAME'S DEFENSE
BC's passing game carries the team's offense. Offensive line woes have limited any production on the ground to a measly 2.1 yards per carry. There are no senior linemen on the two-deep and a pair of potential starters, Kevin Cline and Christian Mahogany, were lost to knee injuries before the season started. As a consequence, the Eagles have surrendered 39 sacks and a bone-rattling 67 quarterback hits. By contrast, Notre Dame has allowed 17 sacks and 13 QB hits.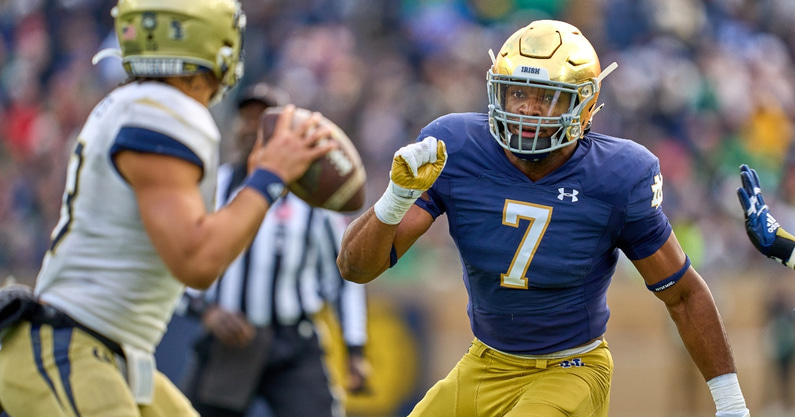 Five running backs are listed on the depth chart led by starter Patrick Garwo. Veteran backup Alec Sinkfield, a transfer from West Virginia, is the tallest of this group of Smurfs at 5'9". Freshman Alex Broome has injected life into the offense upon returning from injury. He had a breakout performance against Louisville last month before going down. After gaining over 1,000 yards behind a solid line last season, Garwo's production over ten games has been limited to fewer than 300 yards on 99 attempts. Last week, the Wolfpack outrushed the Eagles by 232 to -1 yards. It's not surprising that Emmett Morehead threw it on 67% of BC's plays.  
The Eagles are in better position at quarterback because it doesn't matter who starts the game. Morehead demonstrated last week against NC State that he can be as good or better than Jurkovec. The redshirt freshman was 29 of 48 for 330 yards, including three touchdowns and two interceptions. Even though he was sacked five times and hit repeatedly, Morehead weathered the storm to make clutch throws down the stretch to complete the comeback on the road.  Not bad for a player making his second career start.
Wide receiver is the strongest group on the offensive side despite having no starter at 6'0" or taller. Zay Flowers is the team's best player. His 67 catches and ten touchdowns are second in the Atlantic Coast Conference behind Josh Downs of North Carolina. Flowers is joined by fellow senior Jaelen Gill as the top targets. Joseph Griffin, a 6'4" freshman, has steadily worked his way into a prominent role. He now has five touchdown receptions. Garwo has also proven to be a productive receiver out of the backfield and on checkdowns. The tight end is Notre Dame graduate George Takacs, who was a fan favorite with the Irish. Takacs had battled his way back from various injuries this year to contribute 24 receptions and effective blocking.
The Irish will counter the pass-first Eagles by playing a 4-2-5 defense that pays significant attention to Flowers. The front four should feast on the porous Eagle line, although neither Jurkovec nor Morehead is likely to stop slinging the ball until the final whistle.
SPECIAL TEAMS
An emerging area of concern for Notre Dame is the accuracy of field goal attempts by kicker Blake Grupe. He has failed to convert mid-range tries in each of the past four weeks, including his only attempts against Navy and Clemson. Jon Sot remains a reliable punter and Joseph's injury means Matt Salerno will catch punts but probably not try to return them. The Eagles rarely send a kickoff into the end zone, so Chris Tyree should get an opportunity to improve Notre Dame's starting field position.
Boston College's special teams have made numerous mistakes this season and have cost the team points. Eagle punter Danny Longman has been only fair, although he had his best game last week by averaging over 46 yards on eight attempts. He will be wearing a bullseye on his jersey this week as the Irish attempt to add to their total of seven punt blocks this season.
Kicker Connor Lytton has been somewhat disappointing this year after a strong 2021 season. As has been the case with Grupe, his troubles have been more prevalent in recent games. Lytton has made just 57% of his field goal attempts and his range has seemingly gotten shorter. Punt and kickoff returns are handled by Flowers and Gill, respectively. Neither has enjoyed great success to date as attrition due to injuries has weakened BC's return and coverage units.
SUMMARY
The expected cold and inclement weather will make the running game a more attractive option. The team that runs the ball best will have an advantage, and the Irish are clearly more powerful in this regard. BC will have to live or die by the pass and will be susceptible to sacks and turnovers. Flowers usually lines up in the slot where he will challenge Notre Dame's best cover man in Tariq Bracy. Without Joseph to patrol the deep zones, Jurkovec or Morehead could enjoy a measure of success unless the Irish pass rush can engulf them.
Pyne made a step forward with four touchdown passes last week before the entire offense took two steps back in the second half. That meltdown was more of a coaching issue than a failure by Pyne. Rees must have quick screens, slants and tosses to the flat available if the Eagles leave those areas undefended by blitzing on Saturday.
That said, the Irish must be able to run the ball no matter what defensive alignment Hafley employs. The hosts cannot surrender a major offensive advantage by allowing the game to become an aerial shootout. Even with inspired play calling by Rees, Pyne is simply not built to win many games in which he throws more than 20 passes.
Here are a few questions that will shed light on the outcome:
Can the Irish defensive line dominate BC's porous offensive front?
Will Pyne be able to read and execute passes that are designed to defeat blitzes?
Can Notre Dame run the ball on the smaller Eagle defense?
Which team will win the turnover battle?
Can Notre Dame's special teams provide another highlight reel play?
Will the Irish secondary hold Flowers in check?
Can either kicker break out of his slump by making a clutch field goal?
Will Jurkovec or Takacs have success against their old teammates?
PREDICTION
The Eagles were headed for a miserable close to the season before staging an improbable comeback win last week. They suddenly have confidence in themselves and in Morehead. Their defense may be on the small side but it is bigger and more talented than Navy's. If they can match the fire and determination of the Midshipmen, the game could become a low scoring nailbiter. Most fans know that BC regards Notre Dame as a major rival and plays these games with a chip on its shoulder. Therefore, the Irish need to be ready to take their best shot and give it right back. The hosts should create enough negative plays and turnovers on defense to get the job done but anyone who believes victory will come easily may be in for an unpleasant surprise.
NOTRE DAME 24 BOSTON COLLEGE 20
Tell John what you think in the comments below