Notre Dame (6-3) travels to Baltimore on Saturday to play the Naval Academy (3-6) in M&T Bank Stadium. The Fighting Irish have found their footing in recent weeks with convincing wins over ranked opponents and will arrive in the Charm City brimming with confidence. Navy and Notre Dame have met each season since 1927 except for 2020 when COVID forced cancelation of a scheduled meeting in Dublin, Ireland. The teams will play there for the third time in the series on August 26, 2023. The Irish hold a 78-12-1 overall advantage and have won the last four. Saturday's game will be broadcast nationally by ABC starting at 12:00 Noon Eastern time.
Head Coach Ken Niumatalolo is in his 15th season as head coach in Annapolis and 25th campaign overall at the academy. His teams have struggled in the past three years after finishing with a winning record in ten of Nuimatalolo's first twelve seasons. The effects of COVID on the program were more pronounced than for the majority of programs. Since 2020, normal attrition and transfer portal losses combined to strip more than 30 players from Navy's roster. The Midshipmen currently have just five senior starters.
The Irish have regained a bit of swagger following a benchmark win at home against Clemson. Head Coach Marcus Freeman will tell his players to guard against complacency and overconfidence against what appears to be an inferior opponent on paper. Playing on the road against a team with a unique style should make it easier for Notre Dame to focus, especially after head-scratching losses to weak opponents earlier this season. That said, Navy always plays inspired football against the Irish. Nuimatalolo has beaten Notre Dame three times and lost to them by ten points or fewer on four other occasions.
The Midshipmen lost their starting quarterback two weeks ago when Tai Lavatai suffered a season-ending knee injury. Backup Xavier Arline finished the game against Temple by scoring the game-winning touchdown. He started last week against Cincinnati and played well, rushing for 87 yards on 12 carries. Arline is a two-sport athlete for Navy as he is also a starting attackman on the lacrosse team. He is just 5'9" and 176 pounds as compared to the 6'2" 220-pound Lavatai.
Notre Dame reports no new injuries for this week's contest. Safety Brandon Joseph is still nursing an ankle sprain and may be held out of action this week. The Irish had previously lost quarterback Tyler Buchner for the season along with tight ends Kevin Bauman, Eli Raridon,and Cane Berrong, slot receiver Avery Davis and tailback Jadarian Price.
NOTRE DAME'S OFFENSE vs. NAVY'S DEFENSE
Navy's 3-4 defensive set features scrappy but undersized linemen Jacob Busic and Donald Berniard. Both were starters last season as well. The four linebackers are the heart of the defense. John Marshall and Colin Ramos barely break 200 pounds but are the leading tacklers on the team. Marshall, a senior team captain, is a versatile athlete who has many responsibilities in a rover-type position known as "Striker" in this defense. He leads the team in total tackles, tackles for loss, passes broken up, quarterback hits, and is second in sacks behind Busic.
Asked to describe his role, Marshall said, "It is an interesting position. You sometimes need to take people on with your hands and find your way around them to make a play." He then added, "I've learned a lot of ways to do that the past three years, especially against some of the offensive linemen who outweigh me by a hundred pounds or more. You find intuitive or creative ways to do it."
The Irish pass receivers have a distinct size advantage over the smallish Midshipmen defensive backs. Mbiti Williams is their best cornerback but stands only 5'9". Navy may be vulnerable to the likes of Notre Dame wideouts Jaden Thomas, Deion Colzie and Tobias Merriweather. It will also be fun to watch the 209-pound Marshall attempt to contain Michael Mayer if that indeed is the matchup. An even bigger problem for this secondary is the Irish ground game. None of these players will be pleased to see Audric Estime bearing down on them with a full head of steam, especially in the second half.
Assuming favorable weather conditions, Tom Rees may call more passing plays early in the day for Drew Pyne. The Irish need to establish a more capable aerial game to become a complete offensive team, and Pyne should have plenty of time in the pocket this week. Receivers such as Lorenzo Styles, Braden Lenzy and Merriweather also need to reestablish themselves as legitimate threats.
The downside is a pass-heavy attack will never become the identity of this season's offense. It has become obvious that the linemen and tight ends are better at blocking, and the tailbacks are better at running, than Pyne is at throwing and his wide receivers are at getting open and catching. Notre Dame has been more successful when Rees does not ask Pyne to play above his capabilities. This formula has worked well recently because the Irish offensive line and tailbacks have been hitting their stride.
Asking Pyne to throw it downfield comes with risks, but it is not necessarily a bad week to attempt to raise the ceiling of the passing game.
NAVY'S OFFENSE vs. NOTRE DAME'S DEFENSE
The Midshipmen have rushed for 237 yards per game this season. That is good performance by most objective measures but a step down from the 300+ yards that Navy was routinely putting up under Nuimatalolo prior to 2020. While roster attrition could be a factor in this decline, that lofty level of achievement mostly predated a tightening of the rules for blocking below the waist.
The loss of Lavatai limits the Midshipmen in that he was a competent passer and a more powerful option runner. Arline is an elusive ball carrier but has thrown just five passes with one completion for three yards and an interception. If Navy falls behind, Nuimatalolo may call upon senior Maasai Maynor to mix in a higher percentage of passes.
Navy gets most of its rushing yards from fullbacks Daba Fofana and Anton Hall. The most dangerous pitch man is slot back Maquel Haywood, a 5'8" speedster. Notre Dame played its best defense of the season last week from a gap assignment and tackling perspective and will need a similar effort to stop the option game in its tracks.
The Irish line should also enjoy an advantage over the Navy offensive front. Right tackle Kip Frankland is the leader of a group that is the lightest Notre Dame will face this season. As you might expect, the Midshipmen are more proficient at run blocking than pass protection. If Navy can be forced into passing situations the Irish should be able to apply considerable pressure. The key to gaining the upper hand and getting off the field quickly is to win on first down.
Navy's top targets in the passing game are wide receivers Jayden Umbarger and Mark Walker. Haywood and Vincent Terrell are also a factor out of the backfield. All of the Midshipmen skill position players except Walker are built low to the ground and should be tackled accordingly.
SPECIAL TEAMS
Chris Tyree should have an opportunity to return a kickoff this week as Navy's kicker rarely reaches the goal line. Brandon Joseph has done a good job with punts although he is not a breakaway threat. The Irish continue to amaze fans and frighten future opponents with their punt blocking prowess. The Midshipmen have suffered two blocked field goal attempts this year, so the Irish may be looking to exploit a vulnerability there as well.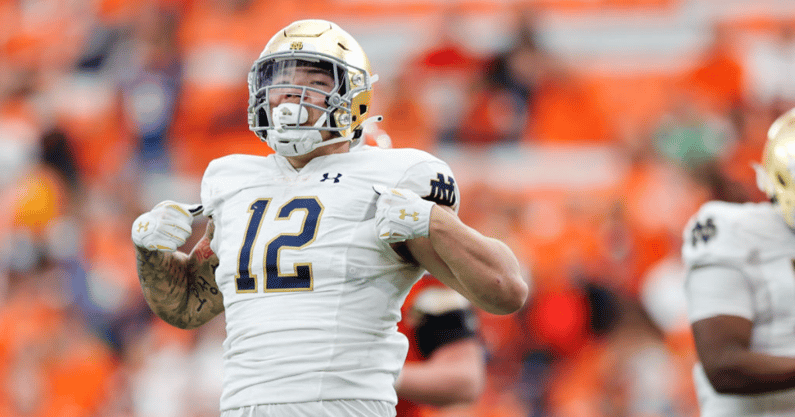 The other focus area for Notre Dame is kicker Blake Grupe. He is in a bit of a slump and needs to get back on track.
The Midshipmen have an excellent punter in sophomore Riley Riethman. He has averaged over 45 yards and has been a valuable weapon this season. It will be interesting to see if he can maintain that average when he knows that extreme pressure is coming fast.
Kicker Daniel Davis has converted 10 of 17 field goals for Navy but is shaky outside of 40 yards. Haywood returns kickoffs but has not had any notable successes. Amin Hassan is the team's punt returner. He is elusive and has a 57-yarder to his credit. It would be disappointing for Irish fans if he gets more than one or two chances during this game.
SUMMARY
The largest question for Notre Dame this week is whether they will carry over the energy and physicality from previous weeks or they will allow Navy to get the jump on them. This season has taught them there are no sure wins, so hopefully the coaching staff and leadership among the players take nothing for granted.
Notre Dame can throw the ball early to help build a lead but they should not need to pass much if at all in the second half. If the defense does its job, the Midshipmen will be hard pressed to cross midfield let alone score touchdowns. The Irish defenders have also rediscovered turnovers recently, and they should be able to force a couple of them on Saturday. It's a reach to predict another big play from special teams although no one would be surprised with a block leading to a score.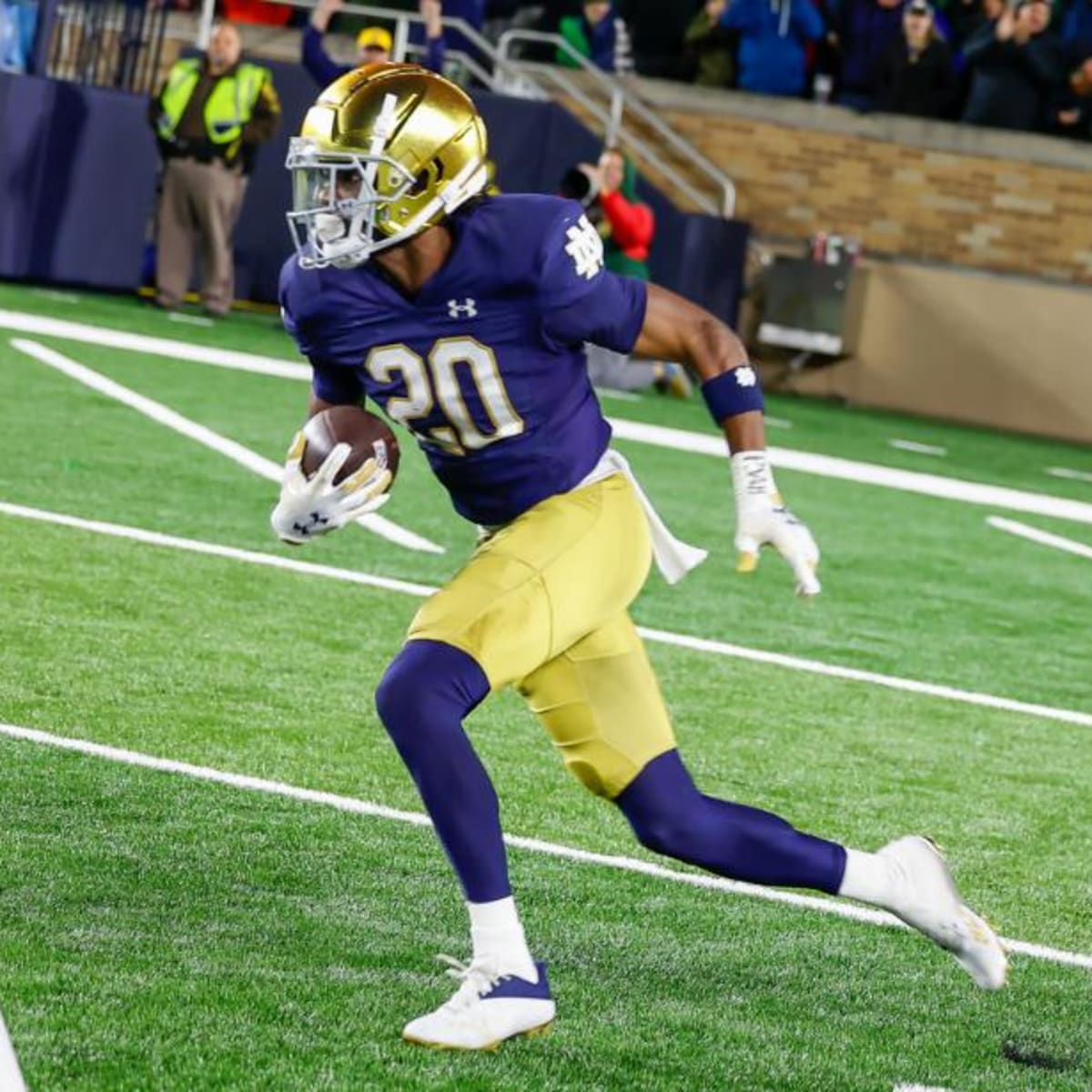 There is also an opportunity in this game to get young players onto the field. Notre Dame has only four games remaining (including a bowl game), so those who have yet to play can do so for the remainder of the campaign without losing a year of eligibility.
Here are a few questions that will shed light on the outcome:
Can the Irish defense cover their assigned gaps without costly breakdowns?
Will Pyne and his wide receivers manage to get more closely acquainted?
Can Notre Dame match its Clemson game output with 263 rushing yards?
Which team will win the turnover battle?
Can Notre Dame's special teams provide another highlight reel play?
Will the Irish defenders tackle with the same enthusiasm we saw last week?
Can Freeman and his staff find playing time for the entire traveling squad?
Will the Navy secondary survive its collisions with Estime?
PREDICTION
Notre Dame should be on a mission to convince the college football world they belong in the Top 20 and ultimately the Top 10 when the season is over. Avoiding a letdown here is necessary and important. There are no excuses imaginable for a lackluster performance. Navy will always fight hard but they are outmanned and cannot stop a determined effort by the Irish. They do not have the size or playmaking ability to do serious damage, especially with Lavatai on the sideline. The only team that can stop Notre Dame on Saturday is Notre Dame.
NOTRE DAME 41 NAVY 13
Tell John what you think in the comments below