Notre Dame plays host to the Toledo Rockets on Saturday afternoon in its season home opener. These teams will meet for the first time in history as the Fighting Irish continue the recent trend toward scheduling opponents from the Mid-American Conference (MAC). Coach Brian Kelly's team escaped Tallahassee, FL last week with an overtime victory, but it was a costly venture in terms of injuries and attrition. Consequently, several true freshmen have been elevated on the depth chart and will likely see action this week. By contrast, the Rockets are the epitome of a stable program with 21 returning starters from last season and a capable head coach in Jason Candle. The game will not be televised on a conventional network channel but can be live-streamed on NBC's Peacock Premium Network (subscription required) beginning at 2:30 PM Eastern Time.
It has been a busy week for the medical staff in South Bend. Unfortunately, there isn't much good news to report. Left tackle Blake Fisher will have the meniscus repaired in his right knee and will be sidelined for at least eight weeks. Linebacker Shayne Simon has a torn labrum and will miss the rest of the season. Tight end Kevin Bauman broke his fibula and will be sidelined at least six weeks. Rover Paul Moala, who tore his right Achilles tendon last October and completed an exhaustive rehab program to return to action last week, tore his left Achilles tendon against the Seminoles. Finally, senior slot receiver Lawrence Keys, who was on the field only briefly last week, has left the team and will transfer at the end of this semester. Keys led all receivers this spring in the Blue-Gold game with five receptions for 115 yards, and was reportedly poised for a breakout season.
Also, defensive end Jordan Botelho and running back C'Bo Flemister remain out of action for undisclosed reasons. Their continued absence from the lineup is not injury-related.
This rash of injuries and attrition has rippled through the depth chart this week. [Read carefully because there will be a quiz at the end of the article.] Sophomore Michael Carmody will start for Fisher at left tackle. He is backed up by Sophomore Tosh Baker. Freshman Joe Alt has moved up to Baker's spot immediately behind starter Josh Lugg at right tackle. With both starter Marist Liufau and backup Simon now out at weak side linebacker, freshman Prince Kollie is next in line behind JD Bertrand. Jack Kiser remains at rover but will cross train at the outside spot with Bertrand and Kollie. Sophomore Xavier Watts has been moved over from wide receiver to fill Moala's spot in the rover rotation. The receiver depth chart now has freshmen Lorenzo Styles and Deion Colzie listed in the two-deep in place of Keys and Watts. Coach Kelly seemed positive regarding the move of Watts to defense.
"We had been having conversations for finding a role for X because he's such a fine player and fine athlete. Kelly said. "He's certainly looks the part. We're going to play him on Saturday. He's going to play Rover when we get into the right situation. He doesn't have all the knowledge of the position. We're going to pick our spots. You're not going to see him line up on the first play or first series, but we're going to pick our spots and get him involved. We like him. We wouldn't trade him. He's a guy we want on the field and we value him a lot. This is a way to get him going."
Toledo Head Coach Jason Candle has been at the school since 2009. He ascended to the top job in 2015 and has posted a 39-21 record with one MAC Championship title and four bowl appearances. Candle has landed the No. 1 recruiting class in the MAC in each of the past five years. The 21 returning starters could have risen to include all 22 positions had linebacker Dan Bolden escaped injury this fall. The high number is partly due to the expanded eligibility afforded under special COVID rules, but his players clearly buy into his system and style of coaching. Candle spoke highly of his 2021 team earlier this week. "This is a mature group of guys who come in with a great attitude, who accept coaching and who play with great effort when they go out on the field," he said. "It makes for a fun team to coach."
NOTRE DAME'S OFFENSE vs. TOLEDO'S DEFENSE
The strength of the Rockets program is its defense. They have impact players at all three levels. Up front, ends Jamal Hines and Terrance Taylor know how to find the quarterback. Tackle Desjuan Johnson is a disruptive force who will test the Irish interior players that struggled last week. While the comparative talent level between the MAC and a program like Florida State is quite different, Notre Dame must still be fundamentally sound and on the same page mentally to win these individual battles. Guards Zeke Correll and Cain Madden did not play well at all last week, while right tackle Josh Lugg was not effective in the running game. The running backs were hit behind the line on nearly every carry and made positive yards largely by their own efforts.
The Noles' strategy appeared to be stop the run by overloading the line of scrimmage and dare Notre Dame to beat them through the air. Jack Coan did just that with 366 yards passing and four touchdowns, so it's unlikely we'll see a repeat of that game plan from Candle. If the Rockets can win some battles up front, they believe they have enough talent in the back seven to give the Irish all they can handle. Linebacker Dyontae Johnson is their leader and an all-conference player. Samuel Womack is a stud at cornerback, but the secondary will miss star safety Tycen Anderson if he is unable to play due to a lingering leg injury.
The keys to the game for Notre Dame are to 1) establish the run and achieve a semblance of balance on offense; 2) ensure that Carmody can protect Coan's blind side; and 3) the wide receivers must get separation from their defenders. Although Toledo does not have talent at the level of Notre Dame or Florida State, they do have several quality players. They are also a veteran unit that is well-coached and unlikely to make mental mistakes. The Irish have endured a lot of upheaval and turmoil this week, and that may show up in the early going when the Rockets are fresh and inspired.
TOLEDO'S OFFENSE vs. NOTRE DAME'S DEFENSE
Once again, Notre Dame will face a two-man quarterback rotation featuring an accomplished passer and a dangerous runner. Carter Bradley hit eight of twelve passes last week for 183 yards and one touchdown, while Dequan Finn hit four of five throws but led the team in rushing with 82 yards and a score. Bradley will start but Finn will definitely play.
Center Bryce Harris, a Rimington Award candidate, anchors the offensive line. This veteran group has six players who have started for a full season in their careers. They are not huge by Power Five standards, and Notre Dame's defensive front is the best they will have faced by a wide margin. Still, it will be interesting to see if or how long they can hold up to the Irish.
Bryant Koback is the primary running back, with Micah Kelly and Jacquez Stuart in reserve. Koback rushed for 1200 yards in 2019 and was on a similar pace in the six games the Rockets played in 2020. He was also the team's second leading receiver last year. He will test the Irish linebackers, who are admittedly in a state of flux after last week's display of poor tackling and the injury status of multiple key contributors.
The passing attack is loaded with four receivers who have experience and have produced solid results during the previous two seasons. Danzel McKinley-Lewis, Isaiah Winstead, Devin Maddox and Bryce Mitchell are all viable targets. Tight ends Drew Rosi and Jamal Turner are capable receivers and blockers in Candle's offense. Carter and Maddox hooked up for an 84-yard passing touchdown last week.
SPECIAL TEAMS
Notre Dame fans were delighted to see a confident and strong-legged Jonathan Doerer last week. He certainly answered the call when he was needed most. Jay Bramblett punted well, but he needs to work on his acting if he expects to draw 15-yard penalties instead of a measly five. The return game was once again missing last week, but perhaps the coaches will let Chris Tyree or Kyren Williams give it a try in front of the home crowd.
All of Toledo's key special teams personnel are back this year. Senior Bailey Flint, a four-year starter, returns at punter. His best season was in 2019 when he averages 47.3 yards per punt. Thomas Cluckey and Evan Davis shared the place-kicking duties in 2020. Cluckey successfully converted the extra points last week. There were no field goal attempts in the Rockets' 49-10 rout of Norfolk State, but Cluckey was five for five in the abbreviated 2020 season.
The group to watch is the punt block unit for Toledo. Last week they blocked two attempts and ran them in for scores.
SUMMARY
What we have in Toledo is a well-rounded team with no glaring weaknesses. They are solid in the trenches and possess the requisite skill to acquit themselves well against most teams. It's reasonable to assume they will be one of the best teams in their conference. The question for Notre Dame is where they will be physically and mentally at kickoff. There is an obvious need to prove that the running game can work much better than it showed in Tallahassee. The passing attack could improve if Coan is able to hit a deep ball to Lenzy and they are able to get production from the slot position. It would also help if the receivers could catch the ball instead of dropping it.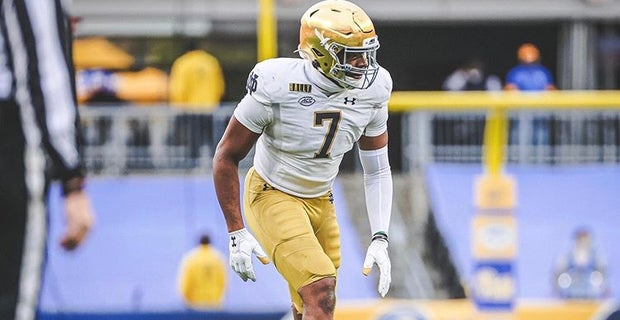 Defensively, the Irish front should pressure the quarterback as they did early against Florida State and refrain from using the soft three-man front. The unit is much more effective when they are dictating to the offense rather than passive and reactive. The corners played well in pass defense last week but tackling could have been better. Strong safety Houston Griffith was solid against the run but was beaten deep for a 60-yard score when he failed to recognize the route quickly enough. Backup safety DJ Brown whiffed on a tackle that allowed FSU's Jeremy Corbyn to romp for an 89-yard touchdown. Kyle Hamilton was his old self at free safety, and that made quite a difference. There is much to clean up along the back seven but it's impossible to know how much improvement will occur in a few practices with a few new faces sprinkled into the mix.
Here are a few questions that will shed light on the outcome:
Will Toledo's two quarterback system keep Notre Dame off balance?
Can Notre Dame fix its running game and spring Williams or Tyree for big chunk gains?
Will Coan follow his debut performance with another solid outing?
Which Irish freshmen or newcomers to the lineup will distinguish themselves?
Will Notre Dame win the turnover battle again this week?
Can the Irish avoid any more serious injuries this week?
How many people will curse the Peacock sign-up process after 30 minutes of frustration?
Will another reporter dare to ask Brian Kelly about his team's execution?
PREDICTION
Once again, it's difficult to know how prepared the Irish will be after the injuries and turmoil they've endured. The result should not be in doubt based on a talent disparity but the margin of victory can vary significantly if Notre Dame is not focused. The Rockets will come into town with the belief they can win if they play hard and avoid mistakes. That may be wishful thinking, but unfortunately its not out of the question. That said, I expect to see better balance in the offense and a more physical effort by the defense. It will be enough to take the steam out of the Rockets.
NOTRE DAME 41 TOLEDO 20