Following a perfect regular season and a disappointing playoff loss, Notre Dame opens its highly anticipated 2019 campaign with a Labor Day road game against the Louisville Cardinals. The Fighting Irish return much of the nucleus from last season, and boast a wealth of young talent to compete for positions vacated by the likes of current NFL rookies Jerry Tillery, Julian Love, Miles Boykin, Drue Tranquill and Te'Von Coney. Coach Brian Kelly enters his tenth year at the helm, and Coordinators Chip Long (offense) and Clark Lea (defense) return as well. The game will be televised by ESPN beginning at 8:00 PM Eastern time.
Louisville is coming off a disastrous 2-10 season fueled by an utter meltdown on defense. The Cards failed to win a game within the ACC and ended the campaign with five losses by an average score of 59-19. As a consequence, Coach Bobby Petrino and his staff, including Defensive Coordinator Brian Van Gorder, were shown the door last December. The Cardinals turned to Scott Satterfield, who was highly successful at Appalachian State.
The Irish are banking on the return of quarterback Ian Book and most of his supporting cast to improve upon last year's 31 points per game production. The offensive line returns intact except for newcomer Jarrett Patterson at center. The receiving corps lost Boykin but retained Chase Claypool, Chris Finke, and a host of promising young players blessed with speed and quickness.
The running game will miss the big plays by Williams, but Jafar Armstrong, Tony Jones and freshman Kyren Williams will be more than adequate. The tight end position remains strong despite the losses of Alize Mack to graduation and starter Cole Kmet to a broken collarbone. Brock Wright and Tommy Tremble will hold down the fort until Kmet returns in October.
Defensively, Notre Dame boasts a quartet of talented pass rushers in Julian Okwara, Khalid Kareem, Daelin Hayes and Ade Ogundeji. The interior line will miss Tillery, but a rotation of Kurt Hinish, Myron Tagovailosa-Amoso, Jayson Ademilola, Ja'Mion Franklin and freshman Jacob Lacey should be stout enough as long as they remain healthy.
The linebacking corps will attract the most interest since at least two new starters will be on display. Drew White is expected to be the man in the middle. He will most likely be flanked by 2018 holdover Asmar Bilal and rover Jeremiah Owusu-Koramoah. Fans can expect liberal substitutions at these spots as the staff has plenty of depth and a desire to deploy the best options in running or passing downs.
The back line is strong with safeties Jalen Elliott and Alohi Gilman. Cornerback Troy Pride is solid at one spot while several candidates face the difficult task of filling Love's shoes on the other side. Among them are Donte Vaughn, Shaun Crawford, Houston Griffith and TaRiq Bracy.
An area of some concern is new starters are required at kicker and punter. Jonathan Doerer takes over as the place kicker and freshman Jay Bramblett will handle the punting chores. The return and coverage teams have plenty of quality athletes to draw from, so productivity can improve with sufficient emphasis on the practice field.
On the injury front, wideout Michael Young joins Kmet on the sidelines with a broken collarbone, but the rest of the squad is ready to go. The status of receiver Kevin Austin remains unclear as he and Kelly work through a team disciplinary matter. Two key Louisville players will miss this game due to suspensions – tight end Jordan Davis and safety TreSean Smith. Backup quarterback Malik Cunningham is available after suffering a leg injury in camp.
NOTRE DAME'S OFFENSE vs. LOUISVILLE'S DEFENSE
Satterfield is changing the defensive scheme from a 4-3 to a 3-4 alignment. Amonte Caban, G.G. Robinson and Tabarius Peterson are experienced linemen, and backups Jared Goldwire and Derek Dorsey have some experience. At linebacker, mainstays C.J. Avery and Dorian Etheridge return while two new starters are being added, including Ohio State transfer Rodjay Burns. Satterfield is aware of the daunting task facing him as the group managed only 11 sacks and 13 turnovers last year while giving up an average of 277 rushing yards per game.
"Yeah, our defense is all predicated on everyone being there in their gaps and we've gotten a ton better with that," Satterfield said. "If you get out of a gap in this defense, then you're going to get gashed."
Safeties Russ Yeast and Khane Pass lead the Louisville secondary. Cornelius Sturghill is the incumbent at one corner spot and is joined by newcomer Chandler Jones. When Notre Dame deploys multiple wide receiver formations, the versatile Burns will be tasked with covering the likes of Finke or Lawrence Keys in the slot.
The Irish have an edge should they elect to run the ball at this undersized group seeing its first live action in a new system. Stamina will also become an issue for the Cardinals in the second half. When Book drops back to pass, he should enjoy a clean pocket and be able to spot an open receiver downfield. Working through progressions quickly without getting happy feet in the pocket has been an area of focus for him during the offseason. Improvement in this regard will go a long way toward raising the ceiling of this offense.
LOUISVILLE'S OFFENSE vs. NOTRE DAME'S DEFENSE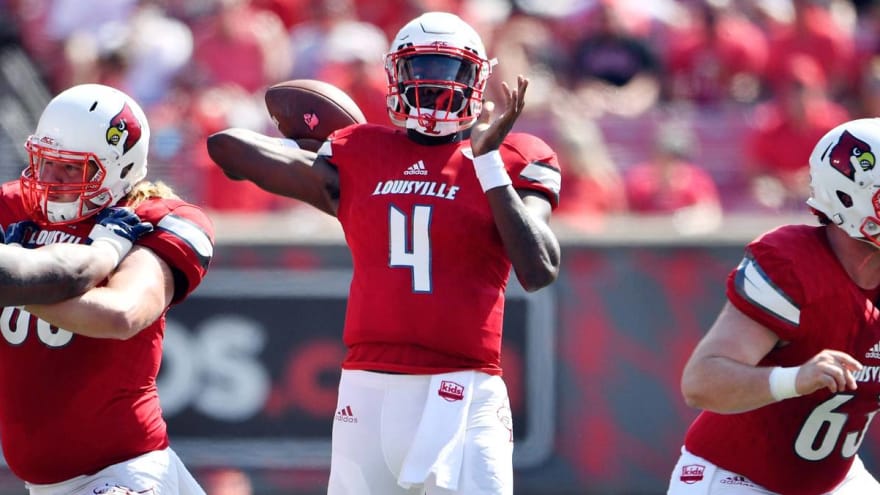 Jawon Pass will start at quarterback for the Cards after an up and down season in 2018. The 6'4" 240 pounder has the physical tools to be an effective dual threat player if he has sufficient time to make decisions. Cunningham played extensively in relief last year and was the team's leading rusher. There are quality players at wide receiver in Dev Fitzpatrick on the perimeter and lightning bug Tutu Atwell in the slot. Veteran Seth Dawkins is back to man the other outside position.
The running game also has good potential. Tailbacks Hassan Hall and Javian Hawkins have plenty of burst if they are able to find a crease. Dae Williams is the big back used in short yardage situations. This offense will depend on the performance of the line, where massive Mekhi Becton (6'9" 370) is the anchor at left tackle. Center Cole Bentley and guard Caleb Chandler saw action last year, but the group outside of Becton remains a work in progress.
Nevertheless, Satterfield will use multiple formations and try to control time of possession to limit the offensive opportunities for Notre Dame. He must rely on his blockers to create holes against the untested Irish linebackers, and hope this group can protect Pass long enough to have success down the field.
Notre Dame must take advantage of its deep roster and apply maximum defensive pressure by rotating fresh players. Coordinator Clark Lea has quality depth at all positions, although Irish fans are most eager to see the first action by highly touted freshman safety Kyle Hamilton.
SPECIAL TEAMS
Notre Dame is turning over its kicking chores to junior Jonathan Doerer, who has a strong leg but has been somewhat erratic in prior seasons. The issue is more mental than physical, and both coaches and players have worked hard this spring and summer to raise his level of consistency and overall confidence. Jay Bramblett, the freshman punter, managed only 35 yards per attempt in the spring game, so there is plenty of room for improvement.
Senior kicker Blanton Creque has been a solid performer for the Cards. His leg strength and accuracy are above average. Punter Mason King, another senior, barely reached 40 yards per boot last year. Louisville's return game is led by Burns (punt) and Hall (kickoff). Both scored touchdowns last season and are a threat if given sufficient room to maneuver.
SUMMARY
The Cardinals will run the ball to test the Irish interior and linebackers, and throw quick, crisp passes to counter Notre Dame's intense pocket pressure. A similar strategy nearly worked for USC a year ago, but the Cards don't have that level of talent. Satterfield may even call a couple of quarterback draws given the size and running ability of Pass and Cunningham. The battle between the Irish defensive ends and Louisville's Becton (#73) will be NFL-worthy.
The Irish need to attack on defense rather than sit back and play a containment game. A relentless rush and tight coverage can generate turnovers, and their talented safeties should be able to clean up mistakes that result from aggressive play in front of them. Offensively, fans want to see a diverse and effective running game powered by an offensive line that has evolved beyond the relatively soft style deployed in 2018. When Notre Dame needs a yard or two on third down, the pile needs to move backward by three or four.
Here are a few questions that will shed light on the outcome:
Which team can generate the most productive running game?
Can Book connect downfield with his new stable of fast receivers?
Will Notre Dame's pass rushers live up to their advance billing?
Can Louisville keep the ball away from the Irish offense?
Will the Irish front seven be able to contain quarterback scrambles and designed runs?
Can Notre Dame avoid mental mistakes and unnecessary penalties in its debut?
Will the new Irish kicking specialists perform to a high standard?
PREDICTION
Notre Dame has too much talent for this to be a close game beyond the first 20 minutes, but Satterfield is a good coach and will get the most out of his athletes. Still, new systems on both sides of the ball are never mastered in Week One, and the Irish are simply fine tuning the schemes that worked very well last year. The Cardinal defense is the most suspect unit on the field, and the visitors should have their way with them in the second half if not sooner.
NOTRE DAME 44 LOUISVILLE 14