Notre Dame (10-1) will face top ranked Alabama (11-0) in the first national playoff semifinal on Friday. The venue will retain its original billing as the Rose Bowl, but due to ongoing COVID restrictions in California the teams will play in Arlington, Texas. The Fighting Irish have reached the Final Four in two of the past three seasons, and are looking to take the next step in the process of advancing the program. The challenge is formidable, however, as they will have to slay one of the game's perennial giants. ESPN will televise the contest beginning at 4:00 PM Eastern time.
An alternate viewing option is available on the ACC Network. For fans who have access to ACCN, the ESPN game telecast will be paired with Notre Dame's radio network featuring announcers Paul Burmeister, Ryan Harris and Jack Nolan. This simulcast also begins at 4:00 PM EST. The ACCN will offer extensive pregame coverage beginning at 2:00 PM.
Coach Nick Saban has built an impressive roster with elite size, speed, skill and depth. Known as an architect of outstanding defenses, Saban has adapted to the evolution within the sport as well as rule changes that favor the offense. This year's edition of the Crimson Tide is an offensive juggernaut. Led by quarterback Mac Jones and a massive offensive line, Alabama has averaged 50 points and 544 yards per outing. Wide receiver DeVonta Smith was named the Associated Press National Player of the Year and the Southeastern Conference (SEC) Offensive Player of the Year, while running back Najee Harris is the SEC's leading rusher.
Coach Brian Kelly guided Notre Dame into the playoffs by winning ten games for the fourth consecutive season. Although the Irish cannot match the level of talent that Alabama and Clemson bring to the table, no other school provided a compelling argument that they are more deserving to participate in this tournament. Meanwhile, Saban just recorded his 13th straight ten-win season in Tuscaloosa and has won five national titles at the school.
Irish Defensive Coordinator Clark Lea agreed to continue his duties through the playoffs. The popular Nashville native will leave shortly to become the head coach at Vanderbilt. This week's challenge of devising a game plan to stem the relentless Tide is certainly a baptism of fire for his upcoming career in the SEC.
Each team has lost its starting center and a valuable playmaker at wide receiver to season ending injury. Jarrett Patterson anchored the Irish offensive line until he went down late in the season. Wide receiver Kevin Austin never really got going this year after breaking his foot in fall camp, only to immediately suffer a recurrence upon his return to the lineup. Alabama lost center Landon Dickerson in the conference championship game against Florida, while speedy wideout Jaylen Waddle broke his ankle in early October. Waddle is reportedly nearing a return to action but is not expected to play in this game.
In keeping with tradition, the coaches are spouting the usual cliches to the media. In speaking about the Irish offensive line, Saban remarked, "I think these guys are really, really good. They have a lot of experience. They've played together for a long time. They don't miss their targets very often. They finish blocks. They play hard. They're physical and I think that's probably the best word to describe them on both sides of the ball up front is they're very physical. These guys do a really good job. They don't make very many mistakes, I can tell you that."
Kelly voiced similar musings about Alabama's defense. "Both corners are outstanding. Fundamentally sound in every area. They have all the answers in terms of what they want to do. And they do it very, very well. It's not an overstatement to say that they're well-coached. I know it sounds like coachspeak, but they're well-coached in all areas, and what they do they do extremely well with really good football players."
NOTRE DAME'S OFFENSE vs. ALABAMA'S DEFENSE
The fact that jumped out at me immediately about the Alabama defense is they have only one senior starter – middle linebacker Dylan Moses. The rest of the 3-4-4 alignment is comprised of five juniors, four sophomores and a freshman. Another freshman, Malachi Moore, is rotated in as a fifth defensive back on passing downs.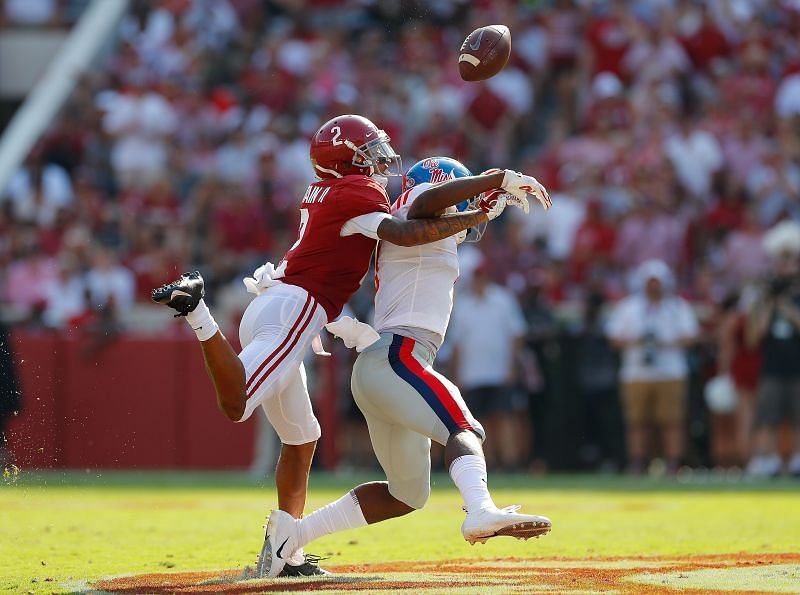 Outside linebackers Chris Allen and Will Anderson are productive pass rushers, while Moses and Christian Harris stuff the running game from their inside positions. Up front, end Christian Barmore is the most disruptive player. Cornerback Patrick Surtain II, the SEC Defensive Player of the Year, leads the secondary. He is joined by fellow corner Josh Jobe. Daniel Wright and Jordan Battle are an excellent pair of safeties.
If the Tide follows the successful plan employed by Clemson, they will try to pressure quarterback Ian Book up the middle and use Allen and Anderson as pincers to cut off his escape routes. The matchup between Notre Dame's outside receivers and Alabama's cornerbacks favors Surtain and Jobe. Javon McKinley and Ben Skowronek are not especially fast and will have trouble getting separation. If Book elects to pull the ball down and look to scramble, it probably won't end well.
The Irish are going to have to employ the tight ends in the passing game and focus on running the ball successfully. The lack of a deep threat will allow Saban to bring extra bodies into the box. Book could use some help from the likes of Braden Lenzy, Avery Davis or Lawrence Keys to help stretch the field and give him more options. This is a long shot because these players have done little thus far in the season except for Davis' heroics in the first matchup with Clemson.
ALABAMA'S OFFENSE vs. NOTRE DAME'S DEFENSE
Quarterback Mac Jones is both the director and the beneficiary of the offensive talent Saban has assembled. With little disruption in the pocket, Jones has been able to complete 76% of his passes for 340 yards per game. These are not short dink and dunk throws, either. Jones averages a phenomenal 15 yards per completion. The team has also converted on 59% of its third down chances. Meanwhile, Harris has rumbled for 1262 yards this season and has rushed for 24 touchdowns. He is also the team's third leading receiver.
As impressive as Alabama's statistics are, the group up front makes it all possible. Tackles Alex Leatherwood and Evan Neal are outstanding bookends while guards Deonte Brown and Emil Ekiyor are consummate road graders. Chris Owens seamlessly plugged into the lineup when all-SEC center Dickerson went down. Together with tight end Miller Forristal, this imposing group of six blockers tips the scales at an even one ton. When the Tide gets serious about picking up short yardage, they bring in another tight end to help lead the way. That person would be 298-pound Kendall Randolph.
If there is any consolation for the Irish in having to face such a powerful offense, it's that Alabama is not currently at its best. Waddle was as dangerous a playmaker as Smith before he went down with a broken ankle. The two of them in the lineup together would frighten half the teams in the NFL. Also, Jones is not a threat to run the ball from the quarterback position. Imagine a player like Trevor Lawrence running the show behind this offensive line.
Coach Lea must judiciously deploy his defensive pieces to slow down the Tide. Not having to worry about a running quarterback should help, but only a little in this case. Look for Butkus Award winner Jeremiah Owusu-Koramoah to shadow Harris when he carries the ball or becomes a pass receiver. If Lea decides to double-cover Smith, the rest of his troops need to hold up in their one-on-one matchups with other receivers such as John Metchie, Slade Bolden, and Forristal. All have been targeted more frequently since Waddle's injury in October. Lea's players believe he has devised a plan that gives them a chance to win. The key ingredient is to win battles along the line of scrimmage, and that will be the toughest part.
SPECIAL TEAMS
By now, you are tired of reading how great Alabama is. Unfortunately, there's more to tell. Kicker Will Reichard has not missed a field goal (12-12) or extra point (73-73) this season. Punter Charlie Scott is so lightly used that he hides from Saban in the sideline medical tent and plays video games to stay awake. Okay, I made that up.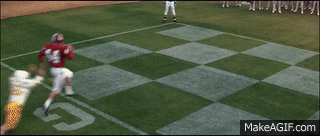 The Tide have historically enjoyed excellent results in the return game under Saban, and this year is no different. His cover teams are also what you would expect – fast and furious. Smith took over the punt return duties from Waddle earlier this season. Obviously, there was no drop in production. Smith has one touchdown and sports a 25-yard average.
SUMMARY
On offense, Notre Dame cannot afford unproductive possessions. Strong north-south running and short, quick passes could work early, but the Tide will adjust accordingly. The Irish will have their work cut out for them unless other lightly used but swifter wide receivers can emerge to open up more of the field. In any event, Notre Dame must keep Alabama's blitzkrieg on the sideline while they score seven points instead of three at every opportunity. It still may not be enough.
Defensively, Notre Dame will deploy all available bodies up front against the formidable Alabama line by rotating in fresh troops for maximum effort. One question is whether Owusu-Koramoah can neutralize Harris. Another is whether the secondary can limit Smith's receiving yards without exposing itself to big plays by others. Defending Alabama's speed is a tall order for Notre Dame's back seven. They don't match up well individually and can't rely on the pass rush to get home against that huge offensive front. Their best bet may be to eliminate long scoring plays and make Alabama earn every yard.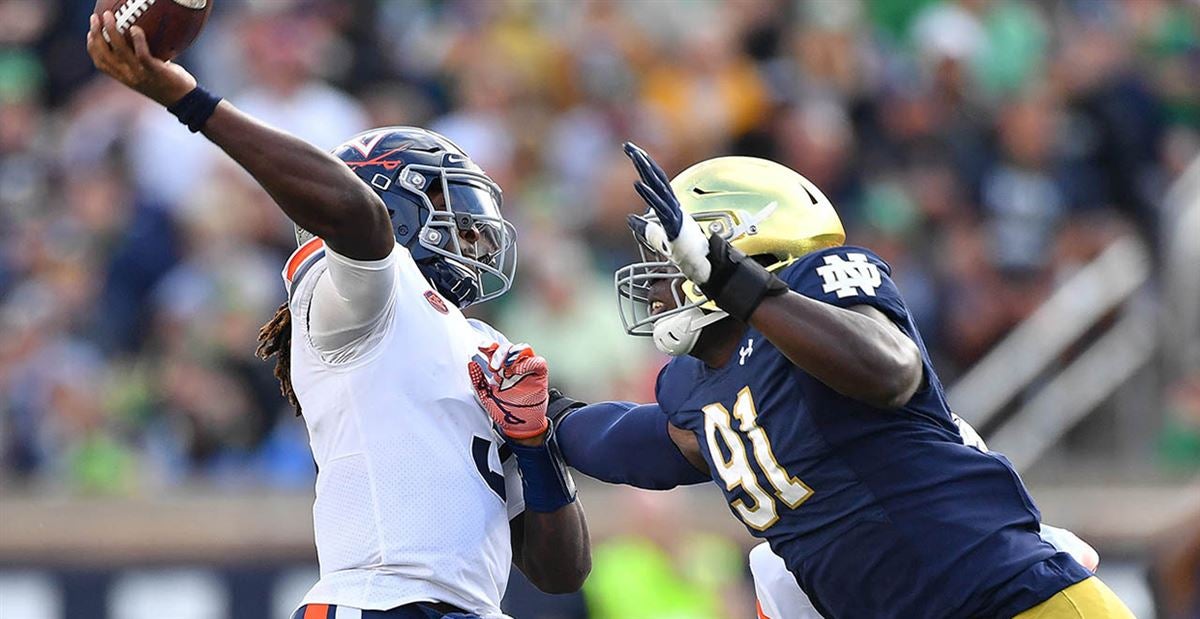 The Tide have a loaded roster and will continue to be a playoff contender for the foreseeable future. The offense will simply reload after several top players elect to enter the NFL draft, and the defense will be even better next year. Note that two freshmen lead the team in sacks (Anderson) and interceptions (Moore).
Here are a few questions that will shed light on the outcome:
Can the Irish generate meaningful yardage on the ground?
Will Notre Dame's faster but little-used receivers give the offense a boost?
Can the Irish pass rush force Jones out of his comfort zone?
Will Book find room to extend plays if his receivers are initially covered?
Can the Irish avoid turnovers and special teams breakdowns that lead to cheap points?
Which defense will be able to get off the field on third down?
Can Notre Dame convert scoring chances into touchdowns rather than field goals?
Is there a vaccine for losing big games?
PREDICTION
There is a reason the path to victory I described in the Summary sounds like wishful thinking. No team has been able to slow down the Tide over four quarters. Opponents with prolific passing games such as Florida and Mississippi have nearly matched their offensive production, but the Irish attack is far less explosive. What makes the task even more improbable is the Irish would have to win the battle in the trenches on both sides of the ball to have a legitimate chance. Although they have enough talent to have some success, Alabama's stable of linemen is bigger and deeper. If anyone would like to believe that the Tide could look past Notre Dame and become vulnerable to an upset, they underestimate Saban and his relentless attention to detail. I'm not sure even the Irish coaches believe they can win, but I do know they'd like to keep the score within a respectable range. That is probably the best outcome Irish fans can hope for.
ALABAMA 42 NOTRE DAME 17
Tell John what you think in the Comments section below