Notre Dame (8-4) takes on South Carolina (8-4) in the Gator Bowl on Friday afternoon. The game is played in Jacksonville, Florida, where both teams have been practicing this week. Both the Fighting Irish and the Gamecocks will take the field without several key contributors from the regular season but the incentive to win is high for both young coaches. This matchup will be nationally televised on ESPN beginning at 3:30 PM Eastern time.
Marcus Freeman must prepare Notre Dame for battle without his best offensive and defensive players, as well as his starting quarterback. Michael Mayer and Isaiah Foskey opted out to prepare for the upcoming NFL draft, while Drew Pyne has since transferred to Arizona State. Young, relatively untested players will fill the oversized shoes of Mayer and Foskey. At quarterback, sophomore Tyler Buchner returns from an early season injury to lead the Irish.
Two more personnel losses may impact the Irish defense. Stalwart defensive lineman Jayson Ademilola was expected to join Foskey and Mayer in the opt-out category in favor of the NFL. The latest word is although he has been practicing with the intention of playing, a lingering rib injury may limit those ambitions (Update: Jayson will not play on Friday). Finally, cornerback Cam Hart recently underwent shoulder surgery and will miss the game. Hart will return to Notre Dame for the 2023 season.
The Gamecocks lineup is even more depleted. They will play without top tailback MarShawn Lloyd and their two best tight ends in Jaheim Bell and Austin Stogner. Bell is a multi-purpose player who was the team's second most productive rusher as well as the top receiving tight end. Bell transferred to Florida State earlier this month. To make matters worse, two of Carolina's top wide receivers, Jalen Brooks and Josh Vann, are unlikely to play. The lone lineup change on the offensive line involves right tackle Dylan Wonnum, who is headed to the NFL.
Coach Shane Beamer's team will also take the field without several of its best defenders. Cam Smith was Carolina's top cornerback and leader of the secondary. Both he and fellow starter Darius Rush will not play. Defensive tackle Zacch Pickens is arguably the team's best overall player, but he has opted out to pursue his NFL dream. Starting edge rusher Gilber Edmond is in the transfer portal and will be replaced by Bryan Thomas.
Turning to those who will play, Notre Dame's offensive line remains intact as starting guards Jarrett Patterson and Josh Lugg will suit up for the Irish one final time. Young players who saw limited action during the regular season may get extended playing time. This group includes wideout Tobias Merriweather, vypers Jordan Botelho and Junior Tuihalamaka, safety Xavier Watts, linebacker Jaylen Sneed, and freshman quarterback Steve Angeli.
South Carolina is led by quarterback Spenser Rattler, who closed out the 2022 campaign with strong performances in leading the Gamecocks to upset wins over Tennessee and Clemson. Wide receiver Antwane Wells is a first team ALL-SEC performer with 63 receptions this season.
NOTRE DAME'S OFFENSE vs. USC'S DEFENSE
With Buchner at quarterback for the first time in 16 weeks, expect Notre Dame's game plan to be run-heavy. The Irish should be able to capitalize against a defense that allowed nearly 200 yards rushing per game with Pickens in the lineup. While the trio of Audric Estime, Chris Tyree, and Logan Diggs have rushed for 2,000 yards this year, the passing game will have to contribute enough to keep the Gamecocks from jamming the line of scrimmage.
Buchner will enjoy better pass protection than he did in early September when the offensive line was still in a state of disarray. The biggest questions that need to be answered favorably are his decision-making and accuracy. Recent practice reports have been cautiously optimistic but live action is a different situation.
The other challenge for Tom Rees and the Irish offense is the absence of Mayer to command the attention of the defense and provide a security blanket for the quarterback. Young players such as Mitchell Evans and Holden Staes will get an opportunity to show what they can do and provide a preview of life in 2023. This evolution will provide an immediate increase in the opportunities for the wide receivers. The likes of Jayden Thomas, Deion Colzie, Lorenzo Styles and Tobias Merriweather will get a chance to show how far they have progressed in the past month.
Despite the attrition for Carolina, End Jordan Burch and tackle Tonka Hemingway are quality players up front in the Gamecocks' 4-2-5 defense. Sherrod Greene is the most productive linebacker and the secondary has plenty of experience despite the loss of two starting corners. Nickel back Marcellas Dial will move into the field corner position, while safeties D.Q. Smith and 6'4" freshman Nick Emmanwori, the team's leading tackler, hold down their traditional spots.
Carolina was better against the pass this season than the run, but it remains to be seen whether the new starters up front or on the back end will impact the unit's overall effectiveness. Either way, Notre Dame should be able to take advantage of these younger players if Rees can create mismatches and Buchner is able to execute effectively.
SOUTH CAROLINA'S OFFENSE vs. NOTRE DAME'S DEFENSE
The Gamecocks were a pass-heavy team even with Lloyd and Bell available to run the ball. Rattler is a 67% passer, although Notre Dame should make a dent in that success rate given the number of receiving targets that are not playing combined with a reduced rushing threat. Rattler is not much of a runner by trade, so pressure in the pocket will be a key to Irish success. Without Foskey, much of that task will fall to Botelho and Justin Ademilola.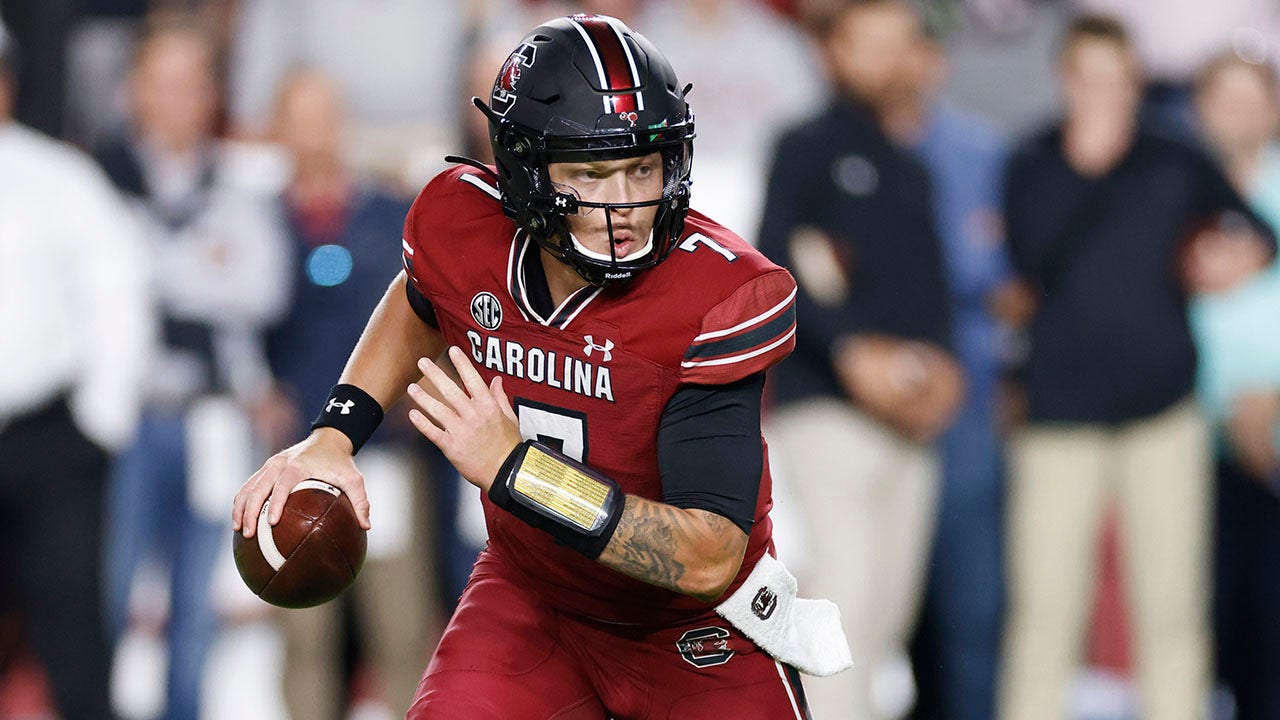 Carolina will rotate Juju McDowell and Christian Beal-Smith at running back. Both are small in stature at 5'9". McDowell is the better pass-receiving threat while Beal-Smith is a fifth-year senior. The only healthy tight end is Nate Adkins. These personnel shortages will limit the number of formations Carolina can run against the Irish. Even if they wanted to go with five wide receivers to give Adkins a breather, they might not be able to find five bodies to run it. The Irish can expect Rattler to look for Wells on nearly every pass play, much the same way that Pyne looked for Mayer when he needed a completion.
One glaring issue for the Gamecocks is that its 2022 Offensive Coordinator, Marcus Satterfield, is now at Nebraska. There isn't an obvious choice to take on that role this week. Beamer insists there is a plan in place for play-calling duties for this contest but he did not elaborate. He hired Dowell Loggains on December 13 to replace Satterfield in 2023, but Loggains will not call the plays on Friday.
Look for Notre Dame to blitz quite a bit in this game. The Irish won't disregard the run altogether, but they will probably believe the rewards for sending an extra rusher or two outweigh the risks. In any case, it will be difficult for Notre Dame to get to Rattler without Foskey and with only four rushers. The Gamecocks have a solid and experienced offensive line led by guard Jovaughn Gwyn.
SPECIAL TEAMS
Notre Dame's seven punt blocks this season has helped put its special teams among the top ten nationally. The Gamecocks hold the top spot, however, as the best overall from a statistical standpoint. They have the second leading punter in the country in Kai Kroeger, who sports a 47-yard average. In the season finale against Clemson, Kroeger averaged over 50 yards on seven kicks, and placed five of them inside the 20 yard-line. He is a leading candidate for the Ray Guy award.
Kicker Mitch Jeter is perfect on his dozen field goal attempts, two of which exceeded 50 yards. In the return game, Xavier Legette has a 100-yard touchdown to his credit.
The Gamecocks also like to run trick plays on special teams. In any non-playoff bowl game, a fake punt or field goal is almost a mandatory requirement. We'll see which team can catch the other napping. You can be sure that both Brian Mason of Notre Dame and Pete Lembo at Carolina are well aware of each other's successes this season. Both were nominated for the Broyles Award given to the nation's best assistant coach (won by OC Garrett Riley of TCU).
Irish Kicker Blake Grupe recovered from a mini-slump during the regular season to complete a positive campaign as a graduate transfer. Punter Jon Sot was even better, although he was not quite as consistent as Kroeger.
SUMMARY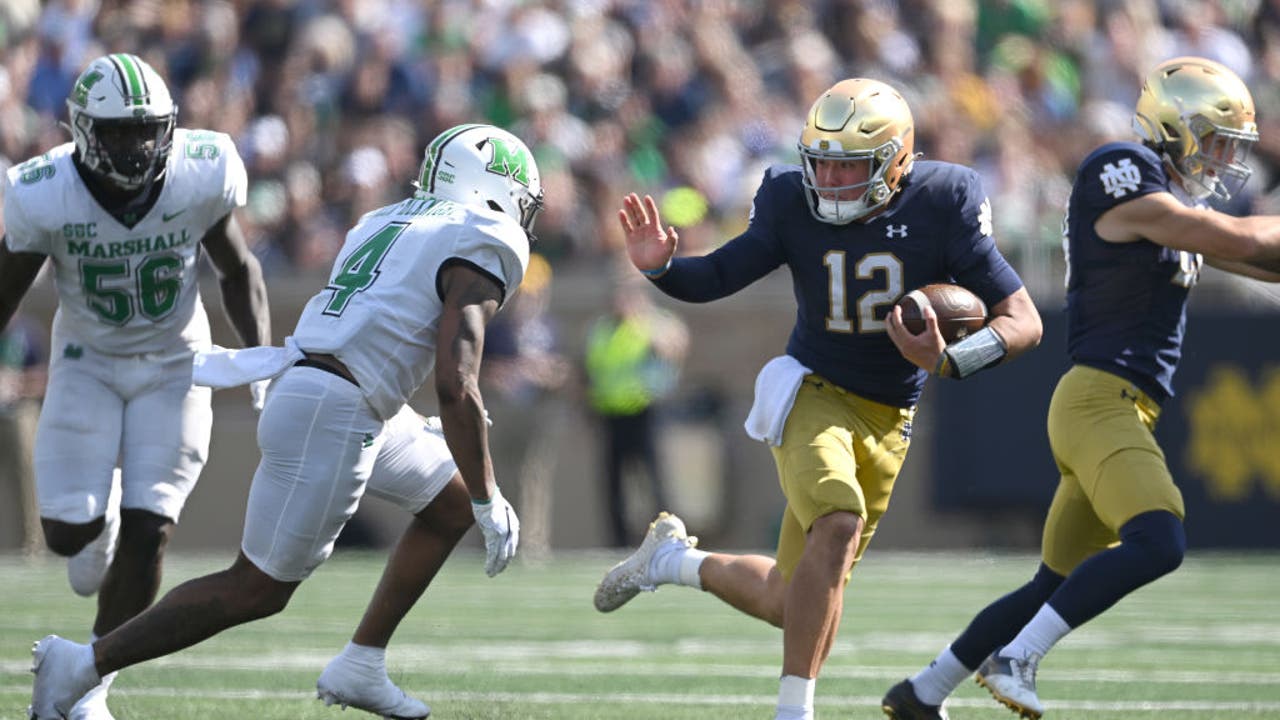 Mayer's absence will also limit the power packages that Rees was able to use to run the ball. Buchner brings some versatility to the offense but it's doubtful that the coaches will turn him loose as a runner in his first start after a serious injury and with no experienced backup. I expect to see quick throws from Buchner unless an ideal situation presents itself for a deep shot downfield. The outcome may rest on how often the young Irish receivers can get open against Carolina's patchwork secondary and whether Buchner can deliver the ball on time and on target. It's a lot to expect Notre Dame to run the ball consistently against a defense that sells out to stop them. The Gamecocks would be wise do that in order to force Buchner to beat them.
Conversely, the Irish defense must take away Wells from Rattler's targets of opportunity and leave the burden of playmaking to a lesser group of backs and receivers. From each team's perspective, most of these coaching strategies are not unique, so winning the battle in the trenches will yield the victor on the scoreboard. Both teams have veteran offensive lines that should have an edge against their defensive counterparts. If the game comes down to the play of each quarterback, Carolina has a distinct advantage.
Here are a few questions that will shed light on the outcome:
Will Notre Dame be able to put any pressure on Rattler?
Which team will run the ball most effectively?
Can Ben Morrison and the Irish secondary blanket Antwane Wells?
Which of these excellent special teams will tip the scales in their favor?
Will any of the tight ends on either team catch a pass?
Which team will have the fewest penalties and turnovers?
Can Buchner shake off the rust and play at a higher level than before?
Will Notre Dame get its younger players on the field for meaningful snaps?
PREDICTION
The quarterback situation for Notre Dame concerns me in terms of the experience, readiness and overall health of Buchner. He is just now getting reacquainted with his receivers, several of whom were not in the lineup in September. On the other hand, Rattler is no Caleb Williams. In fact, Williams pushed Rattler out of the starting job when they were both at Oklahoma. The game should be close but I believe the Irish will run the ball well enough to come out on top. Since so many players are out such that the outcome is much harder than normal to predict, I asked my one-year-old granddaughter for her expert opinion. She thought about it long and hard but ultimately picked the Irish.
NOTRE DAME 27 SOUTH CAROLINA 24
Tell John what you think in the Comments section below.