Six weeks removed from their epic double overtime slugfest in South Bend, Notre Dame and Clemson will square off again in the Atlantic Coast Conference Championship Game. This battle will be waged in Charlotte, North Carolina on Saturday afternoon with no more than 5,240 fans in attendance. Millions more will watch the ABC national television broadcast beginning at 4:00 PM Eastern time.
These two teams are clearly the best in the conference. Both have been deemed playoff-worthy by the selection committee, but the biggest question is whether the losing team's spot in the final four will be revoked. The Fighting Irish appear to have more breathing room since they are currently undefeated. A split with Clemson on the season, provided this game is competitive, should not knock them out of the playoffs in favor of teams with a less impressive resume, such as Texas A&M or USC.
The stakes are higher for Clemson. A two-loss team has never made the playoffs. It would not happen this season, either, if it were a normal year. As we know, however, nothing is normal about 2020. In that spirit, Coach Dabo Swinney has been lobbying hard for his team regardless of Saturday's result. "We feel like we're definitely one of the best four teams in the country," Swinney said. "And there's nothing that's going to happen in that game next week for Clemson or Notre Dame that's gonna change that, in my opinion."
One has to wonder if both coaches would prefer not to play this game. If it were canceled, the teams would head into the playoffs and stage their rematch in a semifinal game. As it stands, the loser will either be eliminated or matched up with Alabama. I'm sure Swinney or Kelly would prefer to let Ohio State suffer the latter fate. It would also be entertaining for Irish fans to watch USC take on the Tide.
In the first meeting between these schools in November, injuries were a significant part of the pregame focus. The key Clemson starters who missed that game are available for the rematch, most notably quarterback Trevor Lawrence. Also ready to go are Tiger defensive lineman Tyler Davis and linebacker James Skalski. Jake Venables, who started in place of Skalski in South Bend, is out with a broken arm. Other potentially bad news for Clemson is that safety Lannden Zanders (shoulder) and cornerback Andrew Booth (thigh) are questionable.
Notre Dame has also seen a few players return to health. Defensive tackle Jayson Ademilola is back as is wide receiver Braden Lenzy. Guard Tommy Kraemer is fully recovered after a laparoscopic appendectomy last month. On the minus side, center Jarrett Patterson (broken foot) leaves a large void at center and backup quarterback Brendon Clark is out with a knee injury. Coach Brian Kelly has yet to decide whether Josh Lugg or Zeke Correll will start in place of Patterson.
FIRST GAME REVIEW
Since the teams played recently, we have a more definitive idea of their relative strengths and weaknesses. As Kelly stated, the victor will be the team that executes best and makes fewer mistakes, as neither team is going to out-scheme the other. Noting that the first game was dominated by the offenses, Kelly expects something different this time around.
"You learn so much about your opponent, and both teams do, that sometimes when you play a second time, it makes it hard to move the football because the defense gets the edge the second time," he said. "Those are probably the things I've learned in the rematches, that the defenses tend to get a little bit of an edge against you because they have seen you and they know a little bit about where they can lean on you."
In reviewing the first game, the Irish scored ten points off turnovers, including a gifted defensive touchdown by Jeremiah Owusu-Koramoah. They were stronger at the point of attack on both sides of the ball. This enabled Notre Dame to outrush Clemson by a whopping 208-34 margin. On third down, the Irish converted ten of 19 chances against just four of 15 by the Tigers. They won the turnover battle by a 3-1 margin. Despite these normally decisive statistics, the game went into overtime because Clemson's explosive playmakers won enough individual matchups to put points on the board.
Notre Dame also left 11 points on the field. Ian Book's fumble as he was about to reach the goal line cost them seven, and Michael Mayer's false start on the Clemson two yard-line almost certainly subtracted four more. The Irish had one other drive stall inside the Tiger ten, but two Clemson threats were stopped at the eight and 13 yard lines, respectively. To sum it up from Notre Dame's perspective, the good and bad breaks essentially evened out, and their superiority in the trenches offset the quick strike capability of the Tigers. In overtime, their physicality won out.
From Clemson's point of view, Lawrence is their leader and his presence in the lineup will make a positive difference. That may be true, but backup D.J. Uigalelei threw for 439 yards and two touchdowns. Even Lawrence will have a hard time improving on that dazzling performance. Besides, his so-called incentive to have a strong game on Saturday is to be drafted by the New York Jets. Lawrence recovered from COVID this year, but he may never recover from that.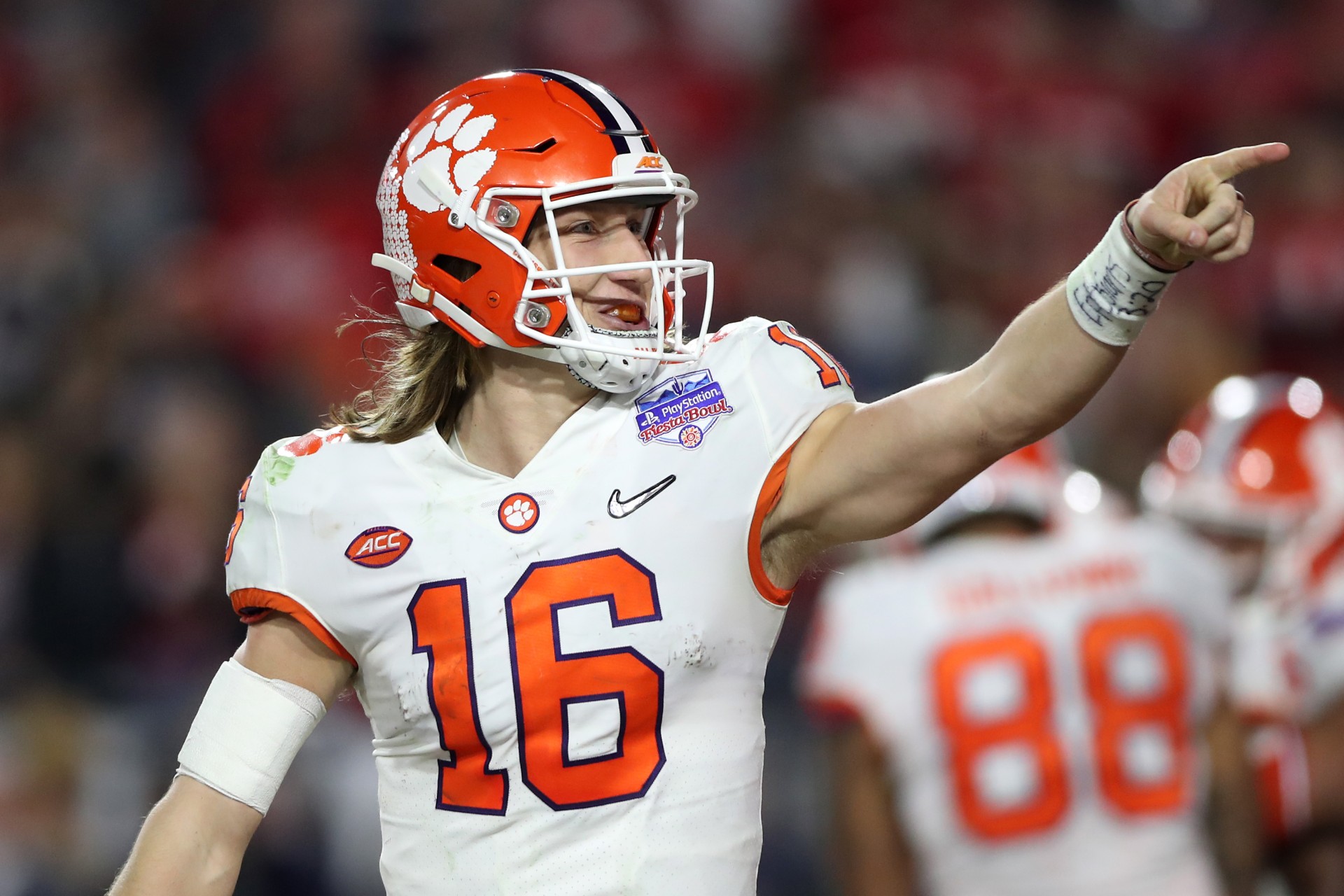 The Tiger defense will get a lift from the return of Davis and Skalski. These players should help Clemson eat into that 208-yard rushing effort by Notre Dame, which is unlikely to be repeated. Patterson's absence from the middle of the offensive line is further damaging to the Irish cause.
In theory, the running ability and experience of Lawrence may be worth a few points to the Tigers. It could translate into a touchdown on one more red zone trip rather than a short field goal. It's also less likely that Travis Etienne will again pitch the ball forward to Owusu-Koramoah and watch him bring it to the house. Still, Swinney knows any expectations of a better outcome may be wishful thinking if the Tigers fail to do a better job up front. Earlier this week, he responded to a question regarding the key matchups on Saturday. "As far as the key positional matchup, it will be up front in the trenches", he said. "We got our butts kicked in the first game. Just that simple."
KEYS TO VICTORY – NOTRE DAME
To win again this week, Notre Dame must improve or sustain results from the first encounter in these areas:
Turnover margin – The Irish need another positive ratio.
Running game – Outrush Clemson again, including from the quarterback position.
Third down conversions – Maintain an advantage here even with Lawrence at quarterback.
Quarterback pressures – The Tigers nearly won the first game despite the lopsided statistics. Victory finally arrived for the Irish when they were able to get to the passer. They need to get to Lawrence much earlier this week.
Tackling – Missed tackles allowed Clemson to rack up significant yards after the catch. Notre Dame must be better here.
Kicking – Jonathan Doerer was excellent on November 7, but he has been very erratic since. Any missed opportunity will have adverse consequences on Saturday.
KEYS TO VICTORY – CLEMSON
The Tigers can win if they do the following:
Contain the running game – Notre Dame's attack is far less effective if forced to be one-dimensional. Clemson will attack Irish up the middle with Patterson out of the lineup.
Pass protection – Allow Lawrence time to find his playmakers down the field.
Limit scrambles – Find a way to bottle up Book in the pocket and force him to throw it away.
Get Etienne going – A 100-yard rushing performance by Etienne should lead to victory, but it won't happen unless the offensive line performs much better than last time.
SUMMARY
Notre Dame should be confident knowing they were the more physical team six weeks ago. Clemson will be more focused in that regard this time around, so the Irish must be ready. Book and the offense can also take comfort in the fact that they were able to score touchdowns against Clemson when it was absolutely required – a 91-yard drive at the end of regulation and both overtime possessions.
Conversely, the Tigers will be buoyed by the return of talented starters including the leaders of their offense and defense. Lawrence will have elite targets such as Cornell Powell and Amari Rodgers that will once again be difficult for the Irish cornerbacks to cover, and blitzes will not always be effective against him. The defense also held Notre Dame largely in check between the long touchdown run by Kyren Williams just 33 seconds into the game, and the tying score with 22 ticks left in the fourth quarter.
While Clemson is capable of recovery from an early deficit, Notre Dame does not want to get behind in this game by more than one score. The Irish passing game is much more productive if the opponent must respect the run, so a good start in this contest is paramount. Obviously, field position and turnovers will go a long way toward determining the winner. If the outcome is decided by the kicking game, both specialists will have to repeat their clutch performances from the first encounter.
PREDICTION
As good as Notre Dame's defense played on November 7, Clemson still managed to score 33 points in four quarters. I don't see the Irish doing much better in this department on Saturday with Lawrence at the helm. The question is whether Book and the offense can keep pace. Additionally, Doerer has been shaky of late. This worries me more than I care to admit in a game with so little margin for error. Breaks such as turnovers and penalties will have to fall Notre Dame's way once again, and the pass rush will need to get home earlier and more often. Even though I recognize this Irish team possesses intangibles that allow it to exceed the sum of its parts, I don't believe the magic we witnessed on November 7 will be replicated. That said, this rematch will be a competitive contest that keeps Notre Dame in the playoffs, even if they happen to come up short.
CLEMSON 34 NOTRE DAME 27
Tell John what you think in the Comments section below